The global medical equipment financing market size is evaluated at USD 160.97 billion in 2022 and is expected to hit around USD 321.1 billion by 2032, growing at a CAGR of 7.2% from 2023 to 2032
Medical equipment financing refers to the financing options available to help fund all of a medical facility's machinery and equipment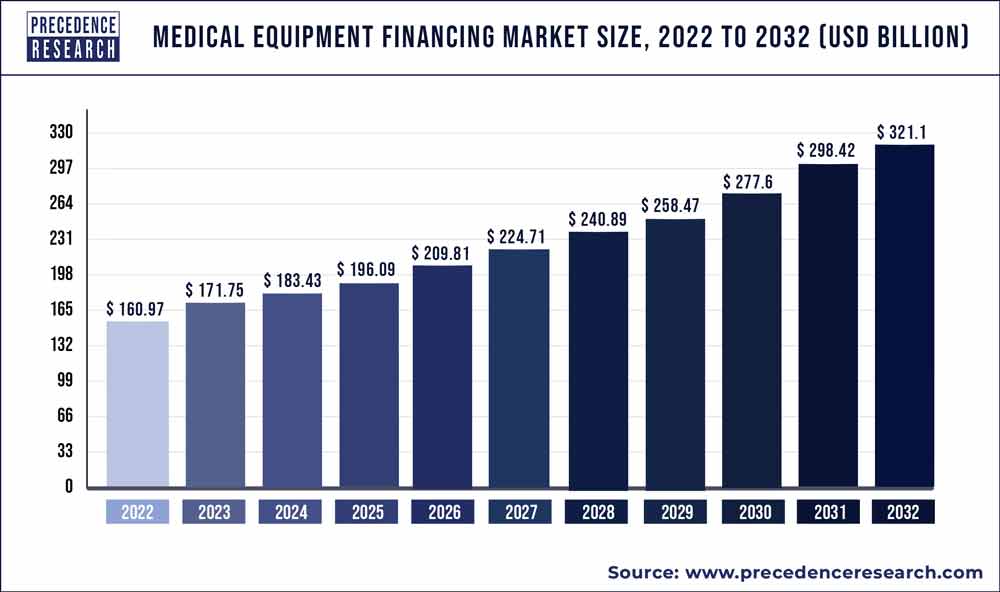 Access our Premium Real Time Data Intelligence Tool, Visit: Precedence Statistics
Key Insights
In 2022, The hospital and clinic industry kept the top spot in the market.
In the laboratories and diagnostic centers segment, the development of diagnostic kits and suitable equipment for patient healthcare, on the other hand, is predicted to lead to a faster increase from 2023 to 2032.
In 2022, The market for financing medical equipment in North America has grown to be the largest and was $45.93 billion.
The Asia Pacific region is anticipated to grow more quickly due to the expansion of the finance sector.
The Indian finance minister recently announced a $ 9.09 billion commitment to the healthcare sector as part of the country's 2020 budget.
Growth Factor
The healthcare financing sector was significantly impacted by COVID-19. During the pandemic, managing the influx of patients was one of the hospitals' initial challenges. There was a lack of beds and ventilators, ambulances were in such great demand that non-ambulance vehicles were outfitted with equipment to provide patient transport, and there was a scarcity of personal protective equipment (PPE). Elective and non-emergency operations were stopped. Examinations for dental, optical, and wellness were rescheduled. Staffing and income were harmed by the loss of routine care. Healthcare companies hurried to create COVID-19 test kits, while pharmaceutical companies switched gears to start working on vaccine development as soon as it was practical. There was a considerable shift in the demand for equipment, according to an August 2020 report titled "COVID-19 and Its Impact on Healthcare Financing." The budgets and equipment needs of DLL's clients, a global asset finance partner, are always shifting. Flexible financing alternatives have been able to quickly deploy critical assets and prepare for an influx of future processes when the economy recovers while minimizing upfront financial limits in response to changing needs. Therefore, such scenarios that produce diverse & adaptable financing solutions are projected to fuel market expansion during the predicted period.
The demand for top-notch healthcare and related services is growing dramatically as incomes rise. Furthermore, being able to provide the most recent medical standards and practices has turned into a must for doctors rather than differentiation. However, upgrading facilities or spending money on state-of-the-art medical technology is not an easy task. This includes significant expenses that are almost unaffordable for the majority of small healthcare service providers. Using available funds to pay for medical equipment could limit working capital and restrict the cash flow required for regular business operations. Therefore, the most economical approach to guarantee that patients have access to the greatest medical care without going bankrupt is to take out a medical equipment loan.
Technological developments in the market and rising patient demand are further factors promoting market progress. The healthcare industry, like any other, needs technology to serve the evolving needs of patients. The technical infrastructure is a key factor in determining the quality of patient care, from computerized medical records to cutting-edge diagnostic tools. The need for cutting-edge equipment has increased dramatically as hospitals, clinics, and other healthcare facilities struggle to gain a competitive edge. The aging population and increased access to healthcare in small towns and rural areas have increased the demand for sophisticated technologies. As a result, this will probably increase demand for medical equipment financing and propel industry expansion.
Increasing need for medical supplies in emerging nations
An increase in the price of medical equipment
Developments in technology in developed countries
Increasing cash on hand to protect against the worst-case reimbursement scenarios
Report Scope of the Medical Equipment Financing Market
Report Coverage
Details
Market Size in 2023
USD 171.75 Billion
Market Size by 2032
USD 321.1 Billion
Growth Rate from 2023 to 2032
CAGR of 7.2%
Largest Market
North America
Fastest Growing Market
Asia Pacific
Base Year
2022
Forecast Period
2023 to 2032
Segments Covered

By Equipment
By Type
By End User

Regions Covered

North America
Europe
Asia-Pacific
Latin America
Middle East & Africa

Key Market Drivers
Rising preference for same-day surgery
The segmental expansion will be fueled in the near future by factors like the advancement of endoscopic and laparoscopic surgical methods at ASCs, which has led to an increase in outpatient visits. Additionally, the availability of affordable treatment options and the presence of skilled medical professionals at ASCs will increase demand. Additionally, ASCs provide patients the option of same-day surgery, saving both the patient and the doctor time. The aforementioned elements hence favor segmental expansion.
Key Market Challenges
Businesses' prudent capital expenditure
Equipment finance companies still have a lot of obstacles to overcome as their economies grow. Even while banks currently have more resources and are looking for chances in the medical equipment sector, most companies have grown more conservative with their capital expenditures. Businesses like hospitals, clinics, and diagnostic centers are more likely to invest in the upkeep of their current equipment than to look for new ones. Over the previous few years, this has caused the medical equipment financing market growth index to fall. In addition, rising equipment costs, such as those for X-ray machines, MRI scans, CT scans, and other services, cause end users to reevaluate their capital investments. Therefore, throughout the projected period, the aforementioned factors are anticipated to have a negative impact on the market.
Key Market Opportunities
Technological innovation
The market for medical equipment has expanded significantly. The potential of the medical industry has been maximized by rapid technical breakthroughs and AI technologies. This is the main element driving demand and attracting medical professionals, including doctors, to the market for equipment financing. Because of the pricey and highly advanced equipment, hospitals and diagnostic centers have chosen financing.
Segments Insight
Equipment Insights
In 2022, the market for diagnostic equipment was estimated to be worth USD 48.3 billion. Due to better healthcare infrastructure and a booming healthcare industry, there is a greater need for premium, high-quality, and cutting-edge healthcare facilities in developing countries. Due to the increased demand for technologically enhanced medical care, new and inventive items for providing these treatments, as well as related services, have been developed all of which are relatively expensive to purchase. There is a growing tendency towards the establishment of more diagnostic centers as a result of the rising prevalence of infectious diseases and advancements in diagnostic technology. This, in turn, is to blame for increased funding for diagnostic equipment. Additionally, end users frequently invest in cutting-edge diagnostic and therapeutic equipment, such as dialysis machines, ventilators, and ICU equipment, in order to give the patient the best possible medical treatment. For example, the COVID crisis in 2019 has increased demand for ventilators as well as other diagnostic tools like X-ray scanners and MRI scans. In the upcoming months, this is projected to raise the market value of both the therapeutic and diagnostic sectors. Additionally, hospitals have increased their facility investment due to patient demand for intensive care unit capabilities. Every end user now depends on patient monitoring technology including Electrocardiograph (ECG) monitors, incubators, and EHR systems.
Customers consequently opt to use financing services to buy these diagnostic tools, driving statistics for the diagnostic equipment finance sector category.
Type Insights
In 2022, the market for reconditioned goods was maximum. Medical equipment that has undergone reconditioning or restoration to a workable state without altering its primary purpose or original specifications is referred to as refurbished equipment. Only after complete cleaning, disinfection, and replacement of any worn or broken parts is this equipment utilized. Due to financial constraints, the demand for reconditioned medical equipment is particularly significant in emerging nations.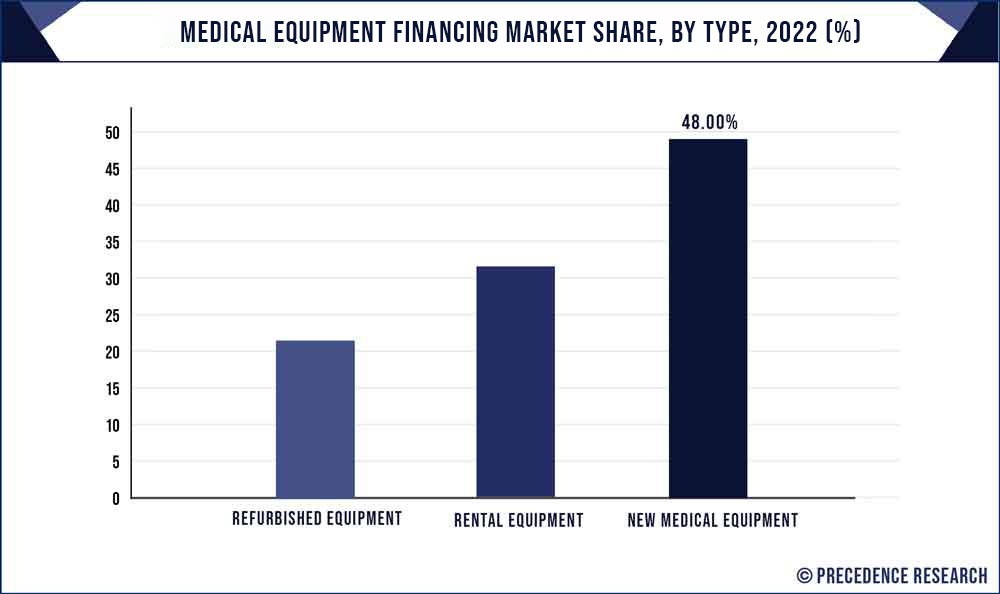 New medical equipment costs between 30 and 50 percent more than refurbished equipment. Additionally, a number of e-commerce sites are predicted to offer simple ways to buy and sell reconditioned medical equipment. These advantages of used equipment will fuel market expansion on both a segmental and global level.
End User Insights
Creation of diagnostic tools to support the expansion of diagnostic centers and labs. The hospital and clinic industry kept the top spot in the market in 2022. This dominance is attributable to elements like increased investment in infrastructure management and rising demand from patients at clinics and hospitals for surgical operations. Due to the availability of an established medical infrastructure and increased patient preference, hospitals and clinics are seeing tremendous expansion. Due to the quick availability of sufficient finances from finance businesses, hospitals and clinics quickly adapt and install newly introduced medical technologies. The need for therapeutic equipment is also being facilitated by an increase in patient admissions owing to infectious diseases like COVID-19, respiratory problems, cardiology disorders, and others, which is opening up a variety of chances for financial businesses.
The development of diagnostic kits and suitable equipment for patient healthcare, on the other hand, is predicted to lead to a faster increase in the laboratories and diagnostic centers segment over the course of the projection year. For instance, there has been a significant need for diagnostic kits in both diagnostic centers and cutting-edge laboratories due to the present global pandemic emergency of COVID-19. Equipment finance firms are making progress in providing funding for research and development to reduce the danger of pandemics around the world.
Regional Insights
The market for financing medical equipment in North America has grown to be the largest and was $45.93 billion in 2022. The highest financing rate for medical equipment in the area is the main cause of this dominance. The domination of this region has been aided by ongoing medical device advances and expenditures in the medical infrastructure. Additionally, due to the increasing adoption of artificial intelligence technology-based medical equipment finance and expanding expenditures in healthcare infrastructure, Europe has the second position in the industry. In addition, greater knowledge of the finance sector among medical professionals and staff has drawn more clients to the market for equipment financing. Additionally, the industry is anticipated to rise during the forecast period amid a number of Eastern European countries experiencing a solid economy
In contrast, Asia Pacific is anticipated to grow more quickly due to the expansion of the finance sector in the region and the construction of hospitals, cutting-edge laboratories, and diagnostic centers in its developing nations. Government funding commitments to the medical sector would also aid in the expansion of this market. For instance, the Indian finance minister recently announced a $ 9.09 billion commitment to the healthcare sector as part of the country's 2020 budget. The establishment of more hospitals across the nation was the primary goal of the funding. The market size is projected to grow during the forecast period as a result of such investments. In addition, the markets in Latin America, the Middle East, and Africa are expected to expand significantly because fewer people are aware of the financial rules and structures and have poor comprehension of them.
Recent developments
First Horizon and Toronto-Dominion Bank announced a contract in February 2022 under which TD would purchase First Horizon in an all-cash deal estimated to be worth USD 13.0 billion. The corporation was able to secure a strong position in the market thanks to this tactic.
In January 2018, Kabbage provided credit lines with a maximum of $250,000. This credit line expansion provided existing and new clients with the money they needed to buy specialist equipment and expand their locations, among other things. This tactic assisted the business in improving its position in the market.
Key Market Players
Hero FinCorp
National Funding
Blue Bridge Financial, LLC
First American Equipment Finance
SMC Finance
Siemens Financial Services, Inc.
SLR Healthcare ABL
TIAA Bank
JPMorgan Chase & Co.
Macquarie Group Limited
Truist Bank
HDFC Bank
Segment Covered in the Report
(Note*: We offer reports based on sub-segments as well. Kindly, let us know if you are interested)
By Equipment
Diagnostics Equipment
Therapeutic Equipment
Patient Monitoring Equipment
Laboratory Equipment
Medical Furniture
By Type
New Medical Equipment
Rental Equipment
Refurbished Equipment
By End User
Hospitals
Clinics

Dermatology Clinics
Dental Clinics
Ophthalmology Clinics

Laboratories & Diagnostic Centers
Ambulatory Surgical Centers
Others
By Geography
North America
Europe
Asia-Pacific
Latin America
Middle East & Africa (MEA)