The global medical fiber optics market size was estimated at US$ 929.63 million in 2021 and is expected to hit over US$ 1,536.2 million by 2030, growing at a CAGR of 5.7% during the forecast period 2022 to 2030.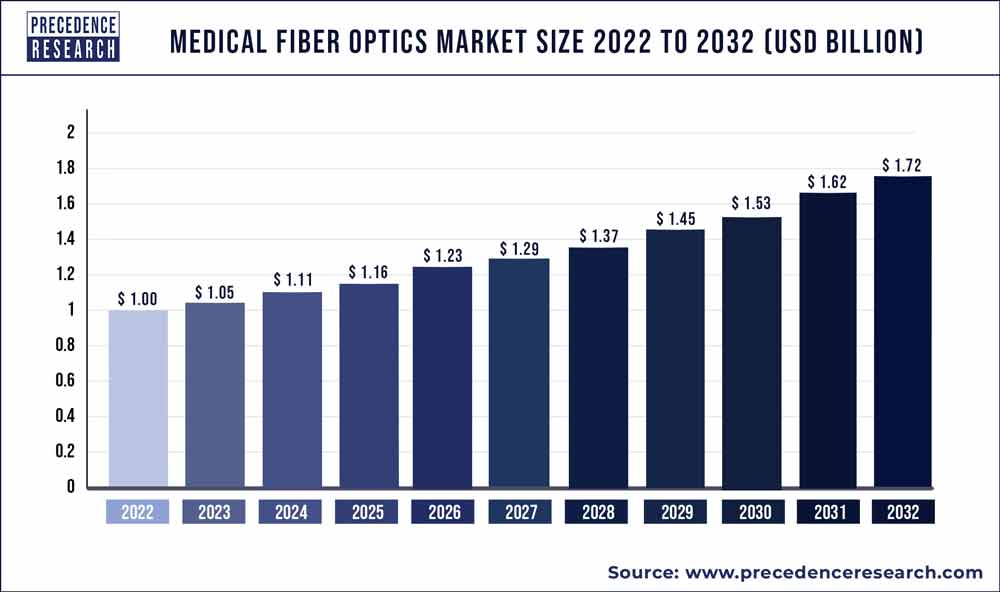 Key market Insights:
A higher demand for improved tools for diagnosis and surgeries for improving patient's health, surgery has been generated by world population growth and extended life spans. The augmented usage of minimally invasive surgery to reduce hospital stays as well as to decrease costs has been one major advancement in healthcare. It's clear that in medicine, fiber optics are at this time to stay. Minimally invasive surgery is a surgical surgery conducted in small incisions rather than large incisions. These surgical procedures are gaining huge popularity in hospitals and clinics worldwide as there is decreased blood loss. In addition, minimally invasive surgery provides short stays in the hospital, less complications and low costs. Fiber optics are used for these operations because they are highly versatile, lightweight, and highly localized measurements can be mounted in tight spaces. Thus, during the forecast era, these factors are expected to drive the growth of the global market for medical fiber optics.
Crucial factors accountable for market growth are:
Growing preference for minimally invasive surgery
Advancements in Medical Devices
Growing use of lasers in dentistry and cosmetology and ongoing research on biomedical sensors
COVID-19 Impact on Global Medical Fiber Optics Market
The COVID-19 explosion has had an impact on world's primary markets. COVID-19 effect on the global industry is adverse. The North America is largest medical fiber optics market, but supply and demand for the medical fiber optics has decreased with spread of covid and lockout situations in the U.S.Because of COVID-19, instability of the supply chain, volatility in the supply of raw materials, inadequate manpower in the production facility and less demand for end-use customers have hindered the growth of the target industry in developed and developing economies worldwide.
Future of Global Medical Fiber Optics Market
Leading players of the global medical fiber optics industry are focusing on the strategic partnerships similar acquisitions, mergers in order to enhance their position in the global market and to get the comparative edge. Further companies are launching advanced products in order to fulfill the customized demands of the end-users. These trends are anticipated to continue and will fuel growth of target market over the forecast time-frame. For instance, the major company Fiber guide Industries Limited has introduced square core optical fibers in 2019. These fibers are designed in order to improve optical performance of production processes.
Scope of the Medical Fiber Optics Market
| | |
| --- | --- |
| Report Highlights | Details |
| Market Size | US$ 1,536.2 Million by 2030 |
| Growth Rate | CAGR of 5.7% From 2022 to 2030 |
| Base Year | 2021 |
| Historic Data | 2017 to 2021 |
| Forecast Period | 2022 to 2030 |
| Segments Covered | Type, Application, Usage, End User |
| Regional Scope | North America, Europe, Asia Pacific, Latin America, Middle East & Africa (MEA) |
| Companies Mentioned | Coherent, Inc., Fiberoptics Technology Incorporated (FTI), Molex, Schott, Timbercon, Inc., Gulf Fiberoptics, Integra Lifesciences Corporation, AFL, Newport Corporation, Leoni |
Significant Trends:
Illumination Segment Reported Foremost Market Stake in 2020
Illumination are expected to hold the largest revenue share by application due to the increasing numbers of endoscopic surgeries worldwide where the optic fibers are used as a light source. This factor is anticipated to drive growth of the illumination segment during the forecast period of time.
Hospitals are Projected to Dominate the End user Segment of Medical Fiber Optics Market Revenue
On the basis of end user segment hospitals segment is expected to dominate in terms of revenue over the forecast time frame. The growth is owing growing demand for medical fiber optics for minimally invasive surgeries that are carried out at hospitals in the developed regions across the globe.
North America is Likely to be the Largest Market for Medical Fiber Optics
The research report deals with the industry prospects of medical fiber optics products around regions including Europe, North America, Latin America, Asia-Pacific, and Middle East and Africa. Medical fiber optics market is taken by North America owing to increased disposable incomes along with the innovatively advanced healthcare infrastructures, healthy medical delivery systems as well as greater healthcare expenditure, particularly in the U.S. of the North America. Addition to this, presence of leading players in the region along with strategies that are implemented by the major players in the countries of North America is expected to witness substantial growth in the target industry in the near future. Asia Pacific is likely to list the noteworthy CAGR, on account of rising awareness about the usage of medical fiber optics in emerging economies. Also, Most of the key players operating in the industry are investing heavily in order to get the competitive edge in the medical fiber optics market in Asia Pacific.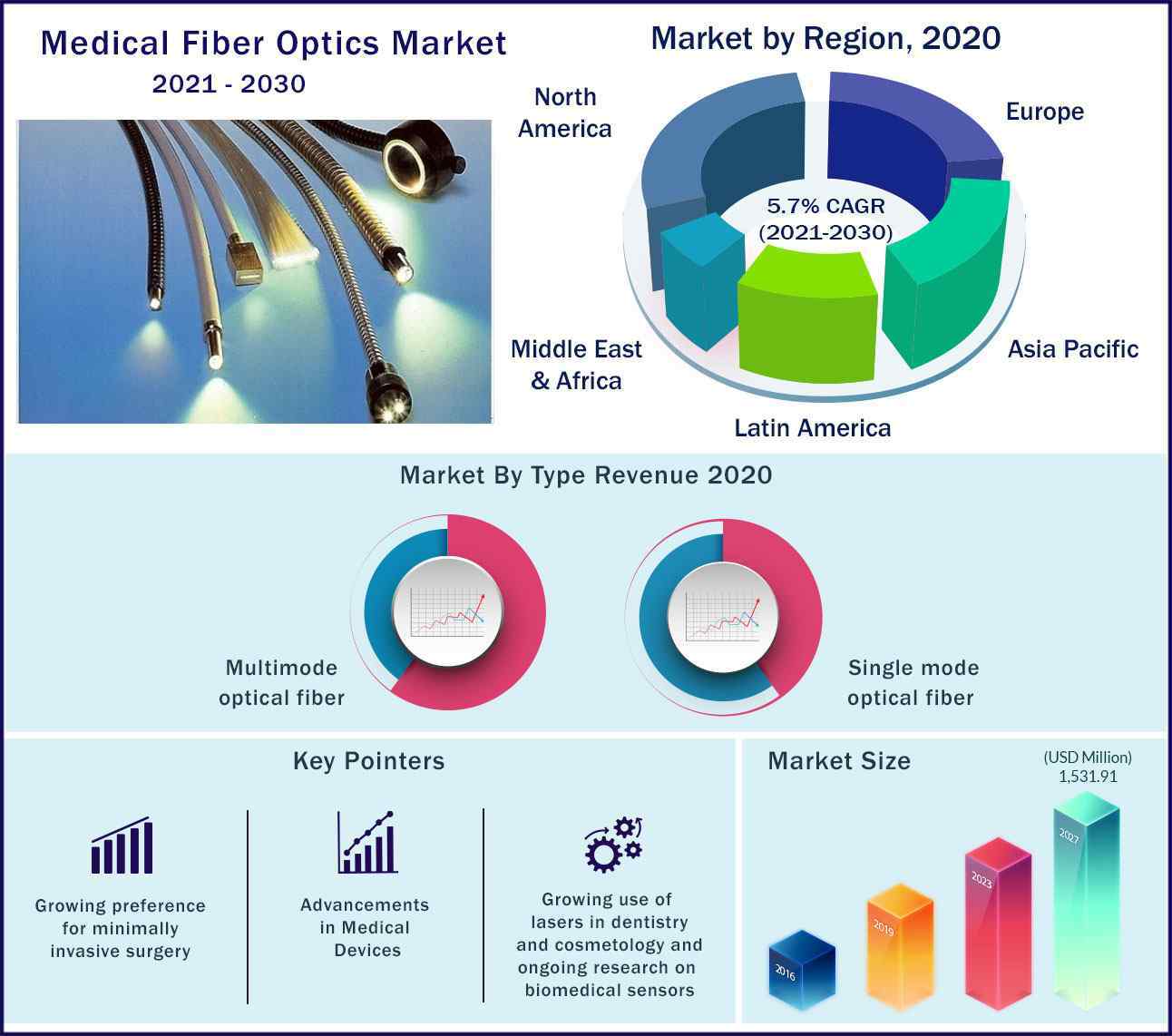 Top Players contending in the Market:
Major market companies are aiming towards the innovative advancements in order to enhance position in the target industry. Major companies are:
Coherent, Inc.
Fiberoptics Technology Incorporated (FTI)
Molex
Schott
Timbercon, Inc.
Gulf Fiberoptics
Integra Lifesciences Corporation
AFL
Newport Corporation
Leoni
For improved status of medical fiber optics, and strategies accepted by Precedence Research projected the upcoming growth of the medical fiber optics market.
Key Market Developments:
In year 2019, Integra Lifesciences Holdings Corporation a major player in the target market has acquired Rebound a medical device company, Therapeutics Corporation. This company produce surgiscope systems AURORA.
In year 2020, Radiall America Inc. has acquired medical fiber optic manufacturing company Timbercon, Inc.
Major Market Segments Covered:
By Type
Single mode optical fiber
Multimode optical fiber
By Application
Endoscopic imaging
Laser signal delivery
Biomedical sensing
Illumination
Others
By Usage
By End User
Hospital
Specialty Clinics
Ambulatory Surgical Centers
Diagnostic Laboratories
Others
By Geography
North America
Europe

Germany
France
United Kingdom
Rest of Europe

Asia Pacific

China
Japan
India
Southeast Asia
Rest of Asia Pacific

Latin America

Brazil
Rest of Latin America

Middle East & Africa (MEA)

GCC
North Africa
South Africa
Rest of Middle East & Africa