The global medical tubing market size was estimated US$ 9.37 billion in 2021 and expected to hit US$ 20.45 billion by 2030, growing at a CAGR of 9.1% during the forecast period 2022 to 2030.
By Product, US medical tubing market was valued at US$ 2.2 billion in 2021.
The Polyvinyl Chloride (PVC) segment accounted 30% market share in 2021.
Silicone is expected to grow at a CAGR of 7.9% from 2022 to 2030.
In 2021, the bulk disposable tubing segment hit largest revenue share 36%.
The drug delivery systems segment is projected to grow at a CAGR of 9.5% from 2022 to 2030.
North America has garnered 38% revenue share in 2021.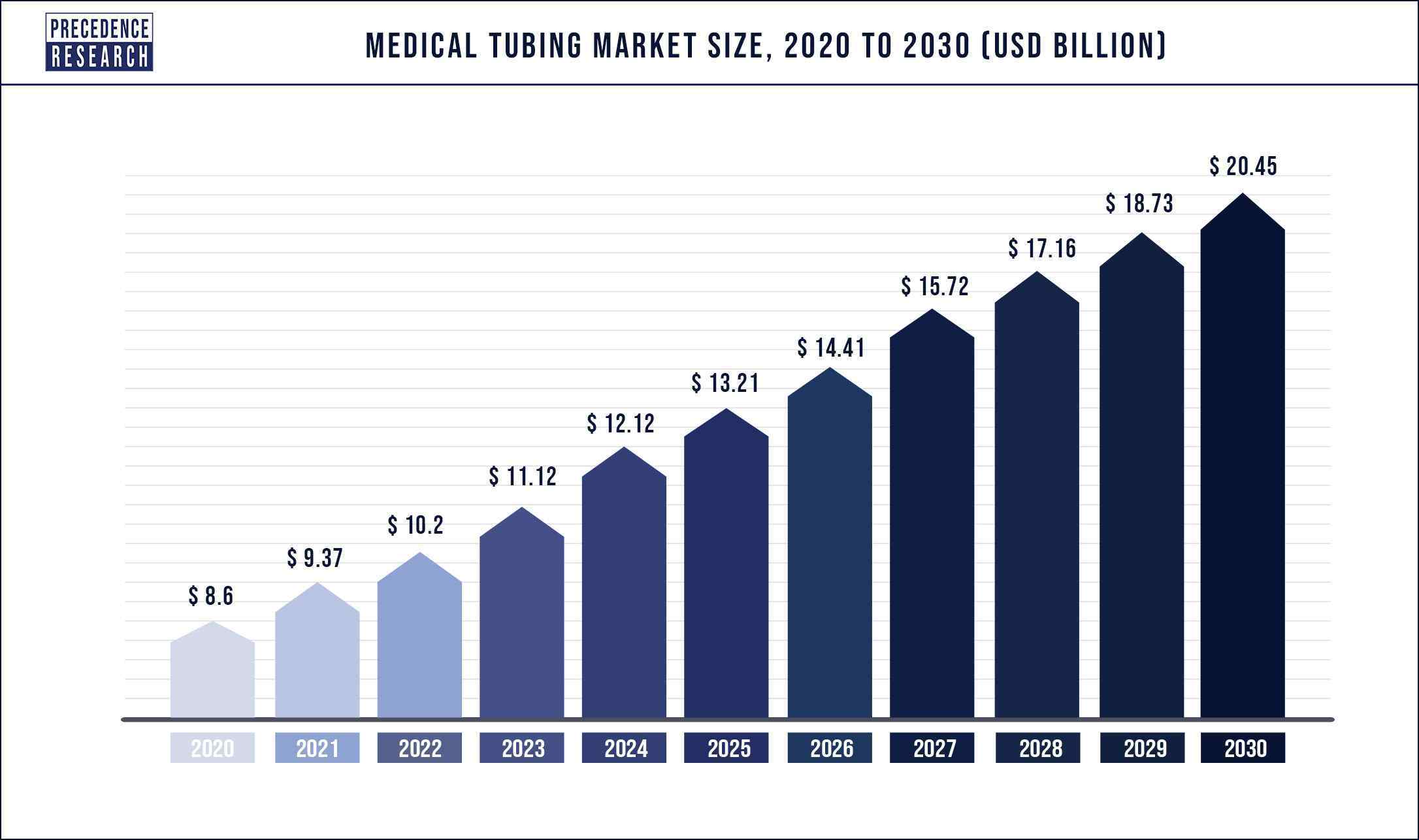 Access our Premium Real Time Data Intelligence Tool, Visit: Precedence Statistics
Market Overview:
Developments in manufacturing practices have led to the integration of bioactive constituents into extruded materials, together as a way to distribute drugs and to encourage healing. For instance, pharmaceutical elements can be blended with silicone to provide multiple benefits. Silicone has highly constant absorption characteristics. Ultraviolet light treatable silicones allow extruders to blend drugs into silicone and extrude drug entrenched tubing without affecting the efficiency of the medication. Such medications are predominantly antimicrobials or antibiotics that can be discharged at regulated rates. Medicinal tubing usage is used in multiple therapeutic procedures; therefore, the manufacturing of medical tubing requires some certifications and a standard technique. Distinct materials with chosen specifications are employed to produce medical tubing. Constant innovation in drug transfer systems is increasing the mandate for customizable medical tubes, which is expected to drive the need for medical tubes in medication delivery structures. Also, the preference for less invasive medicinal procedures over conservative surgical procedures is growing, as they offer benefits such as quick recovery period, low cost, and reduced length of hospital stays. Moreover, increasing modernizations in drug transfer systems such as photo-thermally triggered medication delivery, intra-cochlear medication delivery which employ nano-medical tubing, is likely to further propel industry growth over estimate period.
Crucial factors accountable for market growth are:
Increasing demand for medical devices
Growing popularity of minimally invasive surgical procedures
Increasing healthcare expenditure
Growing geriatric population
Increasing prevalence of chronic ailments such as cardiovascular and urological disorders
Rapidly increasing awareness regarding hospital-attained infections
Increased focus on the improvement of healthcare infrastructure in developing regions
Growing investment by major market players on research and development
COVID-19 Impact on Global Medical Tubing Market
The COVID-19 pandemic is expected to drive the requirement for drug delivery systems, such as spacer devices, nebulizers, and nasogastric tubes among others. The Glass Shop of Mayo Clinic has experienced an upsurge in requirement for glass nebulizers, whereas other establishments are seeing augmented demand for equipment's with tubing apparatuses, such as ventilators, because of the COVID-19 pandemic. Thus, the COVID-19 pandemic has had a positive impact on the global medical tubing market.
Scope of the Medical Tubing Market
| | |
| --- | --- |
| Report Highlights | Details |
| Market Size | US$ 20.45 billion by 2030 |
| Growth Rate | CAGR of 9.1% From 2022 to 2030 |
| Base Year | 2021 |
| Historic Data | 2017 to 2021 |
| Forecast Period | 2022 to 2030 |
| Segments Covered | Medical Condition, Application, Material Type, End-User |
| Regional Scope | North America, Europe, Asia Pacific, Latin America, Middle East & Africa (MEA) |
| Companies Mentioned | Teleflex Incorporated, L. Gore & Associates, The Lubrizol Corporation, Saint-Gobain Performance Plastics, Zeus Industrial Products, Inc., Freudenberg Medical, Tekni-Plex, Raumedic AG, The Dow Chemical Company, Nordson Corporation |
Significant Market Trends:
Cardiovascular Segment Reported Foremost Market Stake in 2020
The cardiovascular segment displayed a major share in the worldwide medical tubing market in 2020. High incidence of cardiovascular disorders and advancements in the minimally invasive surgical procedures are expected to boost the growth of the segment in the near future.
Urological medical conditions are expected to grow at highest CAGR within the forecast time-duration.
Disposable Tubing Dominated the Market Revenue By Application in 2020
Disposable tubing is procured in bulk for multiple medical procedures. Moreover, increasing awareness regarding hospital-acquired infections is anticipated to augment the demand for disposable tubing.
Polyvinyl Chloride (PVC) Will Dominate the Medical Tubing Market Revenue by Material Type
Based on material type segment, polyvinyl chloride (PVC) accounted for the largest revenue share majorly due to capability of PVC to withstand medical applications.
Polyolefin is expected to grow at highest CAGR within the forecast time-duration.
Hospitals Dominated the Medical Tubing Market Revenue By End-User
Hospitals segment displayed a major share in the worldwide medical tubing market in 2020 due to factors such as accessibility of latest equipment's and availability of funds.
North America is Estimated to be the Largest Market for Medical Tubing
The comprehensive research account covers substantial projections and inclinations of medical tubing throughout chief regions encompassing Africa, Asia Pacific, Europe, Latin America, North America, Middle East, and. By region, medical tubing market is led by North America due to higher healthcare spending, presence of modern healthcare set-up, and availability of latest products. Asia Pacific accounted for successive highest stake primarily due to increasing healthcare expenditure, greater occurrence of chronic diseases, and growing incidence of urological ailments. Asia Pacific is also projected to advance at top-most CAGR predominantly due to growing incidence of cancer and gastrointestinal ailments, growing popularity of minimally invasive surgeries, and increasing number of hospital admissions. African, South America, and Middle Eastern region is expected to exhibit note-worthy growth in the projected time-frame.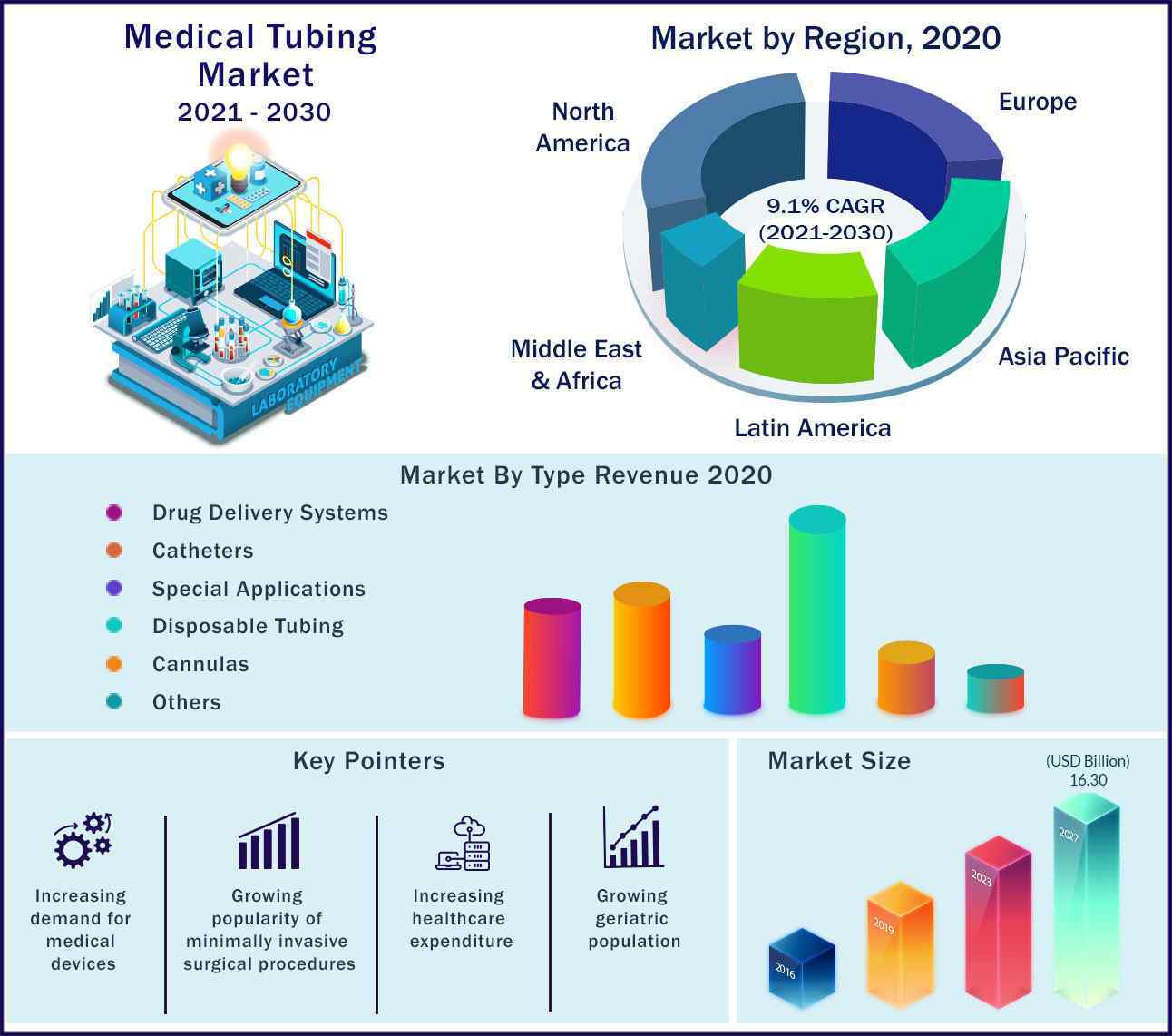 Top Players contending in the Market:
The companies focusing on research and development are expected to lead the global medical tubing market. Leading competitors contending in global medical tubing market are as follows:
Teleflex Incorporated
L. Gore & Associates
The Lubrizol Corporation
Saint-Gobain Performance Plastics
Zeus Industrial Products, Inc.
Freudenberg Medical
Tekni-Plex
Raumedic AG
The Dow Chemical Company
Nordson Corporation
In order to well recognize the present status of medical tubing, and policies implemented by the foremost nations, Precedence Research projected the future progress of the medical tubing market. This research report bids quantitative and qualitative insights on medical tubing market and valuation of market size and progress trend for probable market segments.
Major Market Segments Covered:
By Medical Condition
Gastrointestinal
Cardiovascular
Ophthalmic
Urological
Neurovascular
Others
By Application
Drug Delivery Systems
Catheters
Special Applications
Disposable Tubing
Cannulas
Others
By Material Type
Polyethylene (PE)
Silicone
Engineering Plastics
Polyvinyl Chloride (PVC)
Polypropylene (PP)
Polyolefin
Others
By End-User
Ambulatory Surgical Centers
Hospitals
Others
By Structure
Single-lumen
Co-extruded
Multi-lumen
Tapered or Bump tubing
Braided Tubing
By Geography
North America
Europe

Germany
France
United Kingdom
Rest of Europe

Asia Pacific

China
Japan
India
Southeast Asia
Rest of Asia Pacific

Latin America

Brazil
Rest of Latin America

Middle East & Africa (MEA)

GCC
North Africa
South Africa
Rest of Middle East & Africa