The global medical waste management market size was valued at US$ 6.90 billion in 2020 and is projected to surpass US$ 11.92 billion by the end of 2030, exhibiting CAGR of 5.8% during the estimate period 2021 to 2030.
Non-hazardous waste segment was reached at USD 7.5 billion in 2021.
The treatment and disposable services segment accounted 29% market share in 2021.
The hospitals waste generation segment garnered 32% market share in 2021.
North America medical waste management market is projected to reach at a CAGR of 6.3% from 2022 to 2030.
Crucial factors accountable for market growth are:
Exponentially increasing volume of medical waste
Rising geriatric population
Increasing prevalence of chronic disorders such as cardiovascular diseases and diabetes
Growing obese population
Increasing requirement for sustainable and effective medical waste management
Increasing focus of governments all over the world to tackle the issue of medical waste management
Increasing number of accidents
Integration of latest technologies
Growing investment by key manufacturers
Increasing per capita healthcare expenditure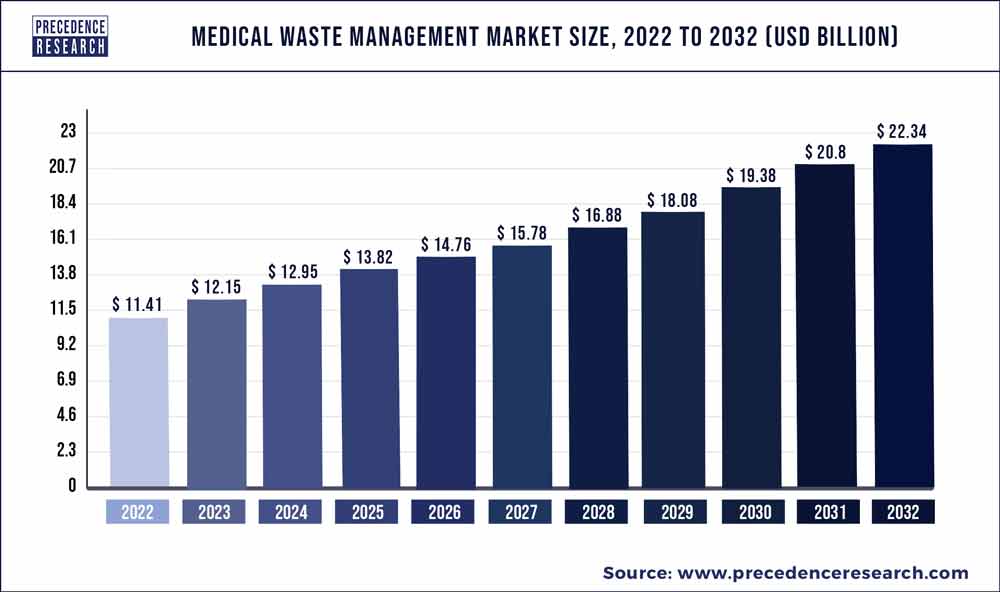 Major Trends in Medical Waste Management Industry:
Medical wastes need careful containment and disposal before gathering and consolidation for handling. The measures for discarding controlled medical-waste substances are designed to shield the staffs who generate medical scrap and who tackle the wastes from generation point to disposal point. To avert injuries from needle stick and other infected sharps should not be repeated, firmly bent, or cracked by hand. Centers for Disease Control and Prevention have broadcasted general rules for managing sharps. Health-care amenities may need added precautions to avert the creation of aerosols during the management of blood-contaminated objects for some rare diseases or situations.
Storage and transportation of regulated medicinal wastes within the healthcare organization prior to termination treatment is often essential. Healthcare organizations are instructed to clear out medical wastes frequently to avoid buildup. Medical scrap requiring storing should be reserved in puncture-resistant, leak-proof, labelled containers under situations that lessen or avert foul smells. The storing area must be well ventilated and be unreachable to pests. Every facility that produces regulated medical scrap should have a controlled medical waste management strategy to ensure well-being and environmental protection as per local guidelines.
Incineration of medical scrap has conventionally been the foremost medical waste managing technique globally. However, incineration results in the emission of numerous harmful fumes such as Sulphur dioxide, dioxins, and carbon monoxide which augment global warming. Thus, development of other techniques is gaining popularity for sustainable medical waste management.
COVID-19 Impact on Global Medical Waste Management Market
The COVID-19 pandemic has resulted in an abrupt breakdown of waste management strings. Safe management of hazardous medicinal waste is critical to successfully limiting the pandemic. Mismanagement at any stage can lead to augmented environmental contamination. The world is anticipated to be loaded by medical waste material in the near future owing to the COVID-19 pandemic, and the consequences of this over buildup of medical leftover will have a deep impact on justifiable medical waste administration measures for years to come. To handle such a large worldwide influx of waste, the industry will have to respond by dispensing an increase in conservative management facility volumes and will require looking to fewer conventional portable units and RFID imprinting technology to guarantee sustainable healthcare waste administration.
| | |
| --- | --- |
| Report Highlights | Details |
| Market Size | US$ 11.92 Billion by 2030 |
| Growth Rate | CAGR of 5.8% From 2021 to 2030 |
| Base Year | 2020 |
| Historic Data | 2017-2020 |
| Forecast Period | 2021 to 2030 |
| Segments Covered | Treatment Type, Waste Type |
| Regional Scope | North America, Europe, Asia Pacific, Latin America, Middle East & Africa (MEA) |
| Companies Mentioned | BioMedical Waste Solutions, Stericycle Inc., Clean Harbors, Citiwaste, MedPro Waste Disposal, Sanpro, Waste Management, Inc., Sharps Compliance, Inc. |
Segmental Market Trends:
Incineration Segment Reported Foremost Market Stake in 2020
The incineration displayed the major share in the worldwide medical waste management market in 2020.Incineration is the lone method employed for pathological scrap such as identifiable tissue and body parts that augments the segmental share. The factors such as generation of high volume of medical waste due to increasing prevalence of viral diseases and low cost of incineration are expected to retain the dominance of incineration in the near future.
The chemical treatment segment is anticipated grow at the maximum CAGR through the forecast time-frame mainly due to high anticipated demand.
Hazardous Waste Dominated the Market Revenue
Hazardous waste is generated in high volumes at hospitals and other healthcare facilities. Moreover, implementation of stringent regulations for the safe disposal of hazardous waste by governments all over the world is expected to boost the demand for hazardous waste management in the near future.
North America is Estimated to be the Largest Market for Medical Waste Management
The detailed research report covers significant prospects and inclinations of medical waste management products throughout different regions including Europe, North America, Asia-Pacific, Africa, Middle East, and Latin America. By region, medical waste management market is led by North America due to high incidence of cancer and early implementation of latest medical waste management techniques. Europe reported the second maximum share predominantly due to high geriatric population and positive reimbursement scenario. Asia-Pacific is also anticipated to witness the rapid growth rate, on account of increasing investment by major manufacturers and increasing per capita healthcare expenditure.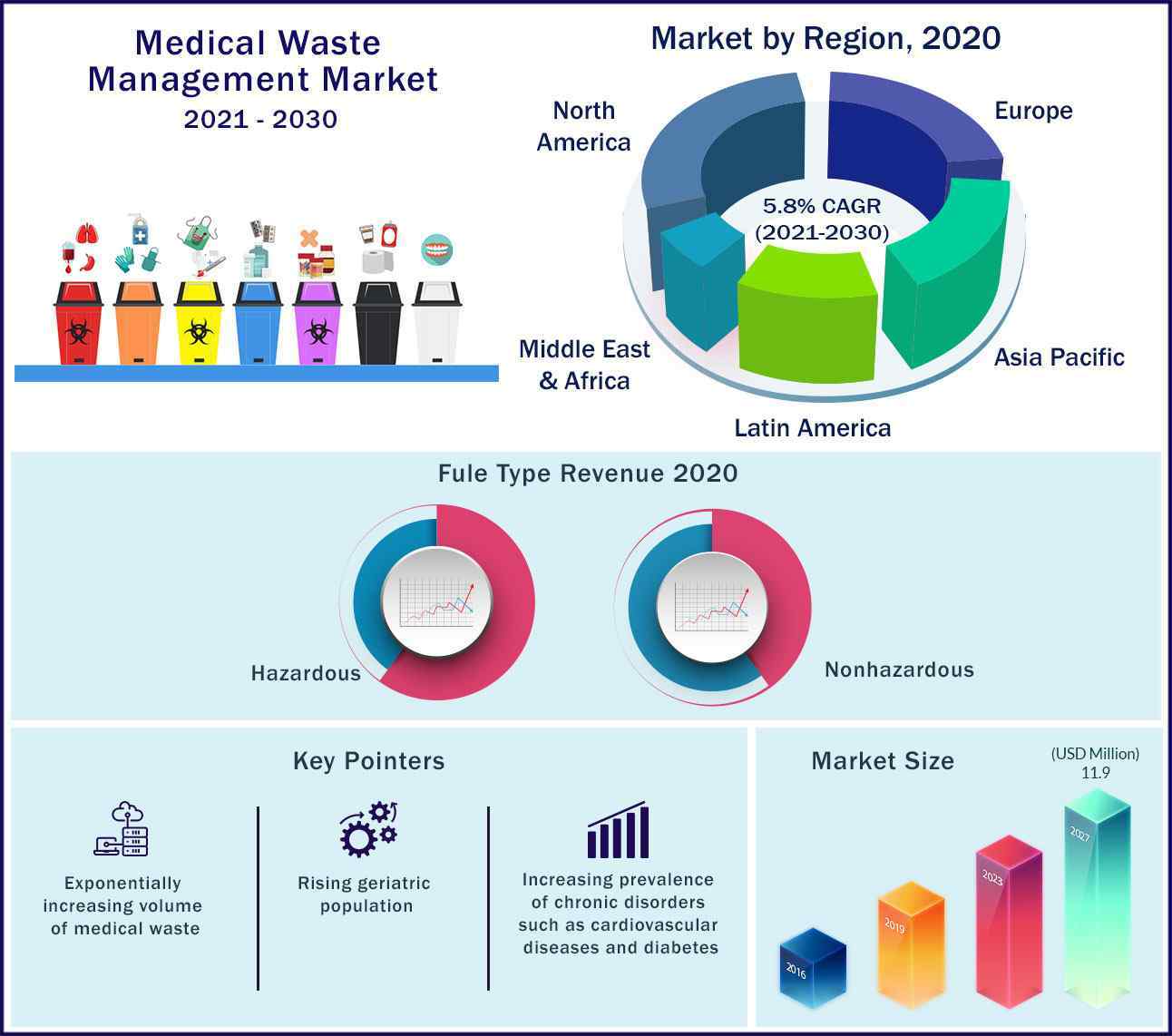 Top Players contending in the Market:
The companies focusing on research and development are expected to lead the global medical waste management market. Major companies operating in the global market are focusing on development of new eco-friendly technologies that can be implemented for sustainable and efficient waste management. Leading competitors contending in global medical waste management market are as follows:
BioMedical Waste Solutions
Stericycle Inc.
Clean Harbors
Citiwaste
MedPro Waste Disposal
Sanpro
Waste Management, Inc.
Sharps Compliance, Inc.
In order to well recognize the present status of medical waste management, and policies implemented by the foremost nations, Precedence Research projected the future progress of the medical waste management market. This research report bids quantitative and qualitative insights on medical waste management market and valuation of market size and progress trend for probable market segments.
Major Market Segments Covered:
By Treatment
Chemical Treatment
Autoclaving
Incineration
Others
By Waste Type
Hazardous
Nonhazardous

Infectious & Pathological Waste
Pharmaceutical Waste
Sharp Waste
Other Medical Waste
By Waste Generator
Hospitals & Diagnostic Laboratories
Other Waste Generators
By Treatment Site
Offsite Treatment
Onsite Treatment
By Geography
North America
Europe
Germany
France
United Kingdom
Rest of Europe
Asia Pacific
China
Japan
India
Southeast Asia
Rest of Asia Pacific
Latin America
Brazil
Rest of Latin America
Middle East & Africa (MEA)
GCC
North Africa
South Africa
Rest of Middle East & Africa