The global microbial products market size was estimated at USD 190 billion in 2022 and is expected to hit around USD 316.93 billion by 2032, poised to grow at a compound annual growth rate (CAGR) of 5.30% from 2023 to 2032.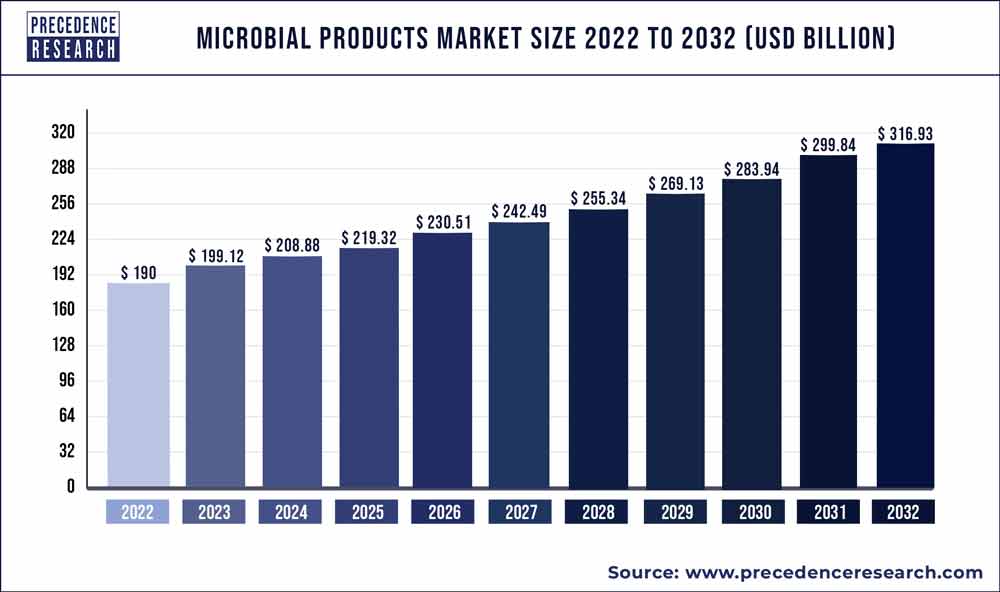 Access our Premium Real Time Data Intelligence Tool, Visit: Precedence Statistics
The primary producers of beneficial natural compounds are microbes. Natural substances produced by microorganisms and plants make great medicines. The creation of these beneficial secondary metabolites takes up a sizable percentage of microbial genomes. Moreover, anticoagulants, antidepressants, herbicides, vasodilators, plant hormones, insecticides, vitamins and enzymes are only a few examples of the medications that have been extracted from microbes or manufactured in vast numbers by genetically engineering the organisms with other genes. Moreover, it has a significance importance in the field of pharmaceuticals and healthcare sector owning to its beneficial attributes.
Many foods, including bread, cheese, and sauerkraut, including some that are nearly totally made of microbes themselves, like yeast extract or mycoprotein meat substitutes, are produced by microbes. Microbes can, however, also significantly change the flavors of food. The distinctive metabolites that each bacterium creates will vary depending on the nutrients that are accessible to them. Other microbes may then convert them into still more compounds, thus it's critical to have the ideal microbial balance in order to achieve the desired flavors. In the manufacturing of industrial food, starting cultures are frequently used to introduce a balance of desired bacteria and guarantee consistency in the end product.
Growth Factors
The rising demands for diagnostic microbiological products as well as the expanding necessity for healthcare nutrients like vitamins are driving the microbial products in the market. In addition, the sector is anticipated to grow in the coming years because to the rising prevalence of diseases like cancer. The global market for microbial products is also being boosted by the expanding use of microbial products in the production of medicinal and agricultural goods using genetic engineering techniques. Recent developments in fermentation technology have provided a consistent, significant boost to the market's growth.
Moreover, regardless of whether individuals are living in underdeveloped or industrialized countries, microbial healthcare products have now greatly expanded their use in primary and secondary human healthcare systems. In the primary healthcare system, microbial products can be used for immunization, the treatment of common illnesses, the prevention of locally endemic diseases, and other purposes. However, secondary healthcare systems are fully justified in using them for chemotherapy and more organized hospital treatment of complicated infectious diseases. Numerous items with microbial origin are marketed by the vast majority of multinational corporations, who profit greatly from these products.
Industry operators are now able to make more economical and environmentally friendly products because to the development of genetic recombinant technology. The market is expanding because to the increasing importance of microbial products in the manufacturing of enzymes for end-use industries like paper, leather, and food preservation.
It has various applications including aiding in the production of biogas. A combination of gases is produced by microbial action, mostly methane. The fuel in consideration is biogas. Depending on the substrates they consume, different bacteria produce various gases. Anaerobic bacteria produce a lot of methane, coupled with CO2 and H2, as they consume cellulose. Methanogens are these bacteria. Because these bacteria aid in the breakdown of cellulose in cattle rumens, cattle dung is likewise abundant in them. Consequently, biogas is frequently produced using animal faeces. Due to the abundance of livestock dung in communities, biogas plants are more prevalent in rural regions.
These factors are influencing the demand of microbial products in the market across the globe, and it is expected that market will grow with a consistent rate. The benefits associated with these products are advantage that makes it a unique product from different alternatives in the market.
Report Scope of the Microbial Products Market
| | |
| --- | --- |
| Report Coverage | Details |
| Market Size in 2023 | USD 199.12 Billion |
| Market Size by 2032 | USD 316.93 Billion |
| Growth Rate from 2023 to 2032 | CAGR of 5.30% |
| Base Year | 2022 |
| Forecast Period | 2023 to 2032 |
| Segments Covered | Source Type, Types, End Users, Application, Geography |
| Companies Mentioned | Merck & Co. Inc., Valent BioSciences Corp., Genomatica, Genzyme Corp, AB Mauri, Amyris Inc., Pfizer Inc., Ltd, Sanofi S.A, Novartis AG, Biomérieux SA, Ajinomoto Co. Inc., CertisUsa, Durect Corp., Earthrise NutritionalsLlc, Energy Derived, Environmental Biotechnologies Inc. |

Source Type Insights
Depending upon the source type, the bacterial segment is the dominant player and is anticipated to have the biggest impact on microbial products. Numerous living molecules, including bacteria, have been directly or indirectly connected to the manufacture of a variety of chemicals, including esters, aroma compounds, and active ingredients that are frequently used in household and personal care products. A large number of biologically active substances with high commercial value, including oligosaccharides, exopolysaccharides (EPS), biosurfactants, enzymes, peptides, and vitamins, are secreted by bacteria, which is why they are one of the microbes used in the manufacture of home and personal care products.
Although people frequently associate fungus with pathogenic organisms and food rot, they actually play a crucial role in many aspects of human life. They participate in the nutrient cycle in ecosystems, fungi have a significant impact on the health of human populations. In the form of mushrooms, fungi contribute to human nourishment. They also act as agents of fermentation in the making of bread, alcoholic drinks, cheeses and a variety of other food products. Fungi's secondary metabolites are utilized to make drugs like antibiotics and blood thinners.
Viruses have been used in medicine for a very long time as vaccinations, and they are currently used as vectors to convey materials for the treatment of diseases. Viruses are being researched in agriculture to provide plants desirable traits or make them resistant to biotic and abiotic challenges. They can also be applied in a variety of ways in the pharmaceutical, cosmetics, electronic, and other industries. In addition to improving and simplifying our lives, they have demonstrated tremendous potential in a number of vital areas.
Application Insights
During the projected period, the biotechnology segment is anticipated to be the largest in the microbial products market. The use of biological organisms to technical processes is known as biotechnology. Yellow biotechnology is the name given to biotechnology that is utilized to produce food and beverages. The first "domesticated" organisms utilized to produce edible goods through fermentation were probably simple fungus in yeast forms. When yeast consumes glucose, ethanol and carbon dioxide are produced as a byproduct that can be used to make wine, beer, and bread. The two products most frequently linked to fungi are cheese and wine. However, they have a long history in traditional medicine, where they were frequently administered to wounds for their antimicrobial properties as moldy bread that has been overgrown in fungi Penicillum and Aspegillum.
Due to the enormous chemical diversity present in the millions of species of plants, animals, marine organisms, and microbes, nature offers a promising source of novel treatment options. Natural products continue to be a valuable source of novel chemical entities, novel pharmacological leads, and novel pharmaceuticals. Since ancient times, microbes have been used to generate food ingredients. For the treatment and prevention of diseases including cancer, anemia, diarrhea, obesity, diabetes, atopic dermatitis, Crohn's disease, etc., microorganisms hold enormous promise as natural sources of pharmaceuticals. In addition, they may contain natural antibiotics, anti-inflammatory drugs, immune suppressants, enzyme inhibitors, hypocholesterolemia agents, vitamins, and antioxidants.
Regional Insights
The highest market share and dominant position in the microbial products industry belongs to North America due to high demand for microbial products in the pharmaceutical industry. This region includes U.S. and Canada. During the forecast period, this region is expected to experience the fastest growth. Others factors such as exceptional reimbursement, technological advancements for R&D, and high spending in the healthcare sector. Due to recently developed microbiology technologies, microbial products are widely used in the U.S. and are anticipated to drive the market in the North America.
Europe is considered as second largest region in the consumption of microbial products. This region includes UK, Germany, and France. Since some bacteria, fungi, viruses, and protozoa are parasites or pathogens of insects or other pests or organisms that can harm plants, they can be utilized to defend them. These microorganisms are used in the biological management of pests and plant diseases all over the world (including the EU) because of their biological characteristics. Hence, the growing use of such products can propel the market in this region.
Key market developments
In 2017, the world's top provider of food safety testing, BioControl Systems Inc., was bought by Merck, a renowned life science and technology business. The acquisition presents Merck with growth potential, particularly in the U.S., in the food and beverage sector.
Key market players
Merck & Co. Inc.
Valent BioSciences Corp.
Genomatica
Genzyme Corp
AB Mauri
Amyris Inc.
Pfizer Inc., Ltd
Sanofi S.A
Novartis AG
Biomérieux SA
Ajinomoto Co. Inc.
CertisUsa
Durect Corp.
Earthrise NutritionalsLlc
Energy Derived
Environmental Biotechnologies Inc.
Segments covered in the report
(Note*: We offer report based on sub segments as well. Kindly, let us know if you are interested)
By Source Type
By Types
Enzymes

Polysaccharides

Nutrients

Chemotherapeutic Agents

Antibiotics

Vaccines
By End Users
By Application
Pharmaceutical

Diagnostic

Biotechnology
By Geography
North America
Europe
Asia-Pacific

China
India
Japan
South Korea
Malaysia
Philippines

Latin America

Brazil
Rest of Latin America

Middle East & Africa (MEA)

GCC
North Africa
South Africa
Rest of the Middle East & Africa