The global microbial fermentation technology market size reached USD 30.03 billion in 2022 and is expected to hit around USD 53.02 billion by 2032, growing at a CAGR of 5.9% during the forecast period from 2023 to 2032.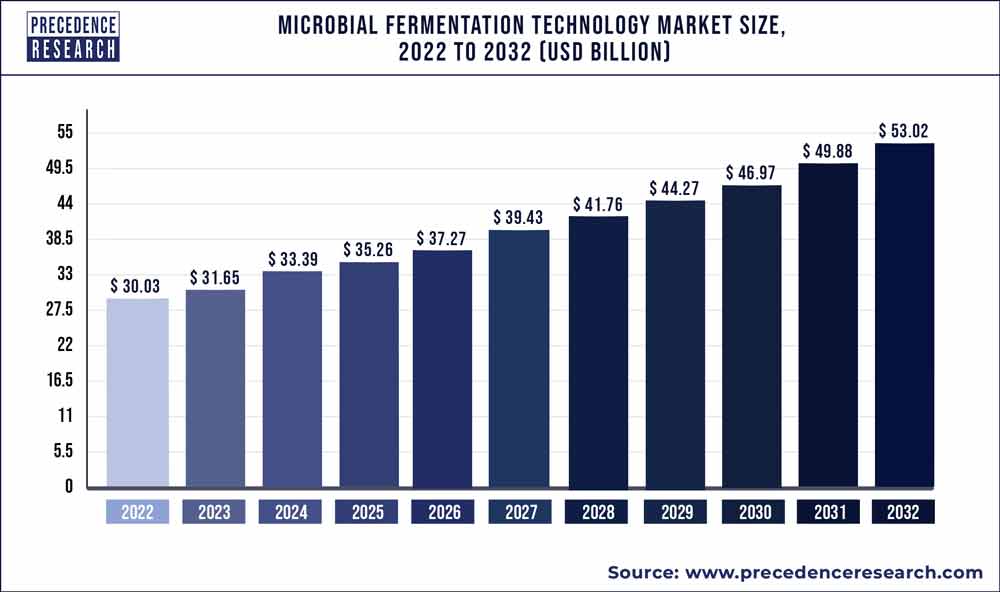 Access our Premium Real Time Data Intelligence Tool, Visit: Precedence Statistics
Key Takeaways:
North America generated more than 46% of revenue share in 2022.
Asia-Pacific governs the microbial fermentation technology market in 2022 and is anticipated to sustain its dominance during the estimated period.
By Application, the antibiotics segment had the largest share in the forecast period.
By End- User, the CMOs and CDMOs segment generated more than 43% of revenue share and is predicted to record maximum growth throughout the estimated period.
Market Overview:
Microbial fermentation is the anaerobic metabolic process to induce chemical changes in the presence of enzymes. Energy is extracted from carbohydrates. Microbial fermentation has several applications, including preparing antibiotics and manufacturing bread, curd, yogurt, and pickles in producing beverages such as wine, beer, alcoholic biofuels, tanning of leather, curing tea, etc. Out of the numerous applications, it dominates the food, beverages, and pharmaceutical industries, which fuels the growth of the microbial fermentation technology market.
Key microbial fermentation technology market players include Novozymes A/S, DowDuPont Inc., and Chr. Hansen Holding A/S, DSM, Evonik Industries AG, and Givaudan SA. These companies invest in research and development to develop new and innovative products and technologies to meet the growing demand for sustainable solutions.
In September 2022, Cyclone Engineers, Cargill, and Genomatica, united on a project to increase bioreactor fermentation performance. The National Biotechnology and Biomanufacturing Initiative permitted US$ 2.5 million to hold up this research.
Growth Factors:
The increasing demand for fermented food & beverage products and growing consumer health consciousness propel the growth of the microbial fermentation technology market. The advantage offered by microbial fermentation technology of providing longer shelf life to food products supports the market's growth. Growing demand for natural and organic food products as the growing demand for natural and organic food products is driving the microbial fermentation technology market because this technology is crucial in the production of natural and organic food products. It involves use of microorganisms like bacteria, yeasts, and fungi to transform food substances into desirable outcomes, such as cheese, yogurt, vinegar, and alcoholic beverages.
Consumers are increasingly concerned about their food's safety and quality and are willing to pay more for natural and organic products. Microbial fermentation technology enables the production of food products free from synthetic additives, preservatives, and other harmful chemicals. This makes them healthier and more appealing to consumers. Furthermore, microbial fermentation technology allows food manufacturers to produce food products with unique flavors, textures, and nutritional profiles.
For instance, probiotics produced through microbial fermentation have been shown to improve gut health and boost the immune system. This has led to an increase in demand for fermented foods and beverages, especially among health-conscious consumers. The microbial fermentation technology market is expected to grow as consumers demand more natural and organic food products.
Report Scope of the Microbial Fermentation Technology Market:
| | |
| --- | --- |
| Report Coverage | Details |
| Market Size in 2023 | USD 31.65 Billion |
| Market Size by 2032 | USD 53.02 Billion |
| Growth Rate from 2023 to 2032 | CAGR of 5.9% |
| Largest Market | North America |
| Fastest Growing MarketAsia-Pacific | Asia Pacific |
| Base Year | 2022 |
| Forecast Period | 2023 to 2032 |
| Segments Covered | By Application and By End-User |
| Regions Covered | North America, Europe, Asia-Pacific, Latin America and Middle East & Africa |

Market Drivers:
Rising prevalence of infectious disease
Infections, usually respiratory tract infections, urinary tract infections, surgical site infections, gastrointestinal infections, and bloodstream infections are caused by microbes such as bacteria and fungi, ranging from mild to severe. The rising prevalence of infectious diseases has increased the demand for more fermented microbial products like antibiotics and vaccines to treat patients from infections, further expanding the market worldwide.
Microorganisms such as Salmonella and Mycobacterium bovis BCG are used in the production of vaccines, and after the fermentation, it is easier to cultivate the microbes to produce vaccines. As the demand for antibiotics along with the rising development for novel drugs grows, the growth of microbial fermentation technology market is expected to grow.
Market Restraints:
High cost of production
In many parts of the world, particularly in developing countries the specialized instruments and facilities needed for fermentation are expensive as the fermenter needs sterilization using high-pressure steam between batches. Inadequate funding from the government and minimal knowledge about the proper handling of microorganisms create a gap and hinder market growth. The cost of raw materials required for fermentation, such as sugars, insulin, starch and other supplements, can be a significant cost driver.
Sometimes, these materials may be difficult or expensive to source, leading to supply chain challenges and higher costs. Running a fermentation plant requires ongoing costs such as labor, utilities, maintenance, and quality control. These costs can add up quickly and may be higher for facilities that require specialized expertise or operate under stringent regulatory requirements. Once fermentation is complete, additional processing steps may be necessary to isolate and purify the desired product. These downstream processing steps can be complex and expensive and require specialized equipment and expertise.
Market Opportunities:
Increasing focus on healthcare research
Healthcare research is vital because it provides a platform for disease trends, advanced and easy detection, risk factors, treatment, clinical trials, cost & care, and health transformation, which was absent in the last decade. With the growing demand for healthcare products such as vaccines, interferons, antibiotics, insulin, and growth hormones, there is a rise in the production of these medicinal products. The advancements in healthcare information-based data are promoting the growth of personalized medicine, which is beneficial for the patient to get cured rather than dealing with the whole generic population. This eventually boosts the development of the microbial fermentation technology market.
Segments Insight:
Application Insights:
During the projection period, the antibiotics segment is expected to dominate the microbial fermentation technology market. The rising pharmaceutical sales will boost the production of antibiotics and subsequently drive the medical industry, propelling the demand for fermentation chemicals. There need to be more viable alternatives. While there are other antimicrobial agents available, such as disinfectants and bacteriophages, these tend to be less effective or more expensive than antibiotics. In addition, many of these alternatives have not been as extensively studied as antibiotics, so their long-term effects on fermentation still need to be understood.
Despite their widespread use, some concerns exist about the overuse of antibiotics in microbial fermentation technology. Overuse of antibiotics can lead to the development of antibiotic-resistant bacteria, which can pose a severe threat to human health. There is also a risk that antibiotics used in fermentation may end up in the final product, which could pose a health risk to consumers. The demand for fermentation chemicals is expected to increase for manufacturing antibiotics and steroids, thereby scaling up the microbial fermentation technology market.
End-User Insights:
The CMOs & CDMOs dominate the end user segment throughout the forecast period. CMOs and CDMOs are rapidly becoming brilliant options for biotherapeutics makers as most of the innovation in the bioprocess space are done by smaller firms with a capacity constraint, a need for more trained professionals, and resources for commercializing these products. They have the flexibility to work with a wide range of clients, from startups to established companies, and can tailor their services to meet each client's specific needs.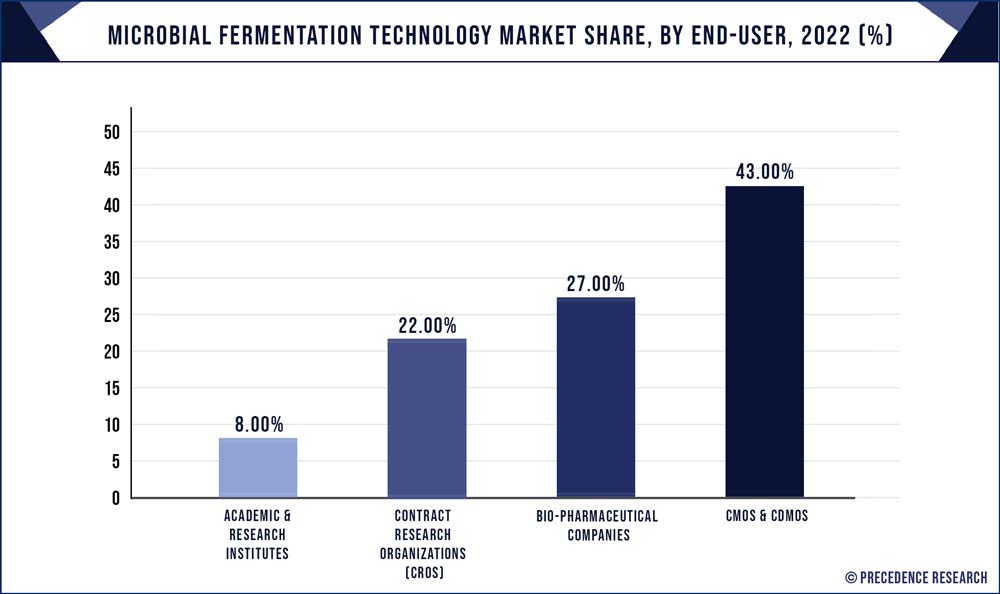 CMOs and CDMOs offer customized solutions and also have a deep understanding of the regulatory environment for microbial fermentation-based products and can help their clients navigate the complex regulatory landscape. This is particularly important for companies new to the market or operating in a new geographic region, eventually expanding the market growth.
Regional Insights:
Asia-Pacific will be dominating the microbial fermentation technology market during the projection period. The increasing demand for pharmaceuticals, chemicals, and food & beverages accelerates the growing demand for microbial fermentation in the Asia-Pacific region—the rising investment in research and development of the microbial fermentation technology market. New approaches such as Indian industrial biotechnology is exploring that include harnessing microorganisms to produce value-added bioactive ingredients such as organic acids, industrial enzymes, single-cell proteins (SCP), and bulk chemicals, which have played a predominant role in the overall development of biotechnology after biopharmaceuticals.
The Asia-Pacific region is expected to be the fastest-growing market for microbial fermentation technology due to the increasing demand for food and beverages, pharmaceuticals, and industrial enzymes. China and India are the key markets in this region due to their large population and growing economy, which provide opportunities for growth in the food and pharmaceutical industries thereby expanding the microbial fermentation technology market.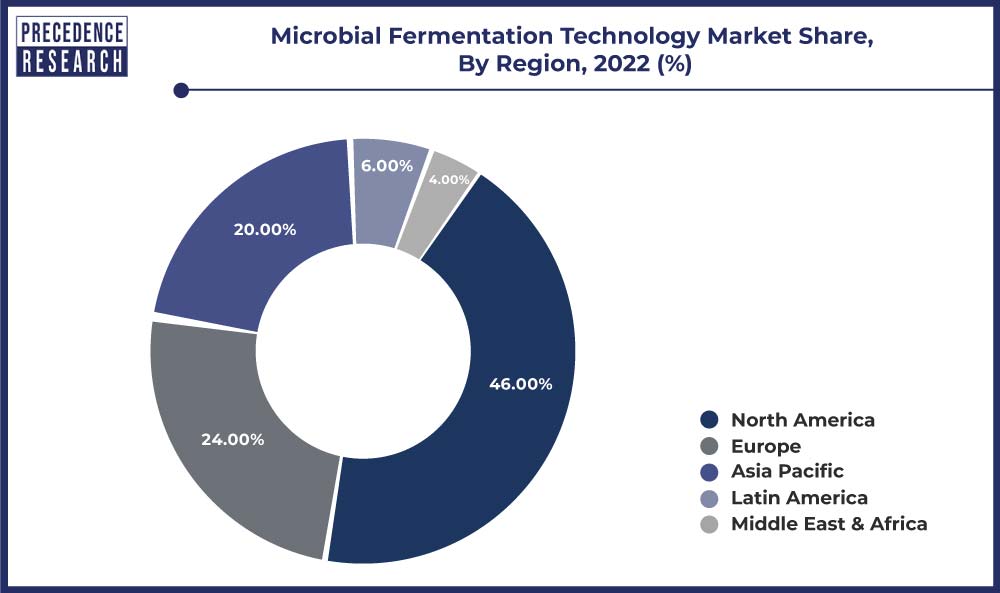 North America is expected to witness significant growth in the forecast period. The growing engagement of companies in research and product development in biology coupled with the presence of a substantial number of contract development organizations in the region. The robust regulatory framework is another critical factor in shaping the North American market. The U.S. FDA attempts to work and improve guidelines regarding the development, approval, legal practice, promotion, and surrounding biopharmaceutical products.
The North American region is considered as a huge market for microbial fermentation technology. The increasing demand for pharmaceuticals, industrial enzymes, and biofuels drives the growth of this market. The United States is the largest market in this region due to significant players in the industry, such as Novozymes, DSM, and DuPont.
Recent Developments:
In February 2023, a precision fermentation alliance 'The Precision Fermentation Alliance' was formed by food tech business, Nine Foodtech Startup to develop meaty flavors for meat substitutes. This alliance uses microbes including yeast, bacteria, fungi, and others to generate ingredients more effectively and sustainably.
In January 2023, FrieslandCampina and Triplebar Bio announced the extension of their collaboration in order to develop and scale up the production of cell-based proteins through precision fermentation, the alliance aims to develop creative alternative protein solutions that enhance human health, target infant nutrition, and lessen reliance on conventional protein sources.
In August 2022, IIT Guwahati researchers thrived a new technique from sugarcane extract to produce "Xylitol", a sugar substitute, in which ultrasound accelerates the fermentation process and its yield.
In February 2022, Rice University and the University of California, Davis, combined bacteria using two systems of fermentation which didn't existed before to produce energy.
In February 2022, Oklahoma State University issued a patent that could significantly increase chemical and biofuel yield by reducing CO2 emissions.
Key Market Players:
Abolis Biotechnologies
ABPDU
AGC Biologics
Bio-CAT Microbials
Bio-Technical Resources
Biocatalysts
Bluestem Biosciences
EKF Diagnostics
Fujifilm Diosynth
Microbial Discovery Group
Osprey Biotechnics
Wisconsin BioProducts
Scientific Protein Laboratories
Zero Acre Farms
Zea2 Bioworks
Hoffmann-La Roche AG
Koninklijke DSM NV
Biocon Ltd.
BioVectra Inc.
TerraVia Holdings Inc.
United Breweries Ltd.
Segments Covered in the Report:
(Note*: We offer report based on sub segments as well. Kindly, let us know if you are interested)
By Application
Enzymes
Probiotics Supplements
Monoclonal Antibodies
Biosimilars
Antibiotics
Vaccines
Recombinant Proteins
Small Molecules
By End-User
Bio-Pharmaceutical Companies
CMOs & CDMOs
Contract Research Organizations (CROs)
Academic & Research Institutes
By Geography
North America
Europe
Asia-Pacific
Latin America
Middle East and Africa