The global smart healthcare products market size is expected to be worth around USD 85.37 billion by 2030 from USD 44.65 billion in 2020 with a CAGR of 9.2% over forecast period 2021 to 2030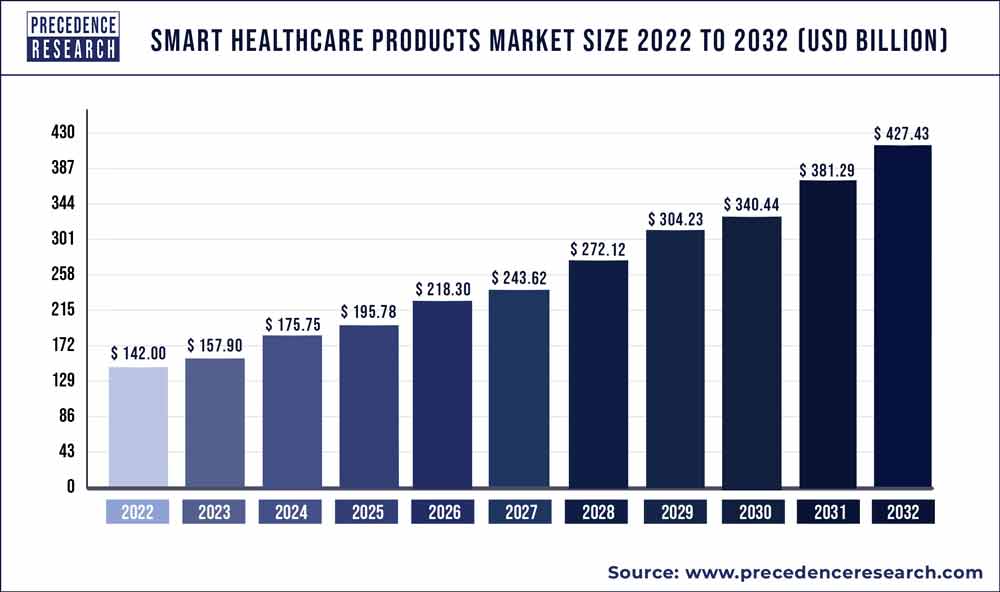 Key Market Insights:
The Internet-of-Things has engaged with business spectrum along with its applications including healthcare. Smart healthcare products market is projected to grow at considerable rate due to penetration of internet worldwide. The traditional doctor and patient appointment has lost its productivity with the ever-increasing world population. Smart healthcare is now becoming very critical. Smart healthcare can be incorporated at all stages, ranging from baby temperature tracking to elderly monitoring of vital signs. In general, connected health refers to any digital healthcare solution that can work remotely and is a collective term for subsets such as telemedicine and mobile health, but with an additional aspect of continuous health monitoring, emergency detection and automatic alerting of appropriate individuals.
Vital factors responsible for market growth:
Rising adoption of mHealth
Supportive government programs
Rapid improvements in healthcare IT
COVID-19 Impact on Global Smart Healthcare Products Market
Due to the COVID-19 outbreak and the consequent lockdowns declared by governments around the world, the global economy is experiencing an unprecedented slowdown. Although all industries are impacted by the initiatives, many of these have direct consequences and significance for the sectors of health care and life sciences. While some companies and services are forced to shut down, healthcare and life sciences businesses are motivated to work much harder, to innovate faster, to work together and to be resilient at an unparalleled pace. However, the rising number of COVID-19 cases globally will boost demand for the smart healthcare products industry. While exports and imports were dramatically affected by the sealed border of the major economies for 2020 in order to prevent the spread of novel coronavirus, there was an upsurge in the services rendered by medical companies relating to the use of IT in healthcare. Thanks to the reforms planned by countries in their healthcare systems, smart healthcare products are projected to see rapid growth in the coming years.
Future of Global Smart Healthcare Products Market
Through using advanced sensors and computer communication technology, the IoT revolution has already caught up with the global demand for smart healthcare products and is producing a wide variety of applications on the market. The launch of the new IoT technologies enables healthcare hardware and medical equipment manufacturers to generate and store medical records at rates much faster than ever.
Segment Analysis:
The Wearable Biosensors Segment Is Projected To Dominate the Product Type Segment of Smart Healthcare Products Market Revenue
On the basis of product type wearable biosensors segment is dominant owing to its increased adoption by the end-users worldwide. Wearable activity trackers product type segment is expected to hold share more than 20% in global smart healthcare products market
Pharmacy Stores Distribution Channel Is Predictable To Take over the Distribution Channel Segment of Smart Healthcare Products Market Revenue
On the basis of distribution channel the global market is segmented into major type's pharmacy stores, e-commerce, and others. The pharmacy stores segment is leading with major share in terms of revenue. The e-commerce segment is anticipated to grow at significant CAGR over the forecast period owing to increased penetration of internet across the globe.
North America is estimated to be the Largest Market for Smart Healthcare Products
The study report covers key trends and prospects of smart healthcare products across different geographical regions including North America, Europe, Asia-Pacific, Latin America, Middle East, and Africa. Geographically, smart healthcare products market is conquered by North America owing to speedy technological progress in healthcare products and the presence of major companies operating in the target market. Asia Pacific smart healthcare products industry market is estimated to grow at noteworthy growth rate in the next 10 years. The growth is attributed to and rising home healthcare monitoring tendency, coupled with increasing geriatric population in the countries of APAC owing to changing lifestyle which is creating demand for the smart healthcare products. Additionally, budding demand for the smart healthcare products for the end users in LATAM and the countries of Middle East and Africa is anticipated to propel industry growth in the next 10 years.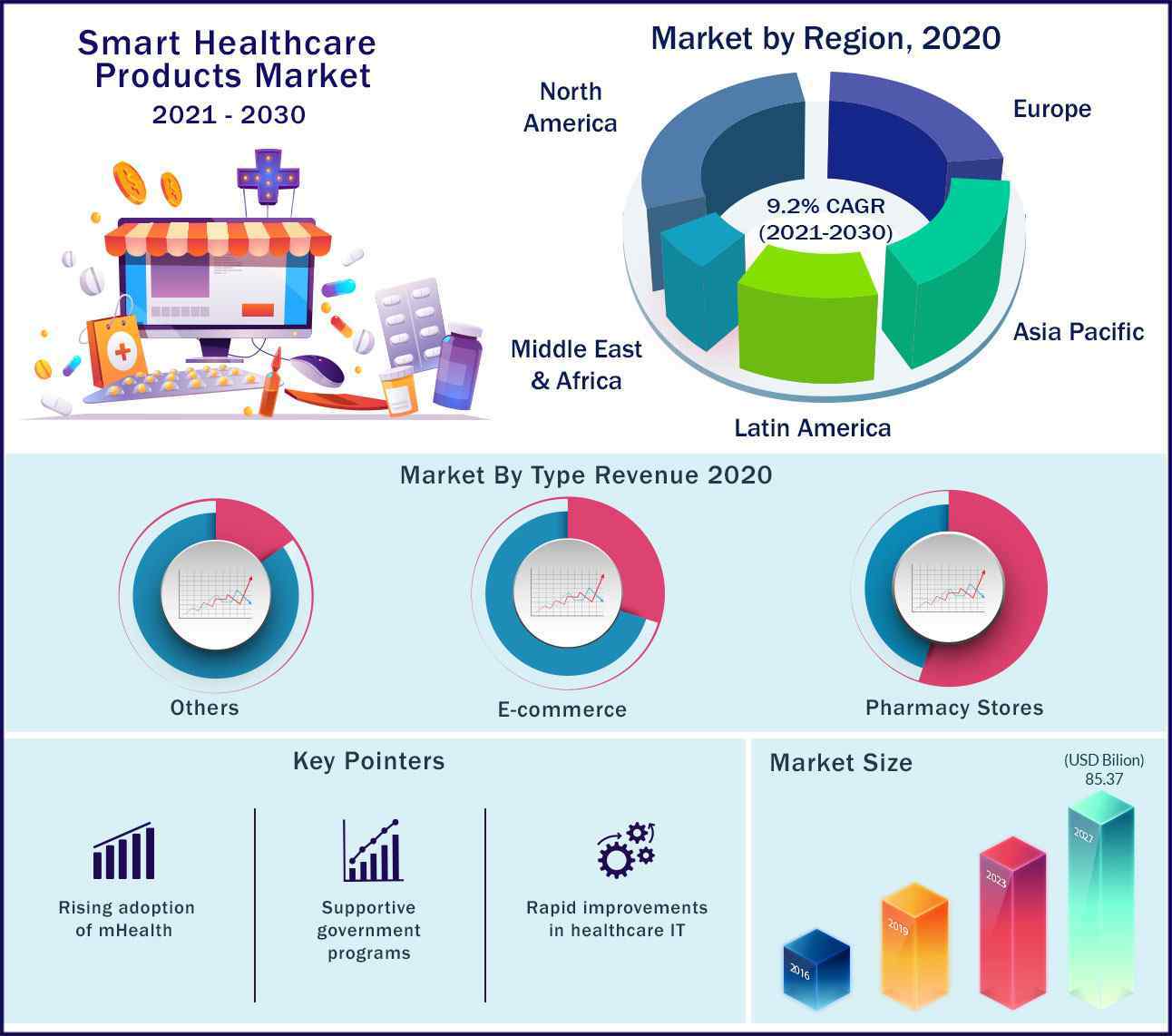 Top Players contending in the Market:
The companies focusing on research and development are expected to lead the global smart healthcare products market. Leading competitors contending in global smart healthcare products market are as follows:
Medtronic, Inc.
eClinicalWorks
Olympus Corporation
Terumo Corporation
Becton, Dickinson & Company
Cerner Corporation
Stanley Healthcare
Honeywell Life Care Solutions
Allscripts Healthcare Solutions, Inc.
AirStrip Technologies, Inc.
For the better understanding the recent situation of the global smart healthcare products market and for most policies of the country, Precedence Research forecast the future evolution of the smart healthcare products industry. This research study offers qualitative and measureable insights on smart healthcare products market and valuation of market size and development trends for global market segments.
Key Market Developments:
In 2020, Allscripts increased its engagement with its largest client, Northwell Health, which is the largest health system in New York.
In 2020 A New Spinal Cord Stimulation Therapy, Medtronic Acquired Stimgenics, Pioneer of DTM.
Major Market Segments Covered:
By Product
ECG Wearable Devices
Wearable Activity Trackers
Wearable Biosensor
Others
By Distribution Channel
Pharmacy Stores
E-commerce
Others
By End User
Diabetes Patient
Heart Disease Patients
Chronic Renal Failure Patients
Others
By Geography
North America
Europe

Germany
France
United Kingdom
Rest of Europe

Asia Pacific

China
Japan
India
Southeast Asia
Rest of Asia Pacific

Latin America

Brazil
Rest of Latin America

Middle East & Africa (MEA)

GCC
North Africa
South Africa
Rest of Middle East & Africa