The global smart healthcare market size is expected to grow from an estimated value of USD 145.32 billion in 2020 and is expected to reach USD 482.25 billion by 2027, growing at a CAGR of 17.97% between 2020 and 2027.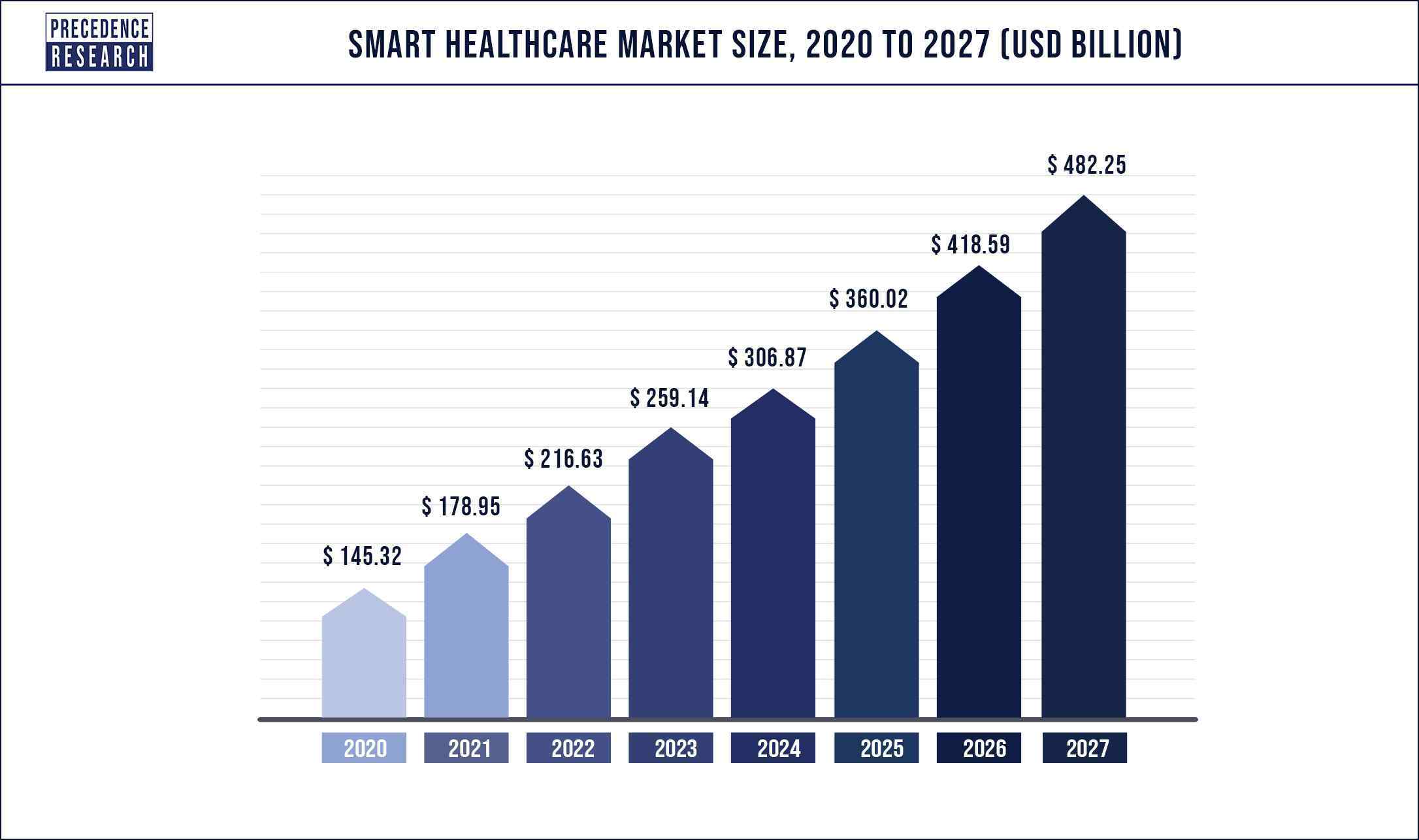 Growth Factors
Smart health care products are a tool that incorporates advanced technologies to provide patients with improved treatment and enhance the quality of life. Some of the most popular kinds of smart health care items are smart pills, smart syringes, electronic health care, etc. They have reliable patient-related data and assist physicians to properly handle their patients. The growth of this market is driven by rising chronic illnesses such as diabetes, cancer, heart disease, etc. The healthcare sector has been changed by digitalization. In recent years, the adoption of mHealth has increased significantly, primarily due to increasing smartphone use and digitization. Rising adoption of mHealth, government initiatives to digitize healthcare, and the prevalence of chronic disorders are likely to accentuate the demand for smart healthcare systems. For example, in March 2020, the Government of Quebec, in collaboration with the Canadian Medical Association (CMA), agreed to expand access to telehealth facilities in various provinces of Canada, such as Alberta, New Brunswick, British Columbia, Manitoba, Ontario, Newfoundland and others in collaboration with the Canadian Medical Association (CMA). These attempts are expected to place digital patient-oriented healthcare systems at the forefront globally.
Product Insights
MHealth dominated the smart healthcare market with about 47.0 percent revenue share in 2019 on the basis of the product. High internet use, smartphones, and the adoption of mHealth apps are responsible for the dominance. In addition, the launch of Apple, Fitbit, and MI wearable devices is positively affecting the market. Proxxi, a Canadian corporation, introduced a wearable system named Halo in April 2020. This device is designed to ensure that social distance at work during the ongoing global COVID-19 pandemic is complied with. To ensure proper social distancing, this system will constantly record separation. At a CAGR of 22% from 2020 to 2027, the RFID kanban system is the fastest-growing market. Supply chain management, automation, real-time intelligence, and asset monitoring are the main developments helping with RFID adoption. RFID technology helps to recognise problems in hospital workflows, especially in order to rapidly and more efficiently move patients in and out. In addition, RFID in Real-Time Location Systems (RTLS) also helps to track newborn infants.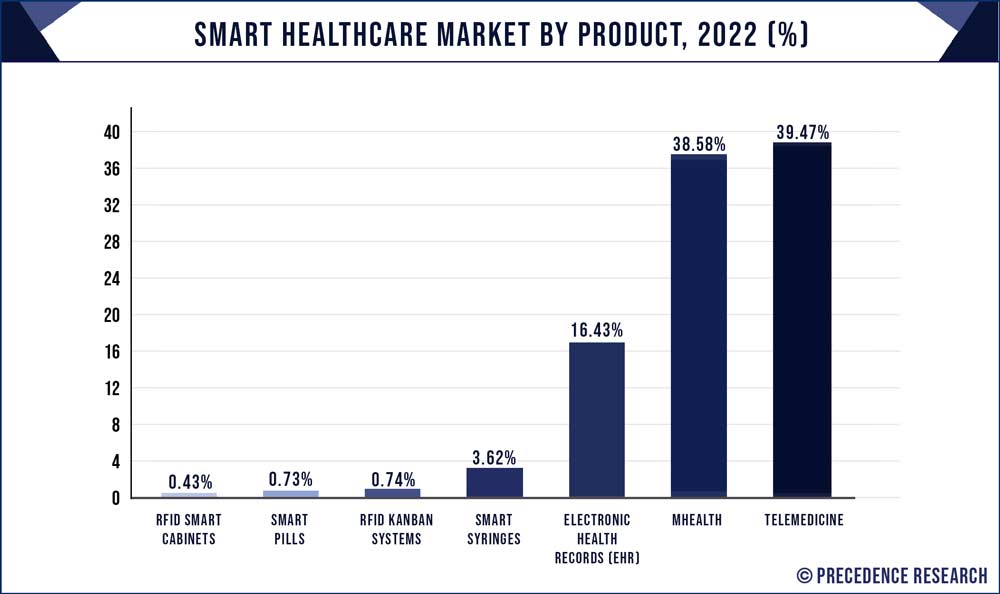 The second fastest-growing segment in the market for smart healthcare was telemedicine. In the aftermath of the current COVID-19 outbreak, healthcare professionals are expected to improve the acceptance and use of telemedicine to communicate efficiently with their patients. Digital care delivery is emerging as an efficient option for healthy contact due to social distancing globally. In addition, businesses are partnering with hospitals to track patients with COVID-19.
Regional Insights
At a sales share of 34.81 percent in 2019, North America dominated the market. This is due to supportive government policies for digital health deployment and accessibility of highly digital literacy resources. In addition, the involvement of key market players, rising knowledge of connected healthcare, high internet penetration, and smartphones, along with the use of health-related apps, are some of the key factors responsible for market growth. The American Hospital Association (AMA) announced on March 10, 2020 that, due to its affordability and high health care value, approximately 76 percent of hospitals in the U.S. use telehealth to communicate with consulting professionals and patients. In addition, the successful adoption of e-prescription systems and electronic health records (EHR) in different healthcare centres is driving regional market development.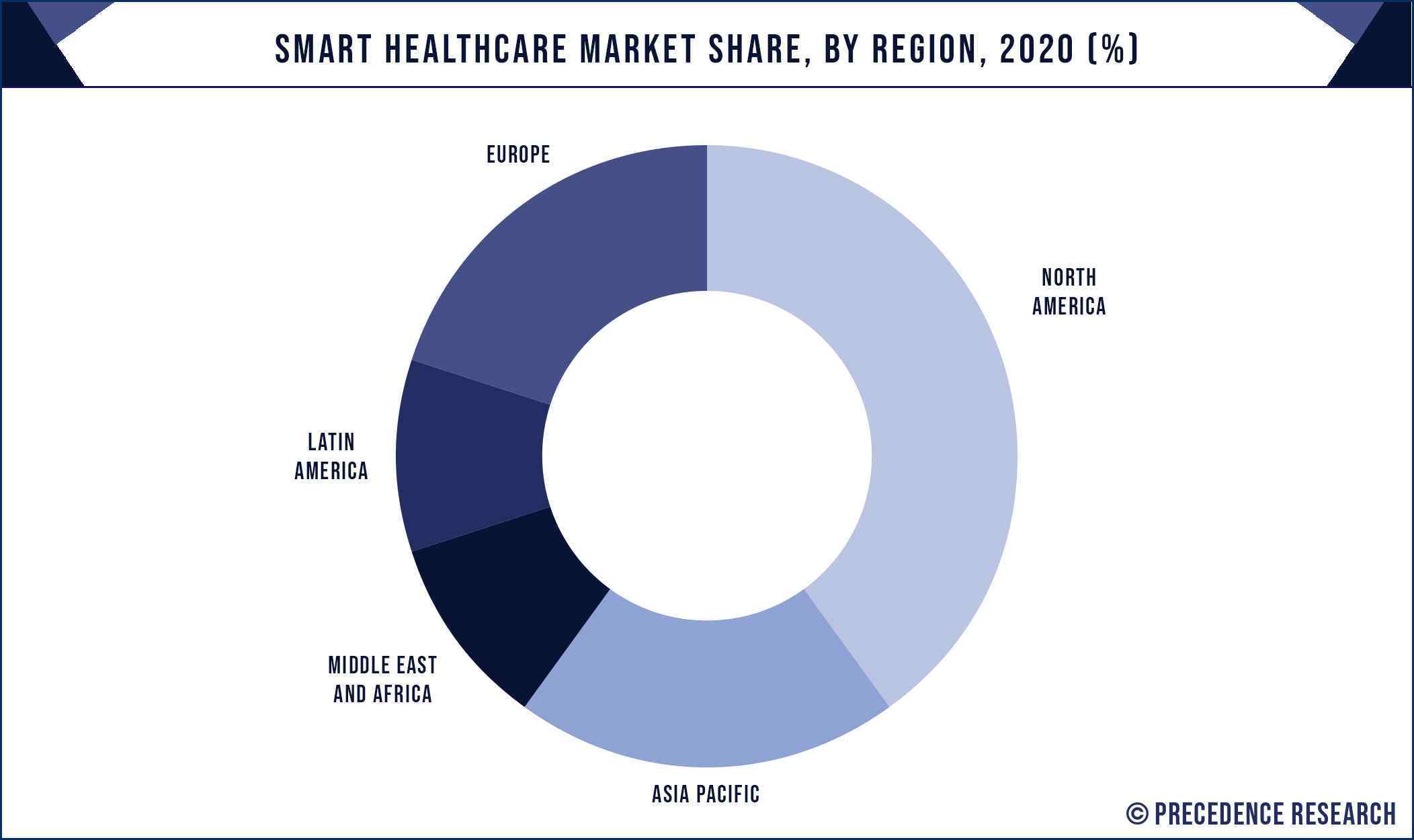 Over the forecast era, Asia Pacific is expected to exhibit profitable growth. Due to their existing healthcare IT infrastructure and increasing investments in smart healthcare, countries such as Japan, Australia and India exhibit significant potential. In developing nations such as China and India, the number of government digitalization initiatives is expected to accelerate the adoption of digital healthcare solutions such as health services. Companies are increasingly investing in telemedicine services with rising COVID-19 cases in the country. Huawei praised the provision of cellular networks, conferences, and smartphones across Thailand, Bangladesh, and Malaysia on April 14, 2020. This is intended to increase the acceptance of telemedicine practises in order to battle the region's COVID-19 pandemic.
Key Companies & Market Share Insights
Global smart healthcare market is extremely fragmented and the key players are using various strategies such as expansion, new product launches, joint ventures, agreements partnerships, acquisitions, and others to increase their presence in this market. For example, in April 2020, by launching the COVID-19 High-Performance Computing Consortium in partnership with the US, IBM released AI-powered technologies to support science and health community to accelerate the discovery of medical insights and treatments for COVID-19 Department of Energy and the Science and Technology Office of the White House.
Some of the prominent players in the Smart Healthcare market include:
Allscripts
Logi-Tag Systems
Cerner Corporation
SAMSUNG
Cisco Systems
GENERAL ELECTRIC COMPANY
Siemens Healthcare Private Limited
IBM Corporation
BD
AirStrip
Terumo Corporation
eClinicalWorksResideo Technologies, Inc.
STANLEY Healthcare
Medtronic
Report Scope of the Smart Healthcare Market
| | |
| --- | --- |
| Report Highlights | Details |
| Market Size | USD 482.25 Billion by 2027 |
| Growth Rate | CAGR of 17.97% from 2021 to 2027 |
| Largest Market | North America |
| Fastest Growing Market | Asia Pacific |
| Base Year | 2021 |
| Forecast Period | 2021 to 2027 |
| Segments Covered | Product Type, Region Type |
| Companies Mentioned | Abbott Laboratories, Cisco Systems Inc., Alphabet Inc. Allscripts Healthcare Solutions Inc., Alphabet Inc., General Electric Co., International Business Machines Corp., Hewlett Packard Enterprise Co., Microsoft Corp., Samsung Electronics Co. Ltd. |
Segments Covered in the Report
This research study comprises complete assessment of the market by means of far-reaching qualitative and quantitative perceptions, and predictions regarding the market. This report delivers classification of marketplace into impending and niche sectors. Further, this research study calculates market size and its development drift at global, regional, and country from 2016 to 2027. This report contains market breakdown and its revenue estimation by classifying it on the basis of material, application, and region: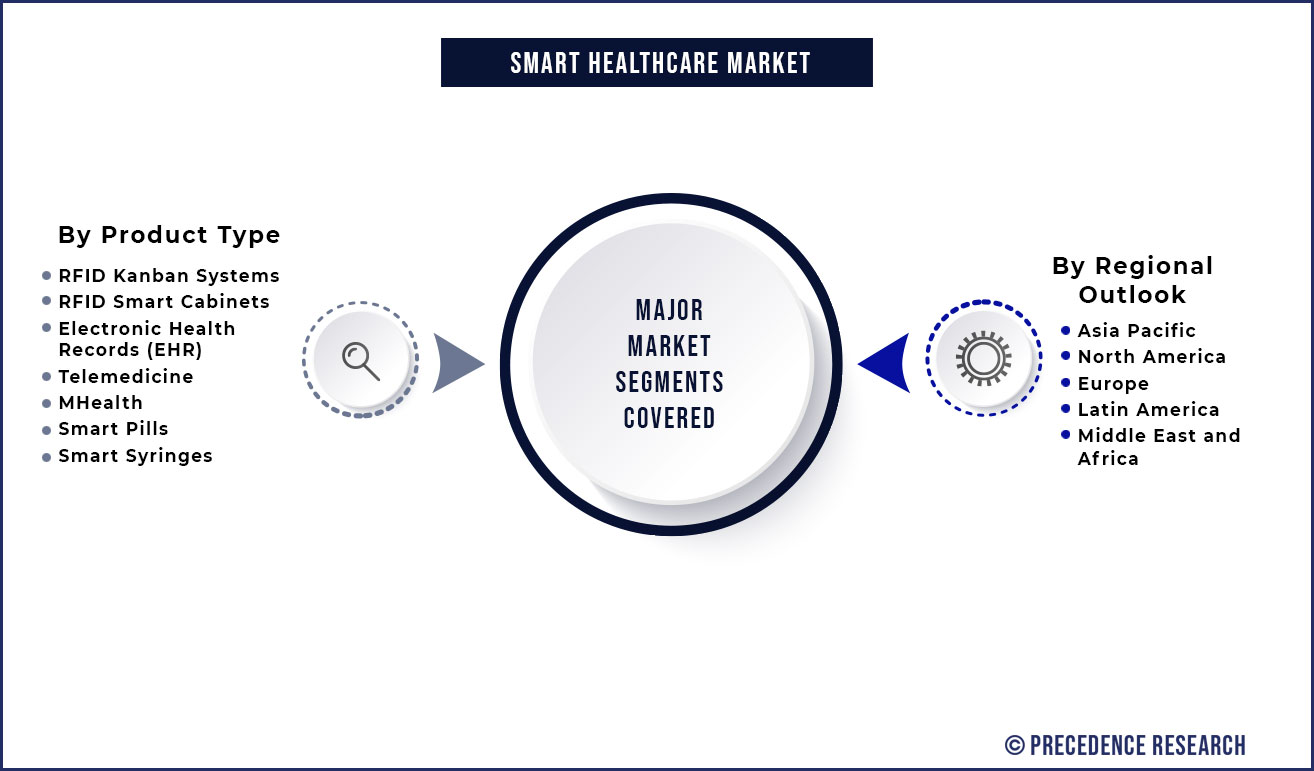 By Product Type
RFID Kanban Systems
RFID Smart Cabinets
Electronic Health Records (EHR)
Telemedicine
MHealth
Smart Pills
Smart Syringes
By Regional Outlook
North America
Europe
Asia Pacific
China
India
Japan
South Korea
Rest of the World