The global microgrid market size was estimated at USD 30.5 billion in 2022 and it is expected to surpass around USD 168.64 billion by the end of 2032, expanding at a registered compound annual growth rate (CAGR) of 18.7% from 2023 to 2032.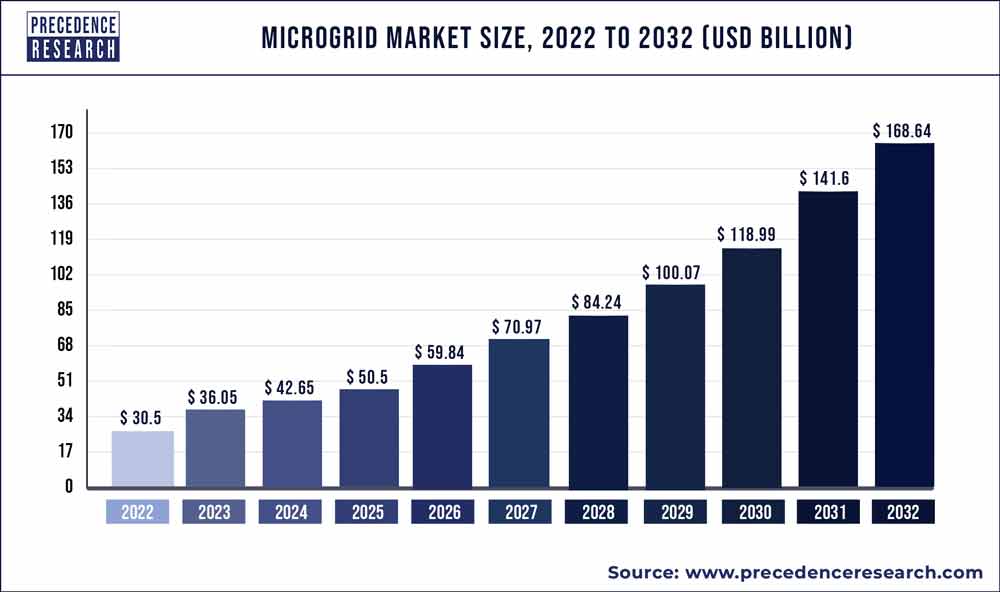 Key Takeaways:
North America accounted for 40.9% of the total revenue share in 2022.
Asia Pacific market has accounted revenue share of 21.50% in 2022.

By type, the AC Microgrids segment has contributed 59.6% revenue share in 2022 and is growing at a CAGR of 15.7% from 2023 to 2032.

By connectivity, the grid-connected segment has captured 62% revenue share in 2022.
Off-grid connected segment has held 38.50 revenue share in 2022.
The natural gas power source segment is poised to grow at a CAGR of 23% from 2023 to 2032.
A microgrid is an energy system that runs concurrently with or independently from the main power grid and has linked loads and dispersed energy resources. To transfer power from producers to consumers, it mostly comprises fuel cells, battery storage systems, wind turbine generators and microturbines, and solar generators. It enhances the efficiency and stability of the electric grid, lowers peak loads, fuel consumption, and congestion, and boosts dependability and resilience. Microgrids may be coupled with a variety of renewable energy sources, including solar, small hydro, wind, waste-to-energy, geothermal, and combined heat and power systems since they are more efficient than conventional electrical networks. The global consumption of energy is rising as a result of increased construction activity in the residential and commercial sectors. This is one of the main drivers of market growth, coupled with rising public and private agency spending on infrastructure development projects. Furthermore, key businesses in the sector are benefiting financially from the growing emphasis on rural electrification.
Growth Factors
In terms of local and national economic gain and improved efficiency, microgrids provide a number of advantages with the worldwide trend toward renewable energy sources to address climate change. A paradigm shift toward the usage of reliable, safe power production units and the ongoing advancement of cutting-edge technologies to provide resilient energy against grid instability are anticipated to complement the market picture.
The growing urbanization
Reducing carbon footprint
Scope of the Microgrid Market
Report Coverage
Details
Market Size in 2023
USD 36.05 Billion
Market Size by 2032
USD 168.64 Billion
Growth Rate from 2023 to 2032
CAGR of 18.7%
Largest Market
North America
Fastest Growing Market
Asia Pacific
Base Year
2022
Forecast Period
2023 to 2032
Segments Covered

Connectivity
Type
Offering
Power Source
Storage Device
Power Rating
End-Use
Geography

Key Market Drivers
Microgrid usage for rural electricity is increasing rapidly
Microgrids are becoming more and more commonplace worldwide. They may be used for remote electrification in remote installations, the development of resilient networks in grid-connected assets, and the support of local energy communities. The IEA estimates that 860 million people globally will not have access to electricity by 2020. 87% of them resided in rural or isolated settings. Microgrids may be set up in small areas and provide power at a cheaper price than traditional grids.
The expanding government backing and spike in microgrid project implementation are further factors influencing the market for microgrids for rural electrification. The establishment of solar-powered water pumps and microgrids in rural regions across India would be accomplished through a partnership between Tata Power and the e-governance services division of the Indian government, CSC, announced in April 2021.
Technological developments in renewable energy
During the projected period, the market is also expected to be driven by advancements in renewable energy technology. Renewable energy sources may readily be used by microgrids to provide power. Additionally, because they produce nearly no carbon emissions and have advantages in terms of efficiency and cost, renewable energy sources are increasingly being used in microgrids.
Government mandates to reduce carbon footprint
The business trend will be driven by strict government regulations to minimize carbon footprint together with the ongoing development of energy-efficient technologies. The demand for robust and dependable energy supply across a variety of establishments, together with the expansion of large-scale renewable power production options, will promote the growth of the microgrid industry.
The increasing demand for smart control solutions in distant places and the shifting customer focus toward the adoption of low-emission power supply solutions would improve the business dynamics. The industry scenario will be enhanced by supportive government initiatives for the construction of grid infrastructure in keeping with shifting trends toward the development of decentralized grid networks.
Key Market Challenges
High cost and operational challenges - The issue has to do with the installation expenses incurred when a microgrid is used in place of a traditional grid. System engineers, monitoring systems, and relays must all be included for microgrids to operate well. When compared to the other grid, this can dramatically raise a microgrid's installation costs. Because they can store, convert, and recycle energy and offer better levels of reliability and power quality, microgrids are more costly than conventional networks.
Key Market Opportunities
Governments are becoming more supportive of creating microgrid initiatives - A reliable, efficient power supply can be provided for many industries with the help of microgrid technology, which is also getting more and more cost-efficient. Initiatives for microgrids are now being financed by governments from numerous countries. For instance, the Federal Government of Australia established a microgrid financing scheme of USD 50 million in October 2019. Amounting to USD 20 million of this, funding was given to the nation for microgrid feasibility studies. During the projected period, the market is anticipated to benefit from these government efforts as growth prospects.
Segments Insight
Connectivity Insights
On the basis of connectivity, the grid-connected connectivity segment is expected to have the largest market share in the coming year period. Grid-connected microgrids are made up of several generators, distribution networks, and sophisticated controllers. These technologies offer several benefits, which enhance demand, in addition to increasing grid resiliency, improving power quality, and lowering their environmental effect.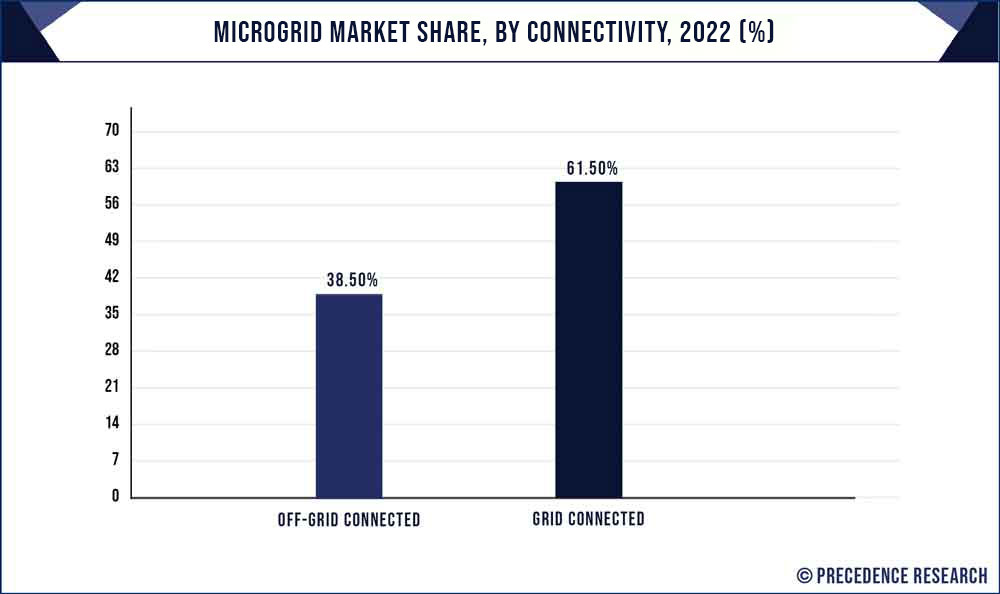 Global utility-based grid network development and the extensive use of renewable energy sources, such as offshore wind, are two major factors influencing the segment's growth.
Type Insights
On the basis of type, the hybrid segment has accounted largest market share in the coming years period. This rise is related to the rising end-user demand for reliable power supply as well as the ongoing rollout of efficient & optimized energy storage technologies. Product penetration will result from a paradigm shift toward the use of low emission and minimal fuel consumption solutions to give better power quality and greater resilience. Additionally, continued technology developments for efficient remote energy management will have a favorable effect on the dynamics of the sector.
Microgrid Market Share, By Region, 2022 (%)
| | |
| --- | --- |
| Regions | Revenue Share in 2022 (%) |
| North America | 40.7% |
| Asia Pacific | 21.5% |
| Europe | 26% |
| Latin America | 7% |
| MEA | 4.8% |

Regional Insights
On the basis of geography, North America is expected to continue to be among the most alluring markets, and this region accounted for the majority of revenue share in the market throughout the projection period. The area has gained popularity in the market because of the presence of multiple microgrid companies and government programs, such as the Smart Power Infrastructure Demonstration for Energy Reliability and Security (SPIDERS) program, to encourage the implementation of microgrids. In terms of microgrid development and capacity, North America dominated the microgrid industry in 2021. Numerous fossil-fueled commercial and industrial (C&I) microgrids are being built in North America as resiliency options. Moreover, the dependency of end users on utility systems to provide their energy demands has risen due to the rise in global population and increase in power consumption. By 2040, worldwide energy consumption is predicted to rise by over 56%, according to the U.S. Energy Information Administration (EIA). In addition, the demand for electricity is growing quickly and cannot be fully fulfilled by the main networks because of increased industrialization and urbanization. Hence, this region has a prominent scope in the forecast period.
The Asia Pacific is anticipated to be one of the most appealing regions, accounting for the significance of the market's revenue share throughout the course of the projection year. This is mostly caused by the area's low electrification rate, poor grid connectivity, and high demand for electricity. It is predicted that the Asia Pacific market would grow significantly during the forecast period, largely as a result of the region's quick industrialization and urbanization, particularly in China and India. Additionally, governments in Asia-Pacific nations intend to support distributed energy generation and microgrids in order to provide electricity to their citizens.
Recent Developments
In May 2022 - To manage the complexity of grid systems, Siemens produced a grid software suite. Siemens Smart Infrastructure has created an open, modular software suite.
Key Market Players
Lockheed Martin Corporation
ZBB Energy Corporation
ABB Ltd.
Consert Inc.
Viridity Energy Inc.
S&C Electric Company
Chevron Energy
Toshiba Corporation
HOMER Energy LLC
Honeywell International Inc.
GE Digital Energy
Power Analytics Corporation
Microgrid Energy LLC
Siemens
Segments Covered in the Report
(Note*: We offer reports based on sub-segments as well. Kindly, let us know if you are interested)
By Connectivity
Grid Connected
Off-grid Connected
By Type
AC Microgrids
DC Microgrids
Hybrid
By Offering
Hardware

Power Generators
Energy Storage System
Controllers

Software
Services
By Power Source
Diesel Generators
Natural Gas
Solar PV
CHP
Fuel Cell
Others
By Storage Device
Lithium-ion
Lead Acid
Flow Battery
Flywheel
Others
By Power Rating
Less Than 1 MW
1 MW to 5 MW
5MW to 10 MW
More Than 10 MW
By End-Use
Commercial & Industrial
Remote Areas
Institutes & Campuses
Healthcare
Others
By Geography
North America
Europe
Asia-Pacific
Latin America
Middle East & Africa (MEA)