The global nephrology drugs market size was estimated at USD 15.9 billion in 2022 and it is expected to hit around USD 27.2 billion by 2032, growing at a CAGR of 5.52% from 2023 to 2032.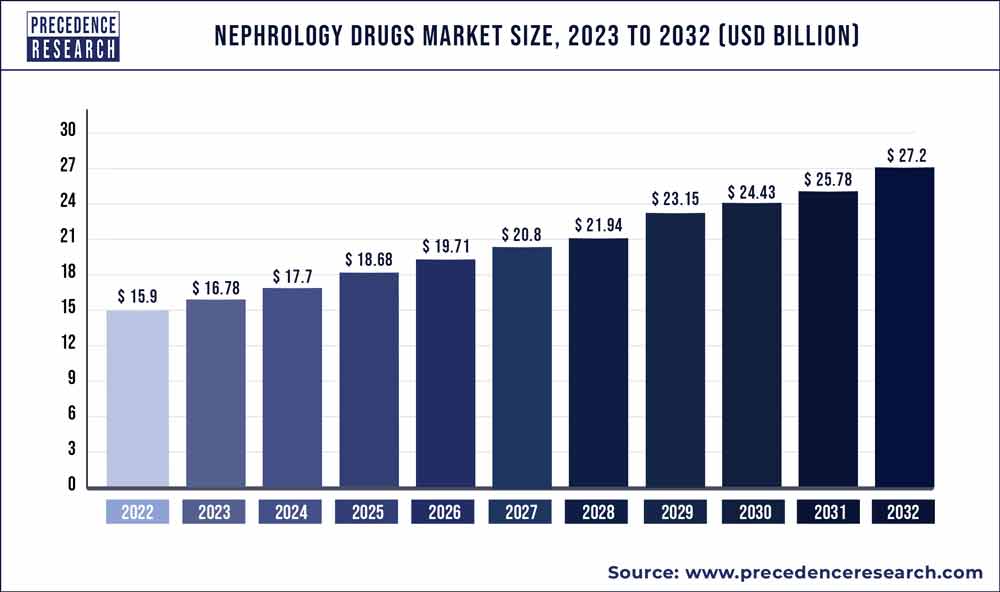 Access our Premium Real Time Data Intelligence Tool, Visit: Precedence Statistics
The study of the kidney and illnesses associated with it is the focus of the medical specialty known as nephrology. Medical experts administer nephrology medications, also known as renal medicines, to treat a variety of kidney illnesses, including kidney infections and stones, as well as to promote kidney health. These medications can be given parenterally or orally.
Key Points:
By geography, the North America region captured the largest market share in 2022.
By drug class, the ACE inhibitors segment generated the major market share in 2022.
By route of administration, segment is expected to have the fastest market growth rate.
By distribution channel, the hospital pharmacies segment dominates the global market.
Growth Factor
Due to the rising incidence of kidney disease among millennials worldwide, the market for nephrology pharmaceuticals is anticipated to have impressive development over the forecast period. Increased awareness of the frequency of kidney disorders, changes in lifestyle, and an increase in occurrences of diabetes and hypertension are some of the reasons driving the growth of the worldwide nephrology pharmaceuticals market. The ability of nephrology pharmaceuticals to treat conditions like chronic kidney disease and acute renal illness significantly aids in the market's expansion.
Additionally, growing public knowledge of kidney disorders and increased funding for research, development, and innovation support market expansion on a worldwide scale. The alarming increase in kidney failure cases, the rise in the frequency of different chronic nephrology disorders, the adoption of an unhealthy lifestyle, and the increase in the number of older people are the main reasons fueling the growth of the nephrology pharmaceuticals market.
Additionally, a rise in alcohol consumption, an increase in kidney disease diagnostic tests, an increase in the population who are obese, an increase in R&D activities for the introduction of new drugs and improvements to existing drugs, and emerging technology in developing economies are all contributing to the market's expansion.
The government has implemented several steps to support regulatory affairs in obtaining licenses for innovative pharmaceuticals and insurance plans that are opening up attractive potential in the market for nephrology drugs. Additionally anticipated to contribute to the expansion of the nephrology medicines market during the analysis period is the rising elderly population worldwide.
Since millennials worldwide are developing renal disorders such as kidney fibrosis and kidney failure due to lifestyle changes, the market is anticipated to rise significantly over the following years.
During the anticipated period, the market is anticipated to see significant growth potential due to the ongoing launch of new medicines and the continued development of current nephrology medication products.
The market is likely to grow as research and development efforts for drugs to treat chronic kidney disease increase.
Factors like an increase in kidney failure cases, an increase in adopting a lousy lifestyle, an increase in the prevalence of chronic nephrology diseases, an increase in the population of the elderly, an increase in the demand for diagnostic tests, an increase in excessive alcohol consumption, and an increase in the number of obese people are fueling the growth of nephrology drugs.
Report Scope of the Nephrology Drugs Market
| | |
| --- | --- |
| Report Coverage | Details |
| Market Size in 2023 | USD 15.9 Billion |
| Market Size by 2032 | USD 27.2 Billion |
| Growth Rate from 2023 to 2032 | CAGR of 5.52% |
| Largest Market | North America |
| Second Largest Market | Europe |
| Fastest Growing Market | Asia Pacific |
| Base Year | 2022 |
| Forecast Period | 2023 to 2032 |
| Segments Covered | By Drug Class, By Route of Administration and By Distribution Channel |
| Regions Covered | North America, Europe, Asia-Pacific, Latin America and Middle East & Africa |

Key Market Drivers
Growing kidney disease cases to accelerate market growth
The rapid growth of the nephrology drugs market share is anticipated to be fueled by the millennial generation's rapidly rising incidence of kidney diseases like kidney failure and kidney fibrosis, which are brought on by changes in lifestyle, such as reduced physical activity and unhealthy eating patterns. Different kidney diseases, like kidney infections, affect many people worldwide.
For instance, the National Kidney Foundation's 2018 data shows that every year, about 37 million Americans, or 15% of the country's population, are affected by kidney disease. Therefore, the first line of treatment for managing and halting the spread of any serious kidney-related diseases is nephrology medication prescribed by medical professionals. Additionally, it is anticipated that the market for nephrology drugs will grow in the coming years due to the growing geriatric population worldwide.
Key Market Challenges
Kidney disorders are not widely known, which could impede market expansion
Lack of knowledge about kidney disorders is anticipated to be the main factor limiting the growth of the nephrology drugs market. Even though government initiatives to increase public awareness of chronic kidney disease (CKD), including the distribution of clinical practice guidelines and recommendations for patients with CKD or its risk factors, local awareness campaigns like World Kidney Day, and free screening programs for high-risk individuals like the Kidney Early Evaluation Program (KEEP), awareness of CKD is still unacceptably low.
For instance, in March 2018, a cross-sectional study for the evaluation of chronic kidney disease revealed that people in Australia have very little knowledge of chronic kidney disease (CKD), with only half of the participants knowing that medications can help to slow the progression of chronic kidney disease. This study was published in BMC Public Health. Furthermore, 23.4% of all participants with chronic kidney disease knew that herbal supplements don't work to cure the condition.
Key Market Opportunities
Over the forecast period, product launches and approvals are anticipated to fuel market expansion
Major market players concentrate on innovative product launches and approvals to diversify their product offerings and increase their market presence internationally. For instance, Farxiga will be authorized in the United States in April 2021 to treat individuals with or without type 2 diabetes who are at risk of developing chronic kidney disease. For the treatment of anemia brought on by chronic kidney disease, GSK was granted the first regulatory approval for Duvroq (daprodustat) in Japan in April 2020.
Mimpara (cinacalcet), a medication for secondary hyperparathyroidism (HPT), has been given the green light by the European Commission (EC) to be used more widely in children aged three and older who are on dialysis and whose secondary HPT is not sufficiently managed by the standard of care therapy.
Additionally, Amgen, Inc.'s Parsabiv (etelcalcetide), approved for treating secondary hyperparathyroidism in adult people with chronic kidney disease receiving hemodialysis, obtained FDA clearance in February 2017.
Segments Insight
Drug Class Insights
Angiotensin-converting enzyme (ACE) inhibitors lower blood pressure by relaxing the veins and arteries. An angiotensin II substance constricts blood vessels and is not produced by the body when angiotensin-converting enzyme inhibitors (ACE inhibitors) are utilized. This restriction can lead to a high level of blood pressure, which makes the heart work harder. Hormones that increase blood pressure are likewise produced by angiotensin II.
Due to a growth in the incidence of different cardiovascular and hypertension problems, changing lifestyles, and other factors, the ACE inhibitors sector now leads the worldwide nephrology medicines market by pharmacological class. Globally, cardiovascular illnesses are the leading cause of mortality.
According to estimates, 17.9 million deaths worldwide in 2019 were attributable to CVDs, or 32% of all fatalities. Eighty-five percent of these fatalities were due to a heart attack or stroke. More than 75 percent of CVD fatalities occur in low- and middle-income nations.
Thirty-eight percent of the 17 million premature fatalities (under the age of 70) brought on by non-communicable illnesses in 2019 were attributable to cardiovascular disorders. ACE inhibitors treat or prevent kidney disease (nephropathy) in people with diabetes or high blood pressure.
Route of Administration Insights
The oral sub-segment is predicted to have the quickest market growth rate and produce $14,154.7 million in revenue by 2032. The non-invasive medication delivery route of oral pharmaceuticals is to blame for the change in income of the sub-segment. Oral medication administration is quite convenient for patients, especially elderly persons. Additionally, it is projected that the increased incidence of renal illnesses, such as kidney failure, would accelerate market expansion throughout the forecasted year.
Distribution Channel Insights
The hospital pharmacies sub-segment is anticipated to dominate the worldwide market and generate $11,049.0 million over the projected period. The expansion of the sub-segment is due to an increase in the number of patients with chronic renal disease who visit hospitals. The hospitalization rate has risen with the rise in renal disease incidence. Due to their proximity to the hospital, patients find it convenient to obtain the necessary nephrology medications at hospital pharmacies. These elements are expected to increase market revenues significantly.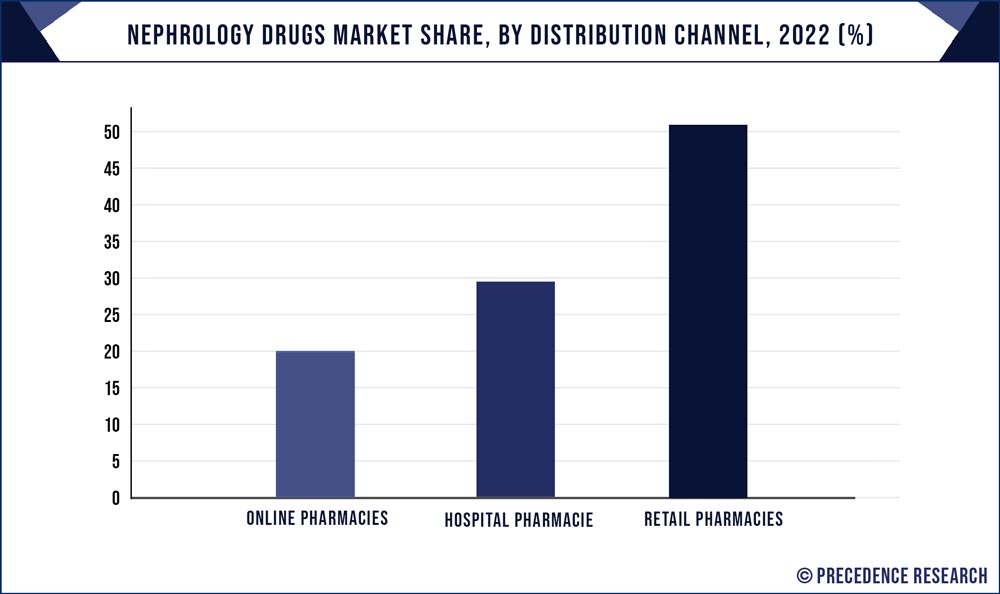 The sub-segment of retail pharmacies is predicted to grow and produce $9,010.9 million in sales by 2030. Due to the increase of retail pharmacy outlets worldwide, the sub-segment is anticipated to develop impressively. Since they are readily available everywhere and the pharmacist goes over dosage instructions with the customers, many people prefer to buy their medications from retail pharmacies. Such elements are likely to boost market expansion during the anticipated time frame.
Regional Insights
Due to the rising obesity rate and the rising number of diabetes patients, two significant factors driving the market for nephrology pharmaceuticals in the United States, North America held the largest market share in 2022. The nephrology medication industry was significantly boosted by increased support from governmental and healthcare institutions.
In the United States, chronic kidney disease affects more than 20 million individuals each year, according to the Centers for Disease Control and Prevention. In terms of sales, Europe remained the second-largest market for nephrology medications. The main factor in Europe was the high incidence of chronic renal disease. According to the prediction, Asia-Pacific saw the fastest growth rate from 2023 to 2032.
The critical factors in the Asia-Pacific region are the increasing prevalence of diabetes and cardiovascular diseases, emerging healthcare infrastructure and regulations, population growth, development, per capita income, and healthcare spending, as well as increased government initiatives and public awareness.
Recent Developments
Grupo Olmos, a firm that offers renal care solutions, said in July 2022 that it had purchased the renal care division of Diaverum, an Argentinean supplier of renal healthcare. The company's renal product portfolio will be strengthened by the purchase of the renal business.
The biggest private healthcare organization with operations throughout many GCC states, Aster Hospitals, said in March 2019 that it has begun a screening and awareness campaign to encourage the early detection and prevention of chronic kidney disease (CKD).
Key Market Players
AstraZeneca
AbbVie Inc.
Akebia Therapeutics, Inc.
Amgen Inc.
F. Hoffmann-La Roche
FibroGen Inc.
Johnson & Johnson Inc.
Pfizer Inc.
Teva Pharmaceutical Industries Limited
Reata Pharmaceuticals, Inc.
GlaxoSmithKline plc.
Ardelyx, Inc.
Boehringer Ingelheim International GmbH
Novo Nordisk A/S
Novartis AG
Segments Covered in the Report:
(Note*: We offer report based on sub segments as well. Kindly, let us know if you are interested)
By Drug Class
ACE Inhibitors
Angiotensin Receptor Blockers (ARBs)
B-Blockers
Calcium Channel Blockers
Loop Diuretics
Erythropoiesis-Stimulating Agents (ESAs)
Phosphate Binders
Others
By Route of Administration
Oral
Subcutaneous
Intravenous
By Distribution Channel
Hospital Pharmacies
Retail Pharmacies
Online Pharmacies
By Geography
North America
Europe
Asia-Pacific
Latin America
The Middle East and Africa