The global nephrology and urology devices market size is predicted to hit around USD 11.69 billion by 2032 from USD 6.12 billion in 2022, growing at a CAGR of 6.69% from 2023 to 2032.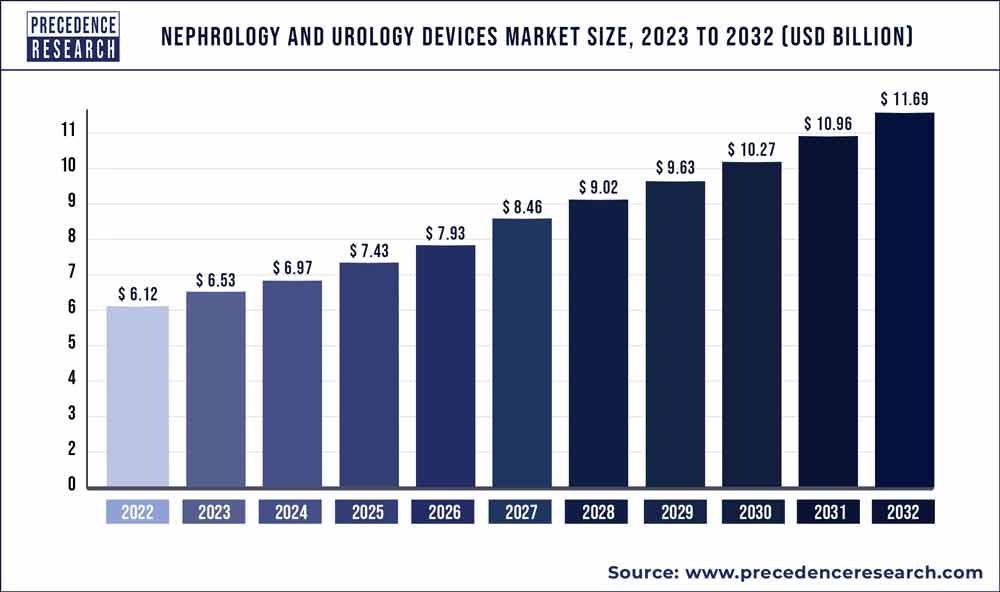 Access our Premium Real Time Data Intelligence Tool, Visit: Precedence Statistics
Nephrology and urology equipment is the medical gear used to treat kidney and urinary system conditions. Among the frequently used devices and supplies are urinary stents, ureteral and percutaneous nephrostomy catheters, stone baskets, vaginal meshes, slings, renal dilators, and urology guide wires.
Key Insights:
By geography, North America generates more than 31% of revenue share in 2022.
By product, the others segment generates more than 27% of revenue share in 2022.
By application, the kidney diseases segment had the most significant market share in 2022.
By end use, the hospitals and ambulatory surgery centres segments held the most significant market share in 2022.
Growth Factor
One of the main reasons fueling the market's expansion is the rising incidence of chronic illnesses such as end-stage renal disease (ESRD), benign prostatic hyperplasia, urinary incontinence, and chronic kidney disease (CKD) throughout the world. Additionally, the ageing population, which is more vulnerable to diseases like diabetes and prostate cancer, is fueling market expansion.
The demand for minimally invasive (MI) devices made from cutting-edge biocompatible materials, including polycarbonates, polyurethanes, nitinol, and silicone, is increasing as consumers become more aware of the excellent treatment options available for these conditions. These materials enable high flow rates with low vein and arterial pressure while offering superior kink resistance, smooth insertion abilities, and high flow rates.
Additional factors, such as increasing healthcare costs and significant research and development (R&D) efforts, are predicted to fuel market expansion.
The market for urology and nephrology devices is expected to increase due to the critical link between renal failure and the illnesses mentioned above. Additionally, due to changes in lifestyle and an increase in older adults, diabetes and hypertension incidences are rising in emerging nations in the Middle East and North Africa (MENA) and Asia Pacific (APAC) areas.
For instance, the International Diabetes Federation estimates that there were 55 million cases of diabetes in the IDF MENA region in 2019, and that number will rise to 108 million by 2045.
During the projected period, these variables are anticipated to increase product use and demand. The market is also anticipated to be pushed by the growing elderly population, which is particularly susceptible to ailments, including renal and urinary problems.
According to the WHO, the number of people 65 and older is expected to increase from 7% in 2000 to 16% in 2050 globally. One of the best risk factors for the emergence of various medical conditions is considered to be adulthood.
Additionally, it is anticipated that increased product sales would result from the rising demand for less invasive treatments brought on by recent technological advancements. Advanced materials are used in product manufacture for increased strength and resistance, which boosts demand and propels market expansion. Additionally, due to the global pandemic, hospitals are overburdened with an excessive influx of these patients; as a result, many nations have indefinitely delayed elective surgeries and other medical procedures.
The two leading causes of kidney failure are diabetes and high blood pressure (hypertension). Thus, the market is being stimulated by the increased frequency of these ailments worldwide.
The market is primarily driven by the high frequency of renal failure and increased public knowledge of the availability of cutting-edge therapeutic technologies.
The older population is ageing and becoming more susceptible to illnesses, including kidney and urinary difficulties, which will likely enhance the market in the years to come.
The availability of conventional drugs and surgical treatments, as well as the high cost of using devices for treatment, are significant obstacles that might restrain market expansion throughout the projection period.
The need for less invasive treatments and the widespread use of recent technological breakthroughs will likely produce profitable chances for market expansion.
Report Scope of the Nephrology and Urology Devices Market
| | |
| --- | --- |
| Report Coverage | Details |
| Market Size in 2023 | USD 6.53 Billion |
| Market Size by 2032 | USD 11.69 Billion |
| Growth Rate from 2023 to 2032 | CAGR of 6.69% |
| Base Year | 2022 |
| Forecast Period | 2023 to 2032 |
| Segments Covered | By Product, By Application and By End-Use |
| Regions Covered | North America, Europe, Asia-Pacific, Latin America and Middle East & Africa |

Key Market Drivers
The rising rate of diabetes
The two primary causes of kidney failure, diabetes and high blood pressure (hypertension), are both on the rise globally, driving the market. Data from the American Kidney Fund shows that kidney failure has been caused by high blood pressure in 25% of cases and diabetes in 38.4%.
Increasing nephrology and urology illness prevalence
One of the key drivers of the worldwide nephrology and urology devices market is the increasing incidence of nephrology and urological disorders. Most urological problems will increase, especially in emerging countries where the population is ageing quickly, like China and India.
Key Market Challenges
The negative consequences of cystoscopes
Cystoscopes have several side effects, including infections, bleeding, urine retention, and bladder perforation. These have reduced the market acceptance of these devices. In 2020, 10–20% of office cystoscopies were connected with urinary tract infections, according to a report published by Springer Nature Limited. It is anticipated that these adverse effects will to some extent, restrict the adoption of cystoscopies.
Additionally, the market's expansion is being hampered by the high price of urology equipment. The U.S. FDA said in April 2021 that it looked into several reports about medical devices that revealed patient infections and other potentially contaminated consequences related to the reprocessing of urological endoscopes. It is anticipated that these urological device-related infections may hinder the market's expansion.
Key Market Opportunities
Increasing research and development efforts towards the release of cutting-edge items
Due to the growing occurrence of different urology-related disorders such as urethral malignancies, urolithiasis, end-stage renal diseases, and chronic kidney diseases, healthcare providers and manufacturers have expanded research and development for technologically sophisticated urological equipment. In May 2021, urologists at UCI Health tried a brand-new laser method. With this highly pulsed thulium fibre laser, large kidney stones can be reduced to tiny fragments that can be readily suctioned from the body.
Such a concentration on research efforts is projected to boost the market throughout the forecast period. Manufacturers and nephrologists have created modern urology equipment and other healthcare professionals to address a range of kidney-related disorders. Victor Guar also received a patent from the USPTO for a wearable artificial kidney. It frees patients from spending long periods chained to a large machine in a dialysis clinic in bed or an armchair.
Segments Insight
Nephrology and Urology Devices Market Share, By Product, 2022 (%)
| | |
| --- | --- |
| Product Segments | Revenue Share In 2022 (%) |
| Ureteral Catheters | 21% |
| PCN Catheters | 3.5% |
| Urinary Stents | 6% |
| Stone Basket | 13.5% |
| Urology Guidewires | 25.5% |
| Renal Dilators | 3.5% |
| Others | 27% |

Product Insights
Due to the increased incidence of prostate and colorectal cancer, AKIs, and urolithiasis, as well as the leading companies' introduction of technologically sophisticated products, the others category had the greatest revenue share of over 27% in 2022. For instance, the National Health Service (NHS) England reports that over 34.0% of women have some urinary incontinence, while around 61.0% of males have lower urinary tract infections.
Furthermore, as diabetes and hypertension are the two biggest risk factors for renal disease, the incidence of both diseases is rising, which increases the likelihood that people may get kidney disease. Thus, it is anticipated that the growing prevalence of these disorders will accelerate segment expansion.
Due to the many urological disorders for which PCN catheters are used, including the treatment of complications from renal transplants, decompression of the perinephric or nephric fluid collection, and nondilated obstructive therapy, this market is anticipated to grow at the highest CAGR of 8.1% from 2023 to 2032.
Thus, it is anticipated that the market will be driven by the rising frequency of urological disorders, including cervical cancer, and the advantages provided by PCN catheters. For instance, according to the Human Papillomavirus (HPV) Centre fact sheet 2018, every year in Saudi Arabia, 158 women pass away from cervical cancer, and approximately 316 women receive a diagnosis. This is anticipated to accelerate the segment's growth during the forecast period.
Application Insights
The kidney diseases market segment, which had the most significant market share in 2022, was anticipated to grow at a substantial CAGR over the projected year. This market's expansion is explained by the rising incidence of end-stage renal illness and the increased demand for dialysis treatments and minimally invasive operations globally.
During the forecast period, the bladder problem market is anticipated to grow at a considerable CAGR. The segmental expansion results from an ageing population that is more susceptible to bladder infections, urinary tract infections, and bladder control issues brought on by diabetes. Additionally, the growing need for urological illness diagnosis in ambulatory and hospital settings is anticipated to accelerate segmental growth throughout the projected year.
End-Use Insights
Hospitals and ambulatory surgery centres held the most significant market share in 2022 and are predicted to grow at a substantial CAGR over the forecast period. The increase in hospital patient visits for urology-related diseases is blamed for the segmental expansion. Additionally, the segmental growth is anticipated to be fueled by hospitals' increasing use of urology endoscopes, including cystoscopes and ureteroscopes, for the ongoing treatment and detection of urolithiasis.
Due to an increase in the number of people seeking treatment for renal failure illnesses, the dialysis centres market is predicted to grow at a substantial CAGR. Additionally, segmental growth is fueled by the growing awareness of dialysis and the increased focus of market participants on dialysis centres.
Regional Insights
North America owned the largest revenue share of over 31% in 2022 due to an increase in the prevalence of kidney-related illnesses, more excellent government initiatives to promote treatment, highly skilled doctors, and well-established healthcare facilities. Additionally, increased research funding for developing cutting-edge devices is positively influencing the development of the industry in this field. The growing prevalence of diabetes and hypertension has increased the chance of acquiring urology and nephrology disorders, which is expected to raise demand for nephrology and urology devices in this area.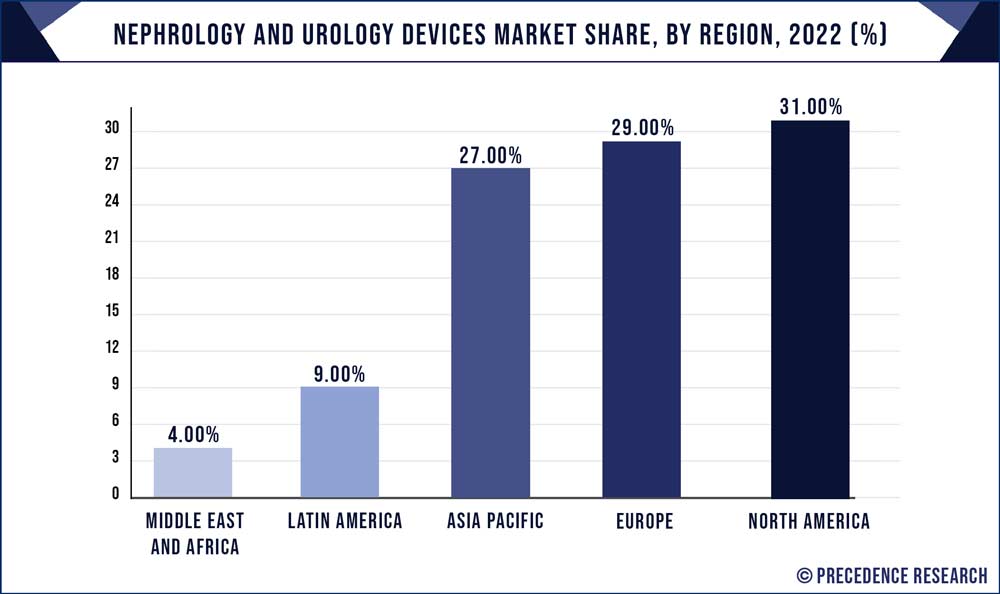 Due to various variables, including increased awareness of renal and urinary issues, growing healthcare spending, and better regional healthcare facilities, the Asia Pacific is expected to see significant growth between 2023 and 2032. The prevalence of benign prostatic hyperplasia, spinal cord injuries, and UTIs drives the Asia Pacific market (BPH). UTIs are the most typical infectious disease in this region. Other factors affecting the increase in demand for these devices include the urgent need for the development of new systems as well as the replacement and enhancement of existing medical infrastructure. The Middle East and Africa will closely follow the Asia Pacific, predicts CAGR.
Key Market Players
Hollister Incorporated
Medtronic
Coloplast
Boston Scientific Corporation
ConvaTec Group
B. Braun AG
Teleflex Inc.
Baxter
Fresenius Medical Care
Asahi Kasei Corp.
Cook Group
C. R. Bard Inc.
Terumo Corporation
Nxstage Medical Inc.
Nipro Corporation
Segments Covered in the Report
(Note*: We offer report based on sub segments as well. Kindly, let us know if you are interested)
By Product
Ureteral Catheters
PCN Catheters
Urinary Stents
Stone Basket
Urology Guidewires
Renal Dilators
Others
By Application
Urolithiasis
Urological Cancer & BPH
Bladder Disorders
Kidney Diseases
Others
By End-Use
Hospitals
Clinics
Ambulatory Surgical Centers
Others
By Geography
North America
Europe
Asia-Pacific
Latin America
The Middle East and Africa