The global next generation computing market size was recorded at USD 163 billion in 2022 and is expected to hit around USD 1,013.44 billion by 2032, poised to grow at a compound annual growth rate (CAGR) of 20.1% during the forecast period from 2023 to 2032.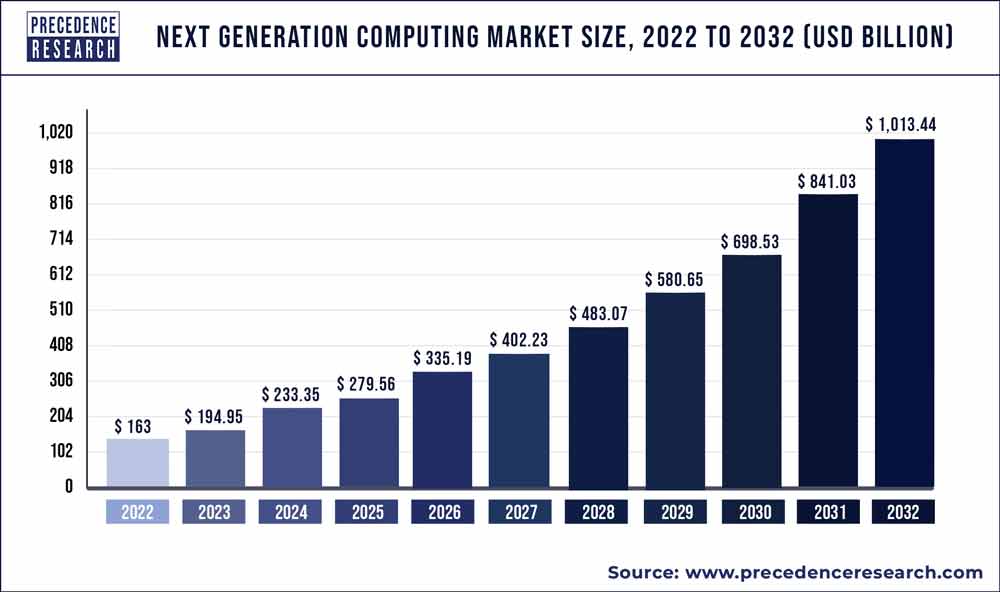 Key Takeaways:
North America region accounted revenue share of around 43.5% in 2022.
By enterprise size, the small & medium enterprises segment contributed a revenue share of 66% in 2022.
Based on offering, the on-premise segment exhibited a 72% revenue share in 2022.
Based on components, the software segment hit a 45% revenue share in 2022.
Growth factors
Next generation computing technology is generally unique in relation to ordinary and supercomputers. It is likewise called elite execution processing and uses innovation in view of quantum peculiarities. Not at all like traditional PCs, it utilizes quantum pieces to deal with the information. Likewise, Next generation computing performs complex estimations capably when contrasted and traditional PCs and this element significantly fills development of the Next generation computing market. Besides, it tracks down its applications in aviation and safeguard, BFSI, medical care and life science, energy and utilities, producing, IT and telecom, and different businesses.
Various factors, for example, ascend in interests in Next generation computing innovation, development sought after for elite execution computing, and expansion popular for Next generation processing from clinical examination and monetary business sectors drive the Next generation computing market development. Also, flood popular for cloud administrations because of COVID-19 pandemic drives development of the worldwide Next generation computing industry. Moreover, expansion being used of on-premise Next generation processing for organizations, development in headways in quantum computing innovation and expansion in number of gaming businesses carrying out Next generation computing applications is supposed to around the world set out worthwhile open doors on the lookout. Nonetheless, high functional difficulties and issues with respect to strength and mistake remedy might upset development of the market around the world.
Report Scope of the Next Generation Computing Market
| | |
| --- | --- |
| Report Coverage | Details |
| Market Size in 2023 | USD 194.95 Billion |
| Market Size by 2032 | USD 1,013.44 Billion |
| Growth Rate from 2023 to 2032 | CAGR of 20.1% |
| Base Year | 2022 |
| Forecast Period | 2023 to 2032 |
| Segments Covered | Offering, Enterprise Size, Component, Storage Type, Storage Medium, Type, End User and Geography |
| Companies Mentioned | Amazon Web Services Inc., IBM Corporation, Alibaba Group Holding Limited, Cisco Systems Inc., Google Inc., HPE, Intel Corporation, Oracle Corporation, Atos SE, Microsoft Corporation. |

Key Market Drivers
Ascend in interests in Next generation computing innovation- Expansion in rise of Next generation computing like elite execution computing, quantum innovation, and continuous potential improvements saw by significant enterprises fuel the market development. For example, industry goliaths like Lockheed Martin, NASA, Goldman Sachs Group., and other government associations are putting resources into R&D of this innovation. The ascent in ventures by industry goliaths and government associations in new businesses working in this innovation is the main consideration that fills the market development. For example, in October 2019, Google LLC cooperated with NASA, and Oak Ridge National Laboratory to give the best quantum processing administration on the planet. Besides, the U.S. Branch of Energy's Office of Science's Advanced Scientific Computing Research Programs is subsidizing $42 million to Sandia National Laboratories. The task will be supported for four significant improvements in quantum processing and elite execution innovation, which is expected to drive the market development. Likewise, China has additionally put resources into this arising innovation as it is constructing National Laboratory for Quantum Information Sciences in Hefei worth $10 billion, which has opened in 2020.
Key Market Challenges
Despite the fact that there has been a rising interest for information capacity for dealing with the voluminous measure of information created during this period, numerous little and medium organizations have begun closing down, either for a brief time or forever, hampering income development in the Next generation computing market. In 2020, incomes in the Next generation computing market have declined. In any case, the market is supposed to recuperate with a combined Y-o-Y development of 9.2% in 2021.
Key Market Opportunities
The Internet of Things (IoT), being the most recent arising innovation, produces gigantic information from associated gadgets like home mechanization gadgets, cell phones, GPS beacons, associated vehicle applications, and virtual entertainment, adding to the rising interest for Next generation computing to store and deal with the tremendous volumes of information created from these channels. A few businesses are embracing IoT innovation for modern applications, for example, anticipating hardware disappointment and harvest yields, determining climate, and empowering independent driving, creating huge volumes of delicate information, driving the interest for Next generation computing. Organizations like Hewlett Packard Enterprise, Huawei, Hitachi, IBM, and Dell Technologies are putting vigorously in Next generation computing innovation to catch bigger pieces of the pie in the now thriving information stockpiling market.
Segmental Insights
Enterprise Size Insights
The large organization section ruled the by and large Next generation computing industry in 2022 and is supposed to proceed with this pattern all through the figure period. This is credited to increment in reception of Next generation processing innovation by business to acquire vital and an upper hand over their rivals.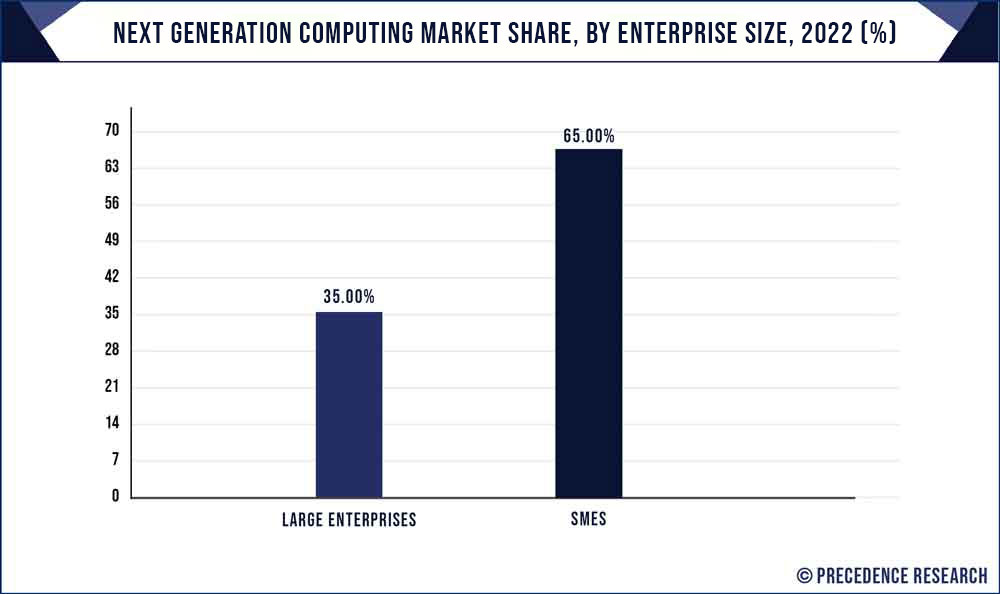 Clients use Next generation computing to find new experiences for huge scope different information, including authentic and ongoing information. This innovation is reasonable for handling of information and running calculations and examination across a huge arrangement of information to track down significant connections, substances, and bits of knowledge. Besides, Next generation processing keeps on becoming standard, as additional huge undertakings are thinking about the extraction abilities for getting important bits of knowledge from enormous information, which is entrepreneurial for the market.
Notwithstanding, the little and medium size undertaking (SMEs) fragment is supposed to show the most noteworthy development during the gauge time frame. This is credited to the way that SMEs are moving their organizations to a computerized stage, and are utilizing Next generation computing arrangements, which is assisting them with turning out to be more useful, more brilliant, and proficient.
Offering Insights
Contingent upon the contribution, the on-premise section caught the biggest offer in 2022, and is supposed to proceed with this pattern during the conjecture time frame. This is credited to various benefits presented by on-premise sending like an elevated degree of information security and wellbeing. In any case, the cloud fragment is supposed to observe the most elevated development in the impending years, attributable to the way that cloud arrangement doesn't need interest in that frame of mind, as all information is put away on cloud waiter, which expands the interest for Next generation computing programming across SMEs.
Storage Type Insights
In view of capacity type, the Next generation computing market is portioned into Direct Attached Storage (DAS), Network-Attached Storage (NAS), and Storage Area Networks (SANs). In 2022, the SANs fragment is supposed to represent the biggest portion of the Next generation computing market. Capacity Area Networks are fundamentally utilized for moving delicate information, documents, and applications across server farms, enormous scope ventures, and little and medium undertakings. A SAN is utilized as a rapid organization for moving information among various clients straightforwardly joined to a server. SANs are presently overwhelmingly popular in light of their block conventions for moving information among different servers and clients at high paces. The flexibility of SANs has added to developments in the handling and stockpiling of computerized data by consolidating multipurpose servers that can be effortlessly overhauled.
Storage Medium Insights
In view of storage medium, the Next generation computing market is fragmented into Hard Disk Drives (HDDs), Solid State Drives (SSDs), and attractive tape. The HDDs section is projected to represent the biggest portion of the market in 2022. HDDs are chiefly utilized as the essential stockpiling mode for putting away delicate information that can be gotten to inside more limited periods and with better execution. HDDs being cost-proficient, give capacity limits like SSDs, and are accessible in both outside and inside stockpiling types with base limits a lot bigger than SSDs. The accessibility of HDDs is plentiful in the market in both inward and outer sorts. They additionally will generally have longer life expectancies as they don't have streak memory, in contrast to SSDs. This large number of variables are supposed to produce more appeal for HDDs when contrasted with SSDs, during the conjecture time frame.
End User Insights
In view of end-client, the market is portioned into BFSI, retail, medical care, producing, government, IT and telecom, and opposite end clients. The BFSI fragment is supposed to hold the biggest income share in 2022. Information blast in the financial area is right now at its pinnacle because of information creation through various touchpoints, including versatile banking, advanced wallets, and chatbot-upheld client help administrations. BFSI organizations are progressively embracing secure, quick, dependable, and adaptable information foundation to give consistent client experience and work with frictionless backend processes. Besides, the developing need to pursue choices in view of data sets to acquire an upper hand is convincing monetary establishments to execute more brilliant business stages that are lithe, versatile, and doable.
Geography Insights
Next generation computing market patterns in Asia-Pacific is supposed to show most elevated development during the estimate time frame, attributable to solid monetary development alongside the continuous advancement in Next generation processing and ongoing information examination, which drives associations to put vigorously in Next generation computing business sector to support development and further develop efficiency. Also, factors like significant shift toward computerized change, cloud arrangement and mechanical headway among little and medium organizations, and persistently progressing modernization in work force the executive's procedure in arising economies prominently contribute toward the market development. Besides, central participants in Asia-Pacific are zeroing in on upgrading their tasks and expanding their general effectiveness to remain serious on the lookout, as would be considered normal to give rewarding open doors to the development of the market during the figure time frame.
North America is projected to order the biggest portion of the Next generation computing market in 2022. North America has been an early adopter of Next generation computing advances. The United States has a huge grouping of worldwide organizations as well as shoppers. Likewise, there has been a quick expansion in the multiplication of Hyperscale server farms, which are significantly utilized by distributed computing organizations and informal organization suppliers. These variables support North America's biggest offer on the lookout.
Next Generation Computing Market Share, By Region, 2022 (%)
| | |
| --- | --- |
| Regions | Revenue Share in 2022 (%) |
| North America | 43% |
| Asia Pacific | 21.6% |
| Europe | 27% |
| Latin America | 5.4% |
| MEA | 3% |
Recent developments
In November 2019, IBM teamed up with the Unitary Fund to offer sponsorships and need admittance to explicit IBM Q frameworks. The Unitary Fund, similar to IBM's quantum figuring objective, means to foster a quantum innovation business that serves most of individuals.
In January 2020, IBM teamed up with Daimler AG, Mercedes-parent Benz's organization, to work on the limit and charging rate of electric vehicle batteries. These organizations utilized a quantum PC to recreate the dipole snapshot of three lithium-containing particles, making ready for the production of cutting-edge lithium sulfur (Li-S) batteries that will be all the more impressive, enduring, and practical than lithium-particle batteries.
Key market players
Amazon Web Services Inc.
IBM Corporation
Alibaba Group Holding Limited
Cisco Systems Inc.
Google Inc.
HPE
Intel Corporation
Oracle Corporation
Atos SE
Microsoft Corporation
Segments covered in the report
(Note*: We offer report based on sub segments as well. Kindly, let us know if you are interested)
By Offering
By Enterprise Size
By Component
Hardware
Software
Services
By Storage Type
By Storage Medium
By Type
Brain Type Computing
Approximate And Probabilistic Computing
Energy Efficiency Computing
Thermodynamic Computing
Memory Based Computing
Optical Computing
High Performance Computing
Quantum Computing
Others
By End User
BFSI
Healthcare
Retail
Manufacturing
Government
IT & Telecom
Other End Users
By Geography
North America
Europe
Asia-Pacific

China
India
Japan
South Korea
Malaysia
Philippines

Latin America

Brazil
Rest of Latin America

Middle East & Africa (MEA)