The global synthetic data generation market size was estimated at USD 236.1 million in 2022 and it is expected to hit around USD 4,846.54 million by 2032, growing at a CAGR of 35.28% during the forecast period from 2023 to 2032.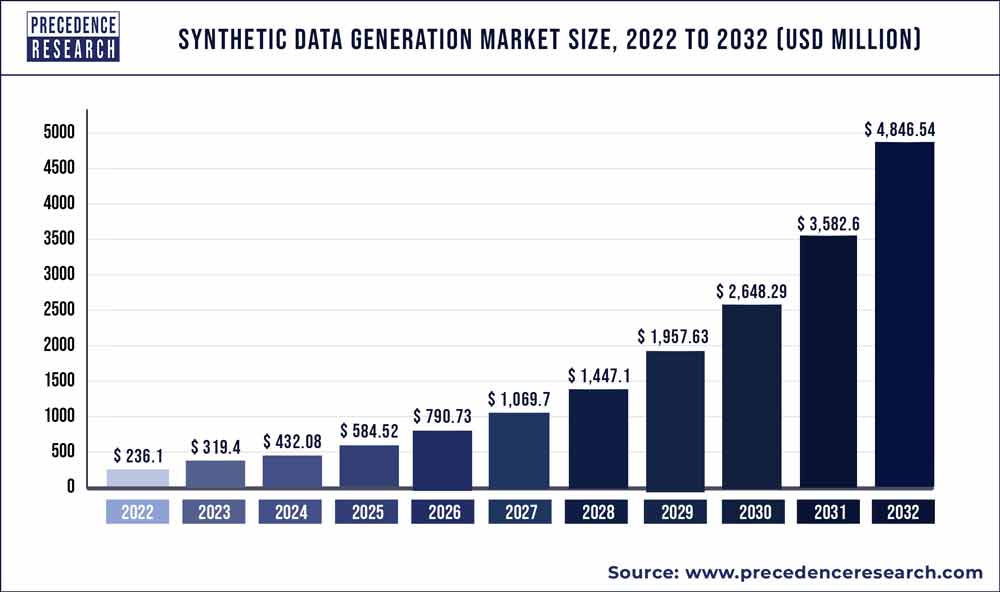 Computer-generated data, or synthetic data, is quickly replacing actual data. Computer programs produce synthetic data, which is not derived from actual paperwork. As more sophisticated AI apps are created, businesses are finding it challenging to obtain big amounts of high-quality datasets for ML model training.
Key Takeaways:
North America region contributed more than 37% of revenue share in 2022.
By Data Type, the tabular data segment generated more than 42% of revenue share in 2022.
By Modelling Type, the agent-based modeling segment registered more than 61.4% of revenue share in 2022.
By Offering, the fully synthetic data segment captured the highest revenue share of 39.6% in 2022.
By Application, the natural language processing segment recorded the largest revenue share of about 27% in 2022.
By End-use, the healthcare and life sciences segment accounted for more than 23% of revenue share in 2022.
Growth Factors:
The explosion of artificial intelligence (AI) has led to a surge in synthetic data creation and fueled the growth of the industry. To bridge the gap in data availability, industry players are turning to synthetic data, also known as fake data, to train AI models. This trend is being fueled by the increasing adoption of privacy protection solutions and the exponential growth of machine learning, which has shifted focus to synthetic data. By leveraging AI and machine learning technology to access massive datasets, synthetic data is used to comply with privacy laws like GDPR and to train models without real data.
The benefits of synthetic data extend beyond compliance and training, as it is also being used to enhance portfolios, ramp up model development, and reduce costs. Across emerging and advanced economies, AI stakeholders are showing increasing interest in synthetic data. A recent study conducted by Synthesis AI in collaboration with Vanson Bourne revealed that 89% of technology decision-makers consider synthetic data to be a key component of their strategy. In the early stages, synthetic data generation is expected to have applications across various industries, including automotive and healthcare, to improve access, contain costs, and accelerate AI model development.
The market is growing as a result of an increase in digitalization transformation across businesses and an increase in the usage of cutting-edge technology like AI and ML.
Industry players are now more in need of synthetic data as a result of the privacy-protection solution's rising popularity.
The business has expanded due to the exponential rise of smartphones and other smart devices.
Report Scope of the Synthetic Data Generation Market:
| | |
| --- | --- |
| Report Coverage | Details |
| Market Size in 2023 | USD 319.4 Million |
| Market Size by 2032 | USD 4,846.54 Million |
| Growth Rate from 2023 to 2032 | CAGR of 35.28% |
| Largest Market | North America |
| Base Year | 2022 |
| Forecast Period | 2023 To 2032 |
| Segments Covered | By Type, By Modelling Type, By Offering, By Application, and By End-use |
| Regions Covered | North America, Europe, Asia-Pacific, Latin America, and Middle East & Africa |

Key Market Drivers:
Increased explain ability and confidence in linear models
Good generated data closely mimics the actual data. As a result, it can be used in non-production settings like AI training, analytics, and software testing or development as a drop-in substitute for sensitive performance data. To make data-driven decisions while protecting consumer privacy, businesses use synthetic data copies of patient encounters, customer databases, medical information, and transaction data. Numerous sectors, including finance, healthcare, insurance, and telecommunications, use synthetic data, an industry-neutral answer.
Key Market Challenges:
Threats to privacy associated with the use of fake data
Good synthetic data promises to keep anonymity while being virtually indistinguishable from real data. However, a lot of private information keeps leaking out. These characteristics would unavoidably be reproduced in the synthesized data if the original data contains anomalies that a capable data synthesizer captures. There has been a data leak as a consequence of these particular data points being readily recognized as components of the initial dataset. The algorithms used to produce synthetic data are also vulnerable to specific assaults.
Key Market Opportunities:
The importance of artificial intelligence and machine learning has significantly increased
In the contemporary age, both this importance and the use of AI and ML are growing exponentially. However, data for AI training is frequently hard to come by when businesses use third-party AI and machine learning technologies. Receiving customers' permission to the use of their data for analytics may be very difficult; however, the residual data and insights are safe. Due to privacy concerns, sensitive data is frequently off-limits to both internal data science teams and external AI or analytics vendors. Data integrity is still an issue even when the data is available.
Segments Insight:
Data Type Insights:
The largest share of the synthetic data market in terms of revenue was held by the tabular data segment, accounting for over 42% in 2022. Researchers are driving demand for this segment, with the introduction of open-source data generation tools such as the Synthetic Data Vault in October 2020 and the proposal of conditional tabular GAN (CTGAN) in 2019. As researchers emphasize tabular data, end-user sectors are likely to rely on artificial data for data privacy protection.
The image & video data segment is also expected to contribute significantly to the synthetic data market share, driven by the increasing demand to enhance databases. Synthetic media is being used as a drop-in replacement for original data, and synthetic images & videos have gained significant popularity in the automotive sector, with Waymo claiming to have driven over 10 billion miles in simulation in July 2019. Industry players are expected to use synthetic images & video data to train systems that detect emergency vehicles such as fire trucks, police cars, and ambulances, leading to further growth in the industry.
Modeling Type Insights:
The segment based on agent-based modeling had the largest share in 2022 with 61.4%. A tangible representation of real-world data can be created using agent-based modeling (ABM), and that model can then be used to replicate the data. In the finance industry, agent-based modeling has recently surpassed conventional models in popularity.
It has grown to be very popular for using as a source of business interactions for building and testing fraud detection tools. Participants in the industry can rely on ABMs to take advantage of network modeling for different types of networks. ABMs are now widely used to simulate customer encounters, innovations, vehicles, and traffic patterns.
Due to their strong penetration in traffic control and administration, market participants have given ABMs priority. For instance, agent-based modeling has gained more popularity as a way to highlight ridesharing or route selection and develop new systems and strategies. Additionally, psychological traits have made progress to support agent models. Sharing mobility study has also given agent-based simulation a boost for information-transfer procedures and provided useful input.
Offering Insights:
In 2022, the fully synthetic data segment held the largest revenue share of 39.6% in the synthetic data generation market. However, the hybrid synthetic data segment is expected to grow at a notable CAGR during the forecast period, mainly due to its utility in privacy preservation, offering both complete and partially synthetic data. Although the trend for hybrid synthetic data will be noticeable across end-use sectors, the longer processing time required may pose a challenge to market growth.
Stakeholders expect that the fully synthetic data segment will contribute significantly to the global market value, mainly due to the increased need for data protection in emerging and developed markets. Leading companies are investing in fully synthetic data to increase their penetration in the automotive industry. For example, Waymo announced in May 2022 that it was building the World's Most Experienced Driver, capable of generating real-scale, fully synthetic data, increasing data generation rates and improving iteration speed.
Application Insights:
In 2022, the natural language processing market had the highest revenue share at over 27%. As it supports the launch of new languages, the use of synthetic data in natural language processing has increased exponentially. Amazon unveiled variants of Alexa in Hindi, Brazilian Portuguese, and U.S. Español in October 2019. In order to simplify and finish the training data for its natural language understanding (NLU) systems, the business has increased its emphasis on synthetic data. Predictive analytics for fraud identification is likely to be used by banks and the financial industry. For instance, American Express reported trying technology to assist in the creation of fake films in September 2020 to fight financial fraud. The business creates fake financial data that mimics credit card transactions using generative adversarial networks to detect credit card fraud. Additionally, the insurance industry has demonstrated success using predictive analytics to increase revenue and reduce screening costs. In order to better understand client requirements and requests and increase customer happiness, end users are likely to use artificial data in predictive analytics.
End Use Insights:
The segment for healthcare and life sciences had the largest revenue share 23% in 2022. Healthcare and life science are expected to exhibit strong demand for fake data that protects anonymity. Patient privacy, legislative regimes, distinct data sources, and artificial data creation tools have significantly gained traction in the face of challenges from data breach risks. The retail and e-commerce industries have benefited from the use of artificial data to train AI models and hasten data exchange both inside and outside the business. Synthetic data is used by brands and merchants to speed up data interchange with suppliers and advance advertising and promotions. Additionally, merchants profit from tech firms' use of fictitious business data for analytics and training. Artificial data has recently acquired popularity for effective stocking and warehouse administration. The e-commerce companies could further encourage investment in synthetic data creation software with an increase in online sales.
Regional Insights:
North America was the leading region in terms of revenue, holding a share of 37% in 2022 in the synthetic data generation market. The U.S. and Canada have emerged as lucrative regions due to the increased demand for fraud detection, natural language processing (NLP), and image data in various end-use sectors. The expanding footprint of computer vision will also contribute to the growth of the North American market, with manufacturing, geospatial imagery, and physical security garnering pronounced traction.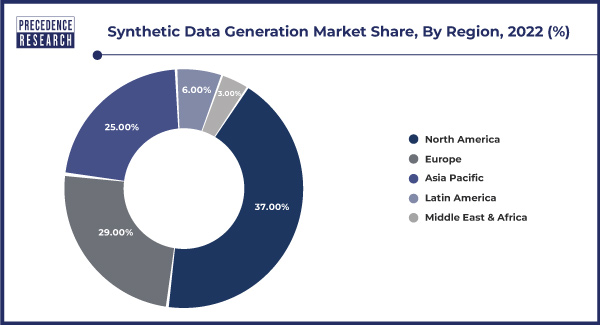 Additionally, the growing importance of autonomous vehicles has given impetus to simulation data across the region. Autonomous vehicles have gained ground with simulation data, allowing companies to test edge cases and keep the risk of crashes in check. Advanced economies like the US have stepped up the autonomous simulation platform for rigorous training requirements and self-driving vehicle development. In addition, Datagen raised $50 million in Series B in March 2022 to fuel the growth of synthetic data solutions for computer vision teams and further enhance the growth prospects of the North American markets.
Recent Developments:
The acquisition of AI. Reverie by Facebook in October 2021 is an indication that both large and small companies are increasingly adopting synthetic data to drive their AI strategies.
Key Market Players:
Mostly AI
Synthesis AI
Statice
YData
Ekobit d.o.o.
Hazy
Kinetic Vision, Inc.
Kymera-labs
MDClone
Neuromation
TwentyBN
DataGen Technologies
Informatica Test Data Management
Segments Covered in the Report:
(Note*: We offer reports based on sub segments as well. Kindly, let us know if you are interested)
By Type
Tabular Data
Text Data
Image & Video Data
Others (Audio, Time Series, etc.)
By Modelling Type
Direct Modeling
Agent-based Modeling
By Offering
Fully Synthetic Data
Partially Synthetic Data
Hybrid Synthetic Data
By Application
Data Protection
Data Sharing
Predictive Analytics
Natural Language Processing
Computer Vision Algorithms
Others
By End-use
BFSI
Healthcare & Life Sciences
Transportation & Logistics
IT & Telecommunication
Retail and E-commerce
Manufacturing
Consumer Electronics
Others
By Geography
North America
Europe
Asia-Pacific
Latin America
Middle East and Africa