The global online food delivery market size accounted for USD 190.28 billion in 2022 and it is projected to hit around USD 517.37 billion by 2032, poised to grow at a CAGR of 10.52% during the forecast period 2023 to 2032.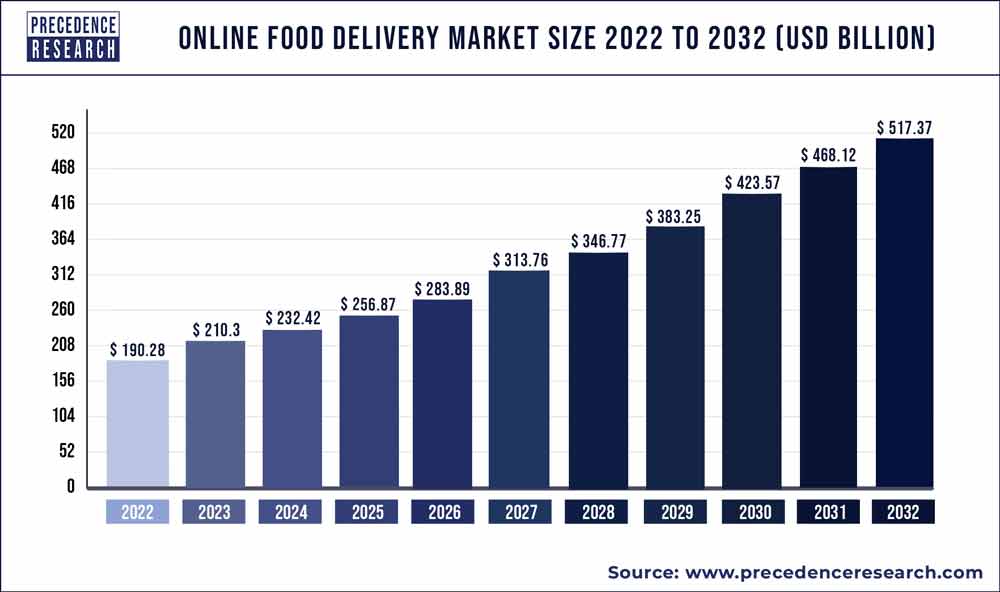 Access our Premium Real Time Data Intelligence Tool, Visit: Precedence Statistics
Key Takeaways:
Asia Pacific contributed more than 42% of revenue share in 2022.
By Platform, the mobile application segment held the largest share in 2022.
By Payment Mode, the online payment segment dominated the market in 2022.
Market Overview:
The process of ordering food online involves customers selecting their preferred restaurant or food cooperative/franchise through the restaurant's website or mobile application. Typically, individuals search for their favorite restaurant based on cuisine type, choose from the available menu items, and opt for either delivery or pickup. The delivered items can include beverages, food dishes, desserts, and more. Payment can be made using credit cards or cash, and the restaurant shares a portion of the payment with the online food company. Online food delivery offers unparalleled convenience to consumers. With just a few clicks or taps on their mobile devices, customers can order food from their favorite restaurants and have it delivered to their doorstep. This convenience factor has attracted a large customer base, including busy professionals, families, and individuals who prefer the ease of ordering from home.
Growth Factors:
The widespread availability and adoption of smartphones is anticipated to augment the growth of the online food delivery market during the forecast period. Mobile applications provided by food delivery platforms make it extremely easy for users to browse menus, place orders, track deliveries, and make payments, all from the convenience of their smartphones. Furthermore, online food delivery platforms have made significant investments in expanding their delivery infrastructure. This includes partnering with restaurants, hiring delivery drivers, and implementing efficient logistics systems to ensure timely and reliable deliveries. The expanded delivery networks have contributed to the growth of the market by reaching more customers and reducing delivery times.
The remarkable expansion of the online food delivery industry has not gone unnoticed, as evidenced by tech giants like Amazon and Google entering the market with their own delivery services on a global scale. This presents an opportunity for food business owners to establish early partnerships with these well-funded services and reap the benefits of the expected growth in the coming years. Additionally, while having a dedicated delivery team has been crucial to the success of online food ordering and delivery; many brands consider it a potentially unreliable dependency in the long term. There is ample room for optimizing the delivery process in terms of both speed and cost-effectiveness, and we are witnessing notable efforts being invested in developing new delivery channels, such as robots, parachutes, and drones.
Report Scope of the Online Food Delivery Market:
| | |
| --- | --- |
| Report Coverage | Details |
| Market Size in 2023 | USD 210.3 Billion |
| Market Size by 2032 | USD 517.37 Billion |
| Growth Rate from 2023 to 2032 | CAGR of 10.52% |
| Largest Market | North America |
| Base Year | 20222 |
| Forecast Period | 2023 To 2032 |
| Segments Covered | By Platform Type and By Payment Method |
| Regions Covered | North America, Europe, Asia-Pacific, Latin America, and Middle East & Africa |

Market Dynamics:
Driver:
Increasing third-party delivery options
The food delivery landscape has undergone a complete transformation with the emergence of third-party delivery companies. In the past, food delivery options were limited to either large companies with the infrastructure to offer delivery (usually focused on pizza) or small local businesses providing localized delivery services. However, the advent of platforms like DoorDash, Uber Eats, and GrubHub has revolutionized the delivery space, making it significantly easier for businesses of all sizes to sell food online and have it delivered directly to customers.
Moreover, third-party delivery services are no longer restricted solely to restaurant food delivery. While delivery apps remain popular for restaurant orders, other food and beverage businesses, including alcohol delivery and convenience stores, are also utilizing third-party delivery services. There is a wide array of third-party delivery services available for businesses to choose from, making it challenging to determine the best app(s) based on the specific business type. Some of these apps are already integrated with leading point-of-sale (POS) systems, while others operate independently.
Increased competition in the sector has the potential to drive down delivery commissions, which are often substantial, thereby helping food businesses increase their profits and attract more customers. Thus, the online food delivery market has experienced significant growth and diversification, with the utilization of third-party delivery companies.
Restraint:
Unstable market prices
The pricing strategy for food delivery services faces a significant challenge due to the volatility of food prices. Multiple factors influence prices in the food industry, including supply and demand, weather conditions, disease outbreaks, conflicts, and natural disasters. One of the primary factors affecting food prices is the high cost of oil. As food often travels long distances, increased oil prices result in higher shipping costs. Furthermore, climate change contributes to price fluctuations. Changes in climate patterns lead to more extreme weather events caused by greenhouse gas emissions. Rising temperatures result in increased evaporation, reduced rainfall, water runoff, and potential crop damage due to floods.
Opportunity:
Introduction of delivery management software
The rollout of delivery management software is likely to offer growth opportunities for the online food delivery market in the years to come. Delivery management software is utilized by various businesses to effectively track deliveries at every stage. This software can be widely employed by renowned delivery companies like FedEx and UPS to streamline the entire delivery process. Moreover, food businesses and third-party delivery companies are increasingly adopting advanced delivery management software to facilitate efficient management of their own deliveries. Integrating specific delivery management software can help analyze delivery data and optimize processes, reducing waiting times and minimizing costs. Remarkably, some restaurant website builders now offer built-in management software specifically designed for this purpose.
Online ordering management software is suitable for restaurant chains, independent and small restaurants, quick-service restaurants, coffee shops, and fast-casual eateries, essentially catering to all types of food businesses that provide delivery services. Additionally, dark kitchens, also known as cloud kitchens, ghost kitchens, or virtual restaurants, can greatly benefit from this type of delivery middleware. These kitchens exclusively prepare food for delivery (and sometimes takeaways), with third-party platforms like Deliveroo, Just Eat, Glovo, Foodora, SkipTheDishes, and others providing last-mile delivery services. Furthermore, larger enterprises engaged in delivery, such as FMCG companies, supermarkets, groceries, and other retail businesses, can also find online food delivery software beneficial to their operations.
Segments Insight:
Platform Type Insights:
On the basis of platform type, the mobile applications segment held a considerable revenue share in 2022. Mobile applications provide a convenient and user-friendly platform for customers to browse menus, place orders, and track deliveries. The ease of use and accessibility of these apps have attracted a large user base, contributing to the segment market growth. Mobile apps offer features that enhance the overall user experience, such as personalized recommendations, easy navigation, real-time order tracking, and secure payment options. These features improve customer satisfaction and loyalty, driving the growth of the mobile applications segment. These factors are likely to create opportunities for the segment growth of the online food delivery market during the forecast period.
Payment Method Insights:
Based on the payment method, the online payment segment held the largest market share in 2022. Online payment methods provide a convenient and secure way for customers to pay for their food orders. The ability to make payments directly through the app or website eliminates the need for cash transactions and offers a seamless checkout experience. Additionally, as digitization continues to expand globally, more people are adopting online payment methods. This trend creates an opportunity for the online payment segment within the food delivery market to grow and cater to the increasing number of users who prefer digital payment options.
Regional Insights:
North America held the largest share of the market in 2022. The United States is expected to be the largest contributor to the market in the upcoming years followed by Canada. The emergence of user-friendly and attractive apps, along with technologically enabled driver networks, has revolutionized the ready-to-eat food delivery sector in the region. Among the major markets for food delivery, the United States stands out with four prominent players DoorDash, Grubhub, Postmates, and Uber Eats—dominating specific large urban areas. The dominance of these key players in specific urban areas indicates a strong market presence and customer trust. This can create a positive perception of online food delivery services and encourage more consumers to adopt these platforms.
Asia-Pacific is expected to grow at the fastest CAGR during the forecast period. Emerging markets with sizable populations and a growing middle class are prevalent in many countries within the region. This creates abundant prospects for online food delivery providers to effectively serve the needs of these expanding consumer bases while bolstering the growth of local businesses. The generation known as 'Gen Z' emerges as the most active users, leveraging smartphones and widespread Internet access to seek out swift and ingenious solutions that save time and offer convenience.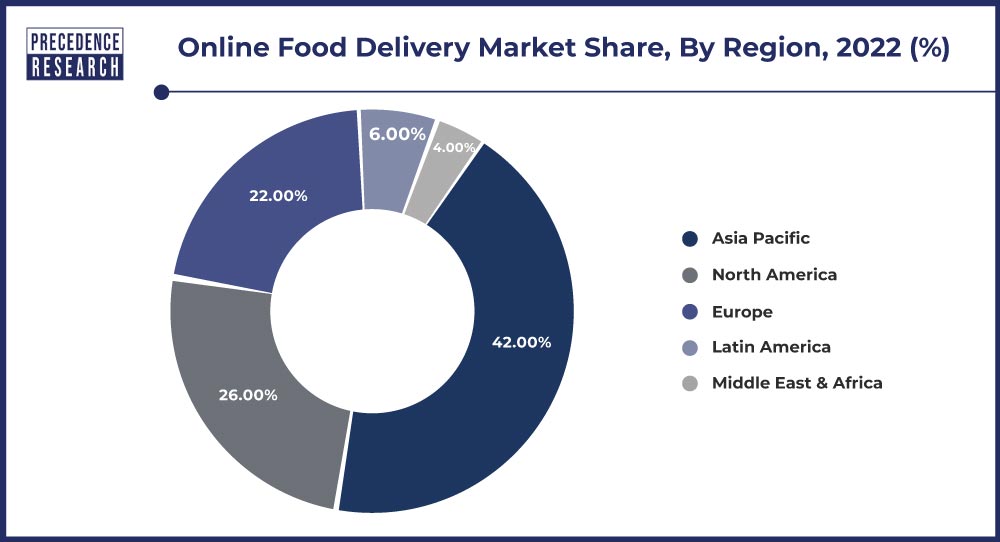 Gen Z allocates a significant portion of their income to online meal ordering, surpassing previous generations, driven by their inclination to explore new culinary experiences. Their demanding schedules and fast-paced lifestyles prompt a preference for online food purchases rather than cooking meals themselves. Convenient options like menu kits with raw ingredients, pre-prepared fresh meals, and other home food kits cater to their time-saving needs while also highlighting the top-rated restaurants, particularly appealing to Millennials who prioritize convenience over taste. The rapid growth of online orders presents a remarkable opportunity for food businesses to amplify their profit margins and expand their customer base.
Recent Developments:
In June 2023, GrubHub, a food ordering and delivery platform, announced the expansion of its collaboration with Amazon. As part of this extended partnership, Grubhub will offer a one-year complimentary Grubhub+ membership to Amazon Prime members in the United States. This initiative is designed to provide added value to Amazon Prime members who have previously enrolled in Grubhub+ since its introduction in July 2022. These members will now receive an extra 12 months of free Grubhub+ membership.
In February 2023, Zomato, a prominent online food delivery service provider, unveiled its latest offering called Zomato Everyday, replacing its previously introduced 10-minute delivery feature from last year.
In May 2020, Foodhub, an online food ordering platform based in the UK, made an announcement regarding its expansion into the United States, with Louisiana being chosen as its starting point. The decision to commence operations in Louisiana was driven by similarities in population densities, city sizes, and the number of independent restaurants compared to the UK.
Key Market Players:
Uber Eats
DoorDash
Grubhub
Just Eat Takeaway
Zomato
Deliveroo
Grab Holdings Inc.
Delivery Hero SE
Ele.me
Rappi
Foodhub
GoPuff
Segments Covered in the Report:
(Note*: We offer reports based on sub-segments as well. Kindly, let us know if you are interested)
By Platform Type
Mobile Applications
Website
By Payment Method
Online Payment
Cash on Delivery
By Geography
North America
Europe
Asia-Pacific
Latin America
Middle East and Africa