The global ophthalmoscopes market size accounted for USD 263.4 billion in 2022 and is expected to hit around USD 513.57 billion by 2032, poised to grow at a CAGR of 6.91% during the forecast period from 2023 to 2032.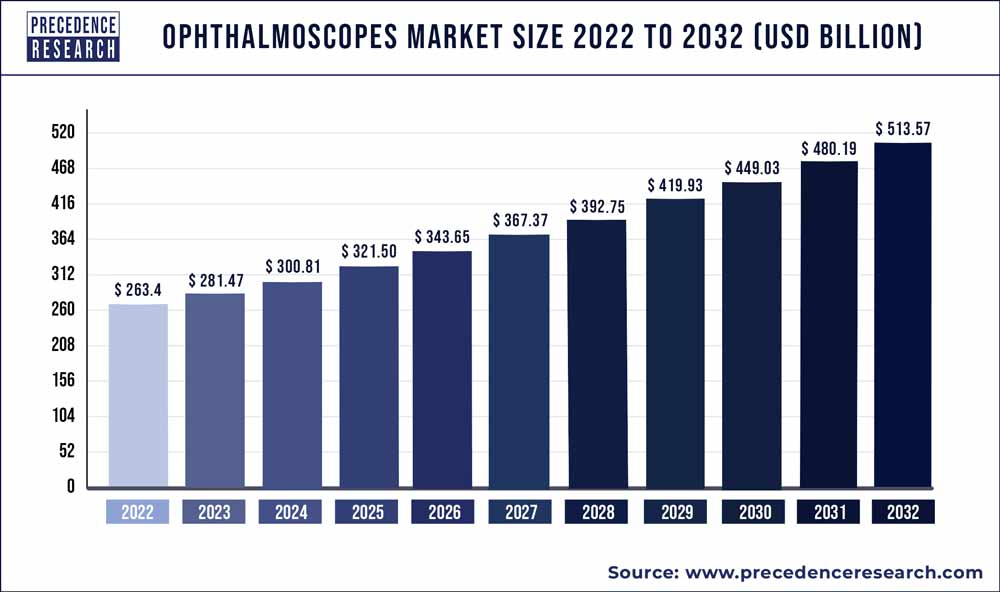 Access our Premium Real Time Data Intelligence Tool, Visit: Precedence Statistics
Key Takeaways
North America led the global market with the largest market share of 34% in 2022.
Asia-Pacific is expected to expand at the fastest CAGR during the forecast period.
By Type, the direct segment has held the largest revenue share in 2022.
By Type, the indirect segment is anticipated to grow at a fastest CAGR during the projected period.
By Application, the glaucoma dominated the global market in 2022.
By Application, the diabetic retinopathy segment is projected to expand at the fastest CAGR over the projected period.
By End-use, the hospitals segment had the biggest market share in 2022.
By End-use, the ophthalmic clinics segment is anticipated to grow at the fastest CAGR over the projected period.
Ophthalmoscopes Market Overview
The ophthalmoscopes market includes the distribution, production, and sale of ophthalmoscopes, which are vital medical devices utilize by eye care professionals to inspect the internal structures of the eye. It allow the imaging or visualization of the optic nerve, retina, and other important eye structures, aiding in the monitoring and diagnosis of several eye diseases and problems. The market comprises a range of ophthalmoscope types, including direct, indirect, and digital models.
Furthermore, Digital ophthalmoscopes incorporate advanced imaging technology, allowing for image capture and storage, aiding in documentation and telemedicine applications. Factors driving the growth of the ophthalmoscopes market are the rising occurrence of eye disorders, technological advancements in ophthalmoscope design, surging awareness of eye health, and mounting healthcare infrastructure, making it a vital component of the broader healthcare sector.
Ophthalmoscopes Market in the U.S. 2023-2032
The U.S. ophthalmoscopes market size was valued at USD 51.05 billion in 2022 and is estimated to reach around USD 99.72 billion by 2032, growing at a CAGR of 6.93% from 2023 to 2032.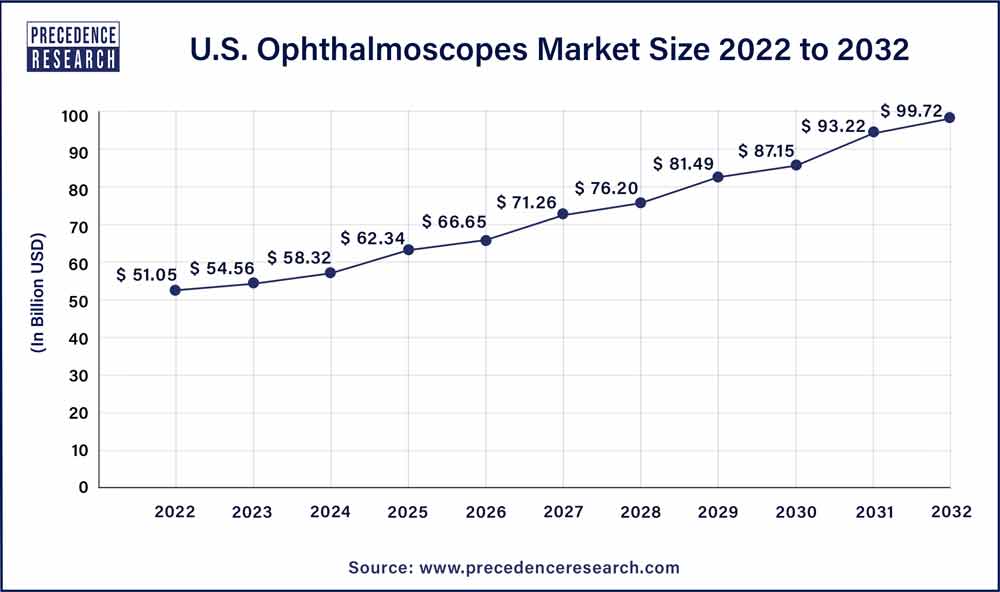 North America has held largest revenue share in 2022. This is due to the region's aging population and a higher occurrence of eye-related disorders. Technological advancements, such as digital ophthalmoscopes with telemedicine capabilities, are gaining traction in the North American Ophthalmoscopes market. Prominent healthcare institutions, ophthalmology clinics, and hospitals in the region trust on ophthalmoscopes for precise and accurate eye examinations and disease diagnosis. In addition, robust support from government healthcare policies and research activities in the field of eye care further fuel the market's growth.
Asia-Pacific estimated to observe the fastest expansion. The region, which includes countries such as India, Japan, China, and others, anticipated a mounting demand for ophthalmic equipment due to its large and aging population, along with a surging incidence of eye-related disorders. Government initiatives, increased healthcare spending, and a growing awareness of eye health are also driving market expansion. The Asia-Pacific region offers substantial opportunities for ophthalmoscope manufacturers and providers of eye care services.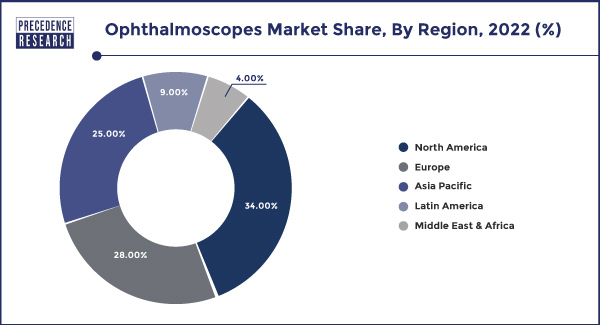 The European ophthalmoscopes market is a prominent segment of the medical device industry in the European continent. It comprises countries like Germany, the United Kingdom, France, and others. The market is driven by the region's aging population and the increasing prevalence of eye diseases and disorders. Technological advancements, particularly in digital ophthalmoscopes and telemedicine, are shaping the landscape of eye care, enabling more accessible and efficient diagnosis and treatment. Robust healthcare infrastructure, government support for eye care initiatives, and a strong emphasis on patient well-being contribute to the growth of the European Ophthalmoscopes Market. These factors position Europe as a key hub for eye care innovation and medical device development.
Growth Factors
The growth of the ophthalmoscopes market attributed to several factors such as increasing awareness of eye health, rising occurrence of eye diseases, aging population, and surging telemedicine & remote diagnostics. These factors contribute to the constant demand for ophthalmoscopes in the healthcare industry, as they address the growing need for accurate and efficient eye examinations and diagnostics, ultimately supporting better patient outcomes and eye health.
Furthermore, with surging digital ophthalmoscopes, smartphone-compatible devices, and more sophisticated optics offering improved diagnostic capabilities and ease of use for healthcare professionals, this further help in creating demand for ophthalmoscope technology continues to advance. For instance, in April 2021, Hillrom launched innovative tools designed to help clinicians make earlier and more accurate diagnoses of eye conditions Welch Allyn PanOptic plus Ophthalmoscope.
In addition, surging occurrence of eye conditions such as macular degeneration, glaucoma, diabetic retinopathy, and cataracts driving demand for ophthalmic examinations led to greater adoption of ophthalmoscopes and further creating demand across the market. For instance, in July 2020, researchers at the University of Bonn and Sankara Eye Hospital, Bengaluru introduced smartphone-based ophthalmoscope tool can be effectively turned into an eye-examination device and could help diagnose diabetic retinopathy from miles away.
Ophthalmoscopes Market Scope
| | |
| --- | --- |
| Report Coverage | Details |
| Growth Rate from 2023 to 2032 | CAGR of 6.91% |
| Market Size in 2023 | USD 281.47 Billion |
| Market Size by 2032 | USD 513.57 Billion |
| Largest Market | North America |
| Base Year | 2022 |
| Forecast Period | 2023 to 2032 |
| Segments Covered | By Type, By Application, and By End-Use Industry |
| Regions Covered | North America, Europe, Asia-Pacific, Latin America, and Middle East & Africa |

Ophthalmoscopes Market Dynamics
Driver
Rising awareness of eyes related disorders
Surging awareness about eye-related disorders helps in providing more people seeking preventive eye care, early diagnosis and treatment of eye diseases. According to the World Health Organization (WHO) in 2022, about 2.2 billion people worldwide have vision impairment, of which at least 1 billion have a vision impairment that could have been prevented or treated.
The ophthalmoscopes helps healthcare professional in analyzing vital tool for eye doctors to inspect the inside of the eye and identify eye diseases. Moreover, the emphasis on early detection and diagnosis of eye disorders encourages individuals to consult healthcare providers at the slightest signs of visual disturbances or discomfort. Ophthalmoscopes, being indispensable tools for diagnosing and monitoring various eye conditions, become instrumental in facilitating early intervention and enhancing treatment outcomes.
Public health campaigns, educational initiatives, and media awareness programs are also instrumental in shedding light on eye health, eye safety, and the crucial role of routine eye exams. These efforts underscore the significance of ophthalmoscopes in detecting eye diseases, thereby fueling the demand for these diagnostic devices.
Furthermore, the trend toward preventive eye care gains momentum as awareness grows. Individuals are proactively seeking eye examinations to identify potential issues before they escalate, which, in turn, drives demand for ophthalmoscopes in primary care and eye clinics. The rise in telemedicine and remote consultations is another notable outcome of heightened awareness. Ophthalmoscopes equipped with digital imaging capabilities are facilitating remote eye examinations, democratizing access to eye care and expanding the market's reach.
In addition, awareness campaigns may stimulate educational institutions and research centers to invest in ophthalmoscope equipment. This investment serves a dual purpose by training future eye care professionals in the proper use of ophthalmoscopes and supporting eye-related research endeavors. Thus, the burgeoning awareness of eye-related disorders and the significance of maintaining good eye health are fundamental forces that significantly boost the demand for ophthalmoscopes.
Restraints
High cost and limited access to eye care services
The high cost of ophthalmoscopes can pose a substantial barrier to their acquisition, particularly for smaller healthcare facilities, individual practitioners, and healthcare systems with limited budgets. Advanced digital ophthalmoscopes, which offer enhanced diagnostic capabilities, tend to be particularly expensive. This pricing barrier can limit the accessibility of these crucial diagnostic tools in resource-constrained regions, where affordable and cost-effective solutions are often sought.
Moreover, the limited access to eye care services in certain geographic areas or underserved communities impedes the demand for ophthalmoscopes. In regions with a shortage of specialized eye care professionals and clinics, the requirement for ophthalmic equipment is diminished, as there may not be sufficient patient demand for these services.
Furthermore, in areas where access to healthcare infrastructure is lacking or where patients face geographical and financial constraints, the utilization of ophthalmoscopes becomes challenging. Patients may not have the means to access eye care services, thereby reducing the demand for ophthalmic examinations and diagnostic equipment. Thus, the combination of high costs and limited access to eye care services creates a formidable restraint for the ophthalmoscopes market.
Opportunities
Adoption of AI in ophthalmoscopes
Digital ophthalmoscopes fitted with innovative telehealth and imaging abilities, are poised to play a vital role in the remote diagnosis and monitoring of eye conditions. Moreover, teleophthalmology, a branch of telemedicine, allows eye care professionals to conduct remote eye examinations and consultations with patients in real-time. Digital ophthalmoscopes capture excellent videos and images of the eye's interior, which may be transmitted strongly to healthcare providers for analysis. This overcomes geographical barriers, and make eye care available to patients in underserved or rural areas where access to specific eye care is restricted.
Furthermore, the expansion of telemedicine enables early detection and timely intervention in eye diseases, contributing to improved patient outcomes and reduced healthcare costs. Patients can receive timely advice, prescriptions, and referrals, preventing the progression of conditions that might otherwise lead to irreversible vision loss. For ophthalmoscope manufacturers, this trend presents an opportunity to develop and market specialized digital ophthalmoscopes tailored for teleophthalmology applications.
These devices can include features such as integrated data sharing, telehealth platform compatibility, and remote diagnostics support. Collaborations between ophthalmoscope manufacturers and telemedicine service providers can further enhance the synergy between these technologies. Thus, the growth of telemedicine and remote healthcare services revolutionizes the way eye care is delivered, creating a substantial opportunity for the ophthalmoscopes market.
Impact of COVID-19
The market faced challenges as healthcare resources were redirected towards addressing the pandemic, elective medical procedures were postponed, and patient visits to eye care professionals declined due to safety concerns. These factors led to a temporary decrease in the demand for ophthalmoscopes. However, the pandemic also accelerated certain trends that have the potential to benefit the market in the long term.
The increased adoption of telemedicine and remote healthcare services during the pandemic underscored the value of digital ophthalmoscopes in conducting virtual eye examinations and consultations. This heightened awareness of teleophthalmology's potential has led to greater interest in advanced ophthalmic equipment with telehealth capabilities.
Furthermore, the pandemic highlighted the importance of comprehensive healthcare infrastructure, including eye care, which may lead to increased investment in medical equipment, including ophthalmoscopes, in preparation for future healthcare crises. Thus, while the COVID-19 pandemic initially posed challenges to the ophthalmoscopes market, it also revealed opportunities for growth in teleophthalmology and the importance of robust healthcare infrastructure.
Type Insights
According to the type, the direct segment technology has held highest revenue share in 2022. Direct ophthalmoscopes are handheld devices used for inspecting the eye's inner directly through the pupil. They usually have a built-in light source and optics that enable healthcare professionals to look at the optic nerve, retina, and other structures in the back of the eye. It provides a narrow but extremely magnified view of the eye, which is beneficial for detailed examination of precise areas. It is normally used in routine eye examinations and are comparatively portable and easy to use.
The Indirect ophthalmoscopes type is anticipated to expand at a significantly CAGR during the projected period. because Indirect ophthalmoscopes are larger, binocular devices that provide a wider field of view. They don't rely on direct examination through the pupil; instead, they project an inverted image of the eye onto a lens or mirror, allowing the examiner to view the retina and other structures indirectly. Indirect ophthalmoscopes are particularly valuable for comprehensive examinations and are often used for assessing the peripheral retina. They offer a broader view of the eye's interior but can be bulkier and require more skill to use effectively.
Application Insights
Based on the application, Glaucoma is anticipated to hold the largest market share in 2022. Early detection and monitoring of glaucoma are essential to prevent vision loss, making ophthalmoscopes a valuable tool in glaucoma management. Ophthalmoscopes are used to inspect the optic nerve head, where damage can indicate the presence of glaucoma.
On the other hand, the Diabetic retinopathy is projected to grow at the fastest rate over the projected period. Diabetic retinopathy is a substantial application area for ophthalmoscopes during the forecast period. It is instrumental in monitoring and detecting retinal fluctuations affected by diabetes, aiding healthcare professionals detect the disease's progression and improve appropriate treatment plans.
End-use Insights
In 2022, the Hospitals segment had the highest market share of on the basis of the end-use industry. Ophthalmoscopes are vital diagnostic tools in hospital settings, where they are utilized by ophthalmologists, optometrists, and other healthcare professionals to examine patients with a wide range of eye conditions and diseases. Hospitals often have specialized eye care departments or ophthalmology clinics where ophthalmoscopes are routinely used for diagnosis, treatment, and monitoring of patients.
The Ophthalmic clinics is anticipated to expand at the fastest rate over the projected period. Ophthalmic clinics, including standalone eye clinics and specialized eye care centers, are dedicated facilities for the diagnosis and treatment of eye-related issues. Ophthalmoscopes are a primary tool in these clinics, used by ophthalmologists and optometrists to provide specialized eye care services. These clinics may offer a more focused and comprehensive approach to eye care compared to general hospitals.
Recent Developments
July 2023: International charity for visually impaired, Christian Blind Mission (CBM) announced that it has donated eye treatment equipment worth $100 million to the Jigawa State government. It includes 5 A-scans, 10 Retinoscopes, 10 Ophthalmoscopes, 15 visual acuity charts (electronic), 5 slit lamps with an applanation tonometer, 5 auto keratometers, 5 surgical microscopes, an IOL master, and 5 I-care Tonometers.
January 2023: Department of Ophthalmology at Stanford University Researchers developed a low-latency monocular pupil tracker by means of hybrid FPGA-CPU computing.
August 2022: Orbis International Ghana donated eye care equipment to 5 health facilities in the Ashanti Region worth $73,000. This include ophthalmoscopes, operating microscopes,cataract sets, chalazion sets, pediatric trial frames, adult trial frames, focimeters, minor surgery and visual acuity charts.
Ophthalmoscopes Market Players
Welch Allyn
Keeler Ltd.co
Zumax medical co. ltd
Albert Waeschle
Neitz Instruments Co., Ltd.
US Ophthalmic
Heine USA Ltd
HONSUN Group
Rudolf Riester GmbH
Dino-Lite Europe
Iridex Corporation
Segments Covered in the Report
By Type
By Application
Diabetic Retinopathy
Macular Degeneration
Retinal Repair
Glaucoma
Others
By End-Use Industry
Hospitals
Ophthalmic Clinics
Others
By Geography
North America
Europe
Asia-Pacific
Latin America
Middle East and Africa