The global organic electronics market size was valued at US$ 33.99 billion in 2019 and expected to reach US$ 160.37 billion by 2027 growing at a CAGR of 21.4% over forecast period 2022 to 2027.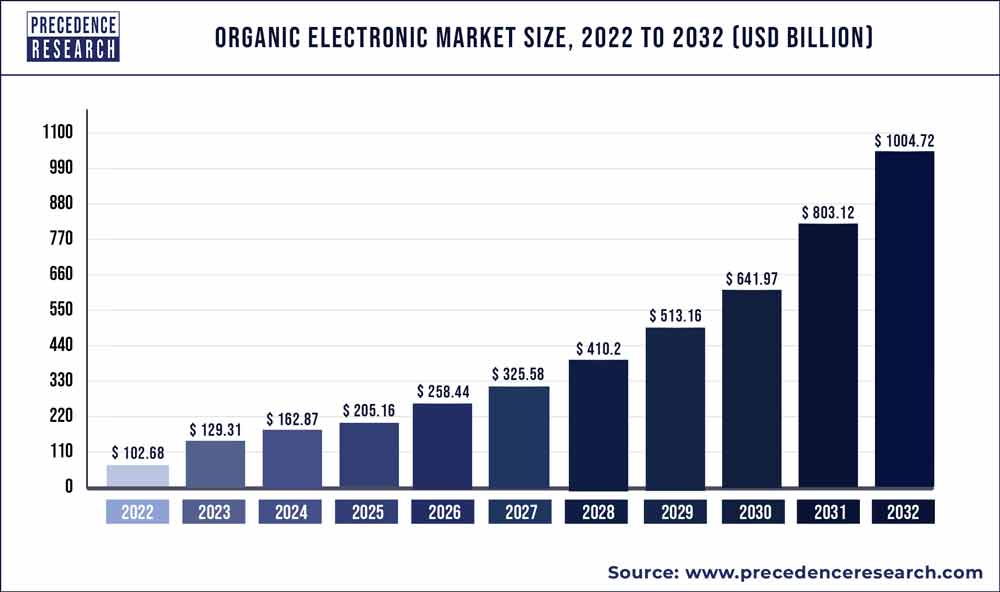 Growth Factors
Advancements in display technologies create significant demand for the organic electronic devices such as Organic Light Emitting Diodes (OLEDs) that is among the latest and most advanced display technologies. OLED displays are prominently used in televisions, laptops, mobile phones, and other display electronic devices. Hence, the aforementioned factor is likely to impel the market growth over the forthcoming years.
Further, the organic electronics is more preferred over the inorganic electronics because of simple processing methods and low material utilization during manufacturing process. In accordance to same, high-end technological products are manufactured using organic materials such as dielectric, semiconductor, and conductive materials.
Additionally, shifting trend from conventional posters and signage towards digital signage has created immense opportunity for the organic electronics manufacturers to strengthen their foothold in the target market. Hence, increasing penetration towards digital signage as it proved as a more effective marketing tool as well as visualized to enhance the product sale through its interactive features. As a part of survey conducted in the United States, the percentage jump in the unplanned purchases particularly in the restaurants is around 80%. Similarly, rising demand for digital signage at various platforms expected to boost the growth of organic electronics over the coming years.
Material Insights
Semiconductor led the global organic electronics market accounting for more than half of the total market value in 2019 and expected to grow at the fastest rate over the forthcoming years. The prominent growth of the segment is mainly due to a unique feature offered by the semiconductor material that is no insulating oxide formed on the surface when they are exposed to air. This helps the material to form a clean interface with the other materials.
Organic semiconductor is a non-metallic material that provides semiconducting properties. These materials have numerous advantages compared to inorganic semiconductors that include lightweight, mechanical flexibility, and low cost that in turn offers opportunity for developing devices by using low cost fabrication methods. Increase in awareness related to sustainable development along with the fact that organic semiconductors are biodegradable has significantly increased its preference over the counterparts; thus, increases the market demand for organic electronics.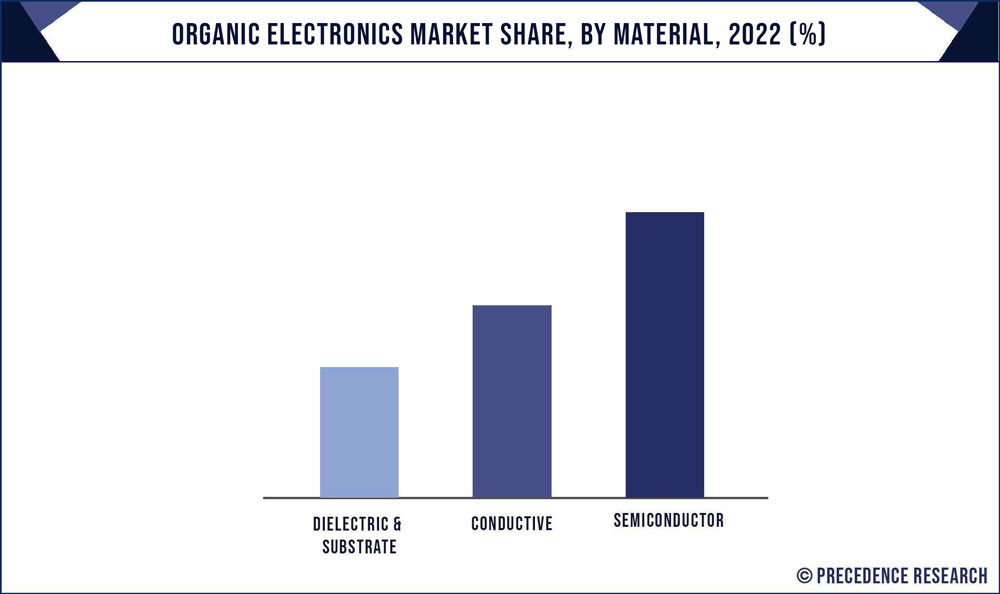 However, dielectric materials have gained significant importance over the past few years owing to their increasing demand and opportunity in applications such as automotive, consumer electronics, medical, digital signage, and security.
Application Insights
Display application captured significant market share in the global organic electronics market in 2019 because of rising demand for advanced display technologies in various application that include smartphones, laptops, television, and other electronic products with display screen. The advancement in the display technology such as Organic LED (OLED) displays expected to offer huge demand for the organic electronics over the upcoming years. OLEDs display offers numerous advantages to the users that are enhanced image quality related to better contrast, fuller viewing angle, higher brightness, much faster refresh rates, wider color range, and lower power consumptions. Hence, significant advantages offered by the OLEDs have transformed the display screens to be foldable, flexible, ultra-thin, and transparent displays.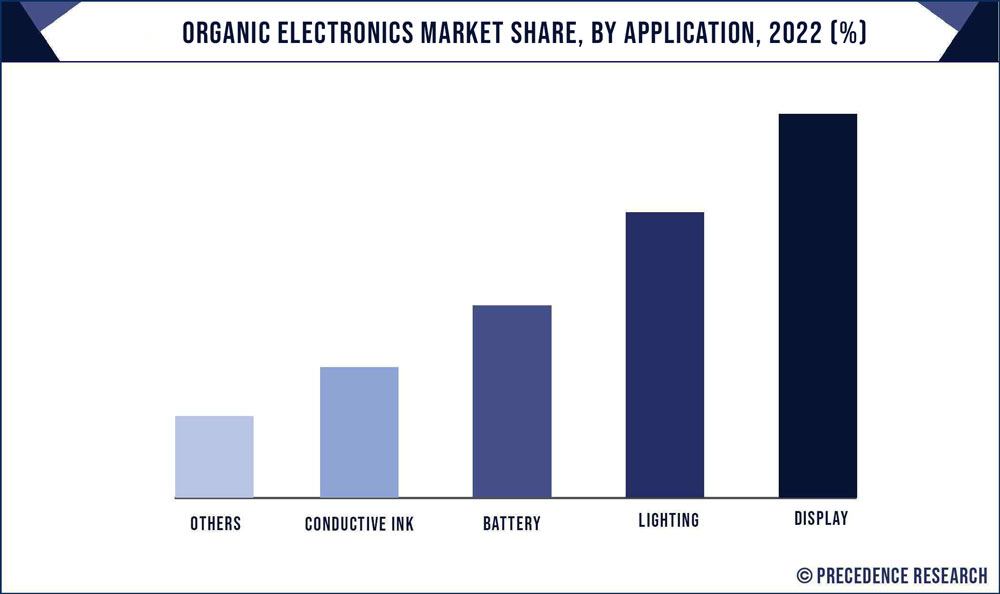 Besides this, lighting is the other most important application of organic electronics because of increasing demand for more efficient and cost-effective lighting technology. LED lights have gained significant importance over the past decade owing to less consumption of energy along with integration of advanced technologies such as IoT and artificial intelligence to upgrade their performance and user experience.
Regional Insights
North America showed prominent growth in the global organic electronics market accounting for significant market share in 2019. The region is technologically advanced coupled with a prior adopter of advanced technologies such as AI, machine learning, and IoT that contributed positively towards its growth. Further, the region is a prominent adopter of digital signage and other advanced display technologies in its consumer electronic products that again propel the market growth.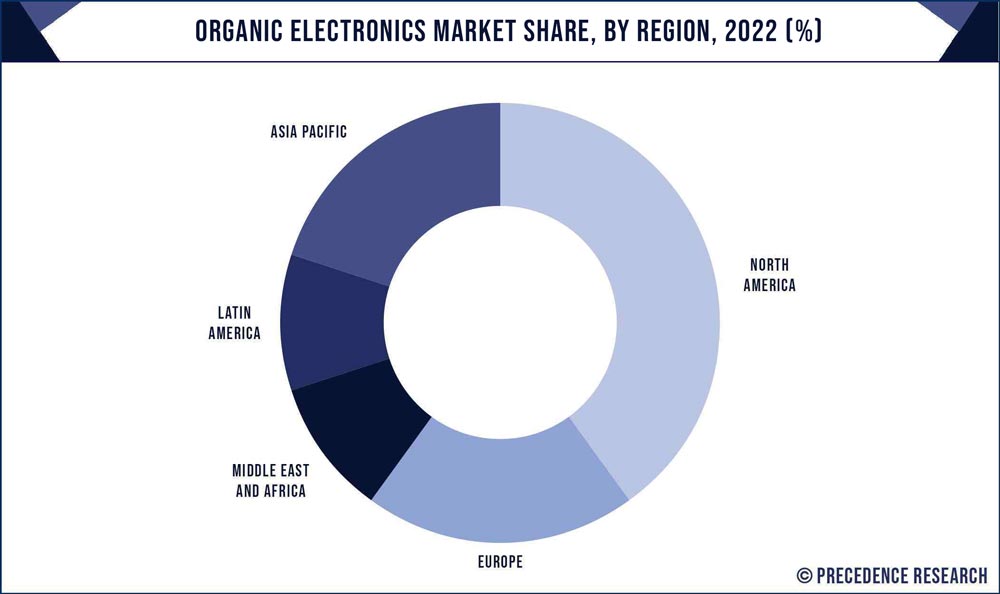 However, the Asia Pacific being the largest market for consumer electronics exhibits rapid growth rate over the forthcoming years. Large consumer base along with rapid technology integration in the sector has propelled the growth of the market. China is the front-runner in the Asia pacific region attributed to availability of low cost raw materials and labors in the country.
Key Companies & Market Share Insights
The global organic electronics market seeks intense competition among the market players owing to rapid changing consumer preference. Further, the industry participants are prominently adopting inorganic as well as organic growth strategies that include partnership, collaboration, merger & acquisition, and many others to maintain their competitive edge in the global market. Apart from this, they invest prominently in the R&D activity for new product development & advancements.
Some of the prominent players in the organic electronics market include:
BASF SE
AGC INC.
POLYIC GMBH & CO. KG
Evonik Industries AG
COVESTRO AG
Heliatek GmbH
C. Starck Inc.
Novaled GmbH
Merck KGaA
Sumitomo Corporation
Scope of the Organic Electronics Market Report
| | |
| --- | --- |
| Report Highlights | Details |
| Market Size | USD 160.37 Billion by 2027 |
| Growth Rate | CAGR of 21.4% From 2022 to 2027 |
| Base Year | 2021 |
| Historic Data | 2017 to 2021 |
| Forecast Period | 2022 to 2027 |
| Segments Covered | Material, Application |
| Regional Scope | North America, APAC, Europe, Latin America, MEAN, Rest of the World |
| Companies Mentioned | BASF SE, AGC INC., POLYIC GMBH & CO. KG, Evonik Industries AG, COVESTRO AG, Heliatek GmbH, H.C. Starck Inc., Novaled GmbH, Merck KGaA, and Sumitomo Corporation |
Segments Covered in the Report
This research study comprises complete assessment of the market by means of far-reaching qualitative and quantitative perceptions, and predictions regarding the market. This report delivers classification of marketplace into impending and niche sectors. Further, this research study calculates market size and its development drift at global, regional, and country from 2016 to 2027. This report contains market breakdown and its revenue estimation by classifying it on the basis of material, application, and region: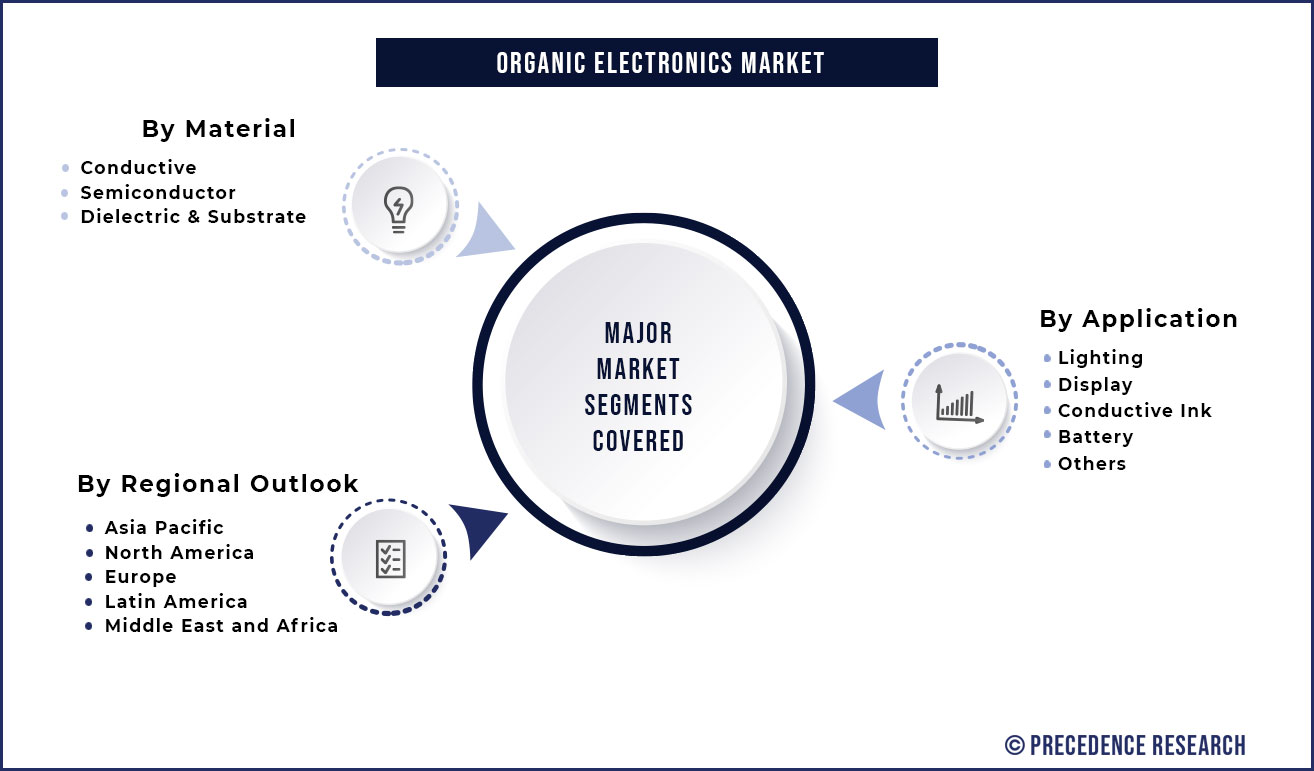 By Material
Conductive
Semiconductor
Dielectric & Substrate
By Application
Lighting
Display
Conductive Ink
Battery
Others
By Regional
North America
Europe
Asia Pacific

China
India
Japan
South Korea

Rest of the World