The global oxalic acid market size was estimated at USD 1.45 billion in 2022 and is expected to hit around USD 2.17 billion by 2032, poised to grow at a CAGR of 4.12% over the forecast period from 2023 to 2032.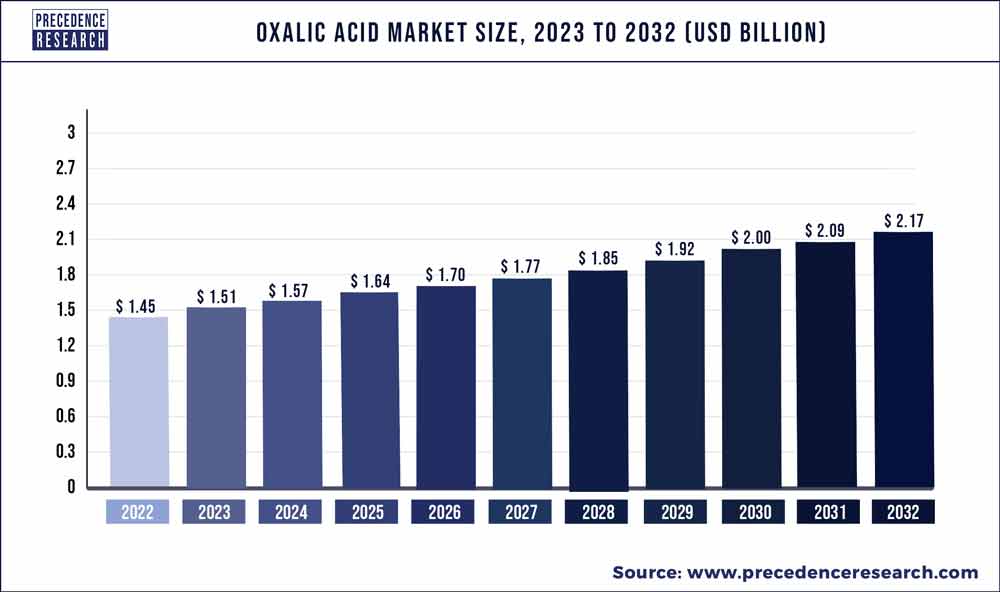 Access our Premium Real Time Data Intelligence Tool, Visit: Precedence Statistics
Key takeaways:
By grade, the technical and pharma segment is expected to dominate the market during the projection period.
By application, the bleaching and purifying agents segment is expected to be the most attractive segment during the forecast period.
Asia Pacific is expected to lead the oxalic acid market in upcoming years. Whereas Europe will be the most attractive marketplace during the forecast period.
Market Overview:
Oxalic acid, also known as ethanedioic acid, is a poisonous, colorless chemical molecule that belongs to the carboxylic acid family. Oxalic acid is majorly applied as an acid wash in household and commercial facilities where it is beneficial in removing corrosion and dirty stains because it converts the bulk of indissoluble iron complexes into a dissoluble complex ion. Because of similar reason, it is the primary component of several commercial treatments intended to remove scale from vehicle radiators. A naturally occurring substance called oxalic acid is present in a wide variety of plants and vegetables, including spinach, rhubarb, and cocoa. The market is anticipated to expand at a substantial rate as a result of rising demand from various user industries and expanding knowledge about environmentally friendly cleaning products.
In the medical industry, oxalic acid is widely used to create medicines including tetracycline, borneol, Terramycin, and other antibiotics. In the pharmaceutical sector, acid is used to purify or diluted certain substances. On the other hand, there is little proof that this acid has any positive effects on health. When oxalic acid is organic and unprocessed, it is not lethal. As a result, the extension of the pharmaceutical sector has substantially supported the growth of the global oxalic acid market. Additionally, this chemical is mostly employed in industrial processes for processing minerals. People who work in the Fabric business can also use oxalic acid to disinfect instruments and bleach garments.
In the discipline of chemistry, there have been major advancements in the use of oxalic acid in recent years. Production of graphene, a substance with tremendous promise for a variety of uses, including electronics, energy storage, and environmental remediation, is one of the most exciting recent advances. In the synthesis of graphene, oxalic acid has been successfully employed as a reducing agent, enabling the synthesis of high-quality, large-scale graphene sheets with good electrical and mechanical characteristics. Oxalic acid-produced graphene also exhibits better stability and greater toughness. Exciting advancements in catalysis are another area where oxalic acid is being used. Oxalic acid is a crucial ingredient in the manufacture of numerous compounds because it may function as a catalyst in a variety of chemical processes.
Report Scope of the Oxalic Acid Market:
| | |
| --- | --- |
| Report Coverage | Details |
| Market Size in 2023 | USD 1.51 Billion |
| Market Size by 2032 | USD 2.17 Billion |
| Growth Rate from 2023 to 2032 | CAGR of 4.12% |
| Largest Market | Asia Pacific |
| Base Year | 2022 |
| Forecast Period | 2023 to 2032 |
| Segments Covered | By Grade and By Application |
| Regions Covered | North America, Europe, Asia-Pacific, Latin America and Middle East & Africa |

Market Dynamics:
Drivers:
Rising application from the pharmaceuticals sector
Oxalic acid producers now have a booming market because to the global expansion of the pharmaceutical and healthcare industries. Drugs like borneol, tetracycline, and antibiotics are produced by the pharmaceutical industry using oxalic acid. Additionally, tooth-whitening products contain oxalic acid as a component. The rising use of antibiotics is one of oxalic acid's key benefits. Oxalic acid is also used to deproteinize and dechelate medications, as well as to inhibit the growth of naturally occurring microbes.
Seed germination, calcium storage and regulation, iron balance, detoxification, structural strength, and insect repellency are all affected by oxalic acid. It could possibly have antioxidadant properties and serve as a pH regulator. Oxalic acid may be found in plants in concentrations ranging from 5 mg/kg to 200 g/kg dry weight. Oxalic acid is also used as a cleanser, as a bleaching and drying auxiliary, and for other purposes in the industrial and domestic sectors. These elements collectively are driving the oxalic acid market.
Restraints:
High in toxicity restraining the market
Oxalates are sometimes referred to as anti-nutrients. The reason for this is because they attach to specific minerals and stop the body from absorbing and using them. Oxalate is safe in tiny doses. Higher levels, however, may inhibit the body's mineral absorption and promote the development of kidney stones. There are other kidney stone varieties that are made up of various minerals, but calcium oxalate is the most typical. As a result, kidney stones can develop when oxalic acid or oxalate concentrations rise. Oxalic acid toxicity issues are hampering market growth, according to growing health concerns.
Opportunity:
The requirements of sterilizing pharmaceutical equipment
Due to the rising demand for oxalic acid in the petrochemical sector in emerging nations, the worldwide oxalic acid market is anticipated to expand at a modest rate during the projected period. The global pharmaceutical sector is expanding, which is generating fresh potential prospects for the oxalic acid market. People spend a significant portion of their income on drugs to reduce the risk of allergies and illnesses.
The need for technical/pharma-grade oxalic acid is being driven by growing concerns about the requirement to sterilize pharmaceutical equipment. Oxalic acid is one cleaning/disinfecting chemical that healthcare professionals are increasingly using to sterilize medical equipment. Additionally, it is projected that growing worries about the rise in surgical site infections would raise demand for cleaning/purifying products such as oxalic acid for sterilizing medical equipment.
Segments Insight:
Grade Insights:
The technical/pharma sector is predicted to increase at the highest rate during the projection period, standard grade retains a significant market share among these. The demand for technical/pharma-grade oxalic acid is rising as worries about the necessity of sterilizing pharmaceutical equipment grow.
For many pieces of medical equipment, oxalic acid sterilization may be the sole method that sterilizes them effectively and doesn't harm them in the process. Medical devices that are constructed of certain polymers (like plastic or resin), metals, or glass, or that are packed in many layers or are situated in hard-to-reach places (like catheters), are routinely sterilized with oxalic acid.
Application Insights:
The category for bleaching and purifying agents had the greatest revenue share in 2022 and is anticipated to expand significantly over the forecast period.
Due to its bleach-like qualities, oxalic acid is increasingly utilized as a bleaching agent for leather, headwear, wood, straw, and other materials.
Oxalic acid is used to bleach wood to remove stains or discolorations from wood surfaces. It is a typical method for returning the wood to its natural color or getting it ready for additional finishing or staining. There are a variety of reasons why someone would desire to bleach wood using oxalic acid, including removing dark stains or discoloration brought on by water damage or sun exposure, bringing lightness to wood that has become darker over time, and more.
Regional Insights:
Asia-Pacific dominated the market in terms of production and consumption
The biggest market share is found in the Asia Pacific, both in terms of production and consumption. Oxalic acid demand in the area is being pushed by the expanding industrial sector, especially in China and India. China dominates the regional market for this organic chemical, both in terms of production and consumption, and has a sizable market share.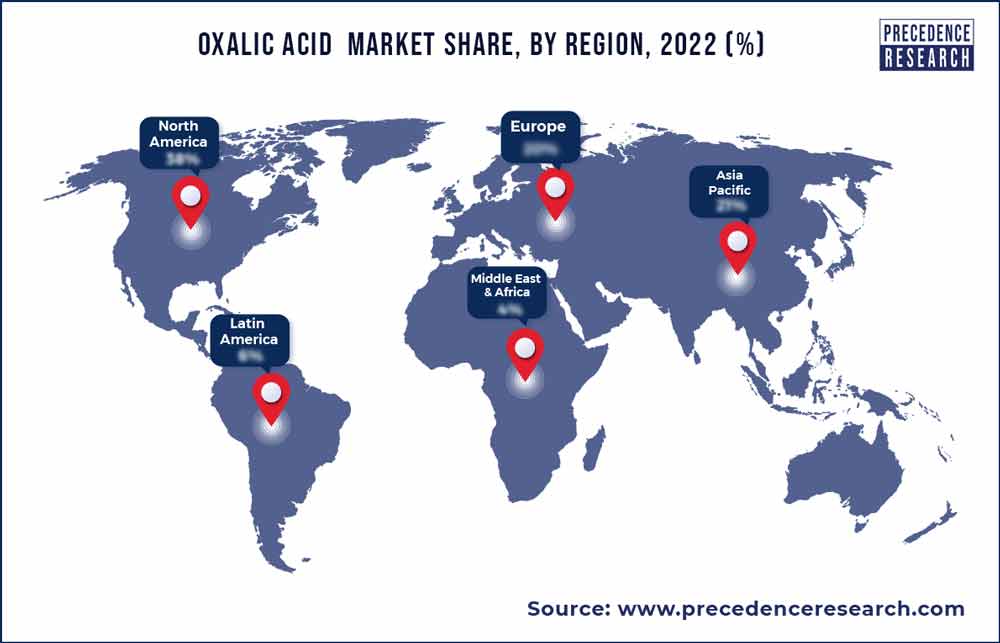 One of the world's top manufacturers and exporters of oxalic acid is China. Oxalic acid in significant quantities is exported from the nation to other parts of the world. Therefore, it is anticipated that the growing industrialization of China would open up profitable growth prospects for the major market participants. Oxalic acid is being used more often by manufacturers to remove the components of rare earths. This is promoting the expansion of the oxalic acid market in China. The oxalic acid market in China is also expected to increase as oxalic acid is being used in sectors such medicines, water treatment, petrochemicals, and electrical & electronics.
Europe is emerging as an attractive economies in the anticipated years in the oxalic acid market. Due to the increasing demand for rare earth metals and the expanding use of oxalic acid in bleaching agents, the oxalic acid market in the United Kingdom is anticipated to rise rapidly.
Additionally, the UK is home to one of the largest textile and apparel industries in the world. In the industry, oxalic acid is used to bleach a range of fabrics. This in turn is driving the market's expansion.
Recent Development:
Oxaquim, the second-largest producer of oxalic acid in the world and the top producer in Europe, will spend up to 44 million euros to expand its Alcaiz factory and build a new facility in the Andorran municipality where it will produce oxalic acid, a key strategic ingredient for advancing new electric mobility, green energy production, and digital transformation.
In May 2022, Oxaquim said that it will invest EUR 44 million (USD 51.15 million) in the development of the Alcaiz factory and the building of a new facility in Andorra to expand its production capacity from 20,000 metric tons to 25000 metric tons annually. The future demand for oxalic acid will be satisfied by this increase.
In December 2022, the full purchase of API Corporation (Life Science Institute, Inc., a Mitsubishi Chemical Group Company) was announced by UBE Corporation. Both businesses will optimize their manufacturing and R&D resources as a result of this deal.
Competitive Landscape:
The global Oxalic Acid Market is fragmented with multiple small-scale and large-scale companies that are involved product lunches, partnership, distribution and consumptions. Some of them are listed below:
Mudanjiang Fengda Chemical Co., Ltd.
Oxaquim
Merck KGaA
UBE Industries Ltd.
Clariant International Limited
Indian Oxalate Limited
Shijiazhuang Taihe Chemical Co., Ltd.
Spectrum Chemical Manufacturing Corp.
Shandong Fengyuan Chemical Co., Ltd.
Penta s.r.o
Segments Covered in the Report:
(Note*: We offer report based on sub segments as well. Kindly, let us know if you are interested)
By Grade
Technical/ Pharma Grade (Purity 99%-99.9%)
Electronic/ Food Grade (Purity 99.9%-99.999%)
By Application
Bleaching & Purifying Agents
Reducing Agents
Stain & Rust Removers
Miticide
Precipitation Agents
Others
By Geography
North America
Europe
Asia-Pacific
Latin America
Middle East and Africa