The global packaging automation market size was estimated at USD 69.18 billion in 2022 and it is expected to hit around USD 145.93 billion by 2032, poised to reach at a CAGR of 7.8% during the forecast period from 2023 to 2032.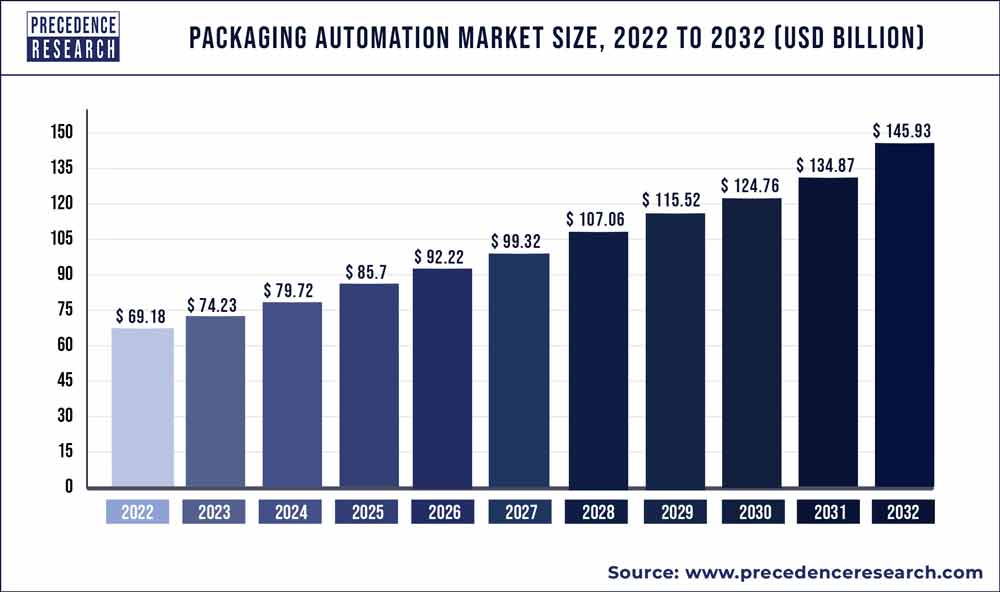 Access our Premium Real Time Data Intelligence Tool, Visit: Precedence Statistics
Key Takeaways:
The APAC region accounted for a revenue share of 38% in 2022. However, Europe was the second-largest revenue shareholder in 2022.
The filling equipment segment has held 23% of the total revenue share in 2022.
By end use, the pharmaceutical segment is expected to grow at a CAGR of 9.3% from 2023 to 2032.
The food processing category has captured 37.6% of the total revenue share in 2022.
Packaging without any human aid is referred to as packaging automation. Eliminating pointless jobs is a clever strategy that enables manufacturing or packaging businesses to do more work with less resources. The adoption of packaging automation reduces reliance on labor, boosts packaging efficiency and repeatability, and therefore results in greater floor space usage. Additionally, it lowers the cost of packaging as a whole and raises package quality. Production operations are more productive and efficient thanks to automated devices.
Because automated machines are efficient and may cut labor costs and time, manufacturers are increasingly using them to package commodities and products. Automation is being used in the manufacturing industry because of its many advantages, including more flexibility, safer working conditions, rigorous quality, less waste, and inexpensive prices. Furthermore, based on the demands of product labeling and presentation needs, the introduction of the programming feature in these machines allows diversity and non-repetitiveness of the duties and activities.
The rise in demand for improving productivity, industrialization, and manufacturing processes as well as the expanding use of automation in several industries, including food and beverage, pharmaceuticals, and cosmetics, is credited with driving the growth of this market. However, the adoption of packaging automation solutions in the industrial sector is being hampered by the high initial costs involved with establishing automated systems. The increased demand for bespoke packaging and government measures to assist digital transformation in APAC are also anticipated to open up considerable potential prospects for market participants. But one of the biggest obstacles to this market's expansion is a shortage of trained personnel to operate automation equipment.
The demand for robust packaging solutions to guarantee the endurance and durability of the items during transit has increased as a result of the rise in disposable incomes along with the development in living standards. These considerations are enticing producers in the healthcare, e-commerce, and logistics, as well as the food and beverage sectors, to adopt sophisticated packaging solutions to speed up their production and adopt the idea of mass manufacturing.
Growth Factors
The development in discretionary income, which is resulting in an improvement in the level of life, has raised the demand for durable packaging solutions to assure the products' long-term durability throughout transit. Due to this feature, businesses in the e-commerce, logistics, food, and beverage, and healthcare industries are enticed to embrace cutting-edge packaging solutions in order to accelerate their manufacturing to a mass market. Due to the growing need for supply chain integration, several firms are also purchasing cutting-edge technology for the packaging of goods. These technologies improve the productivity of production line operations and assist businesses in reducing the workforce on production lines, saving both labor costs and production time.
Scope of the Packaging Automation Market
Report Coverage
Details
Market Size in 2023
USD 74.23 Billion
Market Size by 2032
USD 145.93 Billion
Growth Rate from 2023 to 2032
CAGR of 7.8%
Largest Market
Asia Pacific
Fastest Growing Market
North America
Base Year
2022
Forecast Period
2023 to 2032
Segments Covered

By Offering
By Automation Type
By Industry Vehicle
By Geography

Key Market Drivers
Rising e-commerce industry - Electronic commerce is one of the most popular trends right now since so many people all around the globe have come to consider online buying as the new standard. In rising economies like India and China, online shopping is expanding significantly. As a result of the rising e-commerce sector, there is a huge requirement for packaging equipment at all stages of e-commerce manufacturing, including primary as well as secondary packing, labeling, and product tagging and marking. Moreover, product packaging has a significant impact on customers' purchasing decisions since it helps keep items safe and separates companies using eye-catching and creative images.
Growing awareness regarding supply chain integration - In addition, businesses are already implementing smart packaging technology as a result of the growing need for supply chain integration. The combination of these technologies enables interaction with stakeholders and logistical schedule optimization. For instance, Amazon Inc. revealed in May 2019 that it has used automated packaging technologies in its warehouses for product maintenance and packing. Up to 700 orders may be processed every hour by the machine, which is five times faster than people and roughly equals 24 workers. These elements are projected to fuel the expansion of the packaging automation market.
Key Market Challenges
Packaging automation is expensive as compared to traditional packaging - The Packaging Automation Market's growth is being hampered by these machines' expensive development and maintenance costs. The overall cost of these machines will rise as a result of the incorporation of cutting-edge technologies and the demand for trained personnel. Additionally, adequate and routine maintenance of the machinery is necessary for their ongoing and regular functioning, which adds to the cost. Additionally, the industry's expansion is being hampered by the existence of strict government rules linked to worker safety when automated packaging processes are used.
Key Market Opportunities
Technological advancements - The quickening pace of technical development in this field is driving up the need for packaging equipment connected with IoT as well as smart embedded technologies. With such cutting-edge technology, packaging machines can be readily monitored from any location using desktop computers, mobile devices, and laptops. Production line operatives now have an easier time assessing the effectiveness and consistency of such automated systems thanks to such cutting-edge technologies. By enabling remote control for transmitting vital guidelines to activate or deactivate a machine's purpose from a distance, they also aid in identifying and fixing defects.
Pharmaceutical industry to show significant growth - In the upcoming years, the demand for sustainable packaging solutions will rise due to the pharmaceutical industry's explosive growth. By 2020, it is predicted that the worldwide pharmaceutical industry would be worth USD 1,430 billion, according to the International Federation of Pharmaceutical Manufacturers and Association (IFPMA). The need for advanced packaging to shield pharmaceuticals from the elements and stop the alteration of their chemical characteristics will rise as the business continues to expand. To enhance operations and services, pharmaceutical industries are making significant investments in packaging robots. When small plastic parts including bottles, catheters, caps & closures, inhalers, syringes, disposables, and additional medical devices are packaged by automated machines, operator errors are decreased, product quality is improved, and patient safety is increased. These elements will increase the market's need for packaging automation.
Segments Insight
Offering Insights
The solution category has anticipated having the greatest market share in 2022. The growth of this sector of the packaging automation market is being driven by the need to decrease unplanned downtime through optimized maintenance scheduling and failure prevention, maximize throughput by identifying performance bottlenecks, reduce production and manufacturing defects, and enhance overall product quality. During the projection period, the solution category is also anticipated to have the greatest CAGR.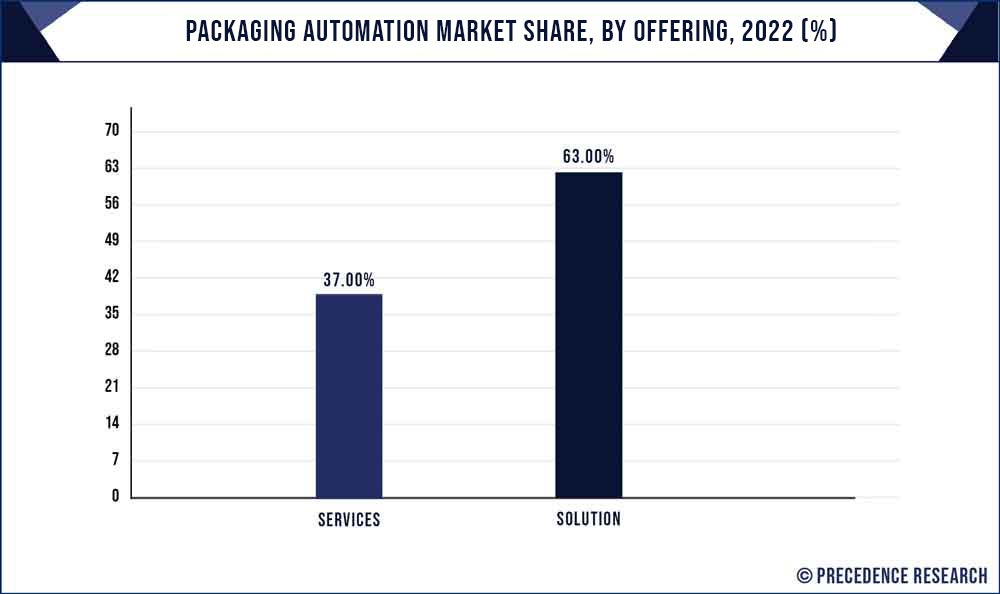 Automation Type Insights
The market for packaging automation is anticipated to be dominated by the robotic pick & place automation segment in 2022. This market's expansion is attributable to elements like better product handling, variety, and adaptability as compared to traditional automation. It also minimizes the need for human assistance when inserting items into a packaging machine. This lowers labor expenses and boosts an industry's production, which justifies the accompanying investment. However, it is anticipated that the tertiary & palletizing category would grow at the largest CAGR throughout the projection period.
Industry Vehicle Insights
The e-commerce & logistics sector was the largest revenue holder in 2022. This market's expansion is due to advantages including better-completed goods quality, inventory monitoring technologies built on the Internet of Things that can connect with one another, and growing data availability and transparency. However, it is anticipated that throughout the projection period, the healthcare & pharmaceuticals, and food & beverage industries would both record the greatest CAGRs.
Packaging Automation Market Share, By Region, 2022 (%)
| | |
| --- | --- |
| Regions | Revenue Share in 2022 (%) |
| North America | 27% |
| Asia Pacific | 38% |
| Europe | 21% |
| Latin America | 8% |
| MEA | 6% |

Regional Insights
The Asia Pacific holds a sizable market share due to the region's high level of packing machinery adoption. Key manufacturers in the area are collaborating and forming strategic partnerships to boost the industry.
With the disastrous spread of the COVID pandemic, automation became increasingly common. Given the rising investments and expanding retail market sector, China is anticipated to be the most crucial market for the industry. Increased packaging requirements are accelerated by increased consumer spending, which affects the market for packaging robots.
Japan's packaging industry is expanding steadily. The country's demand for ridged packaging has increased as packaged food and beverages have become more popular. A key driver for the packaging automation market is anticipated to be Japan's expanding processed food sector.
Additionally, the adoption of the Industrial Internet of Things (IIoT) in the packaging industry is growing in popularity in the region. This development could not only increase the productivity of packaging lines but also pave the way for such digital future of packaging equipment over the coming ten years by providing new opportunities for upgraded machinery, machine infrastructure, and operators.
Recent Developments
In August 2022, Maxpack Machinery LLC unveiled Leap by Max pack, a ground-breaking piece of packing equipment that enables the customer to pay overtime. Maxpack's response to the fast-growing Buy Now, Pay Later market is called Leap. The automation equipment is offered as premium bundles with 18 monthly installments that are interest-free, guaranteed, and credit-free.
In May 2022, ULMA Packaging said that the TSA 400, a freshly created, small tray sealer, will be on show at IFFA 2022. The TSA 400 is a highly adaptable machine, according to the manufacturer, that can function in SKIN, MAP, LEAFSKINTM, and LEAFMAPTM applications. It has a small footprint and a high-speed output of just 2.3 meters, making it ideal for constrained layouts.
Key Market Players
ABB Ltd.
Automated Packaging Systems, Inc.
Beumer Group GmbH & Co. KG
Emerson Electric Company
Kollmorgen Corporation
Mitsubishi Electric Corporation
Rockwell Automation, Inc.
Schneider Electric SA
Siemens AG
Swisslog Holding AG
Segments Covered in the Report
(Note*: We offer reports based on sub-segments as well. Kindly, let us know if you are interested)
By Offering
Solution

Case Sealers & Erectors
Wrappers

Stretch Wrappers
Flow Wrappers
Shrink Wrappers

Filling
Sleevers & Cartoners
Markers & Labelers
Strappers
Palletizer and Depalletize
Automated Mailer Systems
Case Packers

Vertical/Top Load Case Packer
Wrap-around Load Case Packer
Horizontal/Side Load Case Packer
Others

Others

Services

Consulting
Support & Maintenance
Installation & Training
By Automation Type
Robotic Pick & Place Automation
Secondary Packaging Automation
Tertiary & Palletizing Automation
By Industry Vertical
Healthcare & Pharmaceuticals

Healthcare & Pharmaceutical Manufacturing Companies
Contract Manufacturing Organizations

E-commerce & Logistics

E-commerce
Contract Packaging
Logistics Companies

Food & Beverage
Automotive
Chemical & Refinery
Aerospace & Defense
Others
By Geography
North America
Europe
Asia-Pacific
Latin America
Middle East & Africa (MEA)