The global packaging foams market size was estimated at USD 17.1 billion in 2022 and it is expected to hit over USD 28.7 billion by 2032, poised to grow at a CAGR of 5.31% during the forecast period 2023 to 2032.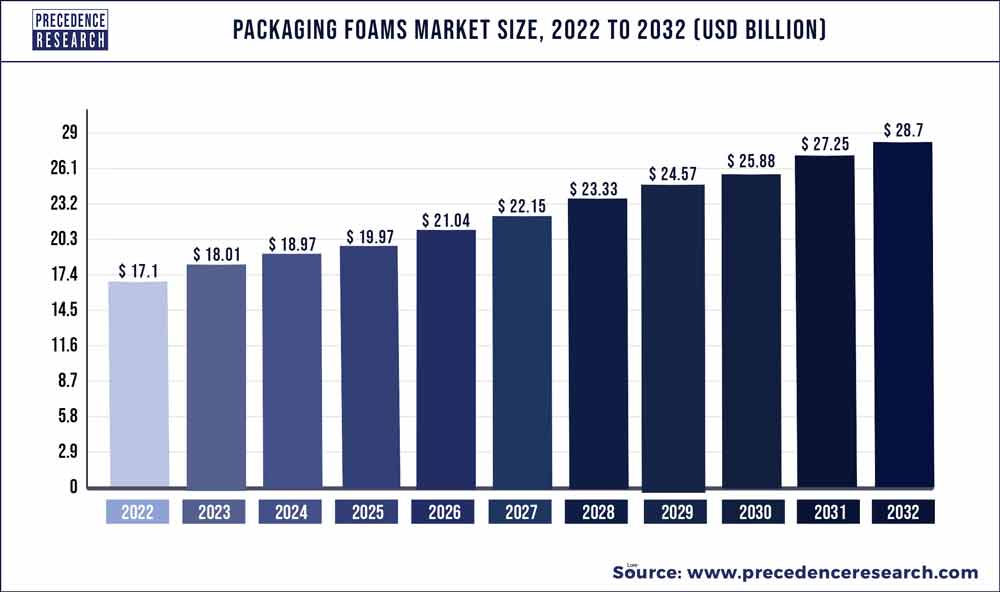 Key Takeaways:
Asia Pacific Market has generated a 41% revenue share in 2022.
By material, the polyurethane segment has captured a revenue share of 52% in 2022.
By product type, flexible foam holds the largest market share of 79% in 2022.
By application, the antistatic electrostatic discharge (ESD) segment is anticipated to expand.
North America is growing at a CAGR of 3.9% from 2023 to 2032.
The industrial packaging segment is projected to reach a CAGR of 4.7%.
The flexible section is expanding at a CAGR of 5.1% from 2023 to 2032.
Market Overview:
The global packaging foams market revolves around the production, innovation and distribution of foams for packaging purposes that are manufactured for multiple industries. Foam packaging is widely utilized to transport electrical components, electronics, and fragile components. Boxes are padded with packaging foam, which also serves as padding during shipping. It is a crucial material in the packaging industry because of its adaptability, recyclability, lightweight, and customizability. The shipping and packaging industries primarily use polyethylene, polyurethane, and increased polystyrene as packing foam.
Polyethylene foam is an engineering plastic material frequently used to package fragile goods due to its superior vibration resistance and insulation properties. The global market for packaging foam is being driven by rising globalization activities and expanding production and industrial opportunities. The requirement for polypropylene foam is growing due to the rising demand for lightweight products in the transportation industry. During the forecast period, the expanding e-commerce industry will drive the growth of the market for foam packaging. The demand for packaging foam is expanding due to more efficient packaging in several sectors, including consumer goods, electronics, and pharmaceuticals.
Growth Factors:
Polyethylene foam is a plastic engineering material commonly used to package fragile goods because of its superior vibration resistance and insulation properties. Increasing globalization activities, growing production, and new business opportunities drive the global packaging foam market. Due to the increasing demand for lightweight items in the transportation sector, polypropylene foam is becoming ever more necessary.
The expanding eCommerce sector will drive the need for packaging foam during the forecast period, increasing international shipments. Due to more effective packaging in many industries, such as electronics, consumer goods, and pharmaceuticals, the requirement for packaging foam is rising.
The market is expanding due to the rising production and shipping of various products that require secure packaging and delivery. The rapidly expanding trend of online shopping and the expansion of packaging technology is expected to significantly contribute to the growth of the global market. As a result of regulatory restrictions on the use of plastic and thermocol for packaging, packers are switching to other options, creating lucrative opportunities for market participants in foam packaging. Manufacturers of foam packaging are rushing to create advanced, novel solutions with little negative environmental impact.
Report Scope of the Packaging Foams Market:
| | |
| --- | --- |
| Report Coverage | Details |
| Market Size in 2023 | USD 18.01 Billion |
| Market Size by 2032 | USD 28.7 Billion |
| Growth Rate from 2023 to 2032 | CAGR of 5.31% |
| Largest Market | Asia Pacific |
| Second Largest Market | North America |
| Base Year | 2022 |
| Forecast Period | 2023 to 2032 |
| Segments Covered | By Material Type, By Product Type, By Application, and By End User |
| Regions Covered | North America, Europe, Asia-Pacific, Latin America and Middle East & Africa |

Market Dynamics:
Driver:
The rising demand and expanding businesses associated with consumer goods electronics
One of the leading industries using packaging foam is the electric and electronic sectors. To keep electronics and semiconductor components from being damaged during storage and shipping, ESD foam packaging has become common in the electronic industry. The growth of the packaging foam market is being driven by the increased requirements for semiconductors.
One major factor driving the expansion of the packaging foam market is the rising use of wafer foam separators. Invest India estimates the electronics market will be worth USD 315 billion in 2022–2023 and USD 600 billion by 2032. As a result, the global market for electronics packaging will expand significantly over the next few years.
Restraint:
Polystyrene-based packaging foams will have an adverse effect on both the environment and humans
Expanded polystyrene foam may have low production costs, but it has a high cost to the environment and humans. Plastic foam is harmful to wildlife because it doesn't biodegrade. Plastic foam enters the natural environment by disintegrating into ever-tinier fragments, where it is frequently mistaken for food by animals. These fragments will be consumed by wildlife, such as seabirds, or fed to their young, which will fill their stomachs with plastic. These animals won't feel hungry because of the plastic pieces stuffed inside their stomachs, and as a result, they will either starve to death or cause themselves serious harm. Polystyrene foam can harm animals worldwide because it floats and can be carried by waterways.
Human health is also impacted by polystyrene foam due to its chemical composition. The Department of Human Services and Health has identified styrene, one of the primary components of polystyrene, as a potential human carcinogen. Significant health risks can also be experienced by those who work in the styrene-based foam manufacturing industry. Styrene inhalation, which many workers experience while creating a variety of products, can harm the nervous system permanently.
Opportunity:
Expanding the production of bio-based polypropylene
The rising concerns associated with the environment have forced the manufacturers to adopt innovative and eco-friendly packaging solutions. The development of bio-based polypropylene is one of them, which is developed by utilizing sugar cane, vegetable oil and other natural biomass. Bio-based polypropylene is used in multiple films, packaging solutions and other applications. Throughout the forecast period, it is anticipated that the rising number of research and development activities will lead to an increase in the launch of bio-based polypropylene, creating lucrative possibilities for development. For instance, Borealis AG and Neste entered into a strategic partnership in October 2019 with the aim of producing renewable polypropylene (PP).
Segments Insight:
Material Type Insights:
One of the most flexible and popular packaging materials today is foam packaging. It can be used for various purposes, including packaging for food, drinks, medical devices, and industrial products. Many different types of foam packaging are available, each with special qualities and advantages. Polyethylene, Polystyrene, and polypropylene are the most widely used materials for foam packaging. Because of its low cost and effective thermal and acoustic insulation qualities, polystyrene is the most commonly used type of foam packaging. Another common kind of foam packaging is polyethylene, which is flexible and has good moisture resistance. Polypropylene is the third most popular kind of foam packaging, renowned for its excellent weight-to-strength ratio and good chemical resistance.
There are distinct benefits and drawbacks to each kind of foam packaging. The least expensive option is polystyrene foam packaging, which is less sturdy than other foam packaging. Although polyethylene foam packaging is more costly than polystyrene, it is more resilient to moisture and has better durability. The most expensive option is polypropylene foam packaging, but it is the most resilient to chemicals and has the best durability
Product Type Insights:
Due to its versatility, cost-effectiveness, lightweight, and high durability properties, flexible foam is expected to hold the largest market share (79% in 2022) and expand at a significant CAGR over the forecast period.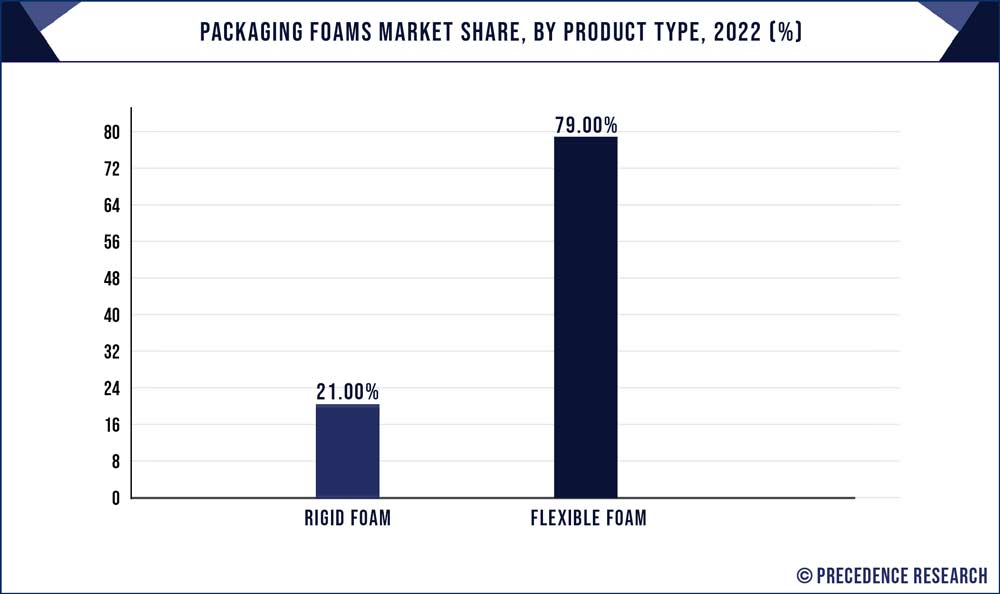 Since foam packaging is frequently used for packaging sensitive goods like computer parts, glass products, and other items, as well as personal care products, electronics components, and others, it has been supported by the expanding e-commerce sector. The e-commerce market's expansion is aided by growing digitalization, which will likely increase demand for packaging foam between 2023 and 2032.
Application Insights:
The antistatic electrostatic discharge (ESD) segment is anticipated to expand at a moderate growth rate over the forecast period and will account for a sizeable market share in 2023. Excellent cushioning and vibration dampening are the main factors propelling market expansion. Further raising the need for antistatic ESD foam is ESD's capacity to cut into foam trays, pads, planks, blocks, or other shapes.
Electronic and electrical components are the main applications of antistatic ESD packaging. It is more commonly used to compare the antistatic ESD segment to application segments like Inserts, Linkers, Corner & Edges, and others. The packaging industry's increasing use of antistatic ESD foam types is contributing to expanding the packaging foam market.
Regional Insights:
Asia Pacific is expected to dominate the global foams packaging market, growing at a CAGR of 5.89% during the forecast period. The growing food and beverage, automotive, electronics, personal care, and pharmaceutical industries are expected to help the packaging foam market grow more quickly. China is home to one of the largest food industries in the world. The country is anticipated to experience moderate expansion during the projection period due to the increased customized packaging in the food sector, which includes microwave food, frozen meals, and snack foods, and increasing exports. The use of packaging foam is anticipated to grow in the future.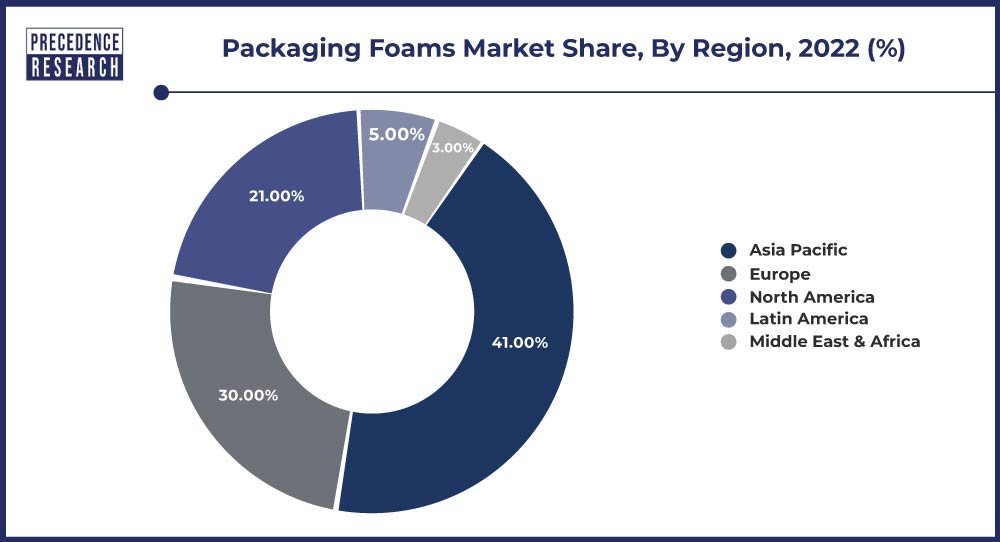 Automobile and aviation spare parts can be challenging; some require special handling when transported and stored. The complexity of various parts, especially those found inside and in the B engine, is to blame. These regulate the ride, give the car a fresh appearance, and even improve the efficiency of the systems.
This suggests that replacement parts would be protected in their proper packaging during shipping and storage. Use of specific automobile foam packaging materials is therefore advised.
According to estimates, North America holds the second-largest shareholding with USD 3,994 million and a CAGR of 3.87%. The United States accounts for the majority of the region's share. Due to the increasing popularity of the internet and growing demand for convenience, consumers are increasingly purchasing groceries and other food products online. Customers can buy fresh vegetables without leaving their homes credit goes to an increasing number of services, such as Amazon Fresh.
Furthermore, the majority of the beverage and food processing facilities in New York are wineries, facilities for the slaughter and processing of animals, and beverage and food manufacturing facilities due to the packaging foam market being expanded.
Additionally, with its headquarters in the US, Walmart is the biggest retailer globally and the largest company of its kind. The United States is the industry leader because five of the world's top ten largest retail companies have their headquarters there. Flexible packaging is the second-biggest industry in the country, As stated by the Flexible Packaging Association of the United States, with market revenue of about 20%. The country's growing food market is also boosting its packaging sector.
Recent Developments:
In February 2023, a circular material company, Cruiz Foam, announced the launch of earth-friendly packaging material products. Along with a line of new sustainable packaging products, the company has launched a foam for packaging temperature-sensitive products. The new packaging foam launched by Cruiz Foam aims to replace plastic bubble wraps in the upcoming period.
In September 2022, a prominent name in the packaging industry, Stora Enso, launched Papira Pulp foam packaging material, the company's latest packaging solution made from pulp fibers. With the launch of this product, the company aims to offer a sustainable, recyclable, and alternative solution for plastic foam packaging options.
Key Players in the Report:
JSP Corporation
UFP Technologies Inc.
Synbra Holding bv
UFP Technologies
Armacell LLC
Tosoh Corporation
ACH Foam Technologies
FoamCraft Packaging Inc
Hanwha Corporation
Plastifoam Company
Marko Foam Products Inc.
TotalEnergies
NCFI Polyurethanes
Huebach Corporation
Wasatch Container
Dongshing Industry Inc.
Zotefoams Plc.
Borealis
Arkema
Kaneka Corporation
Recticel
Sealed Air Corporation
BASF SE
Synthos SA
FoamPartner Group
Rogers Corporation
Segments Covered in the Report:
(Note*: We offer report based on sub segments as well. Kindly, let us know if you are interested)
By Material Type
Polystyrene
Polyethylene
Polyurethane
polypropylene
Poly Vinyl Chloride
By Product Type
By Application
Inserts
Corner and edge protectors
Anti-Static ESD Foam
Liners
By End User
Medical and Pharmaceutical
Food and Beverages
Aerospace and Defence
Automotive
Electrical and Electronics
Personal Care
Consumer Packaging
Others
By Geography
North America
Europe
Asia-Pacific
Latin America
Middle East and Africa