The global polyurethane foam market size was evaluated at USD 46.37 billion in 2022 and is projected to surpass around USD 98.64 billion by 2032, growing at a CAGR of 7.84% during the forecast period from 2023 to 2032.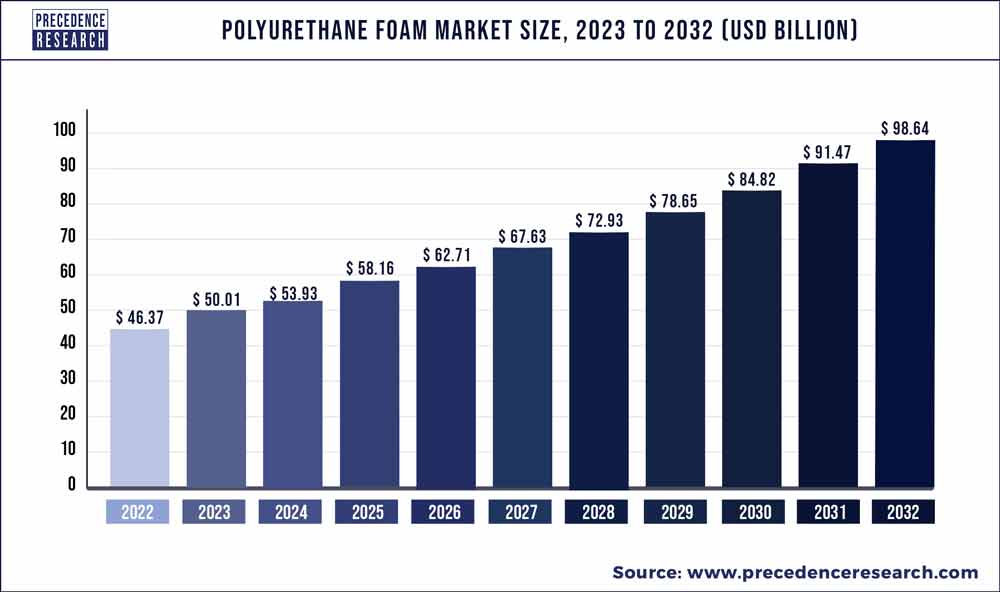 Access our Premium Real Time Data Intelligence Tool, Visit: Precedence Statistics
Key Takeaways:
North America generated the maximum market share in 2022.
Asia Pacific region is predicted to be the fastest-growing market between 2023 and 2032.
By Product, the flexible foam segment is projected to record a remarkable market share between 2023 and 2032.
By Application, the construction segment contributed the largest revenue share in 2022.
Market Overview:
Polyurethane foam is a synthetic cellular-structured porous material derived from the reaction of polyols and diisocyanates. Its structure is a composite of a gas phase and a solid phase. The solid phase is prepared from polyurethane elastomer.
Polyurethane foam is a widely used polymer that is available in two forms i.e., flexible foam and rigid form. Rigid polyurethane foams are utilized for numerous insulation applications pertaining to construction and refrigeration.
Rigid polyurethane foam is energy efficient and helps in reducing energy costs. Flexible polyurethane foams are particularly used as a cushioning substance in various end-use industries such as furniture, packaging, transportation, bedding, automotive interiors, and carpet underlay. The use of flexible polyurethane foam is becoming popular as it can be created in almost any shape and variety. These flexible foams are also durable, light, comfortable, and supportive.
Automotive companies are using polyurethane forms for reducing the weight of electric vehicles (EVs). This makes the electric vehicle lighter and more efficient, which allows the passenger to travel longer distances per charge.
Government support in the form of subsidies and tax incentives is expected to encourage the manufacturing sector in countries such as India and China. This is anticipated to promote bio-based polyurethane to replace conventional polymers.
Environmental benefits of polyurethane foams include clean incineration and high recyclability for reduced wastage, pollutant filtration, and greater sustainability. However, several government authorities and federal agencies are concerned about the detrimental health effects of isocyanates used in polyurethane production.
The penetration of polyurethane foams is anticipated to increase owing to properties such as superior insulation that is ideal for walls and roofs in new homes. The use of polyurethane foams in buildings helps to reduce noise levels and maintain a uniform temperature. Increasing expenditure on construction in countries such as Indonesia, India, United Arab Emirates, Qatar, and South Korea due to rising urban population coupled with strong industrial sector growth is anticipated to fuel the market growth.
Growing population, infrastructure projects, loan facilities, increasing per capita income, and government support are the supporting factors that are expected to boost the construction market growth in the coming years.
Report Scope of the Polyurethane Foam Market:
| | |
| --- | --- |
| Report Coverage | Details |
| Market Size in 2023 | USD 50.01 Billion |
| Market Size by 2032 | USD 98.64 Billion |
| Growth Rate from 2023 to 2032 | CAGR of 7.84% |
| Largest Market | North America |
| Fastest Growing Market | Asia Pacific |
| Base Year | 2022 |
| Forecast Period | 2023 to 2032 |
| Segments Covered | By Product and By Application |
| Regions Covered | North America, Europe, Asia-Pacific, Latin America and Middle East & Africa |

Market Dynamics:
Polyurethane is a common polymer that is used to prepare foam, especially for furniture. Polyurethane foam is relatively soft and has an elastic open-cell structure which is preferable for lightweight and delicate items. Polyurethane foam is also used for those products that are very sensitive to vibration. FOAMplus®, polyurethane foam packaging is a highly popular packaging solution that tends to negate the requirement for large storage areas needed for pre-fabricated packaging.
Polyurethane foams are found in the armrests, seats, and headrests of many vehicles. The cushioning properties of polyurethane foams help in reducing the stress and fatigue usually associated with driving. As per CEIC Data, the sale of passenger cars in the U.S. was reported to be 3,350,050 units in December 2021. This figure is a notable rise from the previous figure of 2,302,989 units sold in June 2021. In developing countries, the construction of new roads further boosts the demand for private passenger cars. Thus, the rising production of vehicles boosts the requirement for particular polyurethane foams.
In January 2020, Covestro AG collaborated with Recticel NV/SA for developing mattresses from end-of-life mattresses. This collaboration was aimed to create a circular economy in the polyurethane foam market that would help both companies in decreasing the usage of raw materials involved in the production of polyurethane foams.
Wanhua Chemical Group Co., Ltd. acquired a 100% stake in Chematur Technologies AB for $134 million in August 2019. Chematur Engineering AB provides technologies for all major offerings in the polyurethane field. Owing to this acquisition, the position of Wanhua Chemical Group Co., Ltd. has strengthened in the polyurethane foam market. Such collaborations and acquisitions are expected to support the polyurethane foam market growth substantially from the supply side.
COVID-19 Impact:
The COVID-19 pandemic is anticipated to have a drastic impact on the global demand for polyurethane foam required in the construction & building industry. The outbreak of COVID-19 led to serious supply chain disruptions all over the world, thereby resulting in the non-delivery of raw materials needed for producing polyurethanes in the Middle East and Africa region.
The pandemic of COVID-19 affected the production of vehicles owing to the shutdown of manufacturing facilities during lockdowns. Since the movement of people was reduced, the requirement for an automobile decreased exponentially. As per the Society of Indian Automobile Manufacturers, the automobile sector in India experienced negative growth in sales of all vehicle categories in FY21 with a 20.77% reduction in sales of commercial passenger vehicles.
The majority of production plants of polyurethane foams in the Europe region were either closed or were operating with limited capacity. In Europe, the construction & building industry contracted by almost 60- 70% in 2020. The COVID-19 pandemic affected the polyurethane market from supply as well as demand side remarkably.
Segments Insight:
Product Insights:
Based on type, the global polyurethane foams market is segmented into rigid foam, flexible foam, and spray foam. The flexible foam segment is expected to hold a significant market share during the forecast period. Flexible polyurethane foam is broadly utilized as a cushioning material in the production of seating, mattresses, and specialty items. Flexible polyurethane foam is produced by reacting a polyol blend (containing surfactants, catalysts, cell opener, blowing agent, etc.), with a Toluene Diisocyanate (TDI) and Methylendiphenyl Diisocyanate (MDI).
Rigid polyurethane foams are predominantly utilized in the insulating of buildings, doors, and appliances. Installers make use of rigid polyurethane foam for insulating garage doors and entry doors, and the process can be discontinuous or continuous. For appliances, rigid polyurethane foam is installed to insulate drink machines, ice machines, hot water heaters, and among other applications. Structural rigid polyurethane foams are can be used for architectural trim, floatation, chair backs, and signage.
The prominent construction uses for rigid polyurethane foams include concrete lifting, house sheathing, aforementioned ditch breaks, and pole setting. The foam is either injected or sprayed via a low-pressure gun delivery system.
In 2020, as per the Economic Impact Study commissioned by the Building Owners and Managers Association of the U.S. (BOMA), the establishment of business offices is increasing in the United States. Various governments in the Middle East region emphasize developing the real estate industry through numerous commercial and residential projects. Thus, expanding commercial and residential construction activities boost the demand for furniture, which enhances the requirement for respective polyurethane foams.
Application Insights:
Based on application, the global polyurethane foams market is segmented into bedding & furniture, transportation, packaging, automotive, construction, electronics, footwear, and other applications. The construction segment had the highest revenue share in 2022, and it is expected that it would continue to dominate the market during the study period as a result of the growing residential real estate sector.
As per the analysts, the turnover in the real estate industry in Germany in 2021 reached a record high of € 337 billion ($381.61 billion). The residential sector in China is predicted to expand at a promising rate in near future. As of 2022, the urbanization rate in China was 64.7% and this rate is predicted to reach 75-80% by 2035. In February 2022, banks in almost 90 cities in China cut mortgage rates in order to boost the sales and buying power of the purchaser in the residential property market in the country. Thus, the expanding construction sector improves the demand for polyurethane foams required in buildings and houses.
Polyurethane foam is most often used in freezers and refrigerators that are responsible for maintaining thermal isolation with respect to exterior environments. Rigid polyurethane foam is applied particularly between the outer metal casing of freezers and the inner liner made of polyethylene. In 2020, Gorenje decided to build a new production hall for freezers and refrigerators. This new hall is expected to increase the freezer and refrigerator production capacity by an additional 750,000 units per year.
Regional Insights:
In 2022, North America held the largest revenue share. North America is the most developed continent owing to the presence of nations with favorable economic policies, high gross domestic product (GDP), and early adoption of advanced infrastructures.
The immigrant population is rising notably in Canada since past few years. Canada's population is rising at almost double the pace of each G7 country. Approximately 4/5th of the 1.8 million population rise from 2016 to 2021 was attributable to the new arrivals in Canada, either as temporary or permanent immigrants. While the pandemic of COVID-19 slowed the movement of people across the world, nearly 185,000 permanent immigrants arrived in Canada in the financial year 2020. Thus, the rising population in Canada is creating immense scope for the automobile industry. Thus, the rise in the demand for new vehicles creates a significant opportunity for polyurethane foam required in vehicles.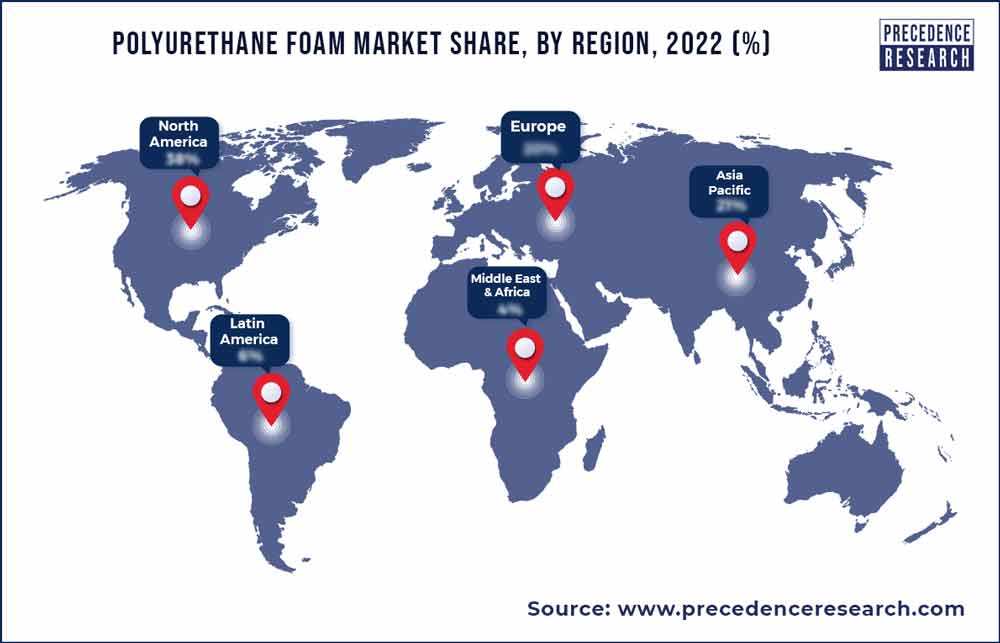 Asia Pacific (APAC) is estimated to be the fastest-growing market for polyurethane foam during the study period. Factors such as increasing demand for polyurethane foams from various end-user industries and the expanding footprint of the global players dealing in polyurethane foams are anticipated to boost the polyurethane foam market growth in the region. Approximately 178,000 new houses are forecasted to be constructed in Australia in the fiscal year 2025. India has made significant progress in many Sustainable Development Goals (SDGs) and the per capita income of the country increased to ₹ 1,97,000 ($2,411.08) by the end of 2022. Thus, the rising count of houses and increasing per capita income boosts the demand for furniture & bedding in the Asia Pacific region.
In the coming years, Germany's hotel industry is set to expand with 364 additional properties and 57,926 rooms. Hamburg, the home to Germany's largest seaport, is all set to have 23 new hotels and 5,625 extra rooms in near future. In the capital city of Berlin, 19 hotels are expected to open, which will add up to 4,121 new rooms. The French hotel market is anticipated to have 96 additional properties and 15,485 rooms during the forecast period. Thus, expanding hotel industry creates significant demand for polyurethane foams required for freezers, beds, refrigerators, and hotel mattresses.
Recent Developments:
In February 2020, Huntsman acquired the Icynene-Lapolla. This acquisition expands Huntsman's downstream footprints in spray polyurethane foam insulation. The acquisition has also created Huntsman the leading supplier of spray foam products used to insulate residential and commercial structures.
In May 2019, BASF SE and Liyang Shanhu Industry Auto Trim Material Co., Ltd. ("Shanhu Industry") entered into a strategic cooperation agreement for developing lightweight and low-emission polyurethane system products. These companies have aimed to develop polyurethane system products considering the demand in the Chinese automotive industry.
Company Profiles and Competitive Intelligence
The key players operating in the polyurethane foam market are:
BASF SE
Bayer AG
Chemtura Corporation
Covestro AG
Dow Inc.
Dupont
Elliot Co.
Foamcraft Inc.
Future Foam
Huntsman Corporation
Reciticel
Rogers Corp.
Saint-Gobain S.A.
Sekisui Chemicals
Trelleborg AG
UFP Technologies
Woodbridge Group
Segments Covered in the Report:
(Note*: We offer report based on sub segments as well. Kindly, let us know if you are interested)
By Product
Rigid Foam
Flexible Foam
Spray Foam
By Application
Bedding & Furniture
Transportation
Packaging
Automotive
Construction
Electronics
Footwear
Others
By Geography
North America
Europe
Asia-Pacific
Latin America
The Middle East and Africa