The global portable generator market size was valued at USD 4.43 billion in 2021 and is expected to reach USD 7.01 billion by 2030, poised to grow at a CAGR of 5.34% during the forecast period 2022 to 2030. The Asia Pacific market size was estimated at USD 2.14 billion in 2022. The growth of portable generator market is driven by increasing concerns over power stability for uninterrupted business operations during natural calamities.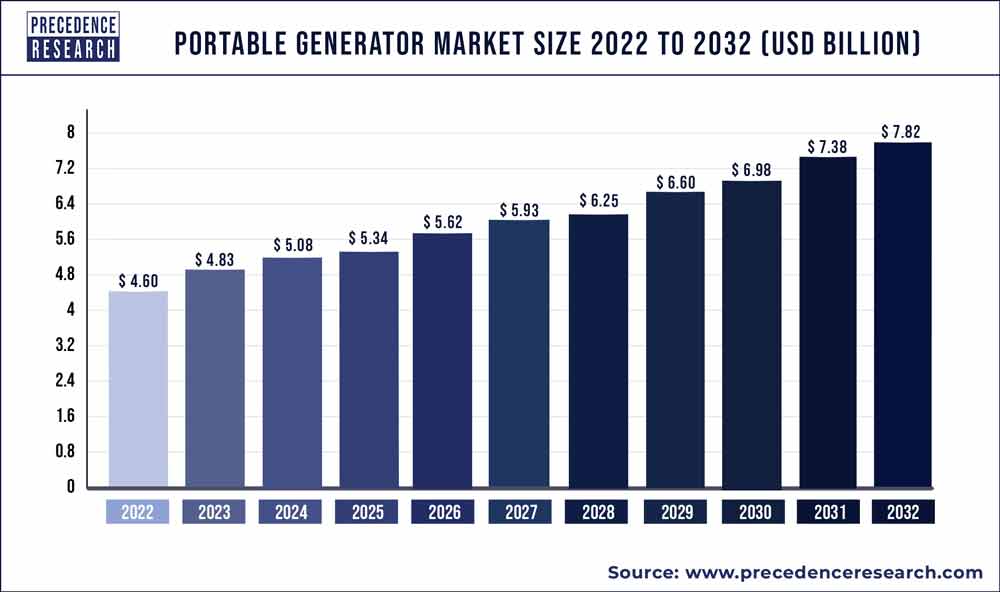 Key Takeaway:
Based on fuel, the diesel segment has captured highest revenue share of over 42% in 2022.
Based on end users, the residential segment has captured revenue share of around 71.6% in 2022.
The Asia Pacific market has accounted 36.4% revenue share in 2022.
Key Market Insights:
In the present times, a power outage indicates an unexpected termination of connectivity with the rest of the globe. Present fast-paced world which is firmly networked over a virtual space, an interruption in connectivity sternly deterrents smooth operability of commerce. This leads to interferences in accomplishment of mission critical tasks, irreparable harm to an establishment's repute, loss of faith amongst customers, and ultimately, forfeit of revenues. Snowballing implementation of portable generators owed to a speedily rising construction sector is also pushing market growth. Power tools of different sizes including drives, drills, air hammers, and compressors are widely employed in the construction industry. Portable generators are employed widely for novel construction projects, where most of the activity is conducted at night and in circumstances where power from power grids is not reachable.
Further, the untimely outburst of COVID-19 has caused in ceased industry maneuvers across the world. Rising digital revolution due to technological advancement in IT sector shadowed by virus outstretched has occasioned in unexpected upsurge in industry automation. Consequently, intensifying urgency to address to the heightened electricity demand mainly from commercial and residential sector is set to augment the portable generators industry prospect.
Crucial Influences Accountable for Market Growth are:
Snowballing application of bi-fuel and inverter generators
Upsurge in power loss on account of aging infrastructure
Scope of the Portable Generator Market Report
| | |
| --- | --- |
| Report Highlights | Details |
| Market Size | US$ 7.01 Billion by 2030 |
| Growth Rate | CAGR of 5.34% From 2022 to 2030 |
| Base Year | 2022 |
| Historic Data | 2017 to 2021 |
| Forecast Period | 2022 to 2030 |
| Segments Covered | Type, Application |
| Regional Scope | North America, Europe, Asia Pacific, Latin America, Middle East & Africa (MEA) |
| Companies Mentioned | Cummins, Inc, Generac Power Systems Inc, Kohler Co, Multiquip, Inc, WINCOWackerNeuson SE, Harrington Generators International Ltd, Briggs & Stratton Corporation, Caterpillar Inc, Honda Siel Power Products Ltd. |
Portable Diesel Generators Segment Reported Major Market Cut in 2020
Based on type of fuel used, the market has been broken down into portable gas generators, portable diesel generators, and others. Presently, portable diesel generators are the most popular type of generators due to their more consistent, effective and sturdy performance compared with natural gas or petroleum generators. Gasoline portable generators have a key advantage of the obtainability of fuel stations and are moderately less costly if employed for running portable generators for a smallspan, which is expected to upsurge its demand.
Three-phase portable generators market is projected to offer significant growth during years to come. Influences such as prerequisite for nominal wiring plus easier machinery & lower weight in comparison with their accessible counterparts would augment the complete market scenario. Furthermore, effectual power supply, system flexibility, and finest material requirement are some of the protuberant features supplementing the product acceptance.
Residential Application Sector is Predictable to Rule the Portable generator Market Revenue
The residential segment is anticipated to be the principal market for portable generators throughout the prediction period. It accounted considerable power demand worldwide due to urbanization, population growth, and numerous other factors.The industrial and commercial sectors of developing economies, residential area of established economies, and the snowballing requirement for power in defense operations are predictable to offer noteworthy prospects for market contributors in the impending years.
Asia Pacific is Assessed to be the Chief Market for Portable Generators
The research report covers important trends and predictions of portable generator products across diverse topographical regions counting North America, Europe, Asia-Pacific, Latin America, and Middle East and Africa.
Asia Pacific signifies profitable growth opportunities for portable generators sector. Asia Pacific is the home to 2 of the rapidly advancing nations such as India and China. As per, Energy Information Administration (EIA), nearby 70% of the upsurge in residential energy consumption arises from Asia-Pacific. This consumption is led by China and India on account of improving standards of living and high demand for energy-using appliances, lighting and equipment. Further, construction sector is on the escalation in India and China owed to present government initiatives including smart cities and green building campaigns. This in turn predicted to support the demand for portable generators across this region.
India is predictable to perceive the fastest relative development in per person residential energy usage due to augmented access to energy sources, thus collective number of power outages in the residential area are likely to upsurge the need for portable generators during years to come. Further, considerable market growth is accredited to the huge demand for portable generators in nations such as the Mexico, U.S., and Puerto Rico.
Additionally, rising number of weather-associated power outages and the cumulative demand for reliable and uninterrupted power supply in developing and developed nations are predicted to boost the global portable generator sector during the estimate period. Cumulative consciousness of global warming has occurred in the rising need for portable generators based a sustainable energy source such as biofuel. It has chemical characteristics analogous to that of petroleum-based fuels and henceforth, it can be used as a direct alternative for diesel fuel.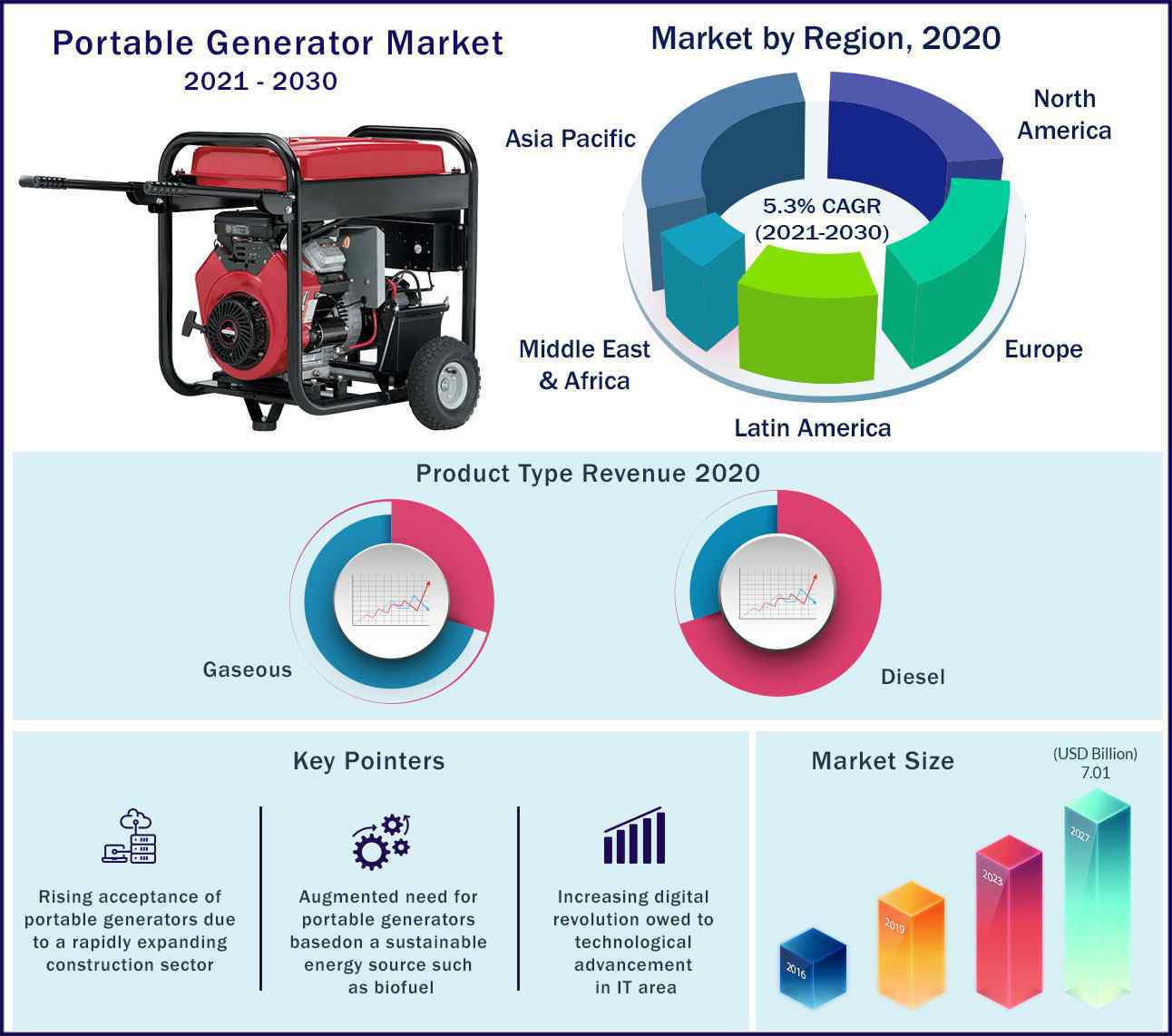 Top Players contending in the Market:
Companies with sophisticated technical capabilities are likely to subsidize suggestively toward technological advancements. Small and medium enterprises are grabbing noteworthy ground in developing nations due their constant growth in energy demand. This has brightened the prospects for several players involved in these economies. These SMEs are primarily engaged in manufacturing where the demand for uninterrupted power supply is high. Leading competitors contending in global portable generator market are as follows:
Cummins, Inc
Generac Power Systems Inc
Kohler Co
Multiquip, Inc
WINCOWackerNeuson SE
Harrington Generators International Ltd
Briggs & Stratton Corporation
Caterpillar Inc
Honda Siel Power Products Ltd.
Recent developments of leading players are as follows:
In May 2017, Atlas Copco introduced two new inverter power (iP) generators, that provide contractors effective, lightweight and consistent source of portable power. Newest additions to Atlas Copco's comprehensive portable generator's offering include P 3500i and P 2000i
Atlas Copco Portable Energy endures its emphasis on power generation. It has previously unveiled Predictable Power, the face of its attentive method for the on-site generator and power generation commerce at Bauma.
In January 201, Yamaha Motor Corp introduced its novel assortment of portable inverter generators named EF2200iS. These generators are addition to the its current portable generator portfolio and wouldhave greater power capacity and feature an LED control panel, also have less weight
Atlas Copco announced the introduction of its generator assortment in India. This new QAX range of portable generators is planned to manufactures at state-of-the-art LEAN engineering capacity at Chakan, Pune.
In order to well distinguish the existing status of acceptance of portable generator, and policies adopted by the foremost countries, Precedence Research predicted the future evolution of the Portable generator market. This research study bids qualitative and quantitative insights on Portable generator market and assessment of market size and growth trend for potential market segments.
Major Market Segments Covered:
By Application
Emergency
Prime/Continuous
By Based on Fuel
Gasoline (Petrol)
Diesel
Natural Gas
Others (LPG, Propane, and Biodiesel)
By Power Rating
Below 5 kW
5–10 kW
10–20 kW
By End User
Residential
Commercial
Industrial
By Geography
North America
Europe

Germany
France
United Kingdom
Rest of Europe

Asia Pacific

China
Japan
India
Southeast Asia
Rest of Asia Pacific

Latin America

Brazil
Rest of Latin America

Middle East & Africa (MEA)

GCC
North Africa
South Africa
Rest of Middle East & Africa