The global power distribution unit market size was reached at USD 4.36 billion in 2022 and it is expected to hit around USD 9.41 billion by 2032, poised to grow at a compound annual growth rate (CAGR) of 8% over the forecast period from 2023 to 2032.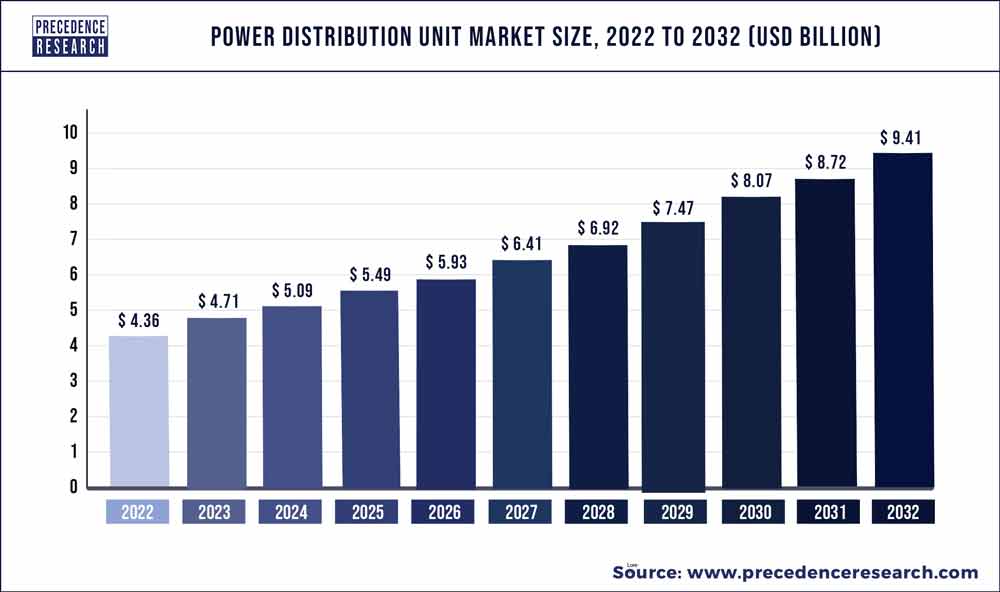 Key Takeaways:
The North America generated more than 43% of revenue share in 2022.
By Type, the intelligent segment is expected to expand at the fastest CAGR from 2023 to 2032.
By Power Phase, the triple phase segment is a predicted to grow at a significant market growth between 2023 and 2032.
A power distribution unit (PDU) is a vital electrical device that enables the distribution of power to multiple devices in data centers, server rooms, or other similar facilities. IT equipment such as servers, networking equipment, and storage devices rely on PDUs to convert high-voltage power from the building's electrical system into lower-voltage power that they can use. PDUs come in different types based on their input voltage, number of outlets, and features. Some PDUs are designed to offer basic functionality, while others may have more advanced features such as remote monitoring, power usage tracking, and outlet-level control.
As an essential component in managing and distributing power in data centers and server rooms, PDUs are crucial to ensuring the efficient operation of IT equipment. PDUs provide monitoring and control functions, empowering data center managers to remotely track power consumption, regulate settings, and manage power distribution. Certain PDUs even offer smart features, such as load balancing, to optimize power utilization and minimize energy expenditures.
Growth Factors:
Due to growing server use, greater expenditure on manufacturing operations and increased awareness of cloud computing, the power distribution unit (PDU) market is anticipated to develop significantly on a worldwide scale. The market is expected to be pushed by the escalating need for data centres, declining power usage, fast rise in data generation, and expanding demand for data storage. However, the PDU market is expected to face challenges from the increasing complexity of data center servers.
To boost market growth, key trends in the PDU market include increased competition among vendors, cloud computing, the evolution of alternating phased power and virtualization. Rack power distribution units provide key features like tracking power usage, reducing overall power consumption, minimizing server downtime, and increasing uptime. In addition, power distribution units with high-amperage plugs can provide multiple low amperage outlets.
The rising volume of unstructured data, increased process automation in the power industry, and the increasing generation of machine sensor data are some of the key factors that are driving data center growth. The demand for data centers is expected to increase due to virtualization and the increased acceptance of cloud computing, positively impacting the power distribution unit market.
The PDU market is being driven by the rising demand for digital services. The growth of e-commerce, online banking, and other digital services has led to the need for reliable, high-speed connectivity and computing power, which can be met through data centers and other similar facilities. PDUs play a crucial role in these facilities by providing a reliable and efficient means to distribute power to servers, networking equipment, and other IT devices. By leveraging PDUs, these facilities can ensure that their IT infrastructure remains operational and stable, thus enabling them to deliver uninterrupted and high-quality digital services to their customers.
Big data analytics, the IoT, and cloud computing all demand a lot of computational power and produce a lot of data, which in turn calls for more electricity and more energy-efficient distribution systems. The need for PDUs is anticipated to rise as these technologies continue to be used more widely. Many businesses are aiming to switch to renewable energy sources like wind and solar power in order to lessen their carbon footprint. However, managing the flow of electricity from sources of clean energy into the power grid may be difficult and calls for specialized equipment. The smooth and effective incorporation of energy from renewable sources into the electrical grid would be made possible by PDUs, which is anticipated to propel the market for PDUs to expand.
Data centre operators are able to optimise their energy use, increase uptime, and save operating costs thanks to the enhanced inspection, management, and control tools provided by intelligent PDUs. As data centres and other facilities get more complex and need more advanced management tools, these capabilities become more crucial.
The need for colocation services is expanding: Instead of developing and maintaining their own data centre, companies may host their IT equipment by renting space in a data centre thanks to colocation services. To provide their clients high-quality services, colocation providers need dependable and effective power distribution facilities, including PDUs.
Because 5G networks have quicker speeds, less latency, and more capacity than earlier versions of wireless technology, they are predicted to completely transform the way we connect and interact. However, in order to support a dense network of tiny cells for 5G networks, specialized equipment, such as PDUs, must be installed. In the upcoming years, the PDU market is anticipated to rise due to the deployment of 5G networks.
Report Scope of the Power Distribution Unit Market:
| | |
| --- | --- |
| Report Coverage | Details |
| Market Size in 2023 | USD 4.71 Billion |
| Market Size by 2032 | USD 9.41 Billion |
| Growth Rate from 2023 to 2032 | CAGR of 8% |
| Largest Market | North America |
| Base Year | 2022 |
| Forecast Period | 2023 to 2032 |
| Segments Covered | By Type, By Power Phase, and By Application |
| Regions Covered | North America, Europe, Asia-Pacific, Latin America, and Middle East & Africa |

Key Market Drivers:
The growth of the power distribution unit market is anticipated to be propelled by the rising demand for monitoring solutions in data centers
A data center is a centralized location where an organization stores, manages, and disseminates its IT operations and equipment, providing a high level of security and reliability. Data center monitoring involves the manual or automated management and operation of data centers to optimize power usage and enhance security.
The increasing amount of data worldwide is a significant factor driving the growth of data centers and the global market. Raritan's PDU, for example, utilizes Xerus a firmware, the combination of hardware and software technologies that efficiently manages data centers for monitoring and supplying high computing power, ensuring security also providing complete visibility making advanced electricity supply alerts.
Key Market Challenges:
Limitations of the PDUs to Manage the Extreme Voltages and a High Current Fluctuation May impede Market Developments further
The current limitations of power distribution units (PDUs) to manage complex infrastructures and high voltage requirements can deter customers from seeking uninterrupted power supply solutions for their advanced data centers. Despite installing these units, downtime and interruptions can still occur due to overhead line sag, circuit breaker failures, overloading, high voltage transformer failures, and underground cable treeing.
Key Market Opportunities:
Growing demand for intelligent PDUs
The power distribution unit (PDU) market presents a significant opportunity for growth with the increasing demand for intelligent PDUs that offer advanced features such as remote monitoring, real-time power consumption tracking, and predictive maintenance capabilities. As companies expand their IT infrastructure and adopt digital technologies, the need for efficient and reliable power distribution solutions has grown. Intelligent PDUs can provide crucial insights into power usage, identify potential issues before they occur, and enable remote management and control, thereby reducing downtime and enhancing overall efficiency. This market opportunity is projected to continue growing as the demand for data centers and cloud computing services increases globally. By investing in intelligent PDUs, companies can improve the reliability and efficiency of their power distribution solutions, leading to enhanced performance and cost savings in the long run.
Segments Insight:
Type Insights:
The market for intelligent power distributions are projected to witness substantial growth, driven by the demand for the smart and technology-driven systems. These intelligent power distribution units (PDUs) are built with the core powers cycle which enables increased uptime, capacity planning, real-time data collection, green data center solutions also reduced cost and energy consumption, which are essential growth factors. For example, Hewlett Packard Enterprise's intelligent PDUs provide power consumption monitoring at the load segment, core, stick and outlet level, ensuring accuracy and precision, and improving power distribution flexibility and control to prevent downtime. Additionally, intelligent PDUs offer features as such power metering, and environmental monitoring, with remote outlet control that monitors circuit breakers and quickly reset them, making them an indispensable tool for data center administrators.
Power Phase Insights:
The triple-phase power type is a significant market segment in the power distribution unit industry, enabling devices to run at both 120 VAC and 208 VAC from the same power source by using mix-matched PDUs. This unit is widely utilized in various large industries and manufacturing plants across the globe. To ensure that the necessary power is utilized efficiently with the use of these units, effective operating systems are essential for critical industrial machines. Veritiv Group Corp., for example, has introduced a rack PDU that is specifically designed for powering critical IT equipment and can be remotely operated for functions like turning on, turning off, or rebooting the unit, which is anticipated to become a significant growth factor for the global market.
Application Insights:
The power distribution unit (PDU) market is expected to witness significant growth in the commercial sector due to the rising number of infrastructure and commercial projects in emerging economies. Additionally, custom-designed electricity distribution systems for industrial purposes and military applications in mobile camps are likely to contribute to the growth of the PDU market. Marway Power Systems Inc. is an example of a company that offers units for aerospace, military, and defense applications, which are embedded in aircraft, ships, and submarines for energy management solutions. Furthermore, science and IT/commercial laboratories, which require PDUs to support their complex 24/7 operations, are also expected to play a significant role in driving market growth in the near future.
Regional Insights:
The North America region dominated the market in 2022. The surge in corporate infrastructures in emerging nations, combined with administration initiatives to boost the IT infrastructures ecosystem, will reinforce market development in the region. The growing establishment of IT infrastructure, mechanization, and cloud-oriented operations has additionally highlighted the significance of constant power supply and steady operation of data centers and server spaces.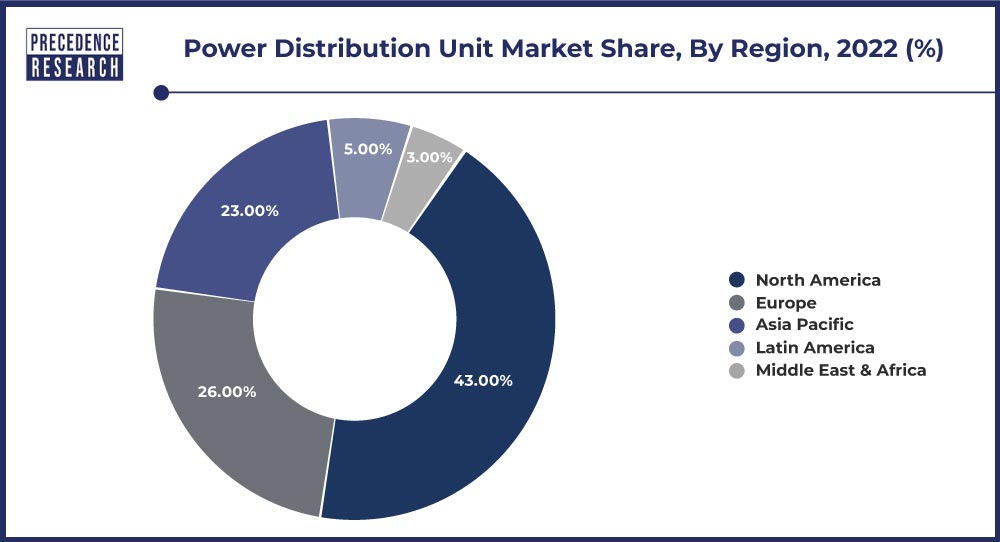 Furthermore, there has been a noticeable rise in the sales and utilization of cutting-edge laboratory gadgets and the healthcare machinery that necessitates a regular power supply for crucial operations and the procedures, which propels the market's demand in this area.
Recent Developments:
Sensata Technologies, a prominent American producer of industrial technology and energy management solutions, declared in April 2021, about a fresh business deal with a leading producer of electric trucks. Sensata Technologies will deliver distribution units for DC fast charging power outlets as a portion of the deal. This collaboration emphasizes Sensata Technologies' dedication to delivering ingenious solutions to fulfil the surging need for eco-friendly transportation.
Key Market Players:
Schneider Electric SE
Eaton Corporation
Vertiv Group Corporation
Tripp Lite
Legrand SA
Server Technology, Inc.
Raritan Inc.
Cyber Power Systems Inc.
Geist
Leviton Manufacturing Co., Inc.
Cisco Systems Inc.
Hewlett-Packard Enterprise Development LP
Black Box Corporation
ATEN International Co., Ltd.
Chatsworth Products Inc.
Segments Covered in the Report:
(Note*: We offer report based on sub segments as well. Kindly, let us know if you are interested)
By Type
Basic
Metered
Switched
Intelligent
Others
By Power Phase
Single Phase
Triple Phase
By Application
Datacenters
Laboratories
It & telecom
Healthcare
Government & Defense
Banking, Financial Services and Insurance (BFSI)
Others
By Geography
North America
Europe
Asia-Pacific
Latin America
Middle East and Africa