The global precision farming market size was estimated at USD 9.8 billion in 2022 and is projected to surpass around USD 34.01 billion by 2032 with a compound annual growth rate (CAGR) of 13.30% over the forecast period 2023 to 2032. North America precision farming market was valued at USD 3.6 billion in 2022.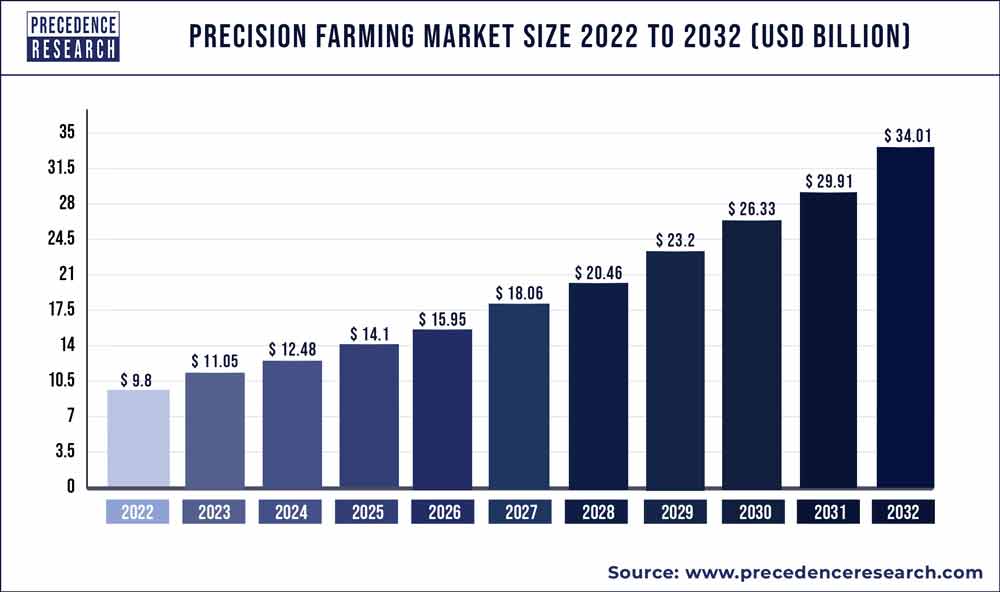 Access our Premium Real Time Data Intelligence Tool, Visit: Precedence Statistics
Key Takeaways:
By offering, the North America precision farming market is growing at a CAGR of 11.5% from 2023 to 2032.
Asia Pacific region is projected to grow at a CAGR of 15.5% from 2023 to 202.
North America region has accounted revenue share of around 46% in 2022.
Europe region has captured revenue share of over 24% in 2022.
The weather tracking and forecasting application segment is growing at a CAGR of 17.8% over the forecast period.
By offerings, hardware segment accounted market share of around 69% in 2022 and the software segment is predicted to grow at a CAGR of 15.8%.
By application, the yield monitoring segment has garnered market share of 45% in 2022.
By technology, remote sensing and variable rate segment accounted 58% market share in 2022.
Market Drivers
Precision farming is gaining traction thanks to the growing adoption of the Internet of Things (IoT) and farmers' use of advanced analytics. Advanced analytics is a part of information science that utilization various instruments and methods to gauge information and assurance that the yield and soil are appropriately focused on. Farmers can more readily design their activities because of this data.
Precision farming practices are projected to see a boom in acceptance since they allow farmers to precisely regulate field fluctuations, boost productivity, and lower production costs. These methods aid in the gathering of relevant data by analyzing real-time data regarding soil, crop, and local weather forecasts, and give farmers practical insights. Precision farming is gaining popularity in the agriculture industry because it can boost crop productivity by utilizing innovative IT-based agriculture techniques.
The most important factors driving the growth of the precision agriculture market are the rapid adoption of advanced technologies in precision agriculture to lower labor costs and the increasing adoption of IoT devices. IoT in the fields of agriculture, significant cost savings associated with precision farming, a changing climate and the need to meet the growing demand for food, and the growing push for precision farming techniques by governments around the world. To gain a deeper understanding of different aspects of agriculture such as irrigation and tillage, various technologies such as IoT, GPS, and remote sensing application control are used. IoT helps farmers to solve various challenges related to proper crop monitoring. It provides real-time data on ambient temperature and soil water content through sensors placed on the farm, helping farmers make better decisions about harvest time, crop market rates planting, and land management. This is one of the key factors contributing to the growth of the precision agriculture market.
Different variables that work with the reception of manageable cultivating advancements incorporate better instruction and preparing for ranchers, effectively open data, accessibility of monetary assets, and popularity for natural food. The consumption of normal assets and decay of the climate are a portion of the elements liable for restricting yield creation. Developing ecological worries are empowering ranchers to move their concentration toward reasonable agribusiness rehearses, like the conservation of regular assets. This has driven the requirement for further developing harvest sustenance and assurance, thus supporting the market development.
Mechanical developments, for example, vertical cultivating with shrewd plans to augment yields and decrease squander, have unfurled various learning experiences. Besides, expanding interests in advancements like driverless farm trucks, direction frameworks, and GPS detecting frameworks are additionally expected to add to the development of the accuracy horticulture market size during the time of study. For example, various sensors like soil sensors, environment sensors, and water sensors are put around the fields to assist ranchers with observing their yields and gain constant data. Furthermore, these sensors likewise assist ranchers with getting a high return with less harvest wastage. These sensors are likewise profoundly embraced in various applications like farming, drug and medical care, auto, and sports.
However, the utilization of ranch the executives programming apparatuses and remote detecting could prompt higher reception post-COVID-19 period. Organizations have previously started zeroing in additional on remote stages to empower constant decision-production for crop wellbeing observing, yield checking, water system booking, field planning, and reaping the board.
The North America accuracy cultivating market arose as a beneficial income belt in 2022, attributable to the higher reception of the advances and gadgets like the direction framework, and Variable Rate Technology (VRT) for developing yields. On the opposite side, shrewd arrangements include high ventures, which go about as a downside for ranchers, particularly in emerging nations like China, India, and Brazil. The interest in the accuracy horticulture market is high, notwithstanding, in the later run, it offers an eminent profit from venture as it diminishes the general creation cost and increments productivity.
For many operations, the agriculture business was heavily reliant on laborers; but, thanks to technological improvements, laborers are being replaced by automation, allowing industry players to achieve more production in less time. Farmers can cover a larger area of their fields in less time and with greater efficiency thanks to the deployment of new technologies. Precision farming is an advanced farming approach that uses cutting-edge technology to help farmers enhance production while lowering labor expenses. Smart sensors, GPS, GNSS, auto-steering and guiding technology, and variable rate technology (VRT) are some of the most common technologies used in precision farming.
The smartphone is one of the most widely used technological innovations in history, and with the proliferation of user-friendly agricultural programs (apps), cell phones are growing into powerful and portable tools for farmers. The majority of smartphone apps is inexpensive and provide useful farming information such as weather and climatic conditions. These apps are effective in assisting farmers in making informed decisions. Smartphones can be used in conjunction with several hardware devices, such as sensors, high-resolution cameras, and GPS receivers, to accomplish activities including sample collection, aerial photography, and record-keeping (a task recommended by experts). Using software tools, certain agricultural apps may input field data and grid it acre by acre.
The precision farming made by these organizations is bought by a few partners for different applications. Coronavirus not just affected the activities of the different precision farming producers' organizations, yet additionally impacted the organizations of their providers and distributors. The fall in sending out shipments and slow homegrown interest for precision farming in contrast with pre-COVID-19 levels is likewise expected to adversely affect and somewhat deteriorate the interest for precision farming at present moment. The key organizations working in this market have likewise seen the effect of the pandemic in their request admissions during the primary portion of 2020.
Report Scope of the Precision Farming Market
| | |
| --- | --- |
| Report Coverage | Details |
| Market Size by 2032 | USD 34.01Billion |
| Growth Rate from 2023 to 2032 | CAGR of 13.30% |
| North America Market Share in 2022 | 46% |
| Yield Monitoring Segment Market Share in 2022 | 45% |
| Base Year | 2022 |
| Forecast Period | 2023 to 2032 |
| Segments Covered | Offering, Application, Technology, Geography |
| Companies Mentioned | AG DNA, AG Junction, AG Leader Technology, AGCO Corporation, Agribotix, Bayer CropScience AG, Case IH Agriculture, ClearAg Operations, Conservis Corporation, Deere & Company |

Offerings Insights
Hardware had the greatest revenue share in 2022, and it is estimated to continue to dominate the market during the projected period. The hardware segment includes automation and control systems, sensing devices, antennas, and access points. Hardware components such as automation and control systems, sensing devices, and drones are all important in supporting farmers. Growers, for example, benefit greatly from the GIS guidance system since it can visualize agricultural workflows and the environment. Furthermore, VRT technology assists farmers in identifying areas where additional pesticides and seeds are needed, allowing them to be applied uniformly across the field.
There are two types of precision farming software: web-based and cloud-based. Cloud computing is based on the usage of shared networks, servers, and storage devices, which eliminates the high expenses of maintaining hardware and software infrastructure. As a result, during the projection period, the software category is estimated to grow at a remarkable CAGR. Predictive analytics software guides crop rotation, soil management, ideal planting seasons, and harvesting timings.
Technology Insights
Variable-rate application (VRA), yield monitoring, farm labor management systems, crop scouting, soil monitoring, weather tracking, forecasting, and field mapping are some of the uses in the precision farming sector. Field applications, map-based VRA, lime VRA, fertilizer VRA, sensor-based VRA, pesticide VRA, phosphorus VRA, nitrogen VRA, and seeding VRA are all examples of variable rate application (VRA). Off-farm field monitoring and on-farm yield monitoring are both parts of yield monitoring. Soil monitoring, on the other hand, comprises moisture and nutrient monitoring; field mapping, on the other hand, includes boundary and drainage mapping. Due to its numerous uses and high acceptance rate, variable rate application (VRA) leads the precision farming industry in the applications category.
Due to the widespread usage of GPS and GNSS systems, high-precision positioning systems held a significant share of over 28% of the precision farming market in 2022. These technologies are commonly used to identify and process data based on location. Furthermore, precision agricultural technologies use GPS to improve process efficiency and eliminate wasteful spending on agrochemicals, fuel, and seeds. The technology, in conjunction with farm management software, can be used for inter-vehicle communication and automated record keeping in addition to the spatial data provided by GPS.
Application Insights
The yield monitoring segment was the largest revenue holder in 2022 and is likely to maintain its dominance during the projection period as it assists farmers in making field decisions. Farmers can use on-farm yield monitoring to get real-time data during harvest and develop a historical-geographical database. Because it provides equitable landlord negotiations, proof of environmental compliance, and track records for food safety, this segment is predicted to account for the highest proportion of the precision farming market.
Regional Insights
In 2022, North America had the highest revenue share holder. The region is a technology, early adopter. Increased government activities to assist the adoption of modern agriculture technologies, as well as enhanced infrastructure, have all contributed to the area market's high revenue. To raise awareness among farmers, the National Institute of Food and Agriculture (NIFA), which is part of the United States Department of Agriculture, runs geospatial, sensor, and precision technology projects. In conjunction with Land-Grand universities, NIFA aids farmers in developing robust sensors, accompanying software, and tools for modelling, monitoring, and assessing a wide range of complex biological materials and processes. Furthermore, the Canadian government-funded $425,000 to Clean Seed Capital Group in November 2016 to help in improves market precision farming technology. The goal of this investment is to reduce the excessive use of fertilizers and pesticides. With the help of these funds, the company has also developed the CX6 SMART seed drill for farmers.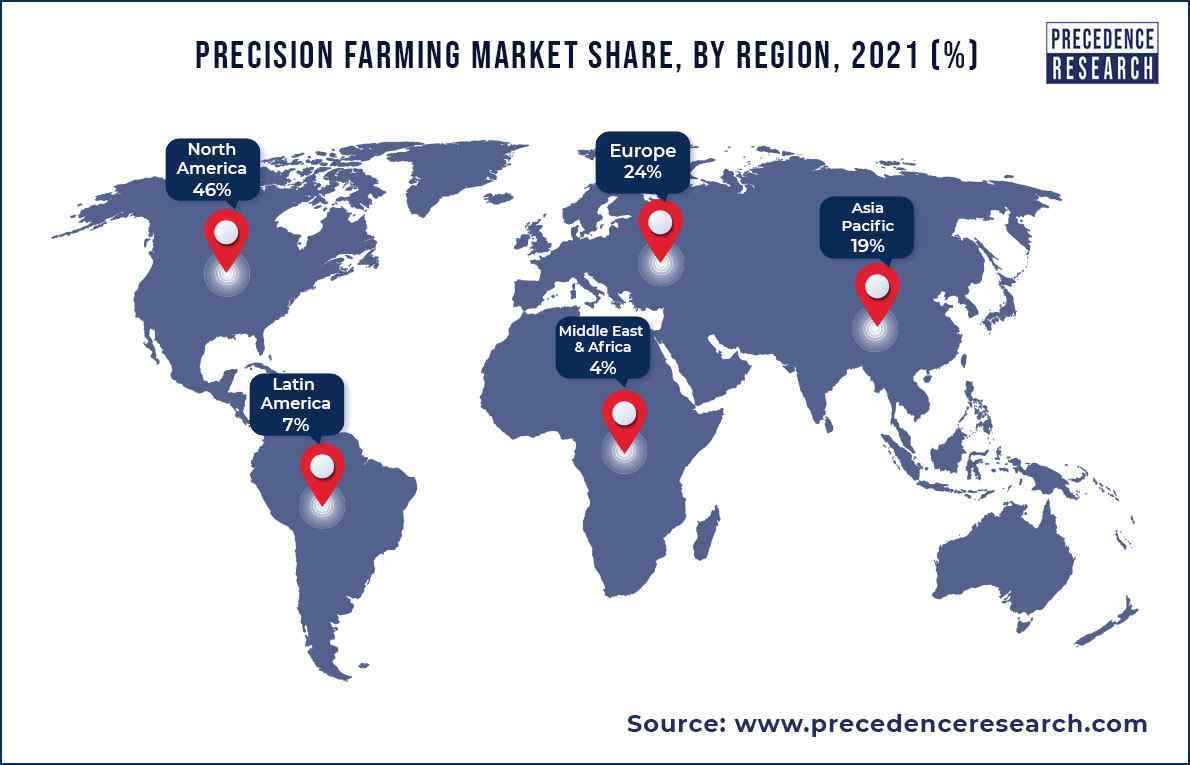 From 2023 to 2032, the precision farming market in the Asia Pacific is predicted to develop at the fastest rate. A major element driving the growth of the regional precision farming market is the increasing modernization of agriculture in countries like China, India, and Indonesia. The demand for precision farming equipment is increasing as population growth in the region's emerging countries puts pressure on the agriculture industry to boost output. Many government initiatives are carried out in developing countries such as India, Sri Lanka, and Nigeria to encourage the deployment of modern precision farming technologies, thereby maximizing yields. China and Israel signed a US$300 million trade agreement in September 2017 to facilitate the export of Israeli eco-friendly technologies to China. Furthermore, an effective administrative framework also allows farmers to gain complete knowledge about the proper use and maintenance of precision farming equipment.
Market Insights and Developments
John Deere announced the acquisition of Bear Flag Robotics, an autonomous driving technology business, for USD 250 million in May 2021. Both companies will benefit from this transaction since it will allow them to provide modern technical solutions to farmers.
Raven Industries, a major precision agriculture technology firm in the United States, was acquired by CNH Industrial for USD 1.2 billion in November 2021. This acquisition will allow the company to invest and innovate in cutting-edge precision agriculture technology.
AGCO, an agricultural machinery company, teamed together with Raven and other brands in May 2021. The goal is to assess spraying techniques to improve the effectiveness and efficiency of crop protection product application.
Major Key Players in the Market
AG DNA
AG Junction
AG Leader Technology
AGCO Corporation
Agribotix
Bayer CropScience AG
Case IH Agriculture
ClearAg Operations
Conservis Corporation
Deere & Company
Segments Covered in the Report
(Note*: We offer report based on sub segments as well. Kindly, let us know if you are interested)
By Offering
Hardware

Automation and Control Systems

Displays
Guidance and Steering Systems
GPS/GNSS Devices
Drones/UAVs
Irrigation controllers
Handheld Mobile Devices/Handheld Computers
Flow And Application Control Devices
Others

Sensing and Monitoring Devices

Yield Monitors
Soil Sensors

Moisture Sensors
Temperature Sensors
Nutrient Sensors

Water Sensors
Climate Sensors

Software

Local/Web-Based
Cloud-Based

Services

System Integration and Consulting Services
Managed Services
Connectivity Services
Assisted Professional Services
Maintenance and Support Services
By Application
Yield Monitoring
Crop Scouting
Field Mapping
Variable Rate Application

Precision Irrigation
Precision Seeding
Precision Fertilization

Nitrogen VRA
Phosphorous VRA
Lime VRA

Pesticide VRA

Weather Tracking and Forecasting
Inventory Management
Farm Labor Management
Financial Management
Others
By Technology
Precision Farming Guidance System

Remote Sensing Precision Farming

Variable-Rate Technology Precision Farming
By Geography
North America
Europe
Asia-Pacific

China
India
Japan
South Korea
Malaysia
Philippines

Latin America

Brazil
Rest of Latin America

Middle East & Africa (MEA)

GCC
North Africa
South Africa
Rest of the Middle East & Africa