The global 5G enterprise market size was exhibited at USD 4.04 billion in 2022 and is projected to attain around USD 34.55 billion by 2030, poised to grow at a strong CAGR of 30.77 percent during the projection period from 2022 to 2030.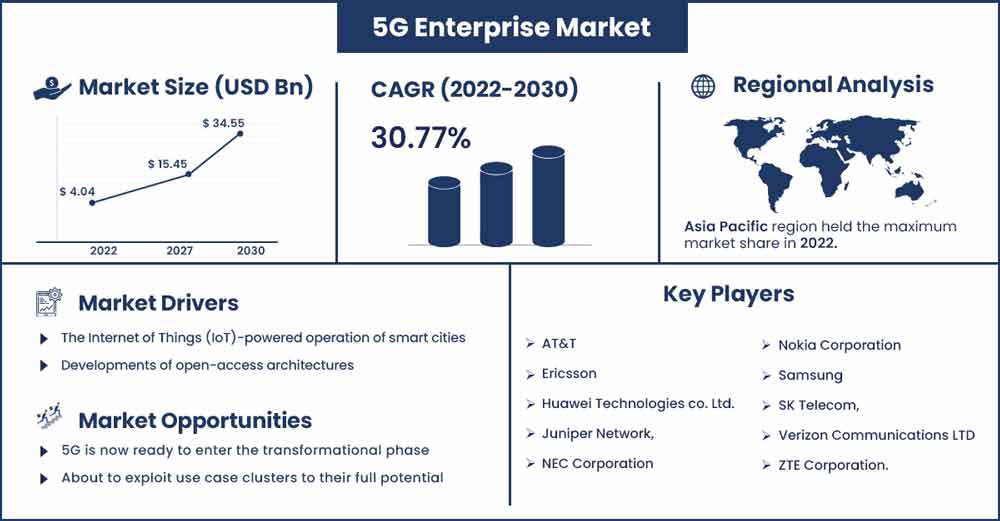 The three main 5G network ascendancies—Ultra-Reliable Low Latency Communications (URLLC), Enhanced Mobile Broadband Connectivity (eMBB), and Massive Machine Type Communications (mMTC)—that support the deployment of Internet of Things (IoT) devices are the main factors driving this market's expansion. One of the main drivers of the growth of the global 5G enterprise market is the potential application of the Network Slicing technology, which will be extremely important for enterprises to support expansion and provide novel services.
Fifth-generation wireless (5G), the most recent iteration of cellular technology, is intended to boost the responsiveness and speed of wireless networks. With 5G, data transmission rates through wireless broadband connections can achieve peak rates of up to 20 gigabits per second (Gbps), with an average speed of more than 100 megabits per second (Mbps). These speeds are advantageous for real-time feedback-requiring applications since 5G has a low latency of 1 millisecond (ms) or less. As a result, 5G will enable a massive increase in the quantity of data that can be carried across wireless systems thanks to the availability of increased bandwidth and cutting-edge antenna technology.
As an enhancement over 4G LTE, Enhanced Mobile Broadband Connectivity (eMBB), which offers more bandwidth and less latency, is the first notable use of 5G. This will facilitate the development of current mobile broadband services, including new AR/VR media and applications for augmented learning or entertainment, like 360-degree streaming and 3D virtual meetings. Ultra-Reliable Low Latency Communications is a collection of features that offers low latency and ultra-high reliability for quicker cloud access as well as mission-critical and time-sensitive applications (URLLC).
With dependability of 99.99% and a goal latency of 1 millisecond, URLLC is capable of supporting applications including remote surgery, semiconductor robots, and autonomous vehicles. Web-scale businesses like Amazon and Google can minimise network latency by using multi-access edge computing (MEC). Through the use of Massive Machine Type Communications (mMTC), connections may be made between several devices that intermittently send tiny quantities of data. Through the use of linked automobiles, this technology may be used to enable quick inventory updates, correlate data from medical records and photos, and make travel for drivers and passengers safer and more pleasurable.
Using advanced technologies like robotics, artificial intelligence, connected sensors, and cloud computing, Industry 4.0 enables organizations to process massive amounts of data, which further facilitates operational efficiency. Industry 4.0 is a key growth driver for the global enterprise 5G market.
Report Highlights:
Since the launch of 5G networks in 2022, telecom companies and market suppliers have been preparing for this change. In order to deliver ultra-high network and data speeds, 5G relies mostly on denser arrays of tiny antennas, which are being upgraded by major telecom service providers.
Demand for voice-over 5G services would increase as the technology moved from non-standalone to standalone 5G. Operators will be able to provide premium voice service without having to rely on VoLTE or an LTE anchor thanks to this technology.
The market is experiencing widespread high acceptance in industrialized economies throughout the world. To implement 5G pilot networks and innovation laboratories, for instance, US private service providers engage with localities. According to Ericsson, around USD 275 billion will be invested overall in 5G networks in 2022.
5G Enterprise Market Report Scope:
| | |
| --- | --- |
| Report Coverage | Details |
| Market Revenue in 2023 | USD 5.28 Billion |
| Projected Forecast Revenue in 2030 | USD 34.55 Billion |
| Growth Rate from 2022 to 2030 | CAGR of 30.77% |
| Largest Market | North America |
| Base Year | 2022 |
| Forecast Period | 2022 To 2030 |
| Regions Covered | North America, Europe, Asia-Pacific, Latin America, and Middle East & Africa |

Regional Snapshots:
The market for 5G businesses may be segmented geographically into North America, South America, Europe, Asia Pacific, and the Middle East and Africa.
Due to the existence of well-established businesses that provide 5G enterprise solutions in the U.S. and Canada, enabling increased bandwidth and the availability of network slicing and edge computing, North America is anticipated to dominate the global 5G enterprises market over the projection period. The market for 5G businesses in North America is thus anticipated to grow as a result.
Due to growing government measures to provide an open application programming interface (API) in the area, it is projected that the 5G businesses market in Europe will develop network infrastructure in the near future.
Due to steady digital transformation to maximize corporate advancements with shifting customer demand, which in turn is likely to fuel the 5G businesses market in the area, Asia Pacific is predicted to hold a sizable part of the global 5G enterprises market in the years to come.
Market Dynamics:
Drivers:
The Internet of Things (IoT)-powered operation of smart cities is a key growth driver for the global 5G enterprise market. A network of connected devices and objects may wirelessly and immediately transfer data via the cloud thanks to the information and communication technology (ICT) infrastructure used by the smart city. The reception of real-time data improves everyday operations, including the more effective management of traffic bottlenecks and garbage pickup. As a result, data communications, cloud computing, mobility, and sensors—which together make up the Internet of Things (IoT)—all largely rely on the availability of ultra-high speed networks in order to function.
The control of massive infrastructures of devices through a network slice is also a development factor for the global enterprise 5G market. It is a conceptually distinct, secure, autonomous, independent portion of the network that gives various services the speed, latency, and dependability they require. For a time-critical communication scenario involving the use of IoT (for example, automatically guided vehicles or AGVs), a Network slice can have low latency, high bandwidth, and ultra-reliability. Conversely, it can have high latency and low bandwidth for a large-scale IoT involving a lot of connected devices. Advanced AI (Artificial Intelligence) and Service Level Agreement (SLA) driven orchestration are technologies that can help to quickly deploy and flexibly manage the required network functions in an automated manner throughout the life cycle. Programmable and flexible 5G networks are another example.
Restraints:
At the moment, Wi-Fi communication is regarded as the de-facto connection technology among businesses for providing on-site mobility for staff, linked devices, visitors, and contract workers. The development of wireless technology and equipment has improved enterprises' operational effectiveness. Employees' usage of tablets and other mobile devices with Wi-Fi has enhanced corporate productivity. According to Intel's 2016 white paper, employees and technicians in manufacturing companies have seen an increase in their job efficiency. Wi-Fi solutions are becoming more and more necessary for businesses to run on a regular basis. Employees can always stay connected from wherever in the workplace or building thanks to the extensive Wi-Fi coverage.
Opportunities:
Governments, the public sector, healthcare, manufacturing, and telecoms may all use a single network to support industrial applications, which is predicted to drive the worldwide market for 5G corporations.
The market for 5G companies is expected to grow as a result of rising demand for fast internet and improved network coverage.
It is anticipated that advancements in software operations in communication networks would strengthen the 5G enterprise market.
It is also anticipated that investments in mobile computing and communication solutions would open up sizable prospects for the expansion of the 5G enterprise industry in both developed and emerging nations.
Challenges:
One of the issues that may slow the growth of the 5G enterprise market is the use in Wi-Fi communication technology for connectivity and communication among businesses. The development of the 5G businesses market is also anticipated to be constrained by a lack of authority in managing and owning corporate networks.
Recent Developments:
In June 2021, In order to provide the scalability, security, and flexibility needed for the success of the Internet of Things, Cisco announced the release of its Catalyst industrial routers line in. The portfolio, which takes use of 5G capabilities, helps businesses execute connected operations at scale by offering a selection of management tools that are appropriate for both operations and IT.
Major Key Players:
AT&T
Ericsson
Huawei Technologies co. Ltd.
Juniper Network,
NEC Corporation
Nokia Corporation
Samsung
SK Telecom,
Verizon Communications LTD
ZTE Corporation.
Market Segmentation:
By Spectrum
Licensed
Unlicensed
Shared
By Frequency
By Organization Size
Small and medium-sized enterprises
Large enterprises
By Industry Vertical
BFSI
Manufacturing
Retail
Healthcare
Energy and Utilities
Transportation and Logistics
Government and Public Safety
Media and Entertainment
Office Buildings
Aerospace and Defense
Buy this Research Report@ https://www.precedenceresearch.com/checkout/2354
You can place an order or ask any questions, please feel free to contact at sales@precedenceresearch.com | +1 9197 992 333