The global active protection systems market size surpassed USD 4.86 billion in 2022 and is projected to rise to USD 8 billion by 2032, anticipated to grow at a CAGR of 5.11 percent during the projection period from 2023 to 2032.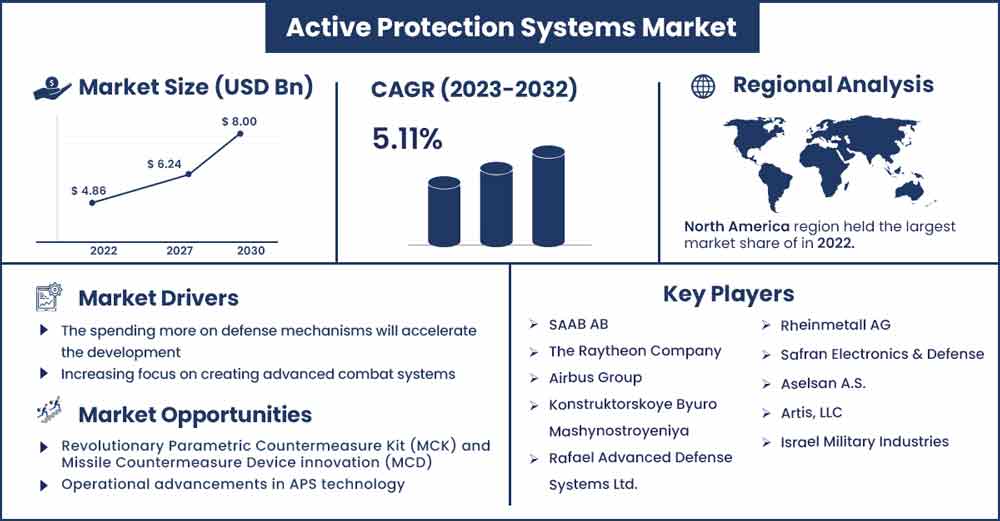 Market Overview:
A technological active protection system (APS) works to actively stop some anti-tank missiles from harming a vehicle. Active protection systems typically consist of sensors, processors and countermeasures that work together to offer a layered defense against different types of threats. These systems utilize advanced technologies such as radar, laser and infrared sensors to detect potential threats. The active protection systems market has been gaining significant attention owing to the investment in modern weapon systems. As militaries of nations focus on the proliferation of protection systems, the market for active protection systems is expected to be fueled.
Regional Snapshot:
North America dominates the market for active protection systems and will do so for the foreseeable future. The United States possesses a significant military infrastructure and the biggest fleet of assets, including helicopters, aircraft carriers, and battle tanks. The most prominent military bases are also located there. The U.S. armed services have created self-defense protection systems, including MAPS, Iron Curtain, directed energy weapons, and Quick Kill, to defend its territory from attackers due to the growing danger from antitank-guided missiles and loitering bombs. For instance, the U.S. Army equipped an entire brigade with the active protection system from Elbit Systems in January 2023 after redesigning how it is integrated into a Bradley infantry combat vehicle.
During the projection period, Asia-Pacific will also experience significant growth. For instance, a video of what appears to be a next-generation Chinese Main Battle Tank (MBT) in development surfaced in January 2023. The tank is tested using its active protection system, particularly its Soft-kill APS, which uses non-kinetic techniques to defeat incoming guided weapons. These techniques include using smoke grenades to conceal the tank, laser-based jammers to interfere with incoming threats' guidance systems, etc. As countries in Asia Pacific focus on investments in armed forces, the market is expected to be fueled.
Report Highlights:
By type, the soft-kill system segment is predicted to hold the most market share during the projected period. The soft-kill system works on non-kinetic measures, these systems are often less expensive. The cost-effective factor of the soft-kill systems promotes the growth of the segment.
By platform, the land-based segment dominates the global active protection systems market, land-based platforms such as APS systems have undergone extensive research and development in recent years. The mature market for land-based vehicles in the industry supports the segment's growth.
Active Protection Systems Market Report Scope:
| | |
| --- | --- |
| Report Coverage | Details |
| Market Revenue in 2023 | USD 5.11 Billion |
| Projected Forecast Revenue in 2032 | USD 8 Billion |
| Growth Rate from 2023 to 2032 | CAGR of 5.11% |
| Largest Market | North America |
| Base Year | 2022 |
| Forecast Period | 2023 To 2032 |
| Regions Covered | North America, Europe, Asia-Pacific, Latin America, and Middle East & Africa |

Market Dynamics:
Driver:
Increased effectiveness offered by active protection system
APS, or active protection systems, are observed to boost capabilities. Along with this, they apparently reduce the weight of overall protection system that can focus on achieving the target. Active protection systems also track and neutralize anti-armor threats to enhance the force survivability. The combination of upgraded software can offer advanced and effective operations for active protection systems. The rising emphasis on proliferation of armed forces fuels the demand for active protection systems for enhanced effectiveness of operations, this element acts as a driver for the market.
Restraint:
High development and maintenance cost
One of the main factors hindering the development of the active protection systems industry and harming the market's growth is the high cost of creating APS systems. Among the most crucial elements of active defense systems is radar, the development of such systems is high. It supports detecting, engaging, and monitoring incoming threats and alerts the receptor to take appropriate action. As a result, significant financial investments are necessary at many points throughout the radar system value chain, including research and development, system integration, manufacturing, and assembly. Military applications make up the majority of the utilization of radar equipment. To improve their dependability, efficiency, functionality, and efficiency while maintaining technological leadership in a competitive market, radar systems must be energy-efficient, robust, and have a wide detecting range. Therefore, these issues can limit the market's expansion during the projected time.
Opportunity:
Operational advancements in APS technology
Active protection systems have advanced to address multiple threats simultaneously. Active protection systems with modern and advanced technologies are expected to detect and engage multiple threats effectively at one time. Manufacturers in the market are actively participating in the development of advanced sensor fusion and detection techniques for APS. The deployment of sensor fusion techniques in the APS are observed to integrate data from multiple sensors to offer a more reliable threat detection capability in active protection systems. Such advancements are observed to create opportunities for the market by enhancing the adoption of APS rapidly.
Challenge:
Complicated integration with existing platforms
Being a technologically advanced solution for the military sector, active protection systems demand integration into existing military platforms. Such integration can be complex and costly at the same time. Compatibility issues, space constraints, and the absence of willingness to transform into new platforms from the traditional one create a challenge for the market's growth. Lack of awareness and information about advanced active protection systems along with concerns with their reliability hamper the adoption of APS in the military sector
Recent Developments:
In May 2023, the Trophy's developer, Rafael Advanced Defence Systems of Israel, and two of the primary producers of armored platforms in Europe, KMW (Krauss-Maffei Wegmann) and GDELS (General Dynamics European Land Systems), formed the EuroTrophy GmbH joint venture, which began producing the Trophy's active defense system in Europe while GDELS displayed the active protection system integrated into its ASCOD technology demonstrator at FEINDEF.
In January 2023, a system of active protection recently underwent rigorous testing by the U.S. Army, and the findings were noticeably better than those from earlier tests. Recent live-fire tests on the Bradley Infantry Fighting Vehicle showed enhanced performance from the Active Protection System, Iron Fist Light Decoupled. The proven technique would considerably increase Bradley's resistance to dangers like rocket-propelled grenades and the deadly anti-tank-guided missiles used in Ukraine.
In August 2022, the U.S. Army last month awarded General Dynamics Land Systems in Sterling Heights, Michigan, a $280.1 million order to purchase kits for the APS Trophy expedited aboard M1A2 Abrams SEPv3 and SEPv2 tanks, marking one of the most recent steps towards active vehicle protection. This move is part of a long line of improvements made by the U.S. military to equip new and updated armored combat vehicles with computer processors and radars to protect them from threats like anti-tank guided missiles and rocket-propelled grenades.
Major Key Players:
SAAB AB
The Raytheon Company
Airbus Group
Konstruktorskoye Byuro Mashynostroyeniya
Rafael Advanced Defense Systems Ltd.
Rheinmetall AG
Safran Electronics & Defense
Aselsan A.S.
Artis, LLC
Israel Military Industries
Market Segmentation:
By Type
Hard-Kill Systems
Soft-Kill Systems
By Platform
Land-Based
Airborne
Marine
Buy this Research Report@ https://www.precedenceresearch.com/checkout/2594
You can place an order or ask any questions, please feel free to contact at sales@precedenceresearch.com | +1 9197 992 333