The global acute care telemedicine market size is anticipated to reach around USD 84.29 billion by 2032 up from USD 20.82 billion in 2022 with a CAGR of 15.01% between 2023 and 2032.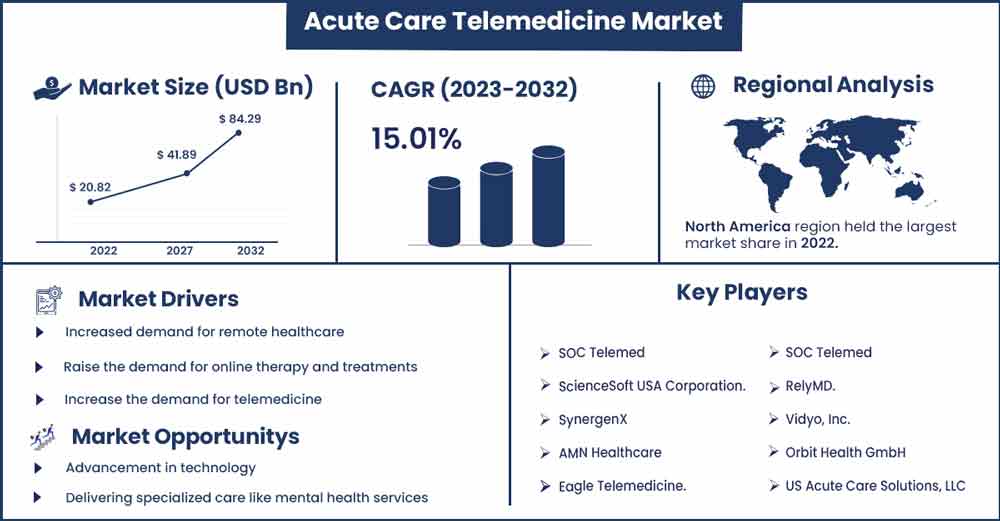 The growth of the acute care telemedicine market can be attributed to the ease of use, improved treatment, and cost savings. Furthermore, the older population benefits from telemedicine because it is simple and convenient for them to use. Also, the pandemic has accelerated the expansion of the acute care telemedicine sector, as its use increased significantly during the Covid-19 crisis.
Regional Landscape:
The increasing aging population, in addition to the advancement and implementation of medical technology in European countries, are propelling the region's market growth. Several European countries have implemented policies to promote telemedicine, including France, Germany, and the United Kingdom. The COVID-19 pandemic has also accelerated the adoption of telemedicine in Europe, with many countries implementing temporary measures to expand access to virtual care services.
For instance, the French telemedicine market, which has grown significantly since the government implemented policies to promote telemedicine in 2018. Additionally, United Kingdom has also seen growth in the telemedicine market, with the National Health Service (NHS) implementing policies to promote telemedicine and expand access to virtual care services. The COVID-19 pandemic has accelerated the adoption of telemedicine in the UK, with the NHS rolling out virtual consultations and other telemedicine services to reduce the risk of infection and improve access to care.
Acute Care Telemedicine Market Report Scope:
| | |
| --- | --- |
| Report Coverage | Details |
| Market Revenue in 2023 | USD 23.94 Billion |
| Projected Forecast Revenue by 2032 | USD 84.29 Billion |
| Growth Rate from 2023 to 2032 | CAGR of 15.01% |
| Largest Market | North America |
| Base Year | 2022 |
| Forecast Period | 2023 to 2032 |
| Regions Covered | North America, Europe, Asia-Pacific, Latin America, and Middle East & Africa |

Market Dynamics:
Drivers:
Increased demand for remote healthcare.
The awareness of the telehealth has increased mainly post pandemic. Saving costs, efficiency, quality treatment and fast diagnosis are the main reasons for the increase in the demand for the remote healthcare. Healthcare providers are also increasingly integrating telemedicine into their practices, with many offering virtual visits as a standard part of their services. By increasing awareness and promoting the benefits of remote healthcare, patients can have greater access to care and improved convenience.
Furthermore, several studies have shown that patients who have used telemedicine are highly satisfied with the experience and would be willing to use it again in the future. Many patients are interested in continuing to use telehealth even after the pandemic, and healthcare providers are showing an increased interest in integrating it into their practices. As a result, the demand has increased for the remote healthcare by time and people will be using it more often in the future too.
Restraints:
Technical issues and limited access
Patients in rural or remote areas may have limited access to high-speed internet or reliable technology, preventing them from using telemedicine. Additionally, technical issues such as poor video or audio quality, dropped calls, or connectivity issues can interfere with the patient-doctor interaction, potentially leading to misdiagnosis or inadequate treatment.
These technical issues can sometimes lead to the technical errors regarding the treatment, diagnosis, or the readings of the treatment. Specially in case of the acute care where the fast and emergency treatment is expected, the technical complications will be a real hurdle in getting the rapid treatment. Therefore, it can act as a major hindrance factor in the growth of the acute care telemedicine market.
Opportunities:
Delivering specialized care like mental health services
Patients can have virtual consultations with mental health professionals from the comfort of their own homes, reducing barriers to care such as transportation and time constraints. Telemedicine provides a promising avenue for delivering specialized care, such as mental health services, to patients who may not have had access to these services otherwise. By addressing potential drawbacks and ensuring that patients have access to high-quality, secure, and reliable telepsychiatry services, healthcare providers can improve access to care and health outcomes for patients with mental illnesses. Mental health is an important topic, especially after a pandemic.
It was difficult for the people to get the therapies offline as going to clinics and hospitals was risky. Therefore, for such specialized care delivery, telemedicine helped a lot keeping the confidential data of the patient. Virtually, people were ready to open up about their mental health concerns and it was easy for the clinicians in delivering the treatment to them. As a result, this acts as a good opportunity for propelling the growth of the market.
Delivery Landscape:
Clinician to clinician segment is the main component of the global acute care telemedicine market by delivery. There is an increase in this segment due to its wide applications. For example, Clinician to clinician telemedicine can be used in various healthcare settings, such as hospitals, clinics, and long-term care facilities. Additionally, it is particularly useful for specialties such as radiology, pathology, and critical care, where timely consultations can be critical for patient outcomes.
Clinician-to-clinician telemedicine use cases in acute settings aiding a patient's care team by offering them online access to specialists, enabling clinicians to create more flexible labour models, which would be particularly crucial during acute episodes. Although there are several use cases, the most notable examples of health systems utilising synchronized clinician-to-clinician telemedicine are in telepsychiatry and tele neurology. However, applications are available in emerging areas such as tele nephrology and infectious disease care. Tele-ICU monitoring is yet another telemedicine tool used by health systems and hospitals to organize care for patients in critical care settings.
Application Landscape:
The market of teleradiology is expected to grow at a CAGR in the near future. There is an increase in the teleradiology market due to its various uses. For example, Teleradiology enables medical facilities to provide radiology services on a per-exam basis, reducing costs for small-volume radiology patients. Additionally, teleradiology is a specific type of telemedicine that involves the interpretation of medical images, such as X-rays, CT scans, or MRIs, by a radiologist who is not physically present at the location where the images were taken. It also provides access to trained specialists, improves patient care, and assists with diagnosis and symptom control.
Furthermore, Teleradiology enables medical facilities to provide radiology services on a per-exam basis, reducing costs for small-volume radiology patients. Therefore, looking at its various applications and uses, the market for acute care teleradiology will bolster in the upcoming years.
Recent Developments:
March 2023, The Missouri Health System has formed a partnership to launch hospital-at-home care. Mercy and Maribel Health are collaborating to co-develop at-home hospital care solutions, including one that will be implemented across Mercy's network of institutions.
October 2022, Point Click Care has released an integrated virtual health solution for long-term and post-acute care providers.
November 2022, an updated online medical facility from Amazon has been launched with the goal of treating common ailments like allergens, hair loss, and skin conditions.
Major Key Players:
SOC Telemed
ScienceSoft USA Corporation.
SynergenX
AMN Healthcare
Eagle Telemedicine.
SOC Telemed
RelyMD.
Vidyo, Inc.
Orbit Health GmbH
US Acute Care Solutions, LLC
Market Segmentation:
By Application
Teleradiology
Telepsychiatry
Tele neurology
Tele nephrology
Tele ICU
By Delivery
Clinician to Clinician
Clinician to patient
Buy this Research Report@ https://www.precedenceresearch.com/checkout/2793
You can place an order or ask any questions, please feel free to contact at sales@precedenceresearch.com | +1 9197 992 333