By 2032, the global acute care telemedicine market size is expected to hit around USD 84.29 billion, and aggregate annual growth could average CAGR of 15.01% from 2023 to 2032. The acute care telemedicine market size was reached at USD 20.82 billion in 2022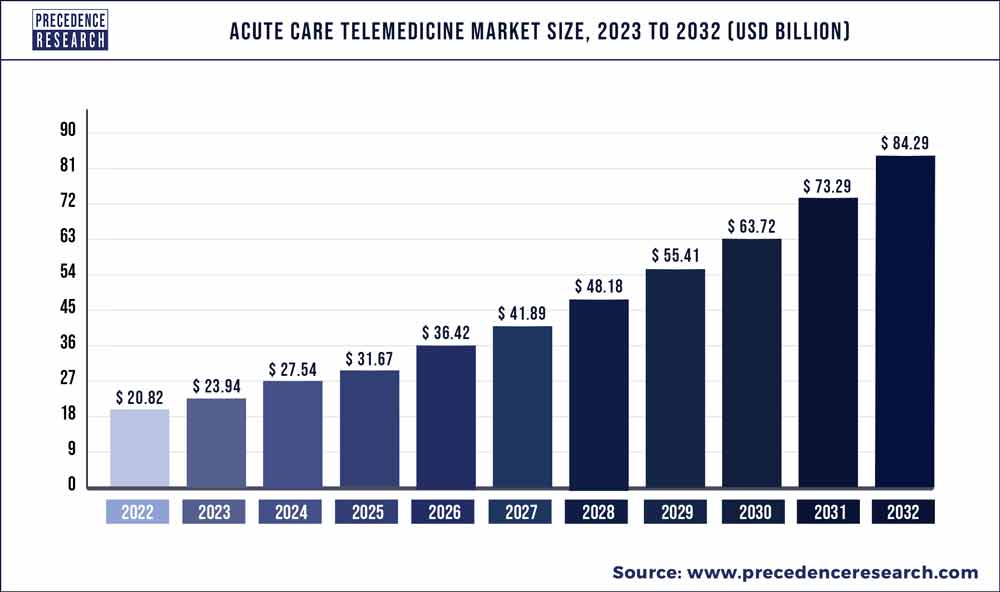 Access our Premium Real Time Data Intelligence Tool, Visit: Precedence Statistics
The growth of the market is due to several reasons like there has been a rapid development of technology in the healthcare sector, which has made it easier to deliver healthcare services remotely. Additionally, there is an increasing demand for immediate access to medical care, particularly in emergency situations, which has led to the adoption of telemedicine in the acute care setting.
Also, here is a shortage of specialty physicians, particularly in developing countries, which has led to the adoption of telemedicine as a means of providing specialized care. Along with that the most important reason is the pandemic. It has accelerated the adoption of telemedicine in acute care, as healthcare providers seek to reduce the risk of infection and improve access to care.
Key Takeaways:
North America generated more than 43% of the revenue share in 2022.
By Delivery, the clinician-to-patient segment contributed more than 63% in 2022.
By Application, the teleradiology segment generated more than 37% in 2022.
Report Scope of the Acute Care Telemedicine Market:
| | |
| --- | --- |
| Report Coverage | Details |
| Market Size in 2023 | USD 23.94 Billion |
| Market Size by 2032 | USD 84.29 Billion |
| Growth Rate from 2023 to 2032 | CAGR of 15.01% |
| Largest Market | North America |
| Base Year | 2022 |
| Forecast Period | 2023 to 2032 |
| Segments Covered | By Application, and By Delivery |
| Regions Covered | North America, Europe, Asia-Pacific, Latin America and Middle East & Africa |

Market Dynamics:
Drivers:
Clinicians shortage
The clinician shortage is seen due to various factors, including shifts in physician and patient populations, aging and complex patient populations encountering more complex medical conditions, physician burnout, limits on medical school enrolment and residency slots, and shortages at rural hospitals. This shortage is expected to worsen, resulting in longer wait times and poorer patient health outcomes, particularly in rural and underserved urban areas.
Due to various factors, this clinician shortage can raise the demand for online therapy and treatments. Mainly private clinicians start their own telemedicine programs to diagnose the patient, especially acute care. Therefore, the shortage of physicians in hospitals and clinics can significantly increase the demand for telemedicine and drive its growth.
After pandemic effect
Telemedicine protects not only patients but also physicians from infection. Telemedicine can also help keep non-urgent cases out of hospitals, freeing up resources, protective equipment, and space for severely ill patients. During the pandemic, the situation was out of control and it was difficult going out in lockdown to visit hospitals unless and until there is an emergency.
The risk was quite high and the demand for tele-contacting to healthcare personnel like physicians, clinicians, and nurses was high. The treatment and the diagnosis was easily mailed or virtually given in case of psychiatry treatments. Health professionals have resorted to telemedicine to overcome lockdown restrictions and reduce disease exposure for staff and patients.
Additionally, During the pandemic, the Centres for Medicare & Medicaid Services implemented five changes to make telemedicine more accessible, including paying physicians the same rate for telehealth services as in-person visits for all diagnoses, allowing physicians to waive or reduce cost-sharing, and patients not needing an existing relationship with the physician. As a result, previously telemedicine market was trending for acute care treatments, although its growth was propelled after the pandemic.
Restraints:
Privacy and security concerns
With the increase in the awareness and the usage of telemedicine, there are also few things that have a minor risk to this market. There are a continuous sharing of the patient's details through mails, messaging, video conferencing and calling. This personalized data of any patient can be breached and leaked. Overall, the patients are not in control of their own data.
Additionally, telemedicine platforms may not be compliant with the Health Insurance Portability and Accountability Act (HIPAA) regulations, which require healthcare providers to ensure the confidentiality, integrity, and availability of PHI. The transmission of protected health information (PHI) over electronic communication channels can be vulnerable to interception or hacking, potentially compromising patient privacy.
For example, according to the US Department of Health and Human Services' Office for Civil Rights, patient information leak has affected more than three million patients who employ the virtual online mental health platform. As a result, the privacy and the security concerns in regards with the patient's personal data can be a major hindrance factor for the growth in the market.
Opportunities:
Advancement in technology
Advances in technology have made it easier for healthcare providers to offer telemedicine services. Many patients now have access to high-speed internet and mobile devices, which makes it possible for them to participate in virtual consultations and receive remote care. Advancements in technology are driving innovation in telemedicine, enabling new features and capabilities that improve the patient experience and health outcomes.
For example, wearable health devices and remote monitoring technology can collect and transmit patient data to healthcare providers in real time, allowing for more personalized and proactive care. Artificial intelligence (AI) and machine learning (ML) algorithms can help healthcare providers analyse patient data and make more accurate diagnoses and treatment decisions. Therefore, as the advancement in technology increases, there will be a significant increase in the growth of the telemedicine market.
Segments Insight:
Application Insights:
The market of telepsychiatry is expected to grow at a remarkable CAGR in the near future. With the increasing mental health issues especially after the covid has risen, which is the main reason for driving this segment. According to the stats by WHO, Covid-19 had triggered 25% increase in the prevalence in anxiety and depression worldwide. Telepsychiatry, which involves the use of telemedicine to provide mental health consultations, has been shown to be effective in improving access to care and reducing healthcare costs.
Additionally, telepsychiatry can improve the quality of care for patients with mental illnesses by enabling healthcare providers to monitor patient progress more closely and adjust treatment plans as needed. Telepsychiatry can also reduce the stigma associated with seeking mental health services, as patients can access care discreetly and from a location of their choosing.
For instance, in the news by India Times, according to research 2, telepsychiatry is found to be affordable, effective, and accessible face-to-face sessions.
Delivery Insights:
Clinician to patient segment is expected to rise in the upcoming forecast period. The main reason in its demand is because of its easy use of virtual treatment with various option. Clinician to patient telemedicine can take many forms, including video conferencing, phone consultations, and secure messaging.
Additionally, patients with chronic conditions, mobility issues, or who live in remote areas can benefit greatly from this technology, as it can save time and money by eliminating the need for travel to medical facilities. Furthermore, patients can also receive care in the comfort of their own homes, which can reduce stress and anxiety associated with medical appointments.
Moreover, clinician to patient segment of the telemedicine in acute care, has many advantages, convenient usage and accurate treatment or diagnosis. This eventually fuels the growth of the market as many people tend to use it. It is also useful to the old age population as it is convenient for them to receive the treatment virtually without visiting the clinics and hospital. Telemedicine can also improve patient outcomes by enabling healthcare providers to monitor patients more closely and provide timely interventions when necessary.
For example, patients with chronic conditions such as diabetes or hypertension can use telemedicine to track their symptoms, receive medication management, and communicate with their healthcare providers regularly.
Regional Insights:
North America is expected to dominate the market in the forecast period. Rapid improvements in the healthcare profession, deployment of funds for medical research, and innovations are some of the significant variables contributing to regional market growth. Some of the important factors contributing to the regional market growth are the region's developed healthcare system and a multitude of effective and functional telehealth and telemedicine models.
The United States is the largest market for telemedicine in North America. The federal government and many states have relaxed regulations and expanded reimbursement policies to promote telemedicine during the pandemic. Canada has also seen a significant increase in telemedicine use, with the government implementing policies to increase access to virtual care services. Telemedicine has the potential to address many of the challenges facing healthcare delivery in North America, including physician shortages in rural and underserved areas, long wait times for appointments, and rising healthcare costs.
Recent Developments:
November 2021, Enghouse Systems acquires Vidyo, Inc. The acquisition broadens the product offering of Enghouse Interactive.
January 2022, Cerebral and Rely MD have partnered up to offer virtual mental health services to Rely MD members. Cerebral's mental health services, which include virtual counselling, therapy, psychiatry, and medication management, are now available to RelyMD customers.
February 2022, Alteon Health (Alteon) has been acquired by US Acute Care Solutions from its private equity partners. USACS physicians purchased Alteon venture capital shareholders and will issue USACS shares to hundreds of Alteon physicians.
August 2022, Enghouse Vidyo, a branch of Enghouse Interactive and a leader in integrated real-time video solutions, announced that VidyoHealth, its comprehensive telehealth solution, is being expanded.
November 2022, USACS has adopted MIDEO, My Informed Decision on VidEO, a video-based advance care planning system that enables individuals to see and actively communicate their preferences in any health condition.
Key Market Players:
SOC Telemed
ScienceSoft USA Corporation.
SynergenX
AMN Healthcare
Eagle Telemedicine.
SOC Telemed
RelyMD.
Vidyo, Inc.
Orbit Health GmbH
US Acute Care Solutions, LLC
Segments Covered in the Report:
(Note*: We offer report based on sub segments as well. Kindly, let us know if you are interested)
By Application
Teleradiology
Telepsychiatry
Tele neurology
Tele nephrology
Tele ICU
By Delivery
Clinician to Clinician
Clinician to patient
By Geography
North America
Europe
Asia-Pacific
Latin America
The Middle East and Africa