The global acute lymphocytic leukemia therapeutics market size was reached at USD 3.12 billion in 2022 and is expected to hit around USD 8.29 billion by 2032, growing at a CAGR of 10.25% during the forecast period from 2023 to 2032.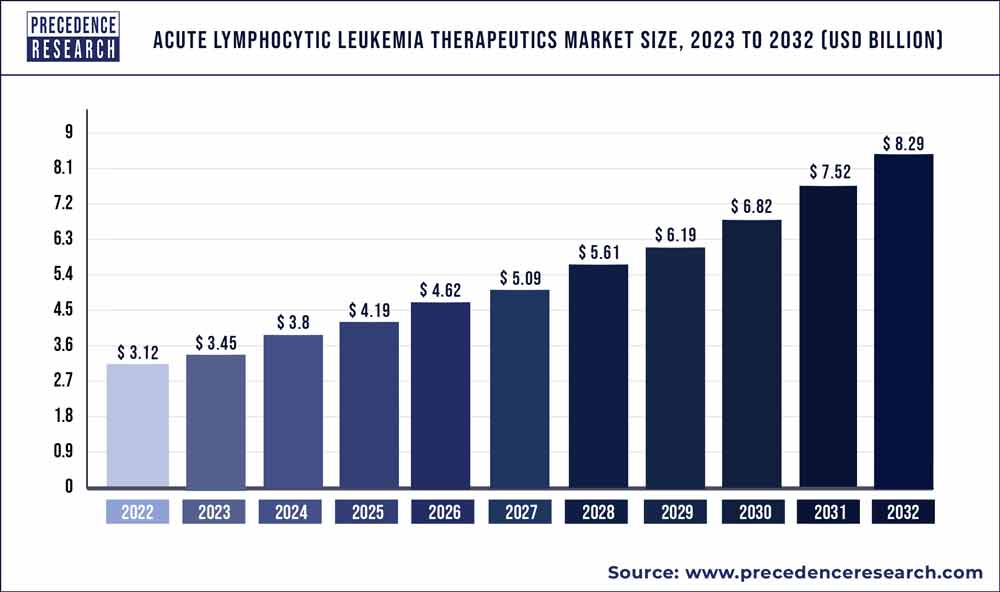 Acute lymphocytic leukemia is a type of blood and bone marrow cancer, and bone marrow is the spongy tissue inside bones that produces blood cells. The ongoing clinical trials for acute lymphocytic leukaemia therapeutics, such as consolidation therapy with Blinatumomab to establish survival rates in recently diagnosed adult patients with B-lineage acute lymphoblastic leukaemia in quantifiable residual disease negative remission, which ultimately resulted from the ECOG-ACRIN E1910 Randomized Phase III National Cooperative Clinical Trials Network Trial, are expected to provide ample opportunities in the future.
Key Takeaways:
North America generated for the maximum market share in 2022.
By Type, the pediatrics segment captured for the major market share in 2022.
By Drug, the hyper-CVAD regimen segment contributed to the largest market share in 2022.
By Cell, the philadelphia chromosome segment captured the highest market share in 2022.
By Therapy, the chemotherapy segment generated the maximum market share in 2022.
By Route of Administration, the injectable segment captured for the majority market share in 2022.
By Distribution Channels, the Hospital segment generated the highest market share in 2022.
Report Scope of the Acute Lymphocytic Leukemia Therapeutics Market
| | |
| --- | --- |
| Report Coverage | Details |
| Market Size in 2023 | USD 3.45 Billion |
| Market Size by 2032 | USD 8.29 Billion |
| Growth Rate from 2023 to 2032 | CAGR of 10.25% |
| Largest Market | North America |
| Base Year | 2022 |
| Forecast Period | 2023 to 2032 |
| Segments Covered | By Type, By Drug, By Cell, By Therapy, By Route of Administration, and By Distribution Channels |
| Regions Covered | North America, Europe, Asia-Pacific, Latin America and Middle East & Africa |

Market Dynamics:
Driver: Rise in incidence of the acute lymphocytic leukemia
The rise in the incidence of acute lymphocytic leukemia is driving the market's growth. According to the American Cancer Society research, acute lymphocytic leukemia in the US for 2023 is about 6,540 new cases, of which 3,660 were male and 2,880 females. The mortality is about 1,390 700 in males and 690 in females. Risks of developing acute lymphocytic leukemia are high in children younger than five.
The danger then reduces slowly until the mid-20s and increases again after age 50. Generally, nearly four of every ten cases of acute lymphocytic leukemia are in adults. ALL is rare cancer that accounts for less than half of all cancers in the United States.
The average human lifetime risk of contracting ALL is approximately one in 1,000. Males are slightly more at risk than females, and Whites are more at risk than African Americans. Most cases are in children, but many of ALL deaths (about four out of five) are in adults. Children outperform adults due to differences in childhood and adult ALL, distinctions in treatment (children's bodies may often withstand aggressive treatment better than adults), or a combination of these factors.
Restraints: High cost of treatment
The high cost of treating acute lymphocytic leukemia obstructs the market.
For instance, the cost of acute lymphocytic leukemia treatment in India
Treatment
Induction Chemotherapy
Consolidatory Chemotherapy
Maintenance Chemotherapy
Bone Marrow Transplant

Cost

12000 USD
3500-4000 USD/Month
3500-4000 USD/month

Autologous transplant: 15,000USD

Allogenic transplant (Full match): 22,000 USD

Allogenic transplant (Half match): 40,000 USD

Duration
Two weeks
3-4 months
18 months to 2 years
7-10 days
Type
Inpatient
Outpatient
Outpatient
Inpatient/Outpatient

Cost of the all in the US –
Median outpatient costs at 36 months were USD 187,000 for the cohort overall, USD 171,000 for patients aged 1-9 years, USD 221,000 for those aged 10-12 years and USD 274,000 for those age 13 and older. The annual average estimated costs for the initial and treatment stage was estimated to be USD 42,000 and USD 5,000, respectively.
Opportunity: Extensive ongoing clinical trials
The rise in clinical trials for ALL is anticipated to boost the market. For instance, the Safety and Pharmacokinetics of subcutaneous Blinatumomab (SC blinatumomab) for treating adults with relapsed or refractory B Cell Precursor Acute Lymphoblastic Leukemia (R/R-ALL) is going through the clinical phase 1b. Moreover, ongoing clinical phase III, Blinatumomab Alternating with low-intensity Chemotherapy (CT) treatment for Older Adults with newly diagnosed Philadelphia (Ph)- Negative B-Cell Precursor Acute Lymphoblastic Leukemia (BCP-ALL) is well tolerated and efficacious: safety run-in results for the phase 3 randomised controlled golden gate study.
Additionally, Ponatinib and Blinatumomab for patients with newly diagnosed Philadelphia Chromosome-Positive Acute lymphoblastic leukaemia: A Subgroup Analysis from a Phase II study. Thus, all the ongoing clinical trials are estimated to drive the market.
COVID-19 Impact:
COVID-19 has impacted the healthcare industry positively and adversely. The governments have implemented lockdowns which led to an imbalance in the healthcare market by the demand and supply of pharmaceutical products. Most companies have manufacturing facilities in key countries such as the United States, the United Kingdom, and Germany, where the pandemic has significantly influenced company revenues for numerous healthcare products.
Moreover, the reduction in non-COVID patients admitted to hospitals resulted in a decrease in disease treatment procedures and prescriptions. Furthermore, according to a UK coronavirus Cancer Monitoring Project (UKCCMP) study conducted by the UK coronavirus Cancer Monitoring Project (UKCCMP), blood cancer patients, particularly those with leukaemia, multiple myeloma, and lymphoma, are at a higher risk of being infected by the COVID virus, that will raise the demand for leukaemia therapeutics.
However, treatments for crucial diseases such as cancer, cardiovascular disease, and other severe medical conditions have been carried out regularly. The COVID-19 pandemic has had a minor impact on leukaemia therapeutic product sales. During the pandemic, pharmaceutical companies reported no drop in sales of products related to this market. For instance, Bristol-Myers Squibb indicated that sales of Sprycel, used to treat chronic myeloid leukaemia, increased by 4.4% between the first and third quarters of 2020. Similarly, Takeda reported a 4.0% revenue increase from the first to second quarters of 2020 for ICLUSIG, which is implied for treating chronic myeloid leukaemia.
Segments Insight:
Type Insights:
Based on the type, the global ALL therapeutics market is segmented into Pediatrics, Adults. In 2022, the Pediatrics segment accounted for the highest market share. The high prevalence of ALL among the pediatric population is driving the growth of the segment. ALL is the most common malignancy diagnosed in children, representing more than a quarter of all pediatric cancers accounting for about 30 per cent of all pediatric cancer. According to the American Cancer Society, there are about 3,000 ongoing cases of ALL in children and youth up to age 21 each year in the United States. ALL has one of the highest cure rates of all childhood cancer.
Drug Insights:
Based on the drug, the global ALL therapeutics market is segmented into Hyper-CVAD Regimen, Linker Regimen, Nucleoside Metabolic Inhibitors, Targeted Drugs & Immunotherapy, CALGB 811 Regimen, and Oncasper. In 2022, the Hyper-CVAD Regimen segment accounted for the highest market share. This is due to the wide range of use in ALL treatments. Hyper-CVAD Regimen is the most used therapy for ALL. Hyper-CVAD includes cyclophosphamide, vincristine sulfate, doxorubicin hydrochloride (Adriamycin), and dexamethasone. It involves the drugs methotrexate and cytarabine. This regimen consists of 8 alternating courses A (cyclophosphamide, vincristine, doxorubicin, dexamethasone) and course B (methotrexate, cytarabine), given every 21 to 28 days.
Cell Insights:
Based on Cells, the global ALL therapeutics market is segmented into B-cell ALL, T-Cell ALL, and Philadelphia Chromosome. In 2022, the Philadelphia Chromosome segment accounted for the largest market share. The Philadelphia chromosome is a cytogenetic abnormality that appears as a condensed version of human chromosome 22. Over 90% of chronic myelogenous leukemia (CML) patients and 25% of adult acute lymphocytic leukaemia patients have pH chromosomes. The Philadelphia (Ph) chromosome is divided into two subgroups. People's chances of contracting this disease increase as they age. Tyrosine kinase inhibitors such as dasatinib (Sprycel), imatinib (Glivec), and nilotinib are frequently used to treat ALL (Tasigna). Acute lymphoblastic leukemia is one of the indications for the drug mentioned above. A drug that is used to treat chronic myeloid leukaemia can also be used to treat acute lymphoblastic leukaemia.
Therapy Insights:
Based on the Therapy, the global ALL therapeutics market is segmented into Chemotherapy, Targeted Therapy, Radiation Therapy, and Stem Cell Transplantation. In 2022, the chemotherapy segment accounted for the highest market share. This is owing to its potential to eliminate leukaemia cells and inhibit malignant cells from increasing and multiplying, reducing disease progression. All these factors have contributed to increased chemotherapy medication rates over the last two decades. In chemotherapy, single or combined-effect medications (chemotherapy regimen) are used to treat ALL. This therapy employs cytotoxic agents, antimetabolites, alkylating compounds, and other plant derivatives.
Route of Administration Insights:
Based on the route of administration, the global ALL therapeutics market is segmented into Oral and Injectable. In 2022, the injectable segment accounted for the highest market share. The segment growth is driven by a significant number of drugs in injectable forms, such as chemotherapy and targeted therapy, which is a highly selected route of administration. Injectable drugs get absorbed intravenously and provide rapid outcomes, raising their preference.
Distribution Channels Insights:
The global ALL market is segmented into Hospital Pharmacy, Retail Pharmacy, and Others based on distribution channels. In 2022, the Hospital segment accounted for the largest market share. Hospitals are the primary source of treatment, and patients visit hospitals to diagnose and treat various therapies, which results in the growth of hospital pharmacies.
Regional Insights:
In 2022, North America dominated the market, accounting highest market share. Significant market players in the US and well-recognized healthcare infrastructure and technological advancement are the primary factors contributing to the country's considerable market considerable share.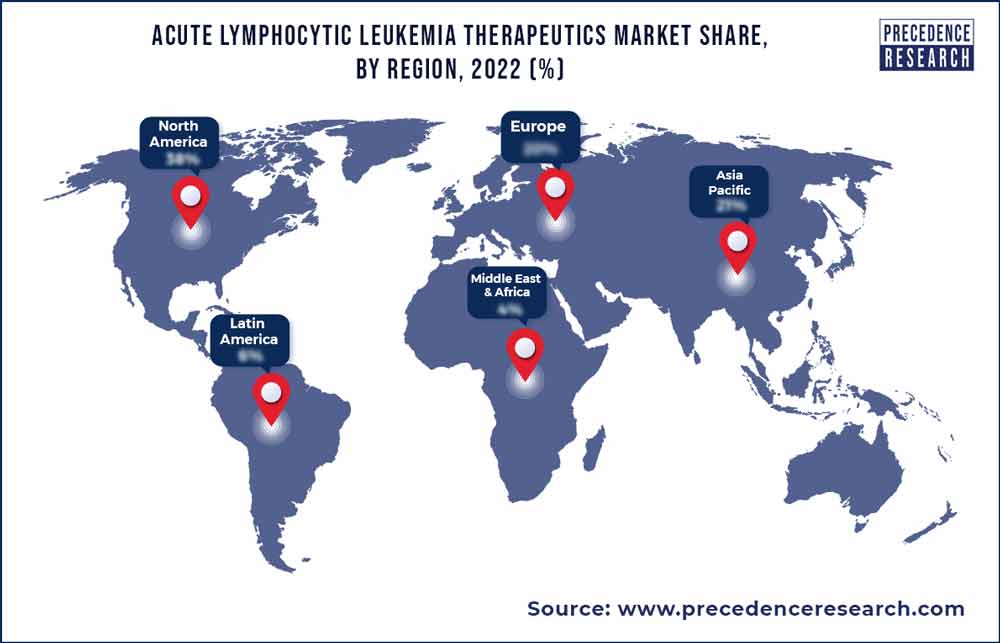 Additionally, the US is expected to see substantial expansion owing to the drug reaction (inotuzumab ozogamicin) released in August 2021 and robust pipeline drugs such as eryaspase (asparaginase), which is in phase II clinical trials. Furthermore, expanding private healthcare institutions and high spending power in individuals are expected to drive market growth during the forecast period.
Recent Developments:
In April 2022, Coeptis Therapeutics, Inc, a biopharmaceutical company developing innovative cell therapy platforms for cancer and Bull Horn Holdings Corp. announced that they entered into a definitive merger agreement for a business combination.
In October 2023, Thermo Fisher Scientific Inc. announced the completion of its acquisition of The Binding Site Group, a global leader in specialty diagnostics. The acquisition will aid in the growth of the specialty diagnostics market.
Company Profiles and Competitive Intelligence:
Market players attempt to increase their market share through investments, partnerships, acquisitions, and mergers. Businesses are also investing in the development of new products. Furthermore, they are concentrating on maintaining competitive pricing. Some of the prominent market players include:
Amgen, Inc
Bristol-Myers Squibb Company
F. Hoffman-La-Roche Ltd
Pfizer
Erytech Pharma
Leadiant Biosciences, Inc
Takeda Pharmaceuticals, Inc
Novartis AG
Sanofi
Spectrum Pharmaceuticals, Inc
Segments Covered in the Report:
(Note*: We offer report based on sub segments as well. Kindly, let us know if you are interested)
By Type
By Drug
Hyper-CVAD Regimen
Linker Regimen
Nucleoside Metabolic Inhibitors
Targeted Drugs & Immunotherapy
CALGB 811 Regimen
Oncasper
By Cell
B-cell ALL
T-Cell ALL
Philadelphia Chromosome
By Therapy
Chemotherapy
Targeted Therapy
Radiation Therapy
Stem Cell Transplantation
By Route of Administration
By Distribution Channels
Hospital Pharmacy
Retail Pharmacy
Others
By Geography
North America
Europe
Asia-Pacific
Latin America
The Middle East and Africa