The global aerospace adhesives & sealants market size surpassed USD 1.22 billion in 2022 and it is expected to rake around USD 2.22 billion by 2032, poised to grow at a CAGR of 6.20% from 2023 to 2032.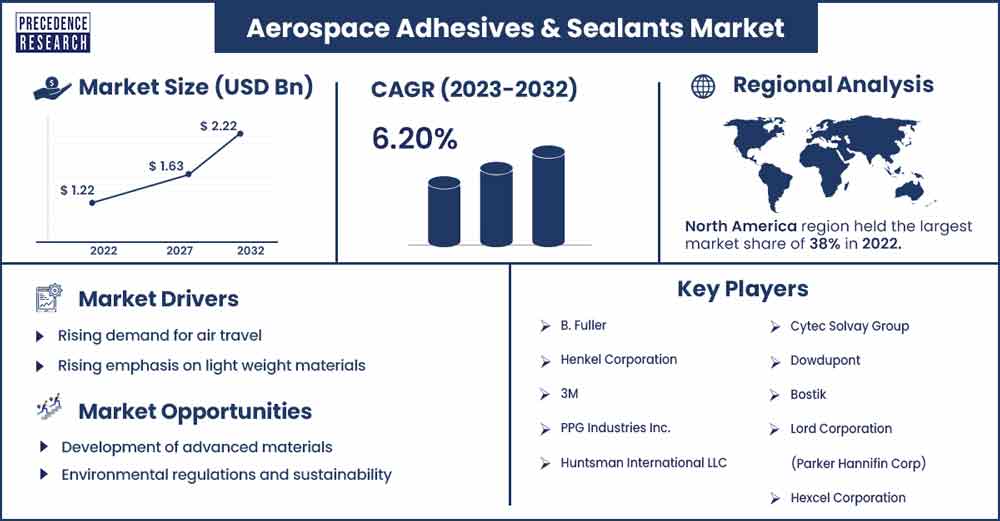 Market Overview
The industrial segment devoted to manufacturing and providing specialized materials used in building, repairing, and maintaining aircraft and aerospace components is known as the aerospace adhesives and sealants market. These substances, also referred to as sealants and adhesives, are made to join and bind different components of spacecraft, airplanes, and associated machinery.
In aircraft applications, they guarantee endurance, safety, and structural integrity. These sealants and adhesives are designed to endure the difficulties encountered in the aircraft industry, such as exposure to a wide range of chemicals and fluids, high pressures, and extremely high temperatures. This market includes a broad spectrum of goods designed to satisfy the demanding needs of the aerospace sector.
The aerospace industry is facing a growing demand for high-quality adhesives and sealants that adhere to industry-specific standards due to stricter safety and environmental regulations. Adhesives and sealants are becoming increasingly popular because they provide benefits over more conventional mechanical attachment techniques, such as weight reduction, stress dispersion, and increased design freedom. Green adhesives and sealants result from the aerospace industry's search for environmentally responsible adhesive solutions in response to growing environmental consciousness.
For instance, Avery Dennison is preparing to invest over EUR 60 million in Europe to increase manufacturing efficiency and capacity.
In May 2022, in place of the current $1.2 billion senior unsecured revolving credit facility, which is set to expire in May 2023, Huntsman Corporation disclosed that its division, Huntsman International LLC, is entering a new $1.2 billion senior unprotected, sustainability-related revolving credit facility.
Lightweight materials such as composites are in greater demand as the aircraft industry looks to cut emissions and improve fuel efficiency; these materials frequently call for specific adhesives and sealants. The need for aerospace adhesives and sealants used in production and maintenance is fueled by an increase in international air travel as well as an increase in aircraft deliveries and orders. The demand for specialty adhesives and sealants used in the manufacture and upkeep of military and space vehicles rises due to global investments in defense and space programs.
Regional Snapshot
North America is expected to be the dominant in the aerospace adhesives & sealants market during the forecast period. The need for aerospace adhesives and sealants is fueled by major regional manufacturing facilities and research capabilities in most well-known aerospace businesses, such as Raytheon Technologies Boeing. Research and development (R&D) for aerospace materials is a significant investment area for North American industries.
As a result, cutting-edge adhesive and sealant solutions that satisfy demanding industry standards for functionality, robustness, and safety are produced. The demand for advanced aerospace technology, such as adhesives and sealants, is fueled by the fact that the United States devotes a large amount of money to its military and defense industries. These technologies are used to manufacture space vehicles, missiles, and military aircraft.
Strict regulations, enforced by agencies such as the Federal Aviation Administration (FAA) in the United States, govern the aerospace sector. Customers are reassured about the quality and dependability of North American companies' products because they are well-versed in these requirements and have an excellent compliance record.
In May 2023, to modernize five powder coating manufacturing plants in the United States and Latin America, PPG started a $44 million investment. The initiatives are a part of PPG's strategic attempts to boost worldwide production and broaden its powder coatings product line in response to rising consumer demand for environmentally friendly goods.
In April 2023, a strategic partnership between Solvay and Ginkgo Bio works, which is developing the industry-leading system for cell programming and biosecurity, was recently announced. Using this multi-year partnership agreement, Ginkgo and Solvay will work together to unleash the potential of synthetic biology as a catalyst for the development of more sustainable materials and chemicals, assisting in the shift towards more ecologically friendly solutions.
Aerospace Adhesives & Sealants Market Report Scope
| | |
| --- | --- |
| Report Coverage | Details |
| Market Revenue in 2023 | USD 1.29 Billion |
| Projected Forecast Revenue by 2032 | USD 2.22 Billion |
| Growth Rate from 2023 to 2032 | CAGR of 6.20% |
| Largest Market | North America |
| Base Year | 2022 |
| Forecast Period | 2023 to 2032 |
| Regions Covered | North America, Europe, Asia-Pacific, Latin America, and Middle East & Africa |

Market Dynamics
Drivers
Rising demand for air travel
Due to the increasing affluence and mobility of the world's population, commercial air travel has significantly increased, which has, in turn, increased demand for new aircraft as airlines look to expand their fleets to accommodate the growing volume of passengers. Maintenance, repair, and overhaul services are also required with the ever-increasing global aircraft fleet. To maintain and repair newer models of aircraft as well as retrofit and repair older ones, adhesives, and sealants are essential to MRO operations. The primary design goals of contemporary aircraft are weight reduction and fuel efficiency. This has caused a change in favor of advanced composite materials, whose assembly primarily depends on adhesives and sealants.
Rising emphasis on light weight materials
Aerospace manufacturers must look for novel approaches to improve fuel efficiency as governments and regulatory bodies across the globe enforce more stringent emissions regulations. Optimizing weight through sophisticated materials and structural layouts is a vital tactic in accomplishing this objective. Contemporary aerospace sealants and adhesives are designed to have outstanding performance attributes.
They are subjected to strong mechanical stresses, severe chemical exposure, and wide temperature swings. These characteristics are essential for preserving the structural integrity of lightweight components. Initiatives to reduce weight help the environment, improve performance indicators, and save money. During their lifetime, lighter aircraft can save a significant amount of money on operating costs because they use less fuel.
Restraints
Limited shelf life
The chemical stability of aerospace adhesives and sealants is designed to last for a predetermined time. After this point, the material might undergo chemical reactions that result in the loss of its intended properties. This may result in weakened bonds, less elasticity, and decreased resistance to external stimuli. The aerospace sector complies with strict safety and legal requirements. The expiration of sealants and adhesives can raise questions regarding adherence to these guidelines.
To keep aerospace components safe and reliable, it becomes crucial to ensure that only materials that have reached the end of their designated shelf life are used. Adhesives and sealants can fail catastrophically in critical aerospace applications due to age-related degradation; therefore, careful monitoring and control over these materials' lifespans are necessary to minimize the risk.
Compatibility with other materials
Materials from metals, composites, plastics, ceramics, and even unusual alloys are used in aerospace applications. The chemical compositions, surface energies, and thermal expansion coefficients of these materials vary. Chemicals such as fuels, hydraulic fluids, lubricants, and cleaning agents can be present in aerospace components. For the components' structural integrity to be maintained, the adhesives and sealants must resist chemical deterioration. Extreme temperature variations affect aircraft and spacecraft, ranging from frigid temperatures at high altitudes to intense heat produced during re-entry. Adhesives and sealants must retain integrity and functionality over this wide temperature range.
Opportunities
Development of advanced materials
Highly durable materials are required for aerospace applications. The aerospace industry needs materials to meet strict performance standards. Advanced materials, like composites, nanomaterials, and high-performance polymers, offer improved strength, durability, and resistance to temperature, pressure, and corrosion. As pressure to minimize its environmental impact on the aerospace industry grows, adopting advanced materials becomes essential. Reduced emissions result from lighter materials' increased fuel efficiency.
Furthermore, recycling and using eco-friendly materials complies with changing legal requirements. In aerospace applications, superior mechanical properties and improved resistance to fatigue, wear, and stress are key features of advanced materials, directly translating into increased safety and dependability. Adopting these materials is essential because the aerospace industry places a high priority on passenger safety.
Environmental regulations and sustainability
Aerospace companies must comply with strict environmental regulations to conduct business worldwide. Violations may result in harsh fines and banishment from markets. Competitive advantage is provided by adhesives and sealants that meet or surpass these regulations. In the long run, sustainable adhesives and sealants are more desirable because they frequently have qualities that increase application efficiency and cure times that save aerospace manufacturers money. The drive for sustainability propels materials science innovation. This encourages R&D efforts to produce environmentally friendly adhesives and sealants with enhanced performance attributes like greater strength, durability, and resistance to harsh environments.
Recent Developments
In October 2023, West Pene Tone sold some of its assets to Integrity Partners Group, which Open Gate Capital purchased. With the acquisition, IPG's value proposition and client offerings are further expanded to include environmentally friendly chemical products that meet the ongoing cleaning and maintenance needs of the aerospace and defense industries. The acquisitions' financial terms were kept private.
In June 2023, as a partner of Spirit's Aerospace Innovation Centre in Scotland, which enables cooperative research into sustainable aircraft technology and procedures with Spirit's academic, industrial, and supply-chain partners, they have strengthened their collaboration for the company to meet the cost, performance, and production-rate needs of future aircraft.
Major Key Players:
B. Fuller
Henkel Corporation
3M
PPG Industries Inc.
Huntsman International LLC
Cytec Solvay Group
Dowdupont
Bostik
Lord Corporation (Parker Hannifin Corp)
Hexcel Corporation
Market Segmentation
By Sealants Resin
Silicone
Polysulfide
Others
By Adhesive Resin
Polyurethane
Epoxy
Others
By Aircraft
Military
Commercial
Others
By User Type
Buy this Research Report@ https://www.precedenceresearch.com/checkout/1121
You can place an order or ask any questions, please feel free to contact at sales@precedenceresearch.com | +1 9197 992 333