The global alumina market size surpassed USD 45.53 billion in 2022 and it is projected to be worth around USD 72 billion by 2030, expanding at a CAGR of 5.89% over the forecast period from 2022 to 2030.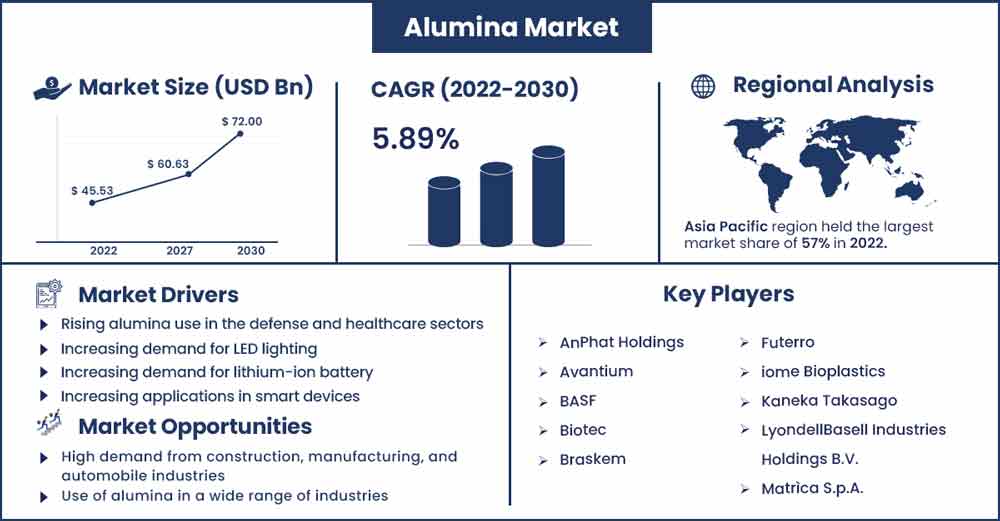 With the formula Al2O3, aluminum oxide can be a combination of aluminum and oxygen. It is known as aluminum (III) oxides and is the type of aluminum oxide that occurs most frequently. It is also sometimes referred to as alkoxide, alkoxide, or alundum depending on specific forms or uses. It happens naturally also as a mineral component, a variety of which gives rise to the priceless gemstones ruby & sapphire, in its crystallized polymorphism phase (Al2O3). Al2O3 is essential for producing aluminum metal, serving as an abrasive due to its toughness, and serving as a resistant material because of its extremely high freezing temperatures.
However, it is projected that over the forecast period, fierce competition from alternative materials like plastic or glass will restrain the growth of the alumina sector. Even though the demand for aluminum is expected to increase significantly as a result of the construction, building, and automobile industries' rapid growth, the global market is anticipated to encounter some challenges due to different raw material prices and the availability of substitute materials such as glass and plastic. Alumina is widely utilized and is sometimes referred to as alpha-alumina in the material science community, internal and external parties (in the fused form), or alkoxide in the mines and ceramics communities. Over 90% of the annual worldwide output of aluminum powder, which totaled over 115 billion tons in 2015, is used to make an aluminum alloy.
Report Highlights:
The industrial sector is continually being dominated by improved aluminum materials because of their superior safety and reliability. Global manufacturers are changing their choices by swapping out steel and iron elements with lighter materials because lightweight metals increase fuel efficiency. Smartphones, computers, TV screens, refrigerators, washers and dryers, and other electronic parts and household appliances are made using a significant quantity of aluminum to provide improved performance at an inexpensive price. These solid sheets & panels are made from premium aluminum plates, which will increase the market share for alumina in the upcoming years.
Shortly, it's expected that the unstable pricing of raw materials caused by varying production rates would impede business growth. Additionally, the current COVID-19 epidemic had a detrimental effect on production capacity because of the temporary halt of mining operations, a lack of labor, and worldwide value chain disruptions. The entire market value for alumina will be restored in the upcoming years, though, thanks to swift vaccination measures, the removal of government limitations, and a quick revival of the building projects.
Alumina Market Report Scope:
| | |
| --- | --- |
| Report Coverage | Details |
| Market Revenue in 2023 | USD 48.22 Billion |
| Projected Forecast Revenue in 2030 | USD 72 Billion |
| Growth Rate from 2022 to 2030 | CAGR of 5.89% |
| Largest Market | North America |
| Base Year | 2022 |
| Forecast Period | 2022 To 2030 |
| Regions Covered | North America, Europe, Asia-Pacific, Latin America, and Middle East & Africa |

Regional Snapshots:
Due to increased investments in water treatment facilities, which are linked to a growth in urbanization and industrialization in key economies like India, China, and Japan, the Asia Pacific region currently dominates the world market for activated alumina. The need for aluminum hydroxide in the area has increased as a result of increased public investment in water purification technology and infrastructure as well as an increase in the demand for gases like LPG and CNG. In 2021, Asia-Pacific accounted for further than 32% of the world market for aluminum oxide. Europe and North America are also significant markets of aluminum oxide in volume terms. Latin America has a bigger market for aluminum oxide than the Middle East and Africa, but throughout the projection period, Africa and the Middle East market are expected to increase at a faster rate.
Market Dynamics:
Drivers:
The increased usage of alumina in the healthcare and defense industries is predicted to drive growth in the global alumina market by 2030. The benefits of alumina also include a lightweight and strong strength, which increases the effectiveness of chest armor like military breastplates in addition to armor for vehicles and aircraft. It is also frequently used to make ballistics and bulletproof glass. Importantly, it is anticipated that rising geopolitical tension would lead to increased governmental military spending activities and defense, which will support market development over the projected timeframe. HPA is becoming more and more important because of factors like rising Led bulbs usage and declining LED prices. Because they are dependable, strong, and long-lasting, LED products are widely used by consumers.
Restraints:
Due to a lack of experience in alumina manufacturing, the entire market is anticipated to be restricted shortly.
Opportunities:
The use of manufacturing equipment in the health industry is expected to increase demand for very pure alumina in the future. The availability of different substances such as glass and plastics as well as the continuously fluctuating cost of raw materials are expected to cause some challenges for the global industry. The construction, automobile, and other industries are predicted to experience tremendous growth, which will result in a large increase in the demand for aluminum alloys. But because of properties like low permeability, high strength, elasticity, excellent temperature & electricity conductivity, and lightness, the demand for aluminum is expected to increase throughout the course of the forecasted period.
Challenges:
The environmental criteria for residues are very severe. Government rules regarding alumina manufacturing by-products are expected to enhance the market for high alumina on such a global scale. just having a basic understanding of technology Lack of experience in alumina manufacture is anticipated to limit the market as a whole shortly.
Recent Developments:
Gränges and Alcoa Partner to Produce Low-Carbon Aluminum around June 2021. The Swedish rolled aluminum producer Gränges AB and the American aluminum business innovator Alcoa Corp. announced their commitment to work together on a project to reduce the environmental effect of the aluminum supply chain.
In September 2019, Rio Tinto, Queensland Alumina Ltd., and the College of Queensland received grants for joint research on red mud restoration.
Alcoa Warrick LLC was successfully purchased by Kaiser Aluminum Company from Alcoa Corp ("Alcoa") in April 2021 for a price of $670 million. The Warrick Rolling Mill's whole property portfolio was part of this acquisition.
Alumina Ltd, an Indian manufacturing corporation and important player in the aluminum industry planned to increase its investment capital to $250-$300 billion in Jan 2019. This was done to increase the manufacturing capability of their Lanjigarh aluminum refineries in Odisha.
CBA Brazilian Aluminium Company acquired the operations of Arconic Inc. at Itapissuma, Brazil, in August 2019 for $50 million. The plant, which has an annual production capacity of billion tons of aluminum sheets, would be included in the production of CBA's line of rolling goods to boost the competitiveness of the domestic producers against imports.
Major Key Players:
AnPhat Holdings
Avantium
BASF
Biotec
Braskem
Futerro
iome Bioplastics
Kaneka Takasago
LyondellBasell Industries Holdings B.V.
Matrìca S.p.A.
Mitsubishi Chemical Holding Corporation
NatureWorks LLC
Novamont S.p.A.
Plantic Technologies
PTT MCC Biochem Co., Ltd.
SABIC
Solvay
SUPLA (JIANGSU SUPLA BIOPLASTICS CO., LTD.)
Taghleef Industries
TEIJIN LIMITED
Toray Industries, Inc.
Total Corbion
Toyota Tsusho Corporation
Trinseo S.A.
Market Segmentation:
By Product
Metallurgical Grade
Refractory Grade
Grinding Grade
Others
By Grade
Chemical
Smelter
Calcined

Ordinary soda
Medium soda
Low soda

Tabular
Reactive
Fused
Aluminum Trihydrate
By Application
Aluminum Production
Non-Aluminum Production
Abrasives
Ceramics
Refractories
Filtration
Others
Buy this Research Report@ https://www.precedenceresearch.com/checkout/2309
You can place an order or ask any questions, please feel free to contact at sales@precedenceresearch.com | +1 9197 992 333