The global antifungal drugs market size surpassed USD 16.24 billion in 2022 and it is expected to rake around USD 22.88 billion by 2032, poised to grow at a CAGR of 3.49% during the forecast period 2023 to 2032.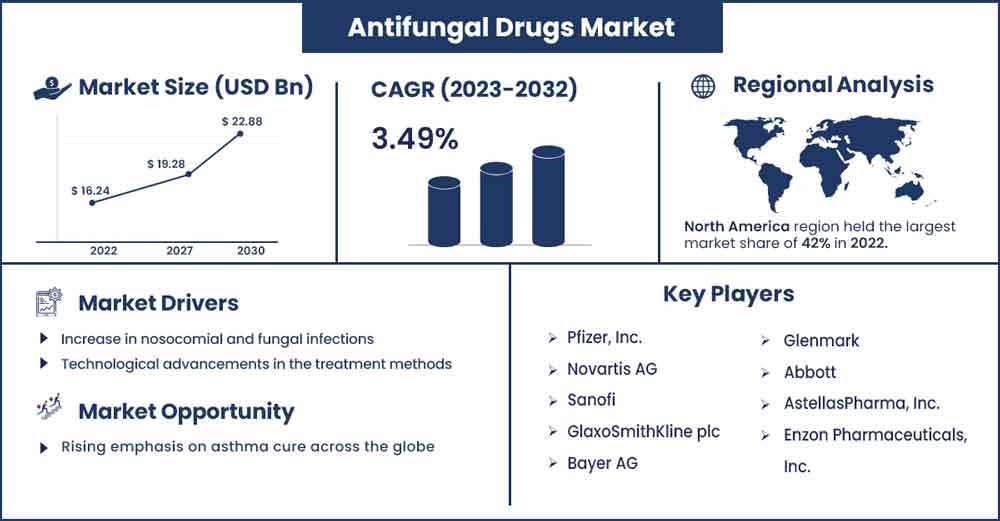 Market Overview:
The medications used for treating fungal infections are antifungal treatments. Antifungal medications can be taken orally, applied topically, or injected intravenously via an IV drip. Antifungal drugs often function by either destroying the cells of fungi or preventing them from increasing. The antifungal drugs market refers to the global market for pharmaceutical products used to treat and prevent fungal infections. Fungal infections, also known as mycoses, can affect various parts of the body, including the skin, nails, respiratory system, and internal organs. Antifungal medications are designed to target and eliminate fungal pathogens or inhibit their growth, helping to control and cure these infections.
Regional Snapshot:
North America dominates the market for antifungal drugs. The rise significantly influences the expansion of the North American antifungal sector in fungal and nosocomial diseases. A surge in activities by public and private entities to promote awareness about a range of fungal disorders is also projected to positively impact the antifungal drugs market in North America. Another reason for the growth of the antifungal industry is the rise in the prevalence of two additional prevalent fungi illnesses, aspergillosis, and candidiasis.
North America is a hub for pharmaceutical research and development. The region houses numerous leading pharmaceutical companies and academic institutions that focus on drug discovery, development, and clinical trials. The presence of these R&D capabilities fosters innovation in antifungal medications, driving the growth and dominance of the market.
Asia Pacific is expected to have significant growth during the forecast period, supported by the expanding customer base in China and India's heavily populated, rapidly growing economies. The market in the two countries is significantly growing by rising per capita income, increased awareness of personal cleanliness, and greater access to healthcare. The rising research and development activities in the pharmaceutical industry along with a significant rise in healthcare expenditure is expected to act as a driver for the market's growth in Asia Pacific.
Report Highlights:
By drug class, with the highest revenue share in 2022, the Azoles drug class segment dominated the market for antifungal drugs. Azoles boost fungistatic activities by inhibiting fungal enzymes. Azoles are available in oral formulations, which provides convenience for patients as they can be taken at home without the need for hospitalization or intravenous administration.
By indication, the candidiasis segment, responsible for the yeast illness, is anticipated to have the quickest CAGR throughout the projection period. Candidiasis, caused by the Candida species of fungi, is one of the most common types of fungal infections. It can affect various parts of the body, including the skin, mouth, throat, genital area, and bloodstream. The high prevalence of candidiasis contributes to a significant patient population requiring antifungal treatment, driving the demand for medications targeting this indication.
By infection type, the superficial antifungal infection segment is expected to grow at a significant rate during the forecast period. The high prevalence of superficial fungal infections contributes to the dominance of this segment in the antifungal medication market.
Antifungal Drugs Market Report Scope:
| | |
| --- | --- |
| Report Coverage | Details |
| Market Revenue in 2023 | USD 16.81 Billion |
| Projected Forecast Revenue in 2032 | USD 22.88 Billion |
| Growth Rate from 2023 to 2032 | CAGR of 3.49% |
| Largest Market | North America |
| Base Year | 2022 |
| Forecast Period | 2023 To 2032 |
| Regions Covered | North America, Europe, Asia-Pacific, Latin America, and Middle East & Africa |

Market Dynamics:
Driver:
Technological advancements in the treatment methods
Technological advancements in the treatment of antifungal medications have led to improvements in drug delivery systems. Continuous research and development efforts have led to the discovery of novel antifungal agents with improved efficacy and reduced side effects. These next-generation antifungal drugs target specific components or pathways in fungi, offering more selective and potent activity. Examples include new classes of antifungal drugs, such as glucan synthase inhibitors and chitin synthase inhibitors. These technological advancements in the treatment of antifungal medication offer promising avenues for improved efficacy, reduced side effects, and better patient outcomes. Such advancements are observed to act as a driver for the market's growth in the upcoming period.
Restraint:
Side effects of antifungal medications
Antifungal medications often do not cause any major adverse effects. Though, the potential side effects of the antifungal medications are observed to hamper the market's growth. There may occasionally be a slight itching, burning, or redness wherever the antifungal treatment has been administered. Sometimes, vaginal inflammation affects women who apply vaginal antifungal medicines. A tiny percentage of patients get liver issues or other major adverse effects from some antifungal medicines. Injections of antifungal medications provide a higher risk of adverse effects, including occasionally a long-term health issues. The need for therapy must be weighed against the danger of side effects as they serve to treat severe fungal infections. Considering such potential side effects of the medication, the factor may limit the adoption of antifungal medication by healthcare providers and patients. This element is observed to restrain the market's growth.
Opportunity:
Rising emphasis on asthma cure across the globe
According to a recent study from The University of Manchester in England, people with severe asthma who have an allergic sensitivity to certain fungi significantly improve their well-being after using antifungal medication. One percent of people with severe asthma are characterized by a strong allergy to the fungus Aspergillus fumigatus. However, more people (20 to 50%) are sensitized to certain fungi without displaying overt clinical indications or clear colonization. Such asthma patients are likely to see a significant improvement after undergoing antifungal medication. The factor that researchers and healthcare providers are promoting the utilization of antifungal medication for asthma patients is observed to open multiple opportunities for the market's growth in the upcoming years. The rising cases of asthma also supplement the rising use of antifungal medication in the industry.
Challenge:
Hurdles in drug development
Developing antifungal drugs poses a significant basic hurdle since fungal diseases are more closely connected to the host than new antimicrobials that target bacteria. For instance, the fact that many essential biochemical and cell biology processes are preserved from fungi to humans' accounts for Saccharomyces cerevisiae's effectiveness as an ideal eukaryotic organism. As a result, a large number of tiny compounds hazardous to yeast also prove harmful to humans. Assessing novel antifungal drugs offers several technical issues concerning designing clinical trials that contribute to the scientific difficulties impacting the discovery of novel lead compounds and further impeding development. Thus, such considerable hurdles in drug development act as a challenge for the market's growth.
Recent Developments:
In January 2023, as major digital companies continue to expand into the healthcare industry, Amazon unveiled a new prescription medicine program offering users as many prescriptions as they require for a fixed charge. This is the online retailer's latest attempt to entice customers away from pharmacy stores. With RxPass, U.S. Prime members may order numerous prescriptions as they require from a list comprising more than 50 generic drugs and receive free delivery. In addition to a Prime subscription, which currently costs $14.99 per month or $139 annually (excluding student discounts and sales tax for those on government assistance), the service will cost $5 per month.
In July 2022, the U.S. health regulatory agency approved the generic drug for treating fungal toenail infections for Zydus Lifesciences Ltd. (previously Cadila Healthcare Ltd.). According to a filing with the exchange, the business has received permission from the U.S. Food and Drug Administration to produce and sell Efinaconazole Topical Solution, 10%, whose reference mentioned medication is Jublia, produced by Bausch Health LLC. The group's Ahmedabad topical manufacturing plant will produce the medication.
Major Key Players.:
Pfizer, Inc.
Novartis AG
Sanofi
GlaxoSmithKline plc
Bayer AG
Glenmark
Abbott
AstellasPharma, Inc.
Enzon Pharmaceuticals, Inc.
Market Segmentation:
By Drug Class
Echinocandins
Azoles
Allylamines
Polyenes
Others
By Indication
Aspergillosis
Dermatophytosis
Candidiasis
Others
By Infection Type
Systemic Antifungal Infections
Superficial Antifungal Infections
Buy this Research Report@ https://www.precedenceresearch.com/checkout/2600
You can place an order or ask any questions, please feel free to contact at sales@precedenceresearch.com | +1 9197 992 333