The global automotive active health monitoring system market size surpassed USD 2.91 billion in 2022 and it is expected to rake around USD 41.89 billion by 2032, poised to grow at a CAGR of 30.6% from 2023 to 2032.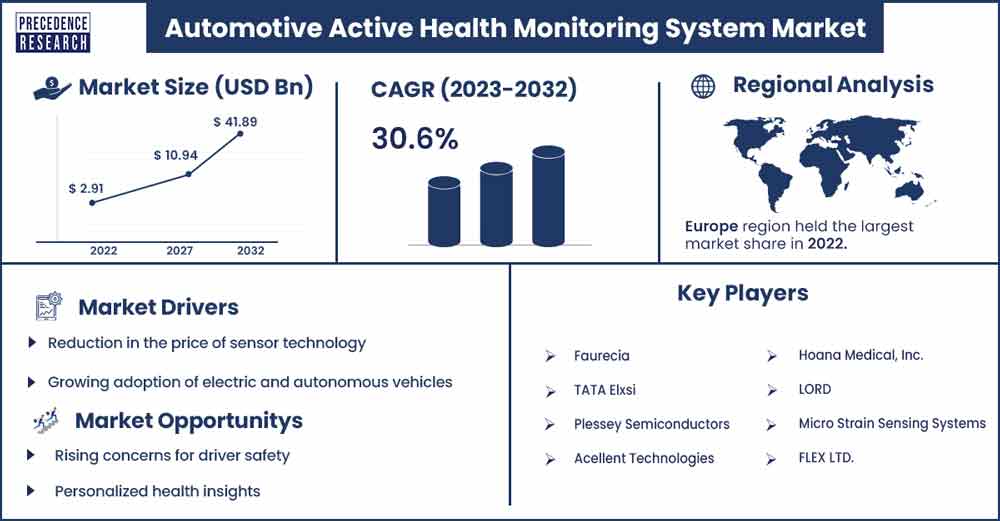 Market Overview
The industry segment is devoted to the creation, manufacturing, and application of cutting-edge technologies intended to track the physical and mental health of car occupants is known as the automotive active health monitoring system market. These systems monitor drivers and passenger's vital signs, posture, degree of fatigue, and other health-related metrics using a variety of sensors and integrated technologies.
Enhancing safety, comfort, and general well-being while traveling is the aim of the real-time health information and, if required, alerting the driver or appropriate authorities to possible problems. This market includes a variety of goods and services that are designed to improve health and safety in automotive settings, such as wearable technology, sensor-equipped seats, integrated software solutions, and associated technologies.
In 2022, 4,61,312 accidents were reported, of which 2,78,734 resulted in injuries, and 1,55,781 were fatal. Of the accidents that resulted in injuries, 1,43,374 were regrettable, and 1,35,360 caused minor injuries.
Vehicles with advanced safety features are in high demand as people realize how important it is to drive safely. By giving real-time information about the driver's physical state, active health monitoring systems help prevent accidents brought on by fatigue or other health-related problems. The automotive industry has also felt the growing emphasis on health and wellness in society.
An increasing number of consumers are considering their well-being when making purchases. Active health monitoring systems align with this trend by providing a function that directly attends to the safety and well-being of the driver. The development of increasingly complex sensor technologies has been a critical factor in the success of active health monitoring systems.
In October 2022, Beyonca, a start-up company of former Volkswagen executives, intended to compete with Audi and BMW in China by releasing a new high-end electric car next year. The company is banking on the popularity of features such as health monitoring.
In January 2022, at the 2022 Consumer Electronics Show (CES), OMRON Healthcare, Inc. announced the launch of its new remote monitoring of patient's services, connected blood pressure monitors, and an innovative mobile app. These products are all intended to help every customer, regardless of where they are in their journey toward heart health. OMRON is showcasing the future of its providing and the heart health category through a joint research initiative that will investigate how artificial intelligence may evaluate blood pressure metrics to accurately predict cardiovascular diseases at an early stage. This initiative is part of the company's goal to advance Going for Zero heart attacks and strokes.
Automotive Active Health Monitoring System Market Report Scope
| | |
| --- | --- |
| Report Coverage | Details |
| Market Revenue in 2023 | USD 3.79 Billion |
| Projected Forecast Revenue by 2032 | USD 41.89 Billion |
| Growth Rate from 2023 to 2032 | CAGR of 30.6% |
| Largest Market | Europe |
| Base Year | 2022 |
| Forecast Period | 2023 to 2032 |
| Regions Covered | North America, Europe, Asia-Pacific, Latin America, and Middle East & Africa |

Regional Snapshot
Engineering prowess and technological innovation have a long history in Europe. As a result, innovative solutions have been created in several industries, including automotive ones. In terms of research and development for active health monitoring systems, European businesses have led the way. Public health and road safety have long been priorities for nations. In Europe, governments and regulatory agencies have taken the initiative to introduce safety measures and support technologies that improve the safety of drivers and passengers. Consumers worldwide, including in Europe, are becoming more conscious of wellness and health issues. As a result, there is now a greater need for devices that enhance well-being both within and outside of cars.
The most recent financial reports from Tata Elxsi show that the company made $0.41 billion in revenue. The company generated $0.37 billion in revenue in 2022, up from $0.31 billion in 2021. The total amount of money a business makes from selling products or services is called revenue. There is no deduction for expenses, in contrast to earnings.
Market Dynamics
Drivers
Reduction in the price of sensor technology
Sensor technology is becoming more affordable for consumers and automakers. The increased use of active health monitoring systems in cars is encouraged by their accessibility. Reduced expenses result in greater availability of dynamic cs for various car models, which has a positive effect on consumer perception since they see these systems as an excellent complement to the safety features of their car. Automobile manufacturers can now devote more funds to R&D thanks to lower sensor costs. This may result in more complex and advanced health monitoring systems with more features and functionalities.
Growing adoption of electric and autonomous vehicles
With the increasing popularity of electric and autonomous vehicles, passenger safety and well-being are receiving more attention. Systems for actively monitoring health are essential for guaranteeing passengers' physical well-being while in transportation. These devices can track vital signs, identify irregularities, and send emergency alerts on time. The automotive sector is currently experiencing a transition towards integrated ecosystems that encompass multiple facets of a passenger's welfare. To provide a comprehensive user experience, active health monitoring systems seamlessly integrate with other technologies such as infotainment systems, navigation, and connectivity features.
Restraints
Cost of implementation
An active health monitoring system in a car requires a significant upfront investment to develop and implement. This covers costs for software development, hardware and sensor acquisition, research and development, and integration with current car systems. Elevated implementation expenses could result in higher car prices, which restrict the availability of active health monitoring systems to a larger group of consumers. For automakers hoping to offer these systems as standard equipment, this may be a concern. The system must receive continual maintenance and support after its implementation to function correctly, which covers fixing technical problems, calibrating the sensor, and updating the software. These pursuits add to the total cost of ownership.
Data analysis and interpretation
Numerous data points about different physiological parameters, such as heart rate, respiration rate, temperature, etc., are generated by automotive active health monitoring systems. It can be challenging to analyze this data, mainly when dealing with real-time monitoring. Accurate data interpretation necessitates complex algorithms and computing power, which can be constrictive given the required resources. Real-time health data processing is critical in vehicles, particularly in emergencies.
Opportunities
Rising concerns for driver safety
There is a significant opportunity in the market for automotive active health monitoring systems due to growing concerns about driver safety. This is mainly due to people's increasing awareness of the risks associated with distracted or intoxicated driving and their desire to reduce these risks by utilizing cutting-edge technology to stop collisions and save lives. Active health monitoring systems can continuously track the driver's physiological parameters and vital signs, including blood pressure, heart rate, and even degree of fatigue or drowsiness. These systems can issue alerts or perform remedial actions, like warning the driver or even helping with vehicle control autonomously by identifying early indicators of driver impairment.
Personalized health insights
The market for automotive active health monitoring systems is up and coming due to the potential for personalized health insights, which could transform how people interact with their cars and enhance their general health. This idea entails integrating cutting-edge sensors and monitoring technologies into cars to track health metrics and give users personalized feedback and recommendations.
Real-time monitoring of physiological parameters and vital signs, such as heart rate, blood pressure, and respiratory rate, as well as more sophisticated measurements like blood glucose levels for diabetics, is possible. The system can create baseline values for each user by continuously gathering this data, which enables early identification of anomalies or departures from the norm.
Recent Developments
In January 2023, Seeing Machines Limited, a leading global provider of semiconductor solutions, such as advanced digital imaging, analog, touch & display, and advanced computer vision technology, and OmniVision, stated the successful integration of Seeing Machines' cutting-edge in-cabin monitoring system technology (ICMS) into the OmniVision OAX4600 platform. Seeing Machines Limited creates AI-powered operator monitoring systems to enhance transport safety.
In April 2022, LivaNova started the planned commercial beginning of its Essenz Patient Monitor after obtaining the necessary regulatory clearances. During cardiopulmonary bypass (CPB) procedures, the device is a creative perfusion data management system that employs a patient-tailored approach to enhance clinical efficiency and the standard of patient care.
Major Key Players
Faurecia
TATA Elxsi
Plessey Semiconductors
Acellent Technologies
Hoana Medical, Inc.
LORD
Micro Strain Sensing Systems
FLEX LTD.
Market Segmentation
By Location
By Component
By Vehicle Type
Commercial Vehicle
Passenger Vehicle
By Deployment
By Application
Pulse
Blood Pressure
Blood Sugar Level
Others
Buy this Research Report@ https://www.precedenceresearch.com/checkout/1132
You can place an order or ask any questions, please feel free to contact at sales@precedenceresearch.com | +1 9197 992 333