The global automotive wiring harness market size surpassed USD 49.03 billion in 2022 and it is expected to rake around USD 83.36 billion by 2032, poised to grow at a CAGR of 5.5% during the forecast period 2023 to 2032.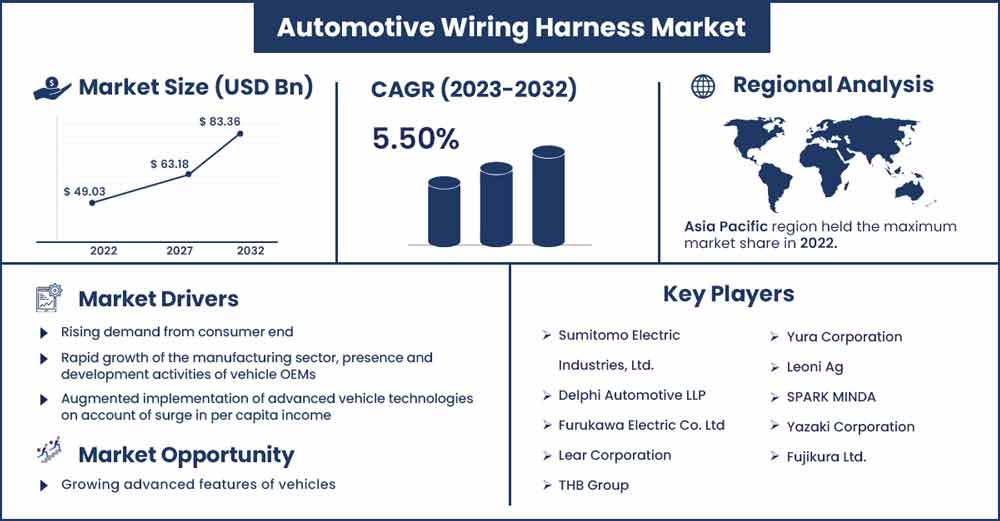 Market Overview:
The global automotive wiring harness market revolves around the production and distribution of wiring harness or for the automotive industry. Automotive wire harness applications combine the engine management system, electronic controls, lights, power steering, air conditioning, power brakes, electric windows, entertainment, and audio system into a smoothly performing and functional vehicle. A typical automobile has hundreds of cables connecting its various electronic components spanning a mile. These components are connected via wire harnesses, providing power and electronic signals to the rest of the car.
Regional Snapshot:
Asia Pacific dominates the global market and will remain so throughout the anticipated time frame. This can be connected to measures to improve automobile manufacturing and to increase road infrastructure, particularly in developing nations like China and India. Additionally, the expansion of discounts is being fueled by a rising trend in better comfort and accommodation offered in mid-portion vehicles and low labor costs. Asia Pacific is anticipated to have profitable expansion in the not-too-distant future due to supportive government policies and a growing automotive industry. To promote the sale of electric cars, the government of China is concentrating its efforts in this area on offering benefits. Nations are attempting to increase electric vehicle sales, which might help the sector grow. For example, India is making an effort to increase the sales of electric vehicles, which would open up new market potential. Over the period under review, more government initiatives to increase electric vehicle sales are anticipated to present chances for market development.
Report Highlights:
By type, the dashboard/cabin harness sector holds the largest market share in the worldwide wire harness market. The segment's growth is due to the increasing demand for various vehicle types. Wiring harnesses are deployed for infotainment systems at the cabin or dashboard, the installation of smart infotainment systems in the advanced vehicles will promote the growth of the segment.
By material, in the global wire harness market, the optical fiber segment has the biggest market share. Cables made of optical fiber move substantially more quickly than those made of copper and other materials.
By transmission, the electric wire is anticipated to indicate potential demand amongst the different gearbox types. Mid-segment and entry-level cars have a greater need for energy transmission than for data transfer. In the upcoming years, sales of completely and semi-autonomous vehicles are predicted to rise.
By vehicle type, among the numerous kinds of vehicles, the passenger car segment maintained a sizeable market share in the worldwide wire harness market. Due to enhanced fuel combustion and decreased maintenance needs, it is projected that the acceptance of automotive wire harnesses will rise over the next years.
Automotive Wiring Harness Market Report Scope:
| | |
| --- | --- |
| Report Coverage | Details |
| Market Revenue in 2023 | USD 51.48 Billion |
| Projected Forecast Revenue in 2032 | USD 83.36 Billion |
| Growth Rate From 2023 To 2032 | CAGR of 5.5% |
| Largest Market | North America |
| Base Year | 2022 |
| Forecast Period | 2023 To 2032 |
| Regions Covered | North America, Europe, Asia-Pacific, Latin America, and Middle East & Africa |

Market Dynamics:
Driver:
Reduced Installation Period
Miles of wire is necessary for the equipment to operate. It could take a long time to connect individual cables. Additionally, human error is always possible. The system of wire harnesses makes it easier to manufacture electronic cards and automobiles. Because just one drop in the saddle is required, installation becomes incredibly straightforward rather than running all the wires individually. The market for automotive wire harnesses may be driven by increased demand for these products since they need less installation time.
Restraint:
Complications in manufacturing
One vehicle's harness requires at least ten separate physical handovers to manufacture. Because each sub-variant and model of a car has a unique wiring harness due to the bespoke nature of wiring harnesses, this includes previously automated procedures, such as cutting and making twisted pairs. However, certain functions remain semi-automated, necessitating a machine operator's presence. End-to-end automation is still quite a way off from being a reality for producing wiring harnesses. Given the sort of technology accessible today, there is a possibility for developing from scratch in this situation. However, production issues might impede the market's expansion for automotive wire harnesses.
Opportunity:
Application in security systems and multimedia
Due to their integration into security systems and multimedia, the use of cables or wire harnesses is predicted to grow. Features like cooled cup holders, ambient lighting systems, voice recognition technology, heated seats, steering wheels, entertainment capabilities, and power steering functions have become more popular to improve the driving experience. A wire harness is required to carry data, signals, and power in electronic equipment and allow these tasks. Automobiles with these networks are equipped with wiring harness bundles to guarantee the uninterrupted operation of numerous systems. As a result of the expanding use of the aforementioned applications, the market will expand.
Challenge:
Inconsistent data
Consistent information across the teams and regions is necessary for an integrated (or consolidated) platform migration to be successful. Over time, the risk of "shared" data becoming inaccurate is very high if every team carries out its design using its own unique set of CAD and EDA tools. When the visuals do not match, the reuse of designs, one of the key drivers of globalization, is considerably more difficult. Inconsistency concerns discovered late in the project sometimes necessitate going back to previous design phases to be resolved, and the repercussions of inconsistent data might create an obstacle for the market by posing a challenge.
Recent Developments:
In June 2023, it was revealed that the brand-new Sumitomo Electric Egypt facility would be built on a site that is 150,000 square meters in size. A research institute and a center for technical education training are also being constructed as part of the overall project. The factory's initial phase is anticipated to produce one million harnesses for electric wiring for automobiles annually, with all products going overseas.
In June 2022, in close collaboration with the impacted suppliers, KODA AUTO moved part of the wire harness manufacturing from Ukraine to the Czech Republic. Additionally, the automaker is securing expanded production facilities in Morocco and various other countries. The solutions are intended to protect the business more effectively from future supply bottlenecks and supply chain interruptions. The structures will permit, if required, a doubling of existing output quantities.
In March 2022, Morocco inked new investment agreements totaling 180 million dollars with five automotive cable providers, according to industry minister Ryad Mezzour, to accommodate the rising demand from manufacturers of electric vehicles. As per agreements, the Japanese company Yazaki will invest $38 million in a new wire plant in Tangiers and spend $40 million to develop its present facilities in Tangier and Kenitra, the spokesman announced at the signing ceremony.
Major Key Players:
Sumitomo Electric Industries, Ltd.
Delphi Automotive LLP
Furukawa Electric Co. Ltd
Lear Corporation
THB Group
Yura Corporation
Leoni Ag
SPARK MINDA
Yazaki Corporation
Fujikura Ltd.
QINGDAO SANYUAN GROUP
SamvardhanaMotherson Group
NexansAutoelectric
PKC Group
Market Segmentation:
By Type
Engine Harness
Dashboard/ Cabin Harness
Battery Wiring Harness
Chassis Wiring Harness
Body & Lighting Harness
HVAC Wiring Harness
Seat Wiring Harness
Door Wiring Harness
Sunroof Wiring Harness
By Material
Metallic
Aluminum
Copper
Other Metals
Optical Fiber
Plastic Optical Fiber
Glass Optical Fiber
By Propulsion
IC Engine Vehicle
Electric Vehicle
By Transmission
Electric Wiring
Data Transmission
<150 Mbps
150 Mbps to 1 Gbp
>1 Gbps
By Vehicle
Commercial Vehicle
Passenger Vehicle
By Voltage
By Sales Channel
Buy this Research Report@ https://www.precedenceresearch.com/checkout/1008
You can place an order or ask any questions, please feel free to contact at sales@precedenceresearch.com | +1 9197 992 333