The global aviation analytics market size was evaluated at USD 3.5 billion in 2022 and is expected to touch around USD 10.75 billion by 2032, growing at a noteworthy CAGR of 11.86% from 2022 to 2032.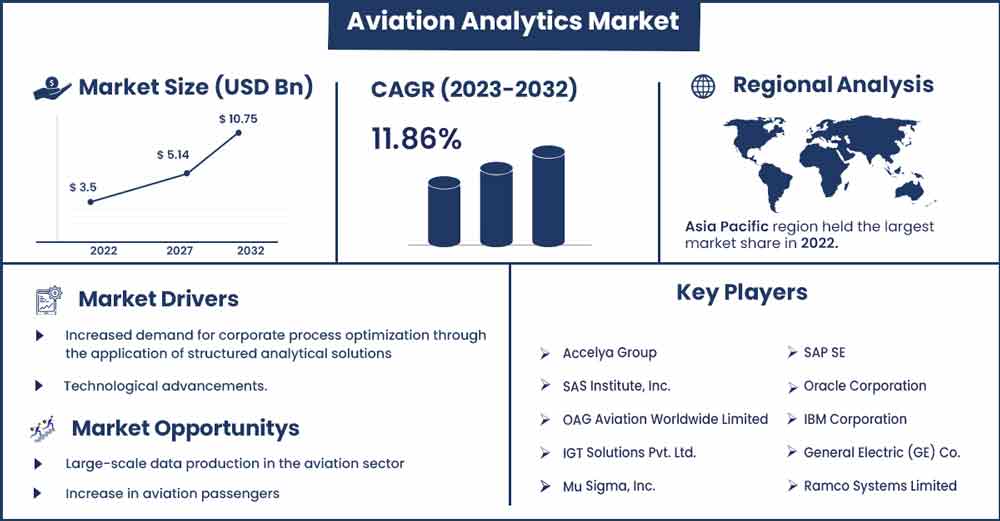 The computational technology known as aviation analytics offers data statistics and information on operational activities, weather forecast data, and real-time flight data. It evaluates and analyses the enormous amount of data produced. Inventory, flight risk, fuel, revenue management, and customer analytics all make extensive use of it.
Information can be analyzed, optimized, and managed using a variety of technologies, including monitoring and data and descriptive statistics. It helps to improve operational strategy and execution while also promoting productivity, efficiency, transparency, maintenance, client satisfaction, and risk management. In order to give meaningful information to airports, airlines, aviation stakeholders, and other business sectors like marketing and sales, finance, maintenance, and repair, aviation analytics is frequently employed.
Market Overview
A growing emphasis on competitive intelligence and real-time analytical solutions to boost business efficiency is what is driving the worldwide aviation analytics market. Also, a rise in the amount of data generated by the aviation sector, an increase in the number of passengers flying, and a rise in customer centricity all contribute to the market's expansion. The lack of analytically skilled workers and the inability to produce data models that meet corporate needs, however, restrain industry expansion. On the other hand, increased analytics adoption and ongoing technological improvements in the aviation sector are anticipated to create a wide range of prospects for market expansion in the near future.
The global aviation analytics market is being driven by an increasing focus on competitor analysis and real-time analysis of data collected to increase company efficiency. Also, the market is growing as a result of a growth in the amount of data produced by the aviation industry, an increase in the number of travelers, and a rise in customer centricity. Yet, the industry's growth is constrained by a dearth of analytically competent personnel and the difficulty to create data models that satisfy corporate requirements. On the other hand, it is projected that greater analytics use and ongoing technical advancements in the aviation industry will soon generate a wide range of opportunities for market expansion.
Regional Insights
In terms of market share, North America led aviation analytics in 2022. The largest fleet of aircraft, the highest number of aircraft operators, and a high demand for new developments in the aviation industry are all found in the United States, which all promote to the expansion. In 2022, Asia-Pacific experienced the fastest increase. The growing need for improved efficiency improvement and a successful supply chain has helped the market for aviation analytics. The presence of start-ups offering advanced analytics, like IBS Software Services, where custom solutions may be acquired, is one of the key factors luring aircraft OEMs and MRO system integrators to the Asia-Pacific region. Aircraft device manufacturers, such as Boeing and Airbus, are awarding contracts to suppliers of aviation analytics solutions in China and India.
Aviation Analytics Market Report Scope
| | |
| --- | --- |
| Report Coverage | Details |
| Market Revenue in 2023 | USD 3.92 Billion |
| Projected Forecast Revenue by 2032 | USD 10.75 Billion |
| Growth Rate from 2023 to 2032 | CAGR of 11.86% |
| Largest Market | Asia-Pacific |
| Base Year | 2022 |
| Forecast Period | 2023 to 2032 |
| Regions Covered | North America, Europe, Asia-Pacific, Latin America, and Middle East & Africa |
Market Dynamic
Drivers
Technological advancements
According to the International Air Transport Association (IATA) study, airline-controlled operations like maintenance are the primary factor in delayed flights (42%). The need for aviation analytics is anticipated to increase as a result of ongoing technological developments made by industry participants to raise productivity and customer satisfaction. For instance, the development of IoT affects maintenance and safety, enabling airlines to fly their planes for longer periods of time with fewer stops at the airport. Moreover, cloud computing is another significant recent development in technology.
IT providers can remotely give resources to an airline in accordance with their needs by utilizing cloud computing. Mobile gadgets are another emerging invention that could have a significant impact on services. These gadgets, along with aviation analytics, enable for the delivery of auxiliary services such as luggage fees, on-board meals, and other related items. Throughout the projection period, the market will have opportunities due to these technical breakthroughs.
Also, it is projected that advances by important players like OAG Aviation Worldwide Limited, Accelya, GE and others will increase demand for the aviation analytics industry. For instance, OAG Aviation Global Limited introduced Flight Info Alerts in November 2021, a new detection and alerting solution that sends real-time updates to flight schedules. Moreover, SAS Institute Inc. and Raleigh-Durham International Airport worked together to create a considerably better passenger projection.
Restrain
Lack of analytically proficient workers
A workforce with analytical skills is required given the recent increase in the use of real-time analytical solutions and "Big Data" analytics. The lack of a skilled workforce may be able to stop the rapid growth in global aviation passenger traffic. By 2035, Airbus estimates that there will be a global requirement for about 33,000 new aircraft, which will indirectly increase the demand for qualified engineers to repair these aircraft. There are currently insufficient trained maintenance workers in Asia-Pacific to satisfy the demands of the expanding aviation industry. For instance, Boeing estimates that by 2034, the Asia-Pacific region will need to hire about 238,000 more maintenance specialists to meet demand from the sector. However, despite the increase in data usage and consumption, the expansion of the aviation analytics market is constrained by a lack of skilled workers, which is a significant roadblock to current data and analytics efforts.
Opportunities
Increase in aviation passengers
The International Civil Aviation Organization (ICAO) projects that both passenger and freight traffic should quadruple by 2035. An increase in middle-class disposable income and the emergence of low-cost airlines are two factors that have contributed to an increase in airline passengers. The need for aviation analytics services has grown significantly along with the increase in airline passengers. The number of passengers flying has increased in major nations like Canada, the United States, Brazil, Indonesia, the Philippines, China, Saudi Arabia, and India. For instance, the Department of Transportation reports that U.S. Airlines passengers climbed by 119% from October 2020 to October 2021.
IATA estimates that at a compound annual growth rate of 3.5%, the number of passengers might double to 8.2 billion in 2037. (CAGR). Thus, it is anticipated that a growth in aircraft passenger traffic will indirectly increase the demand for aviation analytics. Participants in the aviation business must employ analytical solutions to predict customer preferences, lower operational costs, control fuel costs, and other tasks as a result of the vast amount of information that will be generated by an increase in passenger traffic.
Component Insights
The aviation analytics market is divided into solutions and services based on component.
Due to the rising need for specialized aviation analytics solutions that can address uncertainties in the aviation industry, the solutions segment is anticipated to dominate the market over the projected period. The services division offers on-demand functions of aviation analytics, such as weather reports and navigation, to focus on certain targeted areas
Application Insights
Flight risk management, route management, fuel management, fleet management, wealth management, inventory management, performance monitoring, inspection, part replacement, predictive analysis, supply chain planning, emergency management, mobility & functionality, energy management, and others make up the various application-based segments of the aviation analytics market. The main focus of aviation analytics is gathering and examining past data and patterns in order to forecast different stages of a certain business function. The development of contemporary analytics tools, combined with big data and artificial intelligence, offers precise solutions for the analysis of essential business processes. In order to assess consumer patterns and tailor their services appropriately, this has caused a rise in the need for aviation analytics solutions from multiple OEMs and aircraft maintenance providers.
End-user Insights
The aviation analytics market is divided into airports, airlines, MROs, and OEMs based on end users. The rise in the number of airports in various countries to meet the growing demand for air travel, the airports sector is anticipated to dominate the market during the forecast period.
Recent Development
In March 2022: Ramco Systems and Alan AI, a Silicon Valley startup, collaborated to enable the upcoming voice assistants for Enterprise Applications. For its enterprise portfolios, this alliance aims to integrate voice assistants into apps. The collaboration would also develop corporate use cases for the aviation, aerospace, and defense sector before moving on to use cases for other industrial verticals.
In March 2022: Oracle partnered with ISA; a top supplier of cutting-edge technology solutions based in the UAE. As part of this partnership, ISA would move its mission-critical systems to Oracle Cloud Infrastructure (OCI) in order to build a resilient business operation that could successfully handle changing travel demand brought on by the pandemic.
In February 2022, the American multinational firm Boeing and GE Aviation entered a co-operation. Under this agreement, which utilized a customized Saab 340B plane and CT7-9B turboprop engines, the company hoped to enhance flight tests of its hybrid electric propulsion system. Moreover, Boeing and its subsidiary Aurora Flight Sciences would provide system integration, aircraft modification, and flight testing services to GE Aviation.
In February 2022, SAS Institute joined forces with OmniClouds and TecCentric, Qatar's go-to supplier of technology, cloud, security, and operation services. This alliance sought to reinforce and inspire with the trusted analytics and have the tools and knowledge to empower businesses of all sizes and across all industries to employ data-driven decision-making to meet constantly changing customer demands and the dynamic business environment.
In January 2022: The contract intelligence firm Icertis and SAP SE expanded their collaboration. This alliance sought to help businesses increase productivity, lower risk, and fully implement their agreements. A financial investment by SAP into Icertis would also be a part of the agreement, which would result in a shared product roadmap and improved technical integration to provide enterprise-wide benefits including quicker negotiations, better compliance, and AI-powered business analytics and automation.
Major Key Players
Accelya Group (Vista Equity Partners)
SAS Institute, Inc.
OAG Aviation Worldwide Limited
IGT Solutions Pvt. Ltd.
Mu Sigma, Inc.
SAP SE
Oracle Corporation
IBM Corporation
General Electric (GE) Co.
Ramco Systems Limited
Market Segmentation
By Component
By Business Function
Sales & Marketing
Finance
Maintenance
Repair & Operations
Supply Chain
By End User
By Application
Customer Analytics
Flight Risk Management
Fuel Management
Revenue Management
Inventory Management
Navigation Services
Buy this Research Report@ https://www.precedenceresearch.com/checkout/2794
You can place an order or ask any questions, please feel free to contact at sales@precedenceresearch.com | +1 9197 992 333