The global bag-in-box container market size surpassed USD 3.55 billion in 2022 and is projected to rise to USD 5.50 billion by 2030, anticipated to grow at a CAGR of 5.6 percent during the projection period from 2022 to 2030.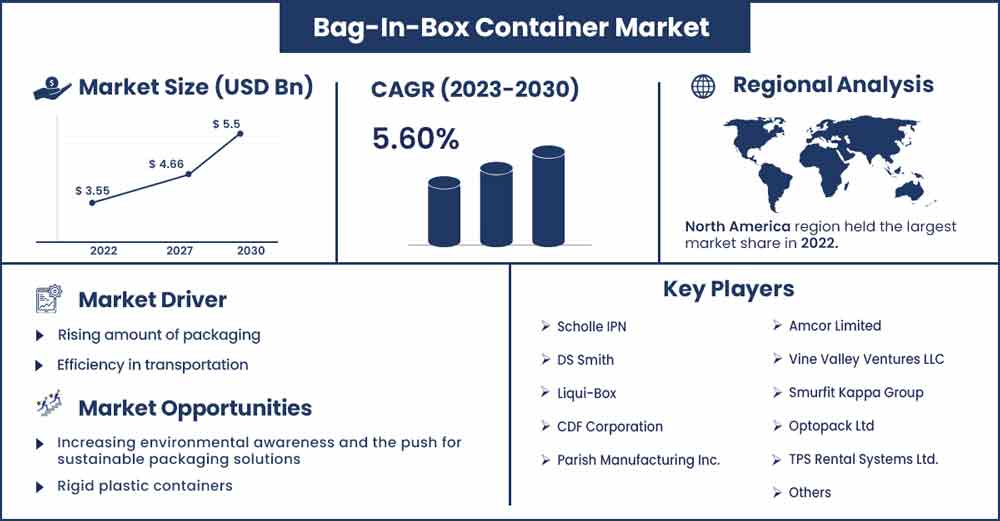 Market Overview:
The bag-in-box container market refers to the industry that produces and supplies packaging solutions where liquids and semi-liquids are stored in a flexible bag that is housed within a rigid box or carton. This packaging format is commonly used for products such as wine, juice or even for multiple non- food products. Bag-in-box technology has gained popularity in the food industry because it is a sustainable packaging solution that utilizes less plastic and more paperboard, which is readily recyclable. Furthermore, as it offers flat packaging, it takes up less room than a bottle and is simpler to move. The expansion of end-users is observed to accelerate the market's growth. The personal care and hygiene goods segment also employs bag-in-box packaging for shampoo, detergent, and other such items. During the forecast period, the bag-in-box container market is expected to grow due to the rise in its use in all industries that utilize these containers often.
Regional Snapshot:
Asia Pacific is expected to hold the largest share of the market throughout the forecast period. The region has a large and rapidly growing population, which drives the demand for various industries, including food and beverage. This factor demands a sustainable packaging solution from the food and beverage industry. Thus, it acts as a major driver for the market's growth in Asia Pacific. Additionally, lower production costs, a well-established manufacturing base, and favorable trade agreements have contributed to the region's competitiveness in producing these containers.
Due to the long-standing food and beverage industry and strong product acceptance rates, the market for bag-in-box containers is anticipated to increase in the United States. Additionally, the existence of several manufacturers, including DS Smith, Amcor Ltd., and Smurfit Kappa Group, is expected to create new opportunities for the industry's expansion throughout the anticipated time frame.
Report Highlights:
By application, the food and beverage segment is observed to hold the largest share of the market during the forecast period with the rising emphasis on sustainable and eco-friendly packaging solutions from the food and beverage industry. Moreover, due to customers' better lifestyles, more disposable money, and greater awareness of healthier products, the segment for food and beverages held the largest market share in 2022.
By type, the low-density polyethylene segment is expected to grow at a significant rate during the forecast period. The type of polyethlyene offers durability and resistance to chemicals and moisture thus used in food and beverages packaging.
Bag-In-Box Container Market Report Scope:
| | |
| --- | --- |
| Report Coverage | Details |
| Market Revenue in 2023 | USD 3.75 Billion |
| Projected Forecast Revenue in 2030 | USD 5.50 Billion |
| Growth Rate from 2022 to 2030 | CAGR of 5.6% |
| Largest Market | Asia Pacific |
| Base Year | 2022 |
| Forecast Period | 2022 To 2030 |
| Regions Covered | North America, Europe, Asia-Pacific, Latin America, and Middle East & Africa |

Market Dynamics:
Driver:
Efficiency in transportation
Products that come in bag-in-box containers are easier to ship and move around. Their rectangular package takes up less room and makes it simple to stack them. This allows for the simultaneous shipping of additional bag-in-box items. As a result, since fewer vehicles are required to deliver bag-in-box goods, CO2 emission is controlled. The goods may be protected during shipping using bag-in-box packing, ensuring they arrive unharmed and sealed. Bag-in-box items carry a lesser danger of damaged goods than other packaging solutions do. Thus, the efficiency in transportation is observed to act as a driver for the market.
Restraint:
Limited application scope
Consumers might have preconceived notions about bag-in-box packaging, associating it with lower quality or outdated packaging methods. It might take time for consumers to accept this packaging format for a wider range of products beyond its current use in items like wine and industrial liquids. While bag-in-box packaging is suitable for liquids like beverages and industrial fluids, it might not be ideal for certain products that require a specific form factor, such as delicate or irregularly shaped items. This limitation could restrict its adoption in certain industries.
Opportunity:
Greater environmental benefit
The Bag-in-Box (BIB) container market offers several environmental benefits that can serve as opportunities for its growth and adoption. These benefits are particularly relevant in the context of increasing environmental awareness and the push for sustainable packaging solutions. Bag-in-Box containers typically use less material compared to traditional packaging options like glass bottles or rigid plastic containers. This leads to lower resource consumption and reduced waste generation, contributing to overall sustainability. Such containers are lightweight, which reduces transportation costs and energy consumption during shipping. This can result in lower carbon emissions and a smaller environmental footprint compared to heavier packaging alternatives.
Challenge:
High cost of production and supply chain issues
The cost of producing bags in box packaging is higher since it requires two layers of packing material. The manufacturer saves money by switching from double packaging to a single container due to the high cost of production which limits the market's expansion. Incorporating bag-in-box packaging might require adjustments to the existing supply chain, including filling, distribution, and storage processes. Companies may need to invest in new equipment and processes, which can be a barrier to entry.
Recent Developments:
In May 2023, Huhtamaki, a leading provider of packaging solutions globally, created ground-breaking mono-material technology using its experience in science. It is environmentally friendly, revolutionary, and flexible packaging in Paper, PE, and PP Retort that satisfies its clients' and consumers' needs.
In November 2022, a formal agreement was inked by SEE to purchase Liquibox, a provider of Bag-in-Box Fluids and liquids dispensing and packaging sustainable solutions for the fresh food, consumer goods, beverage, and industrial end-markets. The Cryovac Fluids and Liquids enterprise, the fastest growing SEE segment, would greatly benefit from the purchase. Flexible packaging for liquids and fluids represents an addressable revenue opportunity of $7 billion with a promising 6% expected annual growth rate.
In November 2022, Prismiq, a Sealed Air (SEE) division that debuted at PACK EXPO International, is located at the intersection of intelligent packaging and digital printing. Prismiq is incredibly conceptual at first sight, and it is. It doesn't consist of just one thing, like a piece of software or a machine. Instead, it's a collection of tools, services, and alternatives that may be cleverly combined to provide a variety of results, depending on the preferences of the brand or CPG.
Major Key Players:
Scholle IPN
DS Smith
Liqui-Box
CDF Corporation
Parish Manufacturing Inc.
Amcor Limited
Vine Valley Ventures LLC
Smurfit Kappa Group
Optopack Ltd
TPS Rental Systems Ltd.
Others
Market Segmentation:
By Type
Ethylene Vinyl Alcohol
Low-Density Polyethylene
Ethylene Vinyl Acetate
Others
By Application
Industrial Liquids

Petroleum Products
Oils
Industrial Fluids

Household Products

Liquid Detergents
Household Cleaners

Food & Beverages

Alcoholic Beverages
Nonalcoholic Beverages

Flavored Drinks
Soft Drinks
Others

Others

Milk & Dairy Products
Edible Oil
Others
Buy this Research Report@ https://www.precedenceresearch.com/checkout/1046
You can place an order or ask any questions, please feel free to contact at sales@precedenceresearch.com | +1 9197 992 333