The global chemical sensors market size surpassed USD 23.77 billion in 2022 and is projected to rise to USD 45.7 billion by 2030, anticipated to grow at a strong CAGR of 8.52 percent during the projection period from 2022 to 2030.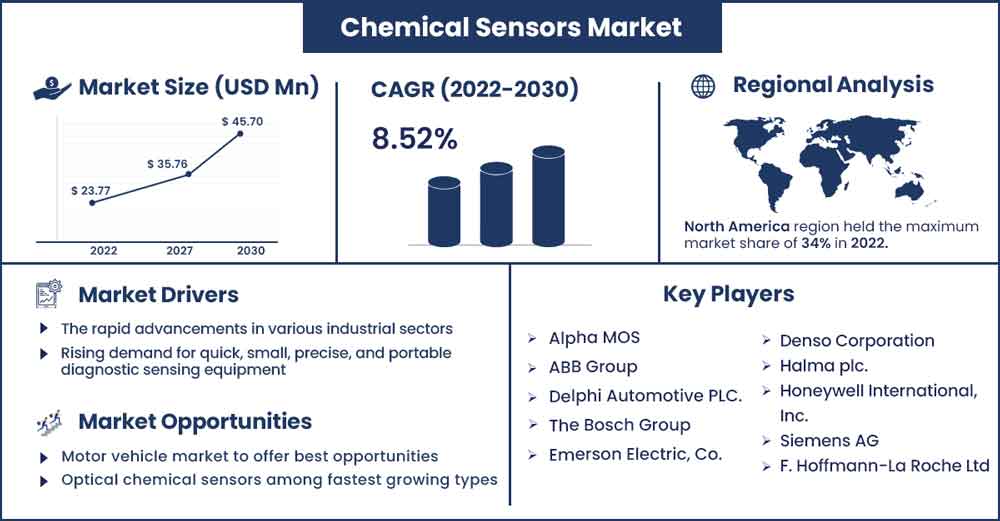 The anticipated that improving diagnosis applications would encourage faster and more accurate detection processes in the medical industry, which will grow the market. The market is comprehensively evaluated in the study on the global chemical sensors market. The research provides a thorough analysis of the market's major segments, trends, drivers, constraints, competitive environment, and other important elements.
An analyte's chemical characteristics can be detected and measured by a chemical sensor, which then transforms the chemical information into electronic information. Chemical sensors are used in a variety of fields, such as medicine, the automobile industry, nanotechnology, and home security (i.e., carbon monoxide detectors). Chemical sensors also exist in a range of sizes and forms with unique properties, but they all have two components: receptors and transducers. The component of the chemical sensor that physically contacts the analyte is called the receptor. Depending on the sensor, the receptor interacts with the analyte in various ways. The second element shared by all chemical sensors is the transducer.
Transducers are responsible for converting the chemical data from the receptor-analyte interaction into electrical information. The information is then sent to a computer or a mechanical part. The transducer can show the information on a screen, alter the resistance, or emit an audio alert (interface). Fibre-optic chemical sensors also include a transducer and a sensing material. The transducer transforms the recognition and sensing events of the sensing materials into a response, such as an optical signal. As a result, optical methods may be used to swiftly, accurately, and non-destructively examine a variety of critical compounds. Additionally, fibre-optic chemical sensors use optical fibres to transmit the optical signal to the measuring instrument, enabling remote detection of the analyte in the sample.
Report Highlights
The use of chemical sensors is influenced by their suitability for assessing the chemical composition of various samples. Significant market trends include higher-order orthogonal sensors and chemical sensing arrays. Chemical sensors' cheap cost and portability are anticipated to drive the market's expansion.
The elderly population made up 962.3 million of the world's 7.6 billion inhabitants. The prevalence of illnesses is anticipated to rise sharply as the population ages and becomes more susceptible to illness. As a result, there is a need for chemical sensors since they are employed in a number of clinical settings for tasks like measuring blood glucose or blood gases.
The Korea Advanced Institute of Science and Technology (KAIST) recently created chemical nanosensors that quickly analyse the elements of exhaled breath to find trace compounds linked to certain illnesses. This was done in February 2018.
In addition to environmental issues, the market is integrating the use of chemical sensors for analytes in the chemical industrial process. Sensors are being used as cutting-edge equipment in the healthcare industry, research labs, and the military industry, which is boosting the market.
Traditional gas sensors have also lost some of their accuracies in detecting low-concentration gases in the oil and gas sectors due to reasons including pricey maintenance, the need for air-conditioned shelter rooms, regular recalibration, and concerns with interfering gases.
Chemical Sensors Market Report Scope:
| | |
| --- | --- |
| Report Coverage | Details |
| Market Revenue in 2023 | USD 25.79 Billion |
| Projected Forecast Revenue in 2030 | USD 45.7 Billion |
| Growth Rate from 2022 to 2030 | CAGR of 8.52% |
| Largest Market | North America |
| Base Year | 2022 |
| Forecast Period | 2022 To 2030 |
| Regions Covered | North America, Europe, Asia-Pacific, Latin America, and Middle East & Africa |

Regional Snapshots:
The worldwide chemical sensors market is divided into four geographic regions: North America, Europe, Asia Pacific, and the Rest of the World. Asia Pacific is the second-largest market after North America, which now dominates it and is predicted to continue doing so. The soaring vehicle production, expanding research efforts, the creation of new goods, and the push to lower pollution levels in the near future will all drive the demand for chemical sensors in North America.
The need for chemical sensors is being driven by the alarming levels of pollution in China, India, and other Asia-Pacific nations. Chemical sensors are in high demand in the Asia-Pacific region thanks to affordable pricing, adaptable applications, and quick technical advancements. Due to the growing use of chemical sensors in industrial safety operations and environmental monitoring programmes, the market forecast for chemical sensors seems positive.
Market Dynamics:
Drivers:
Due to the rising demand for quick, small, precise, and portable diagnostic sensing equipment, the healthcare and biomedical industry is a significant market for chemical sensors. Additionally, nanotechnology is becoming more and more popular on the market and has significantly altered the way chemical sensors operate. In vitro sensors for diagnostics have advanced, and a few items are set to be released in the near future. Chemical nanosensors also provide point-of-care diagnostics.
Opportunities with exponential growth potential have been established as a result of the growing need for the next generation of clinical diagnostic, measuring, and monitoring sensors for use in implanted and wearable devices. The commercialization of chemical sensors for healthcare applications has significantly increased as a result of lower raw material prices and the introduction of nano- and microfabrication methods within the industrial manufacturing process.
Additionally, governments in many nations are investing in the creation of efficient diagnostic methods in response to the rising numbers of diabetes patients. For instance, the FreeStyle Libre glucose monitoring device was given nationwide reimbursement by the Ministry of Health, Labour, and Welfare (MHLW) of Japan in August 2017. Over a million Japanese citizens with diabetes, aged six and older, were to have access to the ground-breaking technology. This encouraged the adoption of chemical sensors in the healthcare industry.
The global market for chemical sensors is projected to expand as a result of rising demand from the oil and gas, as well as automotive sectors. The growing use of chemical sensors is directly related to significant breakthroughs in the automotive, medical, and other mechanical fields. Chemical sensors are used to discriminate between different substances and convert chemical data into logical indications. Due to growing ecological concerns, the necessity to monitor various pollution levels and types, as well as for purposes of national security and defence, the demand for these sensors is also growing.
Restraints:
Chemical sensors have numerous drawbacks, including noise, drift, poor sensitivity, system stability, reusability, sampling issues, measurement system, complexity and expense, and user prejudice towards technology, which restrain market expansion throughout the course of the projection period.
Opportunities:
Due to the expansion of applications across end-use sectors including the processing, medical, and motor vehicle industries, the worldwide chemical sensors market is anticipated to have considerable growth over the next seven years. Automobile sensors, food and beverage processing, chemical processing, industrial safety & emission, industrial safety systems, emissions monitoring, water & wastewater, environmental monitoring, military, and homeland security are just a few industries that employ chemical sensors. Chemical sensors are also employed in blood sugar testing strips, portable glucose monitors, cancer, renal failure, and abuse of drugs and alcohol diagnostics. The market is anticipated to grow as a result of increasing speedy and accurate detection methods driving diagnosis use in the medical industry.
Environmental monitoring, protection, and cleanup commonly employ optical chemical sensors. Optical chemical sensors are very sensitive, cumulative, stable, and resistant to electrical and biological interference. Due to all these benefits, optical chemical sensors are being developed to monitor enclosed life support systems and plant growth systems. As a result, the market for chemical sensors worldwide is anticipated to rise due to the need for optical chemical sensors.
Challenges:
One of the issues facing the market for chemical sensors is the fluctuating price of chemical sensors.
Recent Developments:
In June 2018, a new linked gas detector with a leak detection function was introduced by Honeywell, safeguarding personnel and infrastructure from lethal poisonous and explosive gas leaks.
Major Key Players:
Alpha MOS
ABB Group
Delphi Automotive PLC.
The Bosch Group
Emerson Electric, Co.
Denso Corporation
Halma plc.
Honeywell International, Inc.
Siemens AG
F. Hoffmann-La Roche Ltd
Yokogawa Electric Corporation
Market Segmentation:
By Type
Optical Sensor
Electrochemical
Catalytic Bead
Biochemical
Electrical
Thermometric
Others
By Particulate Type
By Application
Industrial
Environmental Monitoring
Medical
Oil & Gas
Automotive
Defense and Homeland Security
Others
Buy this Research Report@ https://www.precedenceresearch.com/checkout/2262
You can place an order or ask any questions, please feel free to contact at sales@precedenceresearch.com | +1 9197 992 333