The global chillers market revenue was evaluated at USD 11.07 billion in 2022 and is expected to attain around USD 17.21 billion by 2032, growing at a CAGR of 4.51% from 2023 to 2032.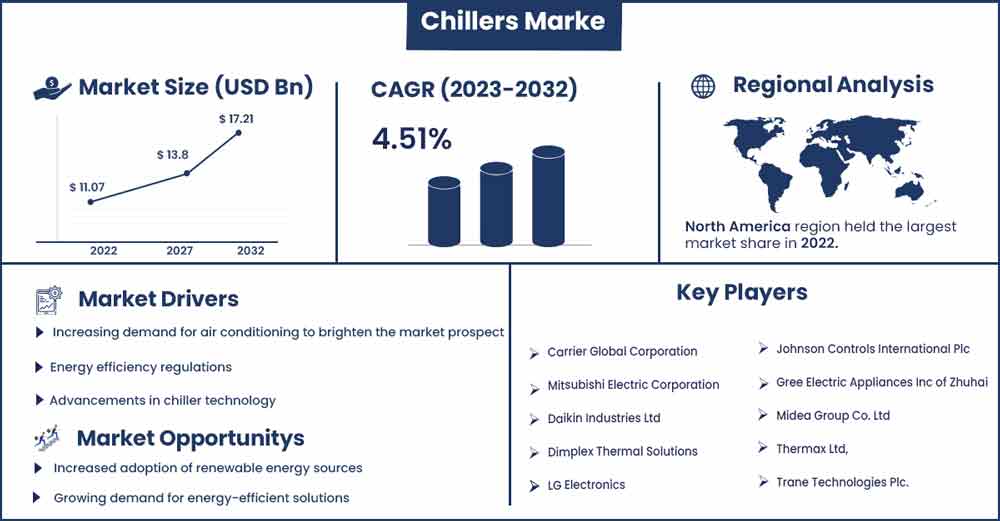 Chillers remove heat from a liquid, such as water or refrigerant, and transfer it to the environment using a heat exchanger. The chiller market includes manufacturers, distributors, and service providers who supply and maintain these cooling systems for various applications across different industries. The market size and growth of the chiller market depend on factors such as demand for cooling solutions, energy efficiency regulations, technological advancements, and environmental concerns.
The chillers market offers several advantages, including efficient cooling solutions tailored to specific needs, such as cooling for large buildings, data centers, and industrial processes. Chillers also provide consistent and reliable cooling performance, helping to maintain optimal conditions for equipment and processes that require precise temperature control. Additionally, modern chillers are designed to be energy-efficient, reducing operating costs and environmental impact. The chiller market also drives cooling technology innovation, leading to efficiency, sustainability, and performance advancements.
Regional Snapshots:
The Chillers market is expected to experience the highest market share from the North America region during the forecast period. This is due to the increasing demand for energy-efficient, environmentally friendly cooling solutions and the growing adoption of smart building technologies. The United States is the largest market in North America due to many commercial and industrial buildings and the growing adoption of green building practices. The country has a well-established infrastructure for the manufacturing, distribution, and service of chillers, and there are many leading manufacturers of chillers in the United States.
Chillers Market Report Scope:
| | |
| --- | --- |
| Report Coverage | Details |
| Market Revenue in 2023 | USD 11.57 Billion |
| Projected Forecast Revenue by 2032 | USD 17.21 Billion |
| Growth Rate from 2023 to 2032 | CAGR of 4.51% |
| Largest Market | North America |
| Base Year | 2022 |
| Forecast Period | 2023 to 2032 |
| Regions Covered | North America, Europe, Asia-Pacific, Latin America, and Middle East & Africa |
Report Highlights:
On the basis of type, it is divided into screw chiller, scroll chiller, centrifugal chiller and others. The screw chiller segment has gained a major share of the global market.
On the basis of product type, it is divided into air cooled chiller and water cooled chiller. The water cooled chiller segment has gained a major share of the global market.
On the basis of the end user, it is divided into chemicals & petrochemicals, food & beverages, medical, and others. The chemicals & petrochemicals segment has gained a major global market share.
Based on geography, the chillers market has been expected to experience the highest market share from the North America region during the forecast period.
b the Chillers market in North America is serving as the most dominating region among others. The dominance of the Chillers market is largely due to the surging demand for environmentally friendly, energy-efficient cooling solutions and the growing adoption of smart building technologies in the North American region.
Market Dynamics:
Drivers:
As the need for cooling solutions continues to grow across various industries, there is an increasing demand for chiller systems that are more efficient, reliable, and environmentally friendly. The development of new materials, such as advanced heat exchanger designs and the use of alternative refrigerants with lower global warming potential, are some examples of advancements in chiller technology that are backing the growth of the market. Additionally, integrating smart controls and digital technologies, such as artificial intelligence and the Internet of Things (IoT), makes chillers more intelligent, allowing for improved performance, predictive maintenance, and energy optimization.
As a result, the chiller market is expected to continue to grow as demand for efficient and sustainable cooling solutions increases. In addition, alternative refrigerants have lower global warming potential (GWP) than traditional refrigerants, such as R-22. These alternative refrigerants, such as R-32, R-1234ze, and ammonia, are being increasingly adopted as they are less harmful to the environment and can help industries meet their sustainability goals.
Furthermore, advancements in chiller technology have led to the development of more compact and flexible chiller systems. Miniaturized chillers, for instance, are now widely available, which offer efficient and cost-effective cooling solutions for small-scale applications. Additionally, advanced heat exchanger designs have been developed to enhance heat transfer and reduce fouling, improving chiller performance and reducing maintenance requirements. Therefore, chiller technology advancements drive demand for the chiller market as they enable industries to meet their cooling needs while reducing environmental impact and operating costs.
Opportunities:
Renewable energy sources, including wind, geothermal, and solar, generate electricity connected to the power grid or used onsite in various applications. The equipment that generates electricity, such as solar panels or wind turbines, generates heat and requires cooling to operate efficiently. Chillers are essential in cooling these systems, enabling them to perform optimally, especially in hot and humid conditions. In solar panel applications, for example, chillers are used to cool the panels to maintain their efficiency, which can decline in high temperatures. Similarly, wind turbines use cooling systems to maintain the temperature of gearboxes and other critical components, enhancing their durability and reducing maintenance needs.
In addition, chillers are used to cool geothermal power plants, which use the heat from the earth to generate electricity. Geothermal plants require cooling systems to remove excess heat from the system, allowing them to operate efficiently and optimize energy production. As the renewable energy sources demand continues to grow globally, the need for efficient and reliable cooling solutions is also increasing.
This trend drives the demand for the chiller market, as manufacturers are developing chiller systems optimized for renewable energy applications. These chillers are designed to operate efficiently at varying loads and temperatures, enhancing the performance and reliability of renewable energy systems. Thus, the increased adoption of renewable energy sources is a significant driver of the chiller market, with the potential for continued growth as renewable energy use expands globally.
Recent Developments:
In October 2019, Daikin Industries partnered with Chinese tech giant Tencent to develop smart HVAC solutions for commercial buildings.
In October 2020, Trane Technologies launched the Sintesis Balance range of chillers designed to provide greater energy efficiency and a lower environmental impact.
In April 2021, Mitsubishi Electric Corporation acquired ICONICS, a software solutions provider for building automation systems, to strengthen its position in the smart building technologies market.
Major Key Players:
Carrier Global Corporation
Mitsubishi Electric Corporation
Daikin Industries Ltd
Dimplex Thermal Solutions
LG Electronics
Johnson Controls International Plc
Gree Electric Appliances Inc of Zhuhai
Midea Group Co. Ltd
Thermax Ltd,
Trane Technologies Plc.
Market Segmentation:
By Type
Screw Chiller
Scroll Chiller
Centrifugal Chiller
Others
By Product Type
Air Cooled Chiller
Water Cooled Chiller
By End User
Chemicals & Petrochemicals
Food & Beverages
Medical
Others
Buy this Research Report@ https://www.precedenceresearch.com/checkout/2800
You can place an order or ask any questions, please feel free to contact at sales@precedenceresearch.com | +1 9197 992 333