The global heat exchanger market size was evaluated at USD 20.77 billion in 2022 and is expected to touch around USD 35.8 billion by 2030, growing at a noteworthy CAGR of 7.04% from 2022 to 2030.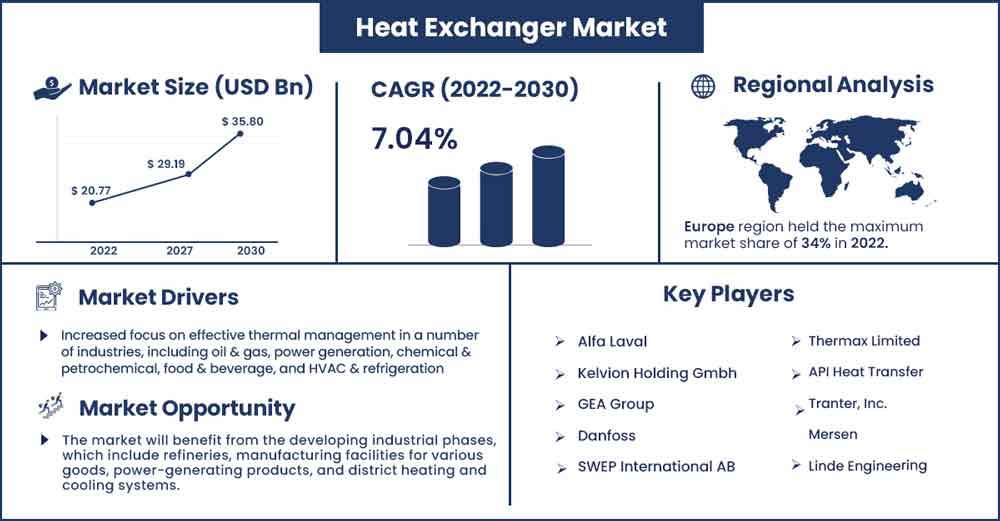 During the forecast period, the demand for heat exchangers is anticipated to increase due to the increased focus on effective thermal management in a number of industries, including oil & gas, power generation, chemical & petrochemical, food & beverage, and HVAC & refrigeration.
In the next years, the market is anticipated to be driven by rising chemical industry demand, escalating technical development, and a growing emphasis on raising efficiency requirements. The majority of petrochemical processes involve high pressure and temperature, making heat transfer optimization and energy savings enhancements necessary. As a result, the need for energy-efficient heat exchangers is projected to increase.
Due to the U.S.'s high electricity demand, industrialisation, and investments in renewable energy generation, the country led the North American heat exchanger market in 2022. The demand for these goods in the oil and gas sector is anticipated to increase as oil and gas firms increase their spending in exploration and production operations in the U.S.
By building heat exchangers and moving away from conventional energy usage, the major power markets, including China, the U.S., India, Russia, and Japan, are reorganising their operating models to match the structure of renewable energy and efficient energy use. During the projection period, this is anticipated to fuel the need for heat exchangers.
The development of the market is anticipated to be complemented by technological developments such as tube inserts in heat exchangers. Additionally, the market is anticipated to rise throughout the forecast period due to continuous technological advancements that aim to increase heat exchangers' energy efficiency, overall life cycle cost, durability, and compactness.
Report Highlights
Due to the rising need for electricity from homes and businesses, which may dominate the heat exchanger market throughout the projected period, the power-generating segment is predicted to dominate the market.
Growing electricity needs in emerging nations like China and India as a result of increased industrialization and urbanisation are anticipated to benefit the heat exchanger industry.
Due to the region's expanding industrialization in China, Japan, South Korea, and India, Asia-Pacific is anticipated to lead the heat exchanger market.
Heat Exchanger Market Report Scope:
| | |
| --- | --- |
| Report Coverage | Details |
| Market Revenue in 2023 | USD 22.23 Billion |
| Projected Forecast Revenue in 2030 | USD 35.8 Billion |
| Growth Rate from 2022 to 2030 | CAGR of 7.04% |
| Largest Market | Europe |
| Base Year | 2022 |
| Forecast Period | 2022 To 2030 |
| Regions Covered | North America, Europe, Asia-Pacific, Latin America, and Middle East & Africa |

Regional Snapshots:
In 2022, Europe dominated the market and accounted for 34% of worldwide revenue. The demand for these goods in the HVAC & refrigeration sector is predicted to increase with rising public and private infrastructure initiatives. Additionally, it is anticipated that the demand for heat exchangers that offer increased durability, improved efficiency, and less fouling would rise from a number of end-use sectors throughout the projection period.
The demand for these items in the North American area is anticipated to increase as oil and gas development activities in the U.S. and Canada increase. Additionally, rising energy consumption across a range of industrial and commercial sectors is anticipated to increase the power and energy industries, which would benefit the market for heat exchangers as a whole in the years to come.
Demand for heat exchangers in the Asia Pacific region is anticipated to grow at a CAGR of 6.2% during the projected period. Rapid modernization and increased investments in manufacturing, commercial, and industrial projects in Asia Pacific's developing nations have fuelled the market for heat exchangers in the area as a whole.
The rising investments in the chemical, petrochemical and HVAC sectors are predicted to boost the heat exchangers market in China. The government's efforts to improve the nation's infrastructure as well as factors including the expanding population are anticipated to encourage the expansion of the HVAC & refrigeration and power generation industries, which will increase demand for these goods throughout the forecast period.
Market Dynamics:
Drivers:
The main driver of the rise in demand for heat exchangers is the need to maximise thermal efficiency. Due to the rapidly growing chemicals and hydrocarbon industries, as well as a number of prospective mega power projects, the need for heat exchangers is predicted to rise dramatically. The need for heat exchangers is projected to increase as a result of the fast-growing heating, ventilation, and air conditioning (HVAC) industry and brisk capacity expansions in the power and hydrocarbons sectors. The industry's expansion is being aided by the large number of companies present in the global heat exchangers market.
Due to rising investments, falling raw material costs, and low labour costs, growing economies in APAC like China and India are likely to see rapid industrialisation, which is expected to increase demand for heat exchangers. Projects in the region including manufacturing, commerce, and industry have also helped the market for heat exchangers overall grow. The need for heat exchangers is rising due to increased demand from the chemical, HVACR, petrochemical, oil & gas, and oil & gas sectors as well as government efforts for the development of thermal and solar energy in nations like Japan and India. Additionally, the market for heat exchangers is anticipated to benefit from the rise in petrochemical product demand.
Restraints:
Manufacturers of heat exchangers are subject to changes in the price of metal raw materials including copper, aluminium, steel, and other metals.
A number of variables, including economic circumstances, exchange rates, and supply dynamics, all have a detrimental impact on manufacturers, including the volatility in raw material costs. Price changes cause significant capital projects to be postponed or abandoned, which restricts the market expansion for heat exchangers. However, pricing trends are tracked in order to marginally reduce the risk connected to pricing in order to control the risk associated with pricing volatility.
Opportunities:
A nuclear power plant's overall efficiency and electricity production are significantly impacted by its heat exchangers. The primary possibilities for market participants in heat exchangers include the expanded use of heat exchangers in nuclear reactors, the modernization of existing nuclear facilities, and proposed new nuclear power plant projects. According to Statista, as of 2022, there will be 443 nuclear reactors operating in 32 countries throughout the world, and more than 60 reactors are now under construction. This represents 29% of the current worldwide capacity and presents prospects for the heat exchangers industry.
Challenges:
During the anticipated period, the high-pressure heat exchanger market is anticipated to see slow expansion due to changing raw material costs and the relocation of major companies to emerging regions like Asia Pacific.
Recent Developments:
In 2021, In order to increase its commercial activities in North America, BOYD Corporation opened a new production site in Juarez, Mexico. The business will produce diverse designed materials and thermal systems in an automated setting using renewable energy. A quality management system will be accredited for the 40.000 square metre facility. The growth plan will increase the company's ability to produce extremely intricate liquid cooling systems, liquid cold plates, and cutting-edge rotary dies for the North American market.
In March 2022, General Electric has given Vacuum Process Engineering (VPE), a thermal engineering and manufacturing firm, a contract to provide a 14 MW fuel gas performance printed circuit heat exchanger (PCHE). It will be a component of GE's cutting-edge 7HA.02 gas turbine technology, which would deliver about 500 MW to the national grid of South Korea and steam for district heating for more than 100,000 residents.
Major Key Players:
Alfa Laval
Kelvion Holding Gmbh
GEA Group
Danfoss
SWEP International AB
Thermax Limited
API Heat Transfer
Tranter, Inc.
Mersen
Linde Engineering
Air Products
HISAKA WORKS, LTD.
Market Segmentation:
By Product
Plate & Frame

Brazed Plate & Frame
Welded Plate & Frame
Gasketed Plate & Frame
Others

Shell & Tube
Air-Cooled
Microchannel
Others
By End-Use
Chemical & Petrochemical
HVAC & Refrigeration
Oil & Gas
Food & Beverage
Power Generation
Pulp & Paper
Others
By Material of Construction
Carbon Steel
Stainless Steel
Nickel
Others (Titanium, Nickel Alloy, Copper, Molybdenum)
Buy this Research Report@ https://www.precedenceresearch.com/checkout/2316
You can place an order or ask any questions, please feel free to contact at sales@precedenceresearch.com | +1 9197 992 333