The global heat exchanger market size was exhibited at USD 19.4 billion in 2021 and is projected to surpass around USD 35.8 billion by 2030, anticipated to expand at a registered CAGR of 7.04% from 2022 to 2030.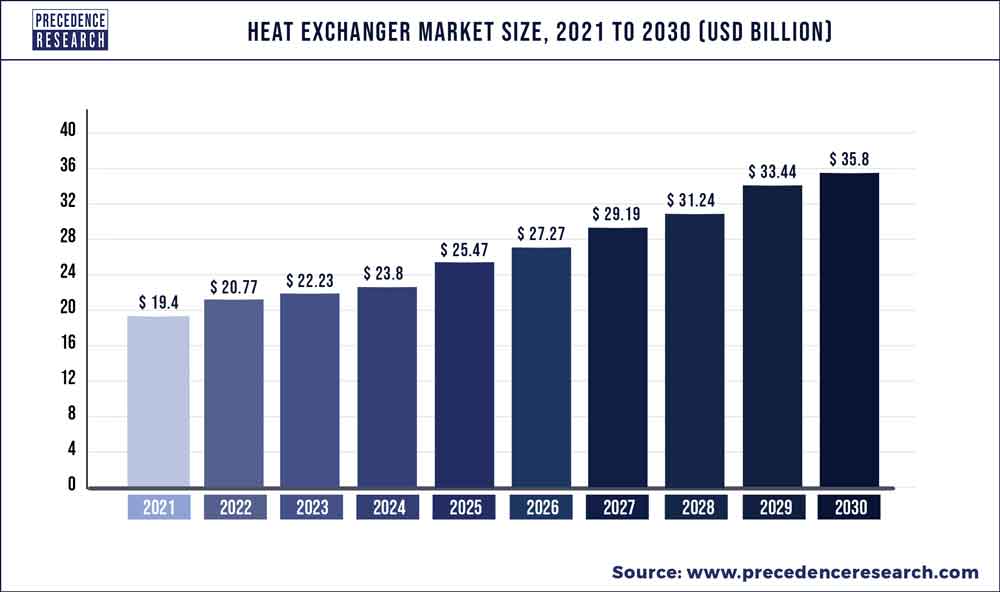 Key Takeaways:
Europe market was accounted for 33.7% of the total revenue share in 2021.
The Asia Pacific heat exchangers market is growing at a CAGR of 6.7% from 2022 to 2030.
By product, the shell & tube segment has captured 36% of revenue share in 2021. However, the plate & frame segment is growing at a CAGR of 5.6%.
By end use, the chemical & petrochemical segment has held 23.4% of the total market share in 2021.
The oil & gas industry is poised to grow at a CAGR of 4.9% over the forecast period.
Heat exchanger demand was lower than expected in all regions compared to levels prior to the global COVID-19 epidemic, which has been unprecedented and catastrophic. Our research shows that the global market will have a loss of -5.5% in 2020 compared to 2019.
The increase in HVAC installation and other industrial operations are contributing to the expansion of the global market. Increased use of heat exchangers in a variety of applications and increasing use of renewable energy sources will promote growth.
The working temperature of a system is controlled by a heat exchanger, which also recovers the heat from the wastewater. The machinery operates with two fluids or gas and fluid mixtures at various heat levels and temperatures. The primary methods of transferring heat between fluids or air are often tubes or pipes. One passes over the pipes, while the other passes through them. These are utilized in a number of different processes, including chillers, vaporizers, reboilers, evaporators, and condensation. These are crucial components for applications like air conditioning, refrigeration, chemical processing, power production, and automobiles.
This industry was threatened by the COVID-19 epidemic. The extraordinary measures required to stop the virus' spread have made working conditions difficult in several industries. As a result of the industry shutdowns caused by the illness epidemic, product demand has changed. Due to constraints from the government, the production facilities for these exchangers were shut down in various places. Even when some of the requirements were relaxed, output has been hampered by the lack of personnel. The market is anticipated to respond favorably to the pandemic with a greater desire for total district energy and renewable energy objectives as well as the requirement to meet HVAC demand. For instance, the United Kingdom's government has said that by 2030, district heating networks would be able to meet 17% of the country's heating demands.
Growth Factors
The heat exchanger is mostly utilized as cooling technology across several sectors. These exchangers can efficiently control a system's operating temperature, which is what is driving the market's expansion. The minimum temperature range for water-cooled, steam-heated, and air-cooled heat exchangers, respectively, should be about 15 degrees Fahrenheit, 20 degrees Fahrenheit, and 25 degrees Fahrenheit, according to a research study.
To avoid mixing, the medium may be in close proximity to one another or isolated from one another by a complete wall. Thermal management is becoming more and more in demand across a variety of industries, including HVAC, power generation, chemicals, and petrochemicals.
Report Scope of the Heat Exchanger Market
Report Coverage
Details
Market Size in 2022
USD 20.77 Billion
Market Size by 2030
USD 35.8 Billion
Growth Rate from 2022 to 2030
CAGR of 7.04%
Base Year
2021
Forecast Period
2022 to 2030
Segments Covered

By Product
By End-Use
By Material of Construction

Regions Covered

North America
Europe
Asia-Pacific
Latin America
Middle East & Africa

Key Market Drivers
Extensive economic growth and technological advancements would drive the market
The industry outlook will see new possibilities as a result of the rising integration of the present product line with cutting-edge and next-generation network-based solutions for better fault detection and seamless operations. The advancements in technology provide several productivity advantages as well as real-time monitoring and issue diagnosis. The Industrial Internet of Things (IIoT), among other cutting-edge technologies, is being researched and developed by a number of the industry's major companies. This addition can significantly aid in lowering system downtime, energy use, wear and tear, and efficient machine optimization.
In the last few decades, the world economy has expanded to unprecedented levels as a result of the population boom, growing incomes, and the power of the consumer. The economy's rapid expansion causes global trade to expand, which is followed by a rise in commercialization. The rising need for comfortable cooling and heating is a result of increased trade and commerce, which is helping the industry develop.
Emerging economies' industrial sectors are expanding quickly to support market expansion
Heat exchangers are essential parts of many different industries. For instance, the equipment is placed for pasteurization in the food and beverage business, and it is utilized to recover heat in the oil and gas, and power industries. In addition to their former use, they are mostly utilized as cooling equipment in the industrial sector. To control the operational temperature of the whole system, coolants flow via these exchangers. Due to increased power demand and energy requirements, the product's rising oil & gas application scope is developing together with the expansion of all the aforementioned industries. The aforementioned elements will cause an increase in the worldwide market throughout the forecast period.
For instance, China's industrial production increased by 7.5% in January 2022 as the market recovered from the COVID-19 epidemic. The Chinese government's Made in China 2025 strategy intends to turn China from a low-end manufacturing nation to a high-end manufacturing nation. Consequently, increasing industrialization will encourage the use of this technology.
Key Market Challenges
Installation, operational, and maintenance costs will limit market expansion
Heat exchangers can be used in large industrial settings, hospitals, schools, and other places. Because economies of scale are hard to overcome, these systems cannot be used for lower capacities, particularly residential ones. Market obstacles to a larger deployment still exist, including a lack of knowledge about technological uses, numerous advantages, and cost reductions, particularly in Africa and Latin America. One of the biggest market limitations is the high initial expenditure needed for installation. However, as technology develops, the cost of making these things will go down.
Pressed plates, which are less costly than the welded plates used in earlier generations, are utilized in plate heat exchangers nowadays. Additionally, pressed plates are more resistant to chemical reactions and corrosion, which degrade the product and necessitate regular replacement. Pressure dips and system leaks are two possible drawbacks of the product category. It can be challenging to detect and fix leaks in the heat transfer process. To remedy a leak, several exchangers must be completely disassembled. Similar pressure decrease throughout a plate heat exchanger necessitates inspection of every plate for flaws. These procedures have substantial operating and upkeep expenses, which are expected to impede market expansion.
Key Market Opportunities
In order to support growth, renewable energy sources for power generation should be expanded and more applications should use them
The most important source of energy for the generation of electricity is generally regarded as fossil fuels. According to the Energy Information Administration (EIA), coal is the third-largest fuel, providing over 19% of the U.S. energy output, while natural gas was used to generate about 40% of the country's electricity in 2020. These fossil fuels emit GHGs into the atmosphere. One of the key aspects that will ultimately help the acceptance of a product is the increasing use of renewable resources for power generation, such as wind and solar.
The installation of devices will be prompted by the increase in energy consumption that would result from the requirement to lower greenhouse gas emissions. In wind turbines, heat exchangers are essential because they convert solar energy from solar collectors to the liquid or air that heats water or a place. In order to further stimulate the market, the government is also focusing on renewable energy installation. For instance, Germany declared its intention to reach 20 GW of offshore wind energy production by 2030.
Additionally, practically all industrial applications employ these goods to maintain output under restricted pressure and temperature conditions and to balance temperature. The market will benefit from the developing industrial phases, which include refineries, manufacturing facilities for various goods, power-generating products, and district heating and cooling systems.
Segments Insight
Product Insights
In 2021, the industry's top-performing segment, shell & tube held the highest revenue share. Products made of shells and tubes are composed of a collection of tubes arranged in a cylindrical shell with the tube axis parallel to the shell's axis.
Applications requiring a wide temperature and pressure range, as well as transfer between two liquids, between liquids & gases, or between two gases, employ shell & tube products. These simple heat exchangers are excellent for transferring heat from steam to water. But because they take up a lot of room, it's expected that throughout the projected period, segment growth would be constrained.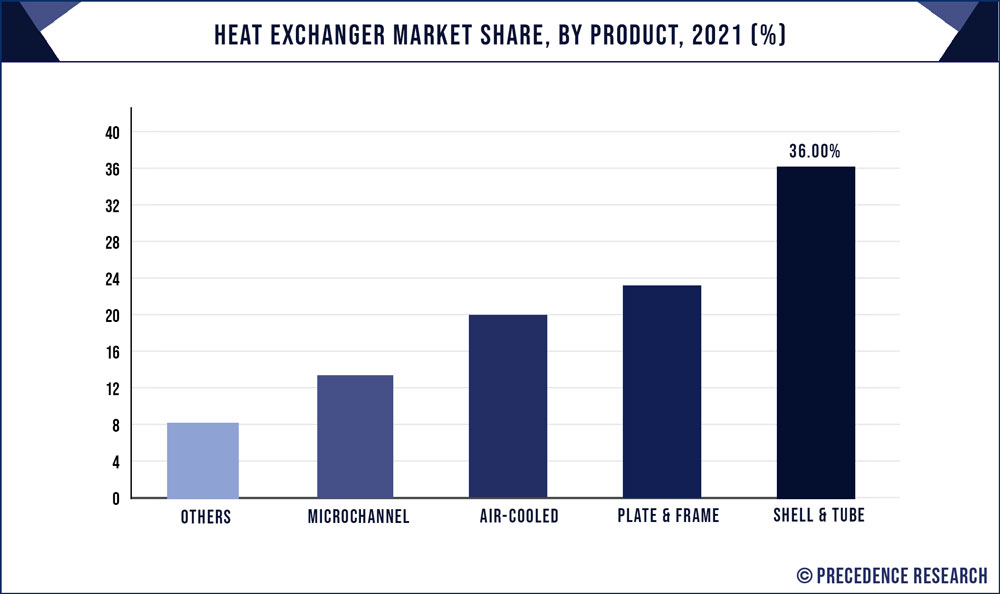 Plate-type construction consists of either smooth or corrugated plates. Depending on the level of leak tightness required, these items are categorized as brazed, welded, or gasketed. At low to medium pressures, plate & frame products are commonly utilized for liquid-liquid exchange.
Products that use air cooling, commonly referred to as air coolers, include a tube bundle, an air pumping mechanism like a blower or an axial flow fan, and a support structure. Petrochemical plants, refineries, compressor stations, gas treatment plants, power plants, and other facilities utilize these items. Products that use air cooling can be mounted either vertically, horizontally, or at an angled slope.
End-Use Insights
Chemical and petrochemical products dominated the market in 2021, making for 23.4% of total revenue demand. The petrochemical industry's expansion is projected to be aided by the increasing demand for textiles, plastics, digital gadgets, packaging, and medicinal and agricultural products.
The demand for heat exchangers in the oil and gas end-use industry will increase at a CAGR of 4.9%. The need for heat exchangers is anticipated to rise as shale gas is used more often in the manufacturing and energy sectors and as shale gas exploration operations increase as a result of technical developments in exploration.
HVAC systems would not function without heat exchangers. The need for heat exchangers in the HVAC sector is anticipated to increase as people become more conscious of the need to conserve energy and lower their energy costs. In the heat recovery procedure, which uses steam, water, air, and refrigerants, the products are employed. The market for the product is expected to increase due to the growing demand for effective heat recovery systems with excellent corrosion resistance.
Heat Exchanger Market Share, By Region, 2021 (%)
| | |
| --- | --- |
| Regions | Revenue Share in 2021 (%) |
| North America | 26.5% |
| Asia Pacific | 29% |
| Europe | 33.7% |
| Latin America | 7% |
| MEA | 4% |

Regional Insights
In the upcoming years, the Asia-Pacific region is anticipated to continue to lead and dominate the market. This can be attributed to the quick urbanization and industrialization of nations like China, Japan, and India. In 2020, Asia-Pacific had a GDP of 5.67 billion USD.
Europe's market for advanced heat exchangers is anticipated to increase significantly between 2022 and 2030, supported by the presence of strict environmental rules that place a premium on reducing carbon emissions.
In the future years, North America is anticipated to see exponential expansion. This may be attributed to elements like the existence of well-established players in a variety of industry sectors including aircraft, HVAC, aerospace, and automobiles.
Recent Developments
March 2022: Alfa Laval, a pioneer in vital heat transfer, separation, and fluid handling technologies, introduced a gasket plate heat exchanger that is expected to have an influence on several applications. The TS45 is the most advanced exchanger in the world, offering performance and adaptability.
Key Market Players
Alfa Laval (Sweden)
Kelvion Holding Gmbh (Germany)
GEA Group (Germany)
Danfoss (Denmark)
SWEP International AB (Sweden)
Thermax Limited (India)
API Heat Transfer (U.S.)
Tranter, Inc. (U.S.)
Mersen (France)
Linde Engineering (U.K.)
Air Products (U.S.)
HISAKA WORKS, LTD. (Thailand)
Market Segmentation
(Note*: We offer reports based on sub-segments as well. Kindly, let us know if you are interested)
By Product
Plate & Frame

Brazed Plate & Frame
Welded Plate & Frame
Gasketed Plate & Frame
Others

Shell & Tube
Air-Cooled
Microchannel
Others
By End-Use
Chemical & Petrochemical
HVAC & Refrigeration
Oil & Gas
Food & Beverage
Power Generation
Pulp & Paper
Others
By Material of Construction
Carbon Steel
Stainless Steel
Nickel
Others (Titanium, Nickel Alloy, Copper, Molybdenum)
By Geography
North America
Europe
Asia-Pacific
Latin America
Middle East & Africa (MEA)