The global geothermal heat pumps market size was valued at USD 9.4 billion in 2022 and is expected to hit around USD 23.18 billion by 2032 and is poised to grow at a compound annual growth rate (CAGR) of 9.5% from 2023 to 2032.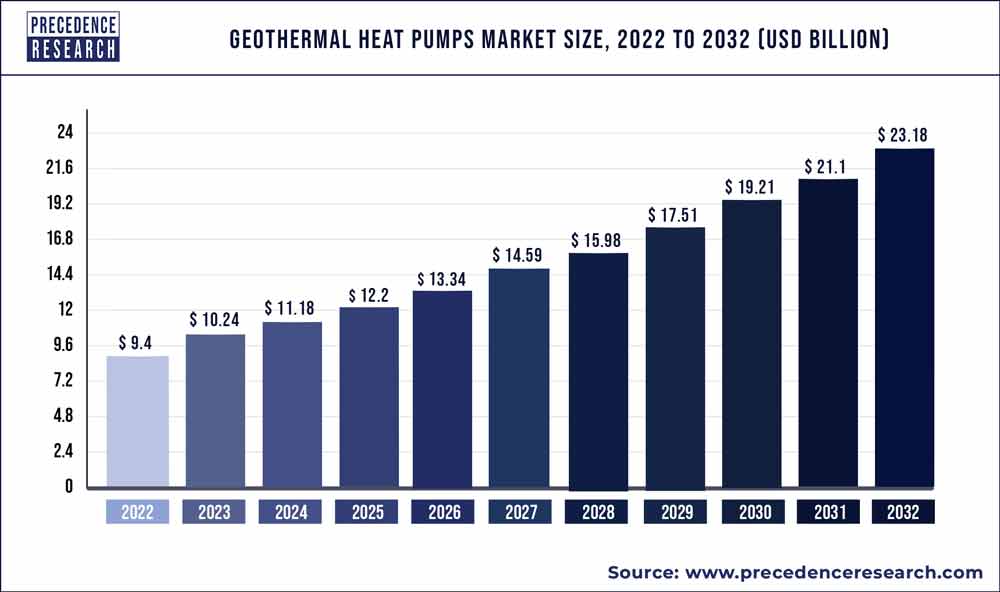 Access our Premium Real Time Data Intelligence Tool, Visit: Precedence Statistics
Key Takeaways:
By type, the closed-loop segment garnered market share of around 86% in 2022. However, the open-loop segment is growing at a highest CAGR during the forecast period.
By application, the residential segment accounted market share of around 51% in 2022. However, the commercial segment is growing at a CAGR of 8.7% from 2023 to 2032.
Developing interest for dependable, practical, and energy-productive arrangements are projected to drive market development over the estimate period. The geothermal heat siphon (GHP) separates heat from the beginning space warming, cooling, and boiling water age. Such a siphon separates heat by the even or vertical gatherer. The separated heat is normally conveyed through a hydronic circulation framework. A GHP offers higher proficiency than air-source inferable from the upside of the steady temperature of its geothermal dirt heat source. The U.S. is one of the unmistakable business sectors for a geothermal heat siphon. Expanding fossil fuel byproduct and fluctuating energy costs drove the shoppers to utilize sustainable heat sources, as most would consider to be normal to drive the item interest in the country.
Report Scope of the Geothermal Heat Pumps Drive Market
| | |
| --- | --- |
| Report Coverage | Details |
| Market Size in 2023 | USD 10.24 Billion |
| Market Size by 2032 | USD 23.18 Billion |
| Growth Rate from 2023 to 2032 | CAGR of 9.5% |
| Base Year | 2022 |
| Forecast Period | 2023 to 2032 |
| Segments Covered | Type, Application and Geography |
| Companies Mentioned | Stiebel Eltron, Ingersoll Rand (Trane), Vaillant Group, Viessmann, Glen Dimplex, Daikin, NIBE, Carrier, ClimateMaster, Inc., Bard HVAC, Spectrum Manufacturing, Dandelion, Robert Bosch LLC, Maritime Geothermal, OCHSNER |
Growth Factors
The U.S. government has good arrangements empowering the establishment of heat pumps, for example, individual tax breaks and direct impetuses on the item establishment. Further developing energy effectiveness across ventures is one of the great targets of legislatures across the world. Rising requirement for environmentally friendly power sources alongside broad government support as endowments, impetuses, and other money related benefits projected to drive the market over the estimate period. Developing populace combined with quick industrialization has brought about gigantic energy utilization across the world.
Developing utilization of petroleum derivatives, like coal, oil, and flammable gas, to meet warming necessities destructively affects the climate. Rising mindfulness about environmental change and ozone depleting substance emanations is supposed to help the interest for energy-proficient items and advances. Besides, unofficial laws and outflow principles are projected to expand the interest for energy-saving items, for example, geothermal heat pumps, in the modern and residential areas, accordingly supporting business sector development.
Geothermal heat pumps are a famous option for different modern applications in the residential, business, and modern areas as they save energy, help to diminish air contamination, no prerequisite of fuel, and are more powerful at cooling and warming the space. Geothermal heat pumps are supposed to turn out to be more unmistakable throughout the span of the projection time frame because of rising interest for in fact progressed frameworks and open to lodging arrangements because of rising discretionary cashflow.
New structure neglects to stay aware of the rising interest while a critical part of the more seasoned residential properties in emerging nations weakens. Subsequently, the real estate market has a flourishing redesign, fix, and support upkeep industry. Likewise, it is guessed that throughout the following quite a while, interest for geothermal heat pumps will build because of the developing requirement for extra framework and land extensions.
Geothermal heat pumps use less power than customary frameworks, which brings down utility costs. As they don't utilize petroleum products, these frameworks are additionally eco-more amiable than customary heat pumps. Also, because of the world's consistent temperature, geothermal heat pumps can work really in any environment, whether it is hot or cold. The interest for geothermal heat pumps is expected to ascend because of these previously mentioned reasons all through the expected estimate period.
The improvement of eco-accommodating and energy-effective items is supposed to be advanced by positive government drives empowering the sending of energy-saving innovations. Furthermore, space warming and cooling frameworks are a critical reason for an unnatural weather change. Geothermal heat pumps are very energy-proficient and eco-accommodating, in this way interest for geothermal pumps is expected to increment all through the projection period.
In the modern and residential areas, it is likewise guessed that guidelines and outflow principles would prompt a more prominent interest for energy-saving items. An heat siphon approximates a 300 % productivity by creating 4 KW of nuclear power for each KW of energy it consumes. The IEA gauges that heat pumps add to a yearly decrease of 9.16 million tons of CO2 emanations across the EU by diminishing CO2 utilization. Subsequently, the market for geothermal heat pumps is expected to ascend all through the extended period because of the rising interest for energy-effective arrangements and a growing carbon impression around the world.
The geothermal heat siphon has a high introductory expense for buying a geothermal framework, and the expense of establishment is joined by high work costs as well as the expense of penetrating and removal. The cost of supplanting the old siphon likewise incorporates the cost of eliminating and discarding the wiring, ventilation work, and lines expected for the new framework to accurately work. Moreover, the geothermal framework needs ability to work, which brings about high utility expenses and a huge carbon impression. The market for geothermal heat pumps is expected to see specific development limitations throughout the figure period due to the previously mentioned factors.
Key market Drivers
Contribution of heat siphon innovation to lessen carbon impression
Energy is a fundamental power source in homes, medical clinics, and schools, among others. Be that as it may, its creation and utilization bring about the outflow of ozone harming substances in huge volumes. Consequently, significant economies across the globe are intending to decrease their reliance on non-sustainable power sources and are step by step leaning toward sustainable power sources to limit the outflow of ozone harming substances. The heat siphon innovation is a promising answer for bringing down ozone harming substance outflows.
Heat pumps through aerothermal and geothermal advancements offer an energy-proficient way to deal with space warming. The heat siphon is much of the time viewed as a practical innovation when utilized in warming, ventilation, and cooling (HVAC) frameworks. In the residential, business, and modern areas, heat pumps are generally utilized for space warming, cooling, and warming water. Air and land have huge stores of nuclear power.
The heat siphon is link of extricating up to 77% of the energy from the air. Hence, the utilization of heat siphon can cut down the petroleum derivative utilization impressively when contrasted with substitute mechanisms of heat move, in this manner bringing down the carbon impression. This component is expanding the quantity of heat siphon establishments across all areas and driving business sector development.
Key Market Challenges
High introductory establishment costs- Heat pumps are generally utilized in the residential, business, and modern areas as they help in expanding energy productivity, lessening energy expenses, and bringing down fossil fuel byproducts. The interest for air-source heat pumps is high as they are more affordable and productive to offer warming administrations to homes and little business structures. Geothermal heat pumps are regularly costlier to introduce; be that as it may, they are more productive and can take care of enormous structures. High-thickness polyethylene pipes are required to have been introduced underground for geothermal heat pumps, which requires something like 3 days for a group of trained professionals.
Key market opportunities
Increasing incorporation of Internet of Things (IoT) and other cutting-edge innovations with heat pumps
Web of Things (IoT) based heat pumps empower constant checking, prescient upkeep, and distant diagnostics of parts. The Internet of Things (IoT)- based heat pumps comprise of brilliant indoor regulators that assist with observing ecological changes and speak with their water warmer gear. End clients from various areas are progressively embracing heat pumps. Nonetheless, their plans and tasks have stayed unaltered. Computerization and far off activities have been first concerns in creating cutting edge heat pumps for simplicity of tasks. The heat pumps are outfitted with LCDs and advance notice pointers to make them justifiable.
The significant market players, for example, Panasonic and Samsung are zeroing in on coordinating various advancements into their heat pumps to guarantee simplicity of activities and upkeep. Research is additionally being directed worldwide for consolidating AI and man-made consciousness in heat pumps to lessen power utilization and improve proficiency. As an occurrence, the scientists at Swiss Federal Institute of Technology Lausanne (EPFL) are utilizing AI to plan a blower, expecting to lessen power utilization by 25%. The group utilized AI techniques to create conditions for heat siphon configuration graphs in view of the result of 500,000 reenactments.
The heat pumps coordinated with AI and computerized reasoning can concentrate on shoppers' use designs and examine their functional time and term, subsequently killing the necessity of turning them on or off genuinely. These variables are supposed to fuel the interest for heat pumps and set out rewarding open doors for the market players.
Segmental Insights
Type Insights
The closed loop type portion represented the biggest market share in 2022 by virtue of popularity for these items because of their effectiveness, low upkeep cost, and high strength. Closed loop GHP utilizes different loops of interconnected pipe covered in the ground. A water or radiator fluid arrangement streams persistently through the line. Geothermal heat is assimilated into the arrangement streaming in the closed loop.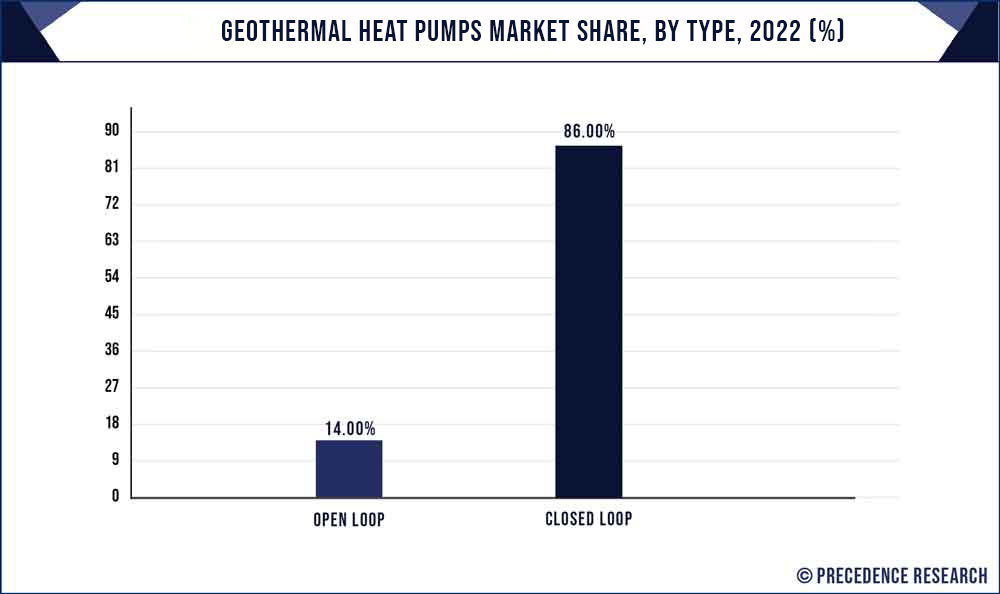 Contingent on the sort of land and space accessibility, closed loop GHP can be introduced in a flat or vertical design. Level setup requires a significant measure of ground region. The level loop pipes are covered in channels 6 to 10 feet down and 100 to 400 feet in length. The channeling of the even loop is normally curled and stacked to give a bigger region to warm exchange.
Application Insights
The residential application section drove the market by representing an income portion in 2022 by virtue of the developing interest for energy-proficient items that are intended for space warming, cooling, and heated water age applications in homes and lofts. Even closed loop GHPs are broadly utilized in the residential application section.
The residential area is one of the thriving areas, as would be considered normal to move the interest for GHP. Ideal government drives and assessment discounts presented on the establishment of energy-saving items are projected to expand the interest for GHP in the residential area. Northern nations, specifically, use GHP for the purpose of warming because of cold temperatures.
Geothermal Heat Pumps Market Share, By Region, 2022 (%)
| | |
| --- | --- |
| Regions | Revenue Share in 2022 (%) |
| North America | 22% |
| Asia Pacific | 38.5% |
| Europe | 28% |
| Latin America | 7% |
| MEA | 4.5% |

Geography Insights
The Asia Pacific represented the biggest piece of the pie of 38.5% as far as income in 2022. The geothermal heat siphon market in the Asia Pacific is anticipated to fill fundamentally before long because of the rising pattern of moving creation bases toward arising economies, principally China and India, as most would consider to be normal to emphatically impact the market development of geothermal heat pumps over the estimate period. Energy-saving arrangements are anticipated to acquire importance in China, Japan, Indonesia, and India.
Recent Developments
In Oct 2021, Carrier Global obtained Nlyte Software, a forerunner in server farm foundation the executives (DCIM) programming. The advancement will add computerized answers for the HVAC business portion.
In June 2021, DENSO and NTT Data declared the consummation of a joint check test to further develop portability encounters by utilizing information on vehicle and human streams. The test means to further develop versatility encounters and administrations, as well as to help organizations in drawing in possible clients with the changing shopper conduct.
Key market players
Stiebel Eltron
Bard HVAC
Ingersoll Rand (Trane)
Vaillant Group
Viessmann
Glen Dimplex
Daikin
NIBE
Carrier
ClimateMaster, Inc.
Spectrum Manufacturing
Dandelion
Robert Bosch LLC
Maritime Geothermal
OCHSNER
Segments covered in the report
(Note*: We offer report based on sub segments as well. Kindly, let us know if you are interested)
By Type
By Application
Residential
Commercial
Industrial
By Geography
North America
Europe
Asia-Pacific

China
India
Japan
South Korea
Malaysia
Philippines

Latin America

Brazil
Rest of Latin America

Middle East & Africa (MEA)