The global data fabric market size is anticipated to reach around USD 8.9 billion by 2032 up from USD 2.1 billion in 2022 with a CAGR of 15.54% between 2023 and 2032.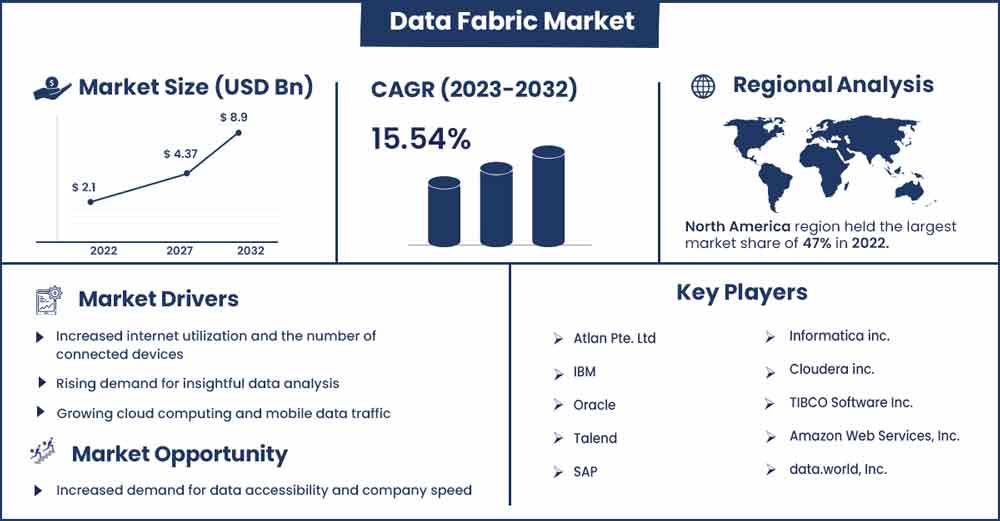 The data fabric market is anticipated to be significantly impacted by the quick development of both structured and unstructured business information across a range of sectors during the forecast period. The market is mainly being driven by the adoption of data fabric solutions in various sectors, including retail and e-commerce, banking and telecoms, healthcare, and BFSI, as well as the rising demand for real-time live data analysis. In the upcoming years, the data fabric industry is likely to be dominated by consumers' absence of worry.
Additionally, it is anticipated that the adoption of software-based technologies will increase the potential of the data fabric industry over the anticipated period. Big Data Fabrics are anticipated to streamline and decentralize the analytic processes, producing priceless insights from the enormous amount of data.
The growth of online networks and the digital revolution have increased data generation. The businesses continue to use the knowledge and skills they have learned from various far-off sources. Therefore, giving quick access to the data over vast landscapes presents some difficulties for data administration service companies. Due to the spread and diversity of their company data assets, which increases the intricacy of data administration and data integration, businesses are more likely to implement data fabric.
Data production has grown as a result of the development of online networks and the digital transformation. The companies continue to apply the expertise and knowledge they have acquired from numerous distant sources. Therefore, data administration service businesses face some challenges in providing fast access to the data across extensive landscapes. Businesses are more apt to use data fabric because of the spread and variety of their company's data assets, which raises the complexity of data administration and data integration.
Due to different data sources, corporate leaders find it difficult to make choices that are completely informed. The Business Resiliency Data Fabric is an advanced data design approach developed by Ernst & Young (EY) that makes it possible to view data from any location. Data fabric accelerates technical advancement but also raises data disorder. Elastomeric control has helped doctors start offering telemedicine. The need for internet access, improved business, and an increasing desire for real-time streaming analytics, along with an increase in the volume and variety of business data, have all led to the emergence of these strategies and helped the data fabric market expand.
Regional Snapshots:
A unusually large percentage of the worldwide market for data fabrics is held by North America due to the large number of businesses providing data management solutions in the U.S. One of the leaders in the acceptance of cutting-edge technologies is thought to be this region. The growth of unstructured data gathering and the supremacy of data centers in the US are the primary market factors.
The Middle East and African industries are seeing an increase in demand as a result of the use of cloud and IoT, upcoming mobile business analytics, and domain-specific solutions. Similar to this, the South American market is growing as a result of organizations of all kinds implementing analytical solutions rapidly, an industry-wide emphasis on automation and fraud protection, and growing demand for software as a service (SaaS).
Data management system usage is becoming more feasible in Europe as big data technologies advance at an extremely rapid rate. Due to the increased use of electronic devices and networks, advancements in information and communication technology, and the digitization of industrial processes, daily amounts of data are generated by societal and commercial activities. The United Kingdom, Germany, France, Russia, the Baltic countries, and Italy are some of the main countries in Europe.
Asia Pacific is expected to experience the fastest growth rate over the course of the projection period. An increase in data centers and a more rapid move toward digitization are two factors that may promote the usage of the answer in the Asia Pacific region. China is the second-largest country in the globe after the United States in terms of data center usage.
Data Fabric Market Report Scope:
| | |
| --- | --- |
| Report Coverage | Details |
| Market Revenue in 2023 | USD 2.43 Billion |
| Projected Forecast Revenue by 2032 | USD 8.9 Billion |
| Growth Rate from 2023 to 2032 | CAGR of 15.54% |
| Largest Market | North America |
| Base Year | 2022 |
| Forecast Period | 2023 to 2032 |
| Regions Covered | North America, Europe, Asia-Pacific, Latin America, and Middle East & Africa |
Report Highlights:
The service industry dominated the data cloth market in 2022, accounting for about 80% of total income. The industry is anticipated to hold onto the biggest share throughout the entire forecast term.
The majority was retained by the on-premises market group in 2022 with a revenue share of over 62%. On-premises deployment appears to have a lower market share than cloud at the end of the forecast period because of its expensive starting capital costs as well as continuing support and operating costs.
In 2022, the disk-based sub-segment outperformed the data fabric type market with a sales share of more than 78%. The industry is expected to maintain a sizable share throughout the forecast term.
The big company sector had the greatest income share in 2022, exceeding 69%. Digital data is used extensively by larger businesses, and this tendency is expanding.
In 2022, the BFSI sector had the highest income share of over 23%.
Market Dynamics:
Drivers:
It is expected that increasing consumer demand for data access and corporate agility will drive market revenue development. Big data solutions are being used by businesses to arrange data and give fast access to it. The market demand for data accessibility will have shifted from the implementation of big data solutions to fast data accessibility designs, including data fabric, as a result of the functionality of big data platforms, which are rapidly opening up new possibilities for organizations. Data fabric is gaining popularity as a result of its complete approach to managing data in a safe, effective, and future-proof way. As a result, high corporate agility and data accessibility are made feasible, which is driving the revenue development of the data fabric market.
Restraints:
Maintaining low production costs while raising the standard of data fabric is a significant task for the industry. As a result, the ultimate cost to the customer will be significantly reduced.
Opportunities:
The market growth rate will be influenced by the rise in demand for real-time streaming data and the expanding need for company speed and accessibility. Additionally, the market for data fabric will expand more quickly due to factors like the increasing usage of cloud computing and the amount and diversity of corporate data that is becoming available. The market is also being fueled by the rapid uptake of data fabric platforms, which allow tools and apps to access data through a variety of protocols that a company may have set up. Additionally, increasing positive return on investment (RoI) and the advancement of in-memory processing will expand the favorable prospects for the expansion of the data fabric market.
Challenge:
Some factors, such as a dearth of knowledge about data fabric and a scarcity of qualified pros, are impeding the development of the market's income. In addition, there are a number of variables that are anticipated to limit market revenue development over the course of the projection period, including a dearth of investment in more modern technologies and integration issues with legacy systems. To reap the benefits of adopting data fabrics, businesses today need to learn more about how they can keep and evaluate important real-time data resulting from a variety of business occurrences.
Recent Developments:
Teradata announced an update to Teradata QueryGrid in July 2021. It increased Vantage's hybrid multi-cloud capability with more cloud-native features and provided Teradata customers with access to data and analysis across a variety of heterogeneous devices and public cloud providers. It gives customers access to data and insights covering heterogeneous devices and public cloud providers thanks to new cloud-native features.
SAP launched a new edition of SAP Data Intelligence in December 2021. Deployment and distribution, metadata and control, pipeline modeling, connectivity and integration, and intelligent processing are among the characteristics of the upgrade. There is an on-premises version of the SAP Data Intelligence tool.
Major Key Players:
Atlan Pte. Ltd
IBM
Oracle
Talend
SAP
Informatica inc.
Cloudera inc.
TIBCO Software Inc.
Amazon Web Services, Inc.
data.world, Inc.
Segments Covered in the Report:
By Component
By Deployment Type
By Type
Disk-based Data Fabric
In-memory Data Fabric
By Enterprise Size
Small and Medium Enterprise
Large Enterprise
By Business Applications
Fraud Detection and Security Management
Governance, Risk and Compliance Management
Customer Experience Management
Sales and Marketing Management
Business Process Management
Other Applications
By Industry
BFSI
Telecommunications & IT
Retail & Ecommerce
Healthcare
Manufacturing
Transportation & Logistics
Media & Entertainment
Others
Buy this Research Report@ https://www.precedenceresearch.com/checkout/2734
You can place an order or ask any questions, please feel free to contact at sales@precedenceresearch.com | +1 9197 992 333