The global dermatology diagnostic devices and therapeutics market size was evaluated at USD 13 billion in 2022 and is expected to attain around USD 25.69 billion by 2032, growing at a CAGR of 7.1% from 2023 to 2032.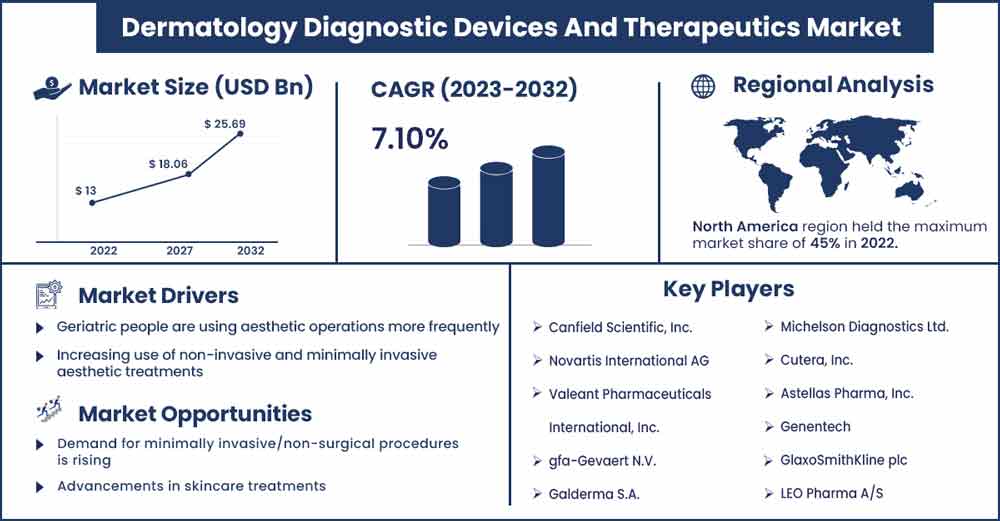 In order to diagnose and treat skin conditions, dermatology equipment is required. The instruments are used in skin-care treatments such as photodynamic therapy, electrodessication and curettage, topical chemotherapy, Mohs micrographic surgery, cryosurgery, and skin biopsy. Skin cancer is increasing in frequency as ozone layer deteriorates. Skin cancer diagnostics is one of the market's main application segments. Cosmetic surgery is becoming more and more popular due to the widespread fixation with looks.
Most surgical treatments typically leave scars and other traces behind. Patient expectations for quicker treatments and outcomes are predicted to lead to an increase in the demand for equipment-based processes such laser and radio frequency therapies. Laser treatments eliminate persistent issues and lessen the possibility of developing new issues, such as extra facial hair growth and pigmentation abnormalities.
Additionally, laser therapy is very less uncomfortable than other treatment options, that makes it easier for patients to acclimate. As a consequence, it is projected that the advantages offered, such as pain alleviation and a reduction in medication use, would give the profit potential aimed at the rise of the dermatological devices industry. Many individuals are supporting the use of technology to enhance aesthetic appeal. The advancement of dermatological equipment technology also contributed in the growth of the company.
Rising disposable income is also a key factor supporting market development. As more people throughout the world receive melanoma and non-melanoma skin cancer diagnoses, the market for dermatology diagnostic devices and therapeutics is anticipated to expand. Various skin conditions are brought on by a mix of age, hereditary issues, and environmental factors.
The use of cutting-edge technology for dark spot removal is also projected to increase product demand over the forecast period. The COVID-19 scenario provided a barrier to the dermatology diagnostic devices and therapeutics market's expansion in addition to the market's ongoing growth. For instance, during the crisis, dermatologists encountered a scarcity of equipment, such as the personal protective gear needed for illness diagnosis. The supply chain mechanism for transferring dermatological equipment from manufacturers to diagnostic facilities was disrupted as a result of the tight limitations imposed by governments across different countries.
Despite the decline, the market for dermatology diagnostic devices and therapeutics has begun to recover thanks to technical developments, which is driving the industry's expansion. People are becoming more aware of skin rejuvenation and other skin treatments for maintaining an attractive appearance. This has been made feasible by dermatological products that include cutting-edge technology, which has increased product demand and boosted market growth internationally.
Report Highlights:
In recent years, the therapeutic device market segment had the largest share. The availability of a wide range of dermatological treatment applications is the main factor fueling the market's growth.
The hospital segment, which according to end-user accounted for 55% of the market in 2022, is anticipated to grow over the course of the forecast period as hospitals embrace cutting-edge dermatological equipment.
Based on application, the market for hair removal treatments is predicted to grow rapidly throughout the forecast period.
The fastest rate of market growth is predicted for the Asia Pacific region. The rapidly growing medical tourism sector in Asia and the Pacific, which is being propelled by the availability of fairly cost treatment options, is predicted to be the main driver of regional market development.
Dermatology Diagnostic Devices And Therapeutics Market Report Scope:
| | |
| --- | --- |
| Report Coverage | Details |
| Market Revenue in 2023 | USD 13.87 Billion |
| Projected Forecast Revenue in 2032 | USD 25.69 Billion |
| Growth Rate from 2023 to 2032 | CAGR of 7.1% |
| Largest Market | North America |
| Base Year | 2022 |
| Forecast Period | 2023 To 2032 |
| Regions Covered | North America, Europe, Asia-Pacific, Latin America, and Middle East & Africa |

Regional Snapshots:
Geographically speaking, because the United States is a developed nation, North America is the most lucrative location for companies selling diagnostic and therapeutic dermatological products worldwide. The market for dermatology in North America was worth US$302.5 million as of 2022, and from 2023 to 2032, demand is expected to grow there at the most encouraging CAGR of 7.64%. The huge patient base of skin conditions including impetigo, psoriasis, and melanoma of the skin drives the U.S. dermatology business. Asia Pacific is showing more growth potential than Europe, which is now the second-most lucrative area.
Market Dynamics:
Drivers:
The market expansion for dermatological diagnostic equipment is largely driven by the rising incidence of melanoma and other skin-related illnesses. The American Cancer Society estimates that 96000 new cases of melanoma were detected in the country in 2019. By the end of 2020, the United States was expected to have reported 100350 new cases of melanoma and 6850 fatalities, according to the Cancer Statistics Centre. In order to identify skin cancer, new gadgets have been created in the US employing artificial intelligence.
Due to the lack of precision, the researcher is continuing working on dermatological detecting equipment. The U.S. Food and Drug Administration held seminars to discuss dermatological diagnostic tools used to treat skin conditions, which spurs industry expansion. In the upcoming years, the industry will grow as there are more home-based devices available to treat skin diseases. This development was made feasible by the accessibility of radio frequency, ultraviolet B phototherapy, light emitting diodes, laser diodes, powerful pulsed light, and light emitting diodes.
It is also projected that increasing aesthetic consciousness among consumers and skin rejuvenation will fuel demand for dermatological diagnostic tools. Additionally, a growing variety of treatment alternatives and facilities will enter the dermatological diagnostic and therapeutic market in clinics and hospitals. The market is expanding as a result of the increased demand for less invasive cosmetic procedures for skin conditions.
Restraints:
The COVID 19 pandemic's lockdown and supply chain disruption limited industrial activities, which made it difficult for the market to grow. The dermatology diagnostic devices and therapeutics market saw negative growth as additional procedures outside of COVID-19 were entirely halted.
Opportunities:
The market for dermatological diagnostic tools is anticipated to expand during the next several years. Growing public interest in skin-improvement procedures has given the industry additional opportunity to flourish. Men and women are becoming more interested in the issue of skin care. Cosmetic items have also risen to the front of the public's attention as a result of the creation of well-known images based on personal grooming.
Recent developments in dermatology have opened up new prospects for the global market for dermatological diagnostic devices. The industry is expanding as a result of dermatologists' focus on creating novel treatment options for rashes and skin infections.
Challenge:
The market expansion of dermatological diagnostic devices and therapies is being hampered by the diagnostic devices' extremely high pricing and high cost. Advanced technology also calls for specialists, yet practitioners lack the expertise to treat increasingly serious skin conditions, which might slow the market's expansion for dermatological diagnostic and treatment equipment.
Recent Developments:
TheraClear Device, FDA-approved acne clearing device, was bought by medical technology company STRATA Skin Sciences, Inc. in January 2022 from Theravant Corporation.
STRATA Skin Sciences, Inc. purchased the American dermatology section of Ra Medical in Aug 2021. With the present client base of 400 dermatological offices that Ra Medical now serves, this purchase allowed STRATA to immediately provide its complete business solution.
In August 2020, LASEROPTEK Co., Ltd., pioneers in the development of lasers, got FDA clearance for the PALLAS laser, that is used to treat atopic dermatitis, vitiligo, leukoderma, and other illnesses.
Major Market Players:
Canfield Scientific, Inc.
Novartis International AG
Valeant Pharmaceuticals International, Inc.
gfa-Gevaert N.V.
Galderma S.A.
Michelson Diagnostics Ltd.
Cutera, Inc.
Astellas Pharma, Inc.
Genentech
GlaxoSmithKline plc
LEO Pharma A/S
Dino-Lite Europe/IDCP B.V.
Market Segmentation:
By Diagnostic Devices
Dermatoscopes
Microscopes and Trichoscopes
Imaging Equipment
By Application Class
Diagnostic Devices

Skin Cancer Diagnosis
Other

Treatment Devices

Hair Removal
Skin Rejuvenation
Acne, Psoriasis, and Tattoo Removal
Wrinkle Removal and Skin Resurfacing
Body Contouring and Fat Removal
Cellulite Reduction
Vascular and Pigmented Lesion Removal
Others
By End Use
Buy this Research Report@ https://www.precedenceresearch.com/checkout/2409
You can place an order or ask any questions, please feel free to contact at sales@precedenceresearch.com | +1 9197 992 333