The global bearing market size accounted for USD 130.22 billion in 2022 and is predicted to hit over USD 279.83 billion by 2032 with a registered CAGR of 8% during the forecast period 2023 to 2032.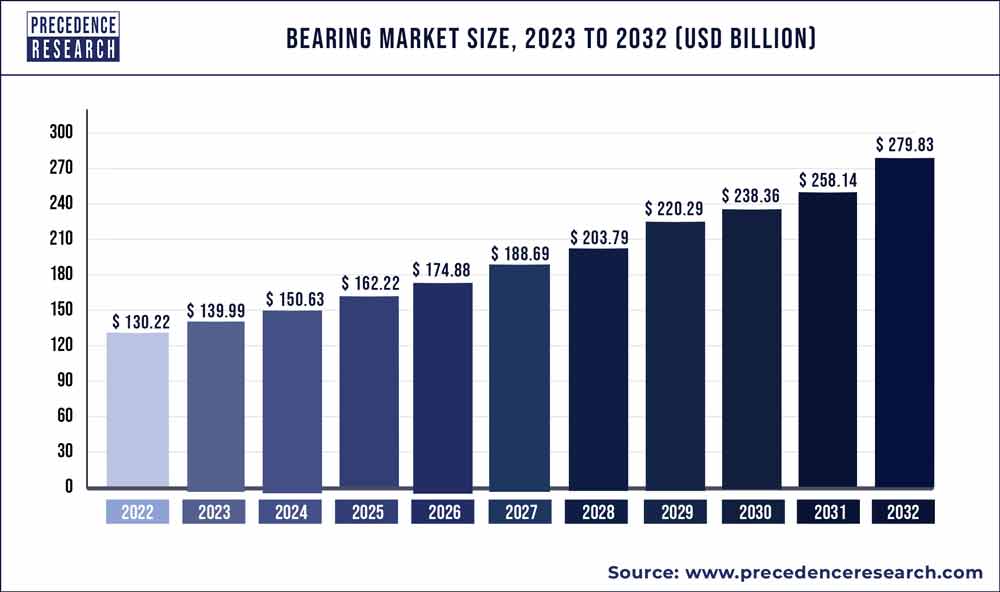 Bearings are basically employed in each type of machinery or equipment, ranging from farm equipment, automobile parts, and household machines to aerospace and defense equipment. Bearings find use in several applications in automotive sector including interior, wheel hub, transmission system and engine. Continuously rising vehicles production, augmented demand from the emerging nations and growing need for technologically enhanced solutions are driving the growth of bearing market in automotive industry across the world. Since, last few years, there has been escalating demand for bearings having greater efficiency, lesser maintenance, and extended service life.
The ball bearings contain spherical rolling elements and are used for lesser loads, whereas roller bearings have cylindrical rolling components and are used for larger loads. The linear bearings are used to travel linearly along shafts and may also be able to rotate. The mounted bearings are bearing assemblies that are pre-assembled in mountings that are fastened to frames and other structures, and are used to support the ends of shafts and other structures.
Aside from the ball and roller bearings in linear, radial, and mounted forms, bearings include slide bearings for civil engineering purposes, jewel bearings for small instruments, and very specialized bearings known as frictionless bearings, which include magnetic and air variations.
Bearings are a sort of machine element that help to reduce friction between moving parts by supporting relative motion. The automobiles, mining machinery, wind turbines, agricultural equipment, and machine tools all need bearings. It is used in automobiles to ensure that electric vehicles and other type of automobiles to run smoothly. Due to increased use of bearing materials in various end use sectors, electric vehicles and rolling mills, the global bearings market is growing at a rapid pace. The technological advancements have increased the overall efficiency and shelf life of bearing products in the automotive industry.
Growth Factors
The demand for electric vehicles will be primarily driven by an increase in automobile sales and increased adoption of these vehicles. On average, a passenger automobile has 35 bearings, which vary substantially depending on the model of the vehicle and the widely used technology. The most recent technological advancements in automatic dual-clutch transmissions necessitates the installation of three additional bearings, two main shafts of the second gearbox and one on the dual-clutch. Furthermore, the development of high-capacity bearings in combination with better lubrication performance will boost the growth of the bearings market.
The bearings are important for delivering energy to a few spinning elements and sustaining load-bearing features of various mechanical devices. The increased demand for specialized solutions to satisfy industry specific needs such as aircraft support systems, gas meters, and medical imaging equipment will boost the growth of the bearings market significantly during the forecast period.
The factors such as increased bearing usage in railways and rolling mills followed by increased bearing usage in motor, desire for automotive electrification, and demand for bearing in continuously variable transmission have boosted the global bearings market's demand. On the other hand, the global bearings market's growth is hampered by bearing damage caused by electric automobiles, fluctuating raw material prices, increasing vehicle electrification, and expensive maintenance costs.
Furthermore, the rising concern about green vehicles and constant development in the automotive and automobile industry, as well as the emergence of sensor bearing units and the advancement and improvement of additive manufacturing technologies and materials to manufacture bearings, are factors that provide lucrative opportunities for the growth of the global bearings market over the projection period.
Product Insights
Different product segment in global bearing market includes roller bearing, ball bearing, and plain bearing among others.
In 2021, the roller bearings segment garnered the revenue share of over 45%. The roller bearings are more efficient than their alternatives in reducing rotational friction, supporting axial and radial loads, and sustaining restricted axial loads and strong radial loads.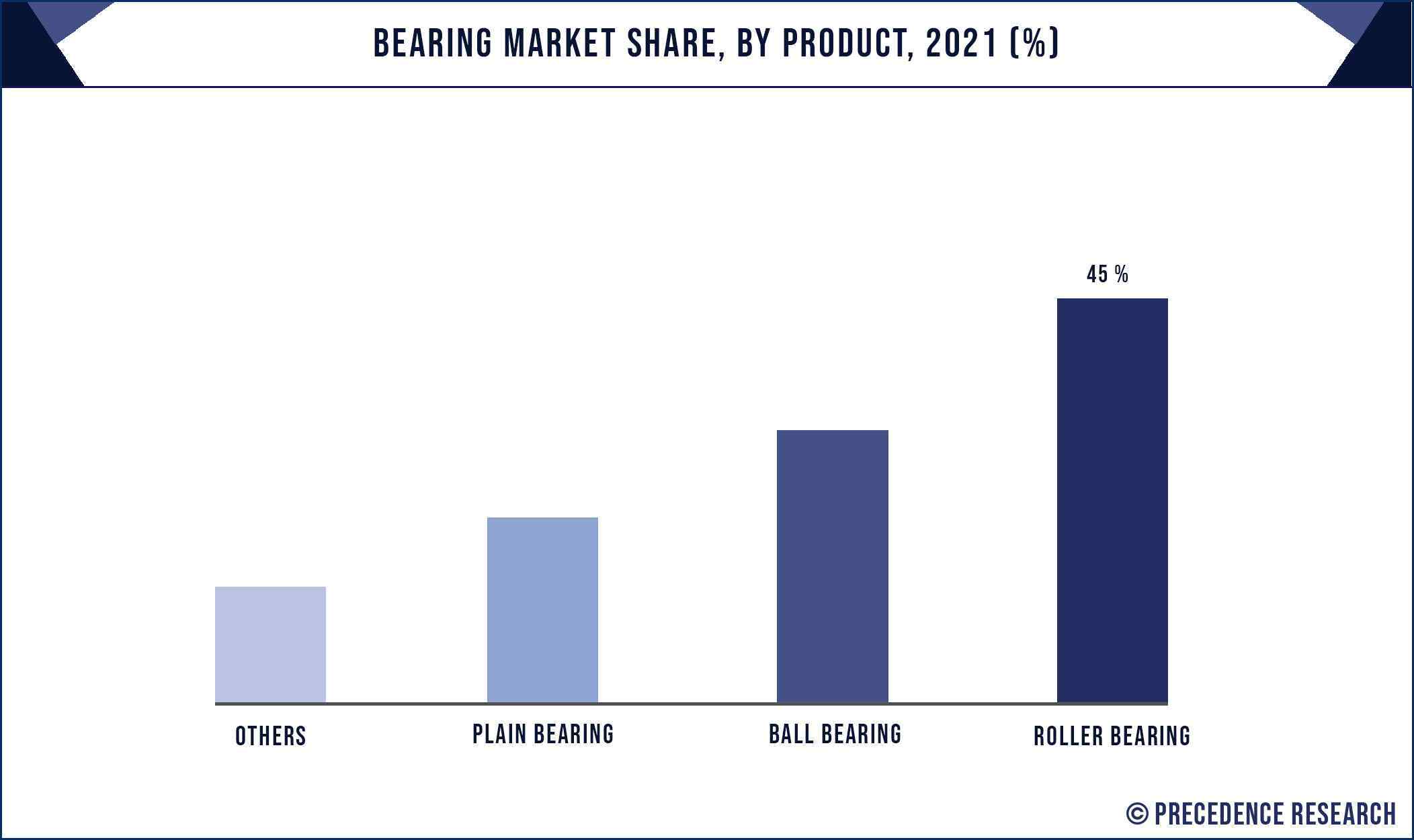 The ball bearings segment is predicted to develop at the quickest rate in the future years. The ball bearings feature a lower surface contact area, which helps to minimize friction significantly. They can also be employed with axial and radial loadings, which is why these products are rapidly being used in four wheelers and two wheelers' automobiles.
Among all segments demand for ball bearing is predicted to grow at substantial rate during forecast period due to rising use of ball bearings by light vehicle manufacturers. Global light vehicle production is projected to increase in the coming years, as a result of its feature of consuming less fuel. Ball bearings are presented at a lessercost and compact nature of this product segment further support their demand among various end-use sectors.
Material Insights
Global bearing market report analyses different material segments including ceramic, plastic, and metal. The 52100 chrome steel is frequently utilized material to manufacture the load carrying components in tapered roller bearings, roller bearings and precision bearings. It also finds application in outer rings, inner, rollers and balls.
Type Insights
Different kinds of bearings employed in automobiles are truck hub units, car hub unit bearings, belt tensioner units, propeller shaft centering bearings, clutch release bearings, water pump spindles, propeller shaft support bearings, free wheel clutches and suspension bearings.
Distribution Channel Insights
Global bearing market is segmented on the basis of distribution channel into online and offline channels. North America has emerged as major bearing markets due to escalating online sales at a greater rate. Bulk online sellers are third party e-Commerce firms those offers discounts on bearings. Intensifying number of e-Commerce participants plus speedy product delivery feature is further supporting sales over the online channel.
Application Insights
Global bearing market has been bifurcated on the basis several applications into construction, aerospace, automotive, power transmission, agriculture, oil & gas among others.
The automotive segment dominated the bearings market in 2021 and garnered revenue share 50%. The demand for automobiles with technologically advanced solutions is growing, necessitating an increase in vehicle manufacturing. The rise in demand for modern automobiles, as well as the improvements in vehicle capabilities, has increased the demand for bearing in the automotive sector.
The railway and aerospace segment is fastest growing segment of the bearings market in 2020. This is attributed to rising interest in travel activities, the increasing need to replace aged fleets due to severe environmental regulatory framework, and rising fuel prices along with enhanced ways to aid transportation systems.
Bearing market growth is directly proportional to the development of industrial and automotive sector. Augmented commercial vehicles production is one of the imperative driving factors of the bearing market. Further, growing construction activities across globe also boosts the growth of the bearing market globally.
Regional Insights
Asia-Pacific region accounted revenue share of over 40% in 2021. The countries such as China and Japan are driving the bearings market growth in Asia-Pacific, where sales are predicted to surge in the next few years due to rapid expansion of machinery and automobile manufacturing, as well as a robust aftermarket for industrial equipment and automobile repair.
Sale of automotive bearings is projected to surge in the nations of Asia Pacific, primarily in India, China and Japan during coming years. Growing demand for vehicles specifically passenger cars and two-wheelers by more than 1/3rd of the world population concentrated in India and China supports the sale of automotive bearings in these nations. Bearing market is projected to experience steady growth for automotive bearings by matured markets of North America and Europe. Emerging countries such as South Africa and Brazil are anticipated to record high growth rate during forecast period.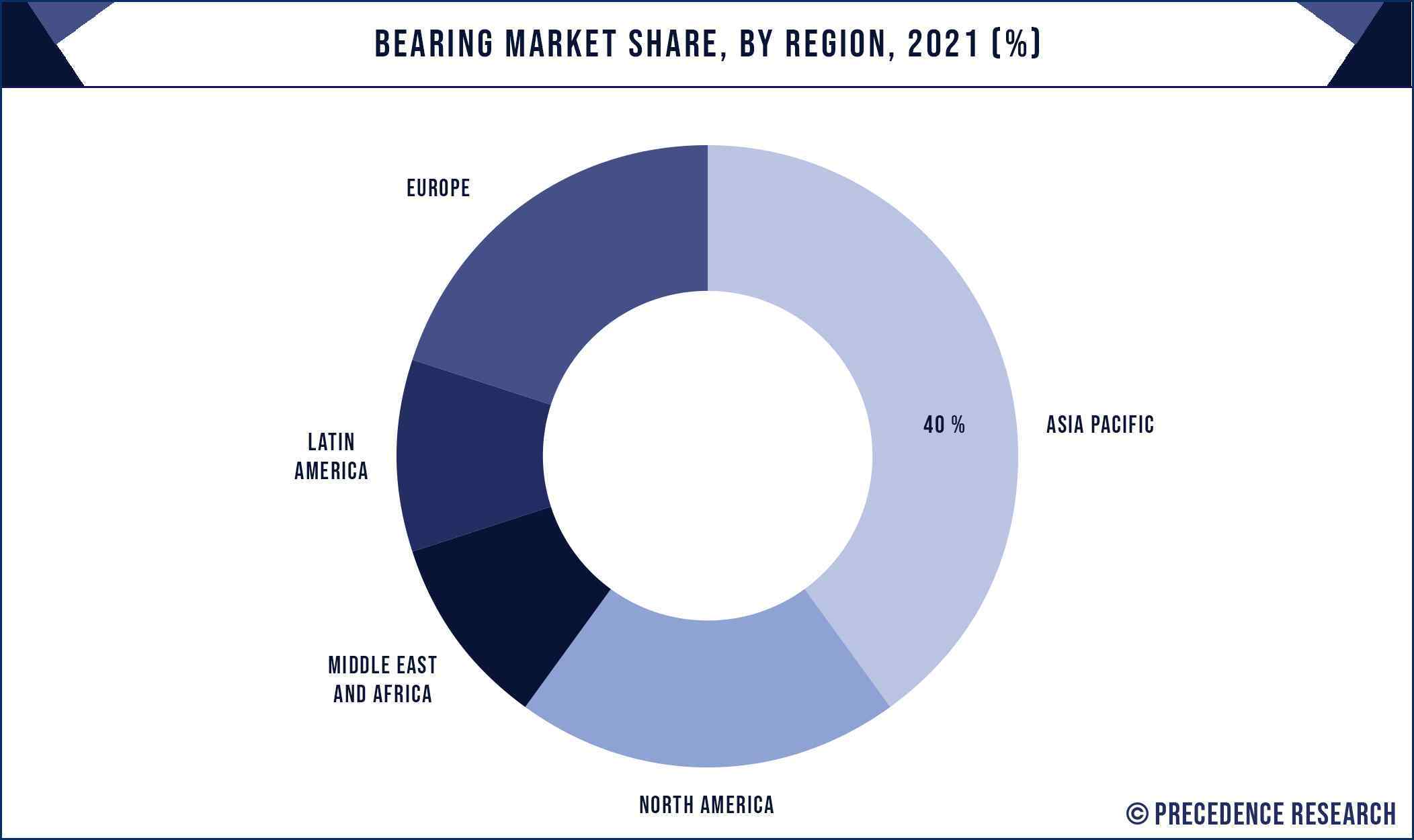 Europe is estimated to observe favorable growth on account of supportable economic growth and augmented investment. The growing sales and production of electric and hybrid vehicles, along with the growth and development of automotive and automobile industries is driving of the growth of the bearing market in Europe region.
Additionally, demand of bearings in mature markets of Western Europe, the U.S., and Japan, is predicted to fuel by recovering productions of motor vehicles and a strong fixed investment atmosphere. Improved sales of high value bearings including large-diameter, tailored built bearings employed in wind turbines and heavy machinery are also anticipated to trigger the growth of the market in North America.
Key Companies & Market Share Insights
The mergers and acquisitions, partnerships, new product development, business expansions, collaborations, supply contracts, agreements, and contracts are some of the important marketing strategies used by the major market players to maintain their market position. The major market players are diversifying their product line by creating industry specific products and solutions.
Several market players are focusing on digital operations and connectivity in order to improve consumer interaction and automate processes throughout the value chain. With digital production equipment and automation, which contribute to automated and flexible production processes, digital processing enables for product creation and increases labor productivity.
Growing sale of high-performance bearings has forced companies to integrate cutting-edge sensor units in their product offerings. These sensor units aid in digital monitoring of deceleration, axial movement, acceleration, load carrying capacity and rotation spee of the product. Moreover, the initiation of Industrial Internet of Things (IIoT) has further fortified acceptance and continuous monitoring of connected machinery and equipment. This current trend has also affirmatively triggered the growth of bearing market. Extreme competition has led companies to capitalize in product improvements to meet customer requests. For instance, NTN Corporation has manufactured a Grease Lubrication Type High-Speed Deep Groove Ball Bearing that shows better rotational speed.
Key Developments
NTN Corporation developed a bearing product that is called as Tenter clip bearing in March 2021 that is used in the packaging industry.
SKF upgraded the application that provides rapid information on extreme precision bearings in March 2021. Customers can use the application to scan product codes and get product information.
The Timken Company announced the acquisition of Aurora Bearing Company in December 2020. Aurora provides spherical plain bearings and rod ends to the off-highway equipment, aerospace and defense, and racing manufacturing industries.
NTN Corporation announced in September 2020 that it would increase manufacturing and distribution of deep groove ball bearings designed exclusively for electric vehicles and hybrid electric vehicles.
Some of the noteworthy companies in the bearing market include:
SKF
The Timken Company
Rexnord Corporation
MinebeaMitsumi Inc.
NSK Ltd
Schaeffler AG
RBC Bearings Incorporated
JTEKT Corporation
NTN Bearing Corporation
Danaher
Report Scope of the Bearing Market
| | |
| --- | --- |
| Report Highlights | Details |
| Market Size | USD 279.83 Billion by 2032 |
| Growth Rate | CAGR of 8% from 2023 to 2032 |
| Largest Market | Asia Pacific |
| Fastest Growing Market | Europe |
| Base Year | 2022 |
| Forecast Period | 2023 to 2032 |
| Segments Covered | Product, Type, Material, Distribution Channels, Region |
| Companies Mentioned | SKF, The Timken Company, Rexnord Corporation, MinebeaMitsumi Inc., NSK Ltd, Schaeffler AG, RBC Bearings Incorporated, JTEKT Corporation, NTN Bearing Corporation, Danaher |
Segments Covered in the Report
This research report includes complete assessment of the market with the help of extensive qualitative and quantitative insights, and projections regarding the market. This report offers breakdown of market into prospective and niche sectors. Further, this research study calculates market revenue and its growth trend at global, regional, and country from 2020 to 2032. This report includes market segmentation and its revenue estimation by classifying it on the basis of product, material, application, type, component, distribution channel, and regionas follows:
Market Segmentation
By Product Type
Plain Bearing
Ball Bearing

Four-point Contact
Self-aligning
Deep Groove
Angular Contact
Others

Roller Bearing
Others
By Type
Mounted Bearing
Unmounted Bearing
By Material Type
Metal

Chrome Steel
Brass
Others

Plastic
Ceramic
By Distribution Channel Type
By Component Type
Cages
Balls
Rollers
Rings
Others
By Application Type
Construction
Aerospace
Automotive
Power Transmission
Oil & Gas
By Regional Type
North America
Europe
Asia Pacific

China
India
Japan
South Korea

Middle East & Africa
Latin America