The global drilling fluids market size was valued at USD 8.61 billion in 2022 and it is expected to hit around USD 13.95 billion by 2032, poised to grow at a CAGR of 5% from 2023 to 2032.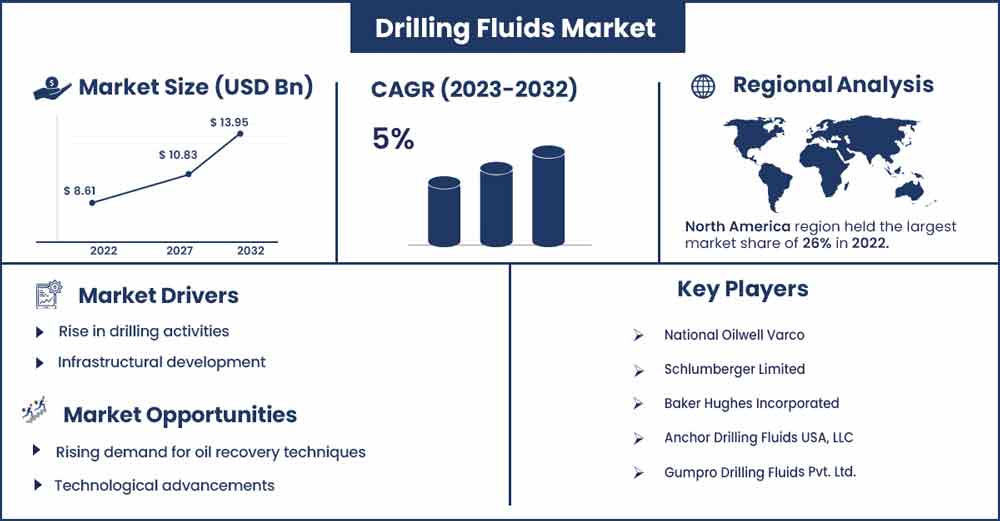 Market Overview
The drilling fluid market, also known as the drilling mud market, is a crucial area of the oil and gas industry. Drilling fluids, drilling muds, or other specialized fluids are used in drilling operations for the oil and gas industry and in other drilling operations in geothermal drilling and mining.
The global demand for oil and gas, exploration and production activities, environmental regulation, and technological advancement are the factors that influenced the drilling fluid market. Ecological issues and laws governing the management and disposal of drilling fluids have also sparked research on ecologically friendly drilling fluid formulations, which may play a significant role in the industry. These fluids are crucial for several drilling procedures, such as cooling and lubrication, removal of cuttings, pressure control, formation stability, and formation evaluation.
Rising energy demand, exploration of unconventional reservoirs, environmental regulations, offshore drilling, infrastructure development, geopolitical factors, global economic trends, and market expansion are the factors that push the growth of the drilling fluid market. Drilling operations are still driven by the world's rising demand for oil and natural gas to meet energy needs. The United States observed a substantial growth in the oil production that reached at 12.8 million barrels per day in first three quarters of 2023. As a result, the exploration and production of hydrocarbons in conventional and unconventional reservoirs benefit the drilling fluid industry. The potential for oil and gas extraction has increased owing to developments in drilling technology like horizontal drilling and hydraulic fracturing, which helps push market growth.
In January 2023, Uganda launched its first oil drilling program, the Kingfisher Field is a component of a $10 billion plan to exploit the oil reserves under Lake Albert in Western Uganda and to construct a sizable pipeline to transport the crude to worldwide markets via a port on the Indian Ocean in Tanzania.
Regional Snapshot
In 2022, North America held the dominating share of the market. The region is anticipated to witness significant growth in the upcoming period. Oil and gas exploration and production activities, environmental regulations, and technological advancements are the factors that have influenced the North American drilling fluid market. The drilling fluid market in North America is closely tied to the oil and gas industry and shale booms, which push the North American drilling market. The degree of drilling activity, which is influenced by things like oil and gas pricing, investments in exploration and production, and geopolitical concerns, significantly impacts how much drilling fluid is needed.
In 2022, the highest revenue share of the oil and gas segment was almost 76.0%. Barite is a weighing ingredient used in drilling mud fluids. The US government has authorized 6,430 drilling permits for oil and gas wells on public land in the last two years.
Due to its vast onshore and offshore oil and gas production activities, the United States is a significant player in the drilling fluid market. Texas, Oklahoma, Louisiana, and North Dakota are essential states that contribute significantly to the market for drilling fluids. Furthermore, the drilling and completion fluids market is anticipated to be driven by active onshore drilling and the resurgence of the offshore sector in the United States. Although the number of unfinished wells has significantly increased due to insufficient pipeline capacity in the major shale fields in the United States, this has limited the demand for completion fluids.
Canada and Mexico are other significant markets for drilling fluids and increased oil and gas exploration, particularly in provinces such as Alberta, British Columbia, and Saskatchewan. It helps to make it an essential market for drilling fluids in North America.
Newpark Resources, Inc. Texas, recently disclosed that it is looking into strategic options for placing its Fluids Systems division over the long term. Oil and gas exploration, electrical transmission and distribution, pipeline, renewable energy, petrochemical, construction, and other industries are just a few of the industries to which Newpark Resources, Inc. provides environmentally conscious products, rentals, and services to.
The North American drilling fluid market has several key players, such as Schlumberger Limited, Halliburton Company, Baker Hughes Company, NOV Inc., Weatherford International Plc, Newpark Resource Inc., Petrochem Performance Chemical Ltd. LLC, Tetra Technologies Inc., AES Drilling Fluids LLC, and Canadian Energy Service L.P.
Halliburton Company, one of the top oilfield service providers, has seen Diligent Investors LLC add to its holdings. The investing company spent almost $209,000 on 6,322 shares of the company's stock during the second quarter. The secret to Halliburton's success is its proficiency in offering cutting-edge solutions and technologies created especially for the oilfield services industry.
Drilling Fluids Market Report Scope:
| | |
| --- | --- |
| Report Coverage | Details |
| Market Revenue in 2023 | USD 8.99 Billion |
| Projected Forecast Revenue by 2032 | USD 13.95 Billion |
| Growth Rate from 2023 to 2032 | CAGR of 5% |
| Largest Market | North America |
| Base Year | 2022 |
| Forecast Period | 2023 to 2032 |
| Regions Covered | North America, Europe, Asia-Pacific, Latin America, and Middle East & Africa |
Market Dynamics
Drivers
Rise in drilling activities
Drilling operations are still very necessary to seek and exploit hydrocarbon resources due to the rising global energy demand. Drilling fluids are hence in constant demand. Oil and gas companies continuously explore new extract resources, driving the need for drilling fluids. While considering the demand for oil across the globe along with their fluctuating prices, multiple oil companies seek investments in exploration and production of the same. Currently, the industry is focused on the development and implementation of environmentally friendly drilling operations that can minimize environmental impacts during the process. All these elements that boost drilling activities are observed to propel the growth of the market.
In February 2023, according to fresh information from Baker Hughes, there were two more active drilling rigs overall in the United States in a single week. The overall number of rigs increased to 761 this week, which is 126 more than it was at the same time in 2022.
Infrastructural development
Drilling activities are also necessary for infrastructure projects like creating new roads, bridges, tunnels, or tunnels, among other things. These initiatives may increase foundation and construction drilling's need for drilling fluids. Infrastructure development drives the growth of the drilling fluids market by creating demand for drilling and excavation activities across various sectors, from construction to energy exploration and environmental projects. The growth of this market is closely tied to the expansion of infrastructure globally.
Restraints
Environmental concerns
Drilling fluid consumption and disposal can have a significant influence on the environment. Drilling fluid spills, leaks, and inappropriate disposal can contaminate groundwater, soil, and surface water. If contaminated water and surface water are not adequately managed, driller fluid seeps into river or lake, posing a risk to the ecosystem and human health. Many different compounds, including lubricants, polymers, and additives, some of which might be toxic, are frequently found in drilling fluids. These substances can linger in the environment and be detrimental to aquatic life.
Health and safety risk
Workers in the oil and gas business may face health concerns due to handling and exposure to drilling fluid. Due to incorrect handling or unintentional disclosure, the chemicals used in drilling fluids can be dangerous and cause health issues. High pressure and temperature are present when drilling fluid systems are in operation. Accidents or equipment failures can cause blowouts, well-control challenges, and other hazardous conditions and pose significant dangers to workers. Thus, health and safety risks are observed to create a significant obstacle for the market.
Opportunities
Technological advancements
New drilling fluid technologies, like creating non-toxic, environmentally friendly drilling fluids, allow businesses to innovate and gain market dominance. The rheological characteristics of drilling fluids are constantly being improved by developing new chemicals and additions. Advanced technology such as real-time reservoir analysis through sensors and data analytics, allows for better decision-making during drilling. This helps optimize drilling fluid compositions, improving overall drilling performance. Such advancements are observed to offer a significant growth opportunity for the market.
Rising demand for oil recovery techniques
Enhanced oil recovery (EOR) techniques are becoming increasingly necessary as oil fields get older, and many call for specialized drilling fluids. Businesses that can offer technical EOR solutions have ample opportunity. The market drilling fluids is impacted by things like changing technology, rising oil prices, and environmental concerns. Companies in the drilling fluid market are always coming up with new solutions to suit industry demands for EOR-compatible goods and services.
Recent Developments
In December 2022, NanoMalaysia Developed a 10AS nano for drilling fluid project to reduce carbon emissions via energy efficiency improvements. This project has an estimated investment of about RM1.75 million, and it utilizes NanoMalaysia's Venture Builder Model to collaborate with Malaysian businesses and academic institutions to develop graphene-based innovations.
In July 2022, drilling fluid usage was promoted by IMDEX as part of its all-encompassing strategy to enhance drilling performance in the field. Drilling optimization solutions from the company integrate top-tier technologies, sensors, and motors to produce improved versions.
Major Key Players
National Oilwell Varco
Schlumberger Limited
Baker Hughes Incorporated
Anchor Drilling Fluids USA, LLC
Gumpro Drilling Fluids Pvt. Ltd.
Market Segmentation
By Product
Water-based fluids (WBF)
Oil-based fluids (OBF)
Synthetic-based fluids (SBF)
Others
By Application
Buy this Research Report@ https://www.precedenceresearch.com/checkout/1055
You can place an order or ask any questions, please feel free to contact at sales@precedenceresearch.com | +1 9197 992 333