The global electric plugs and sockets market revenue was evaluated at USD 12 billion in 2022 and is expected to attain around USD 20.59 billion by 2032, growing at a CAGR of 5.6% from 2023 to 2032.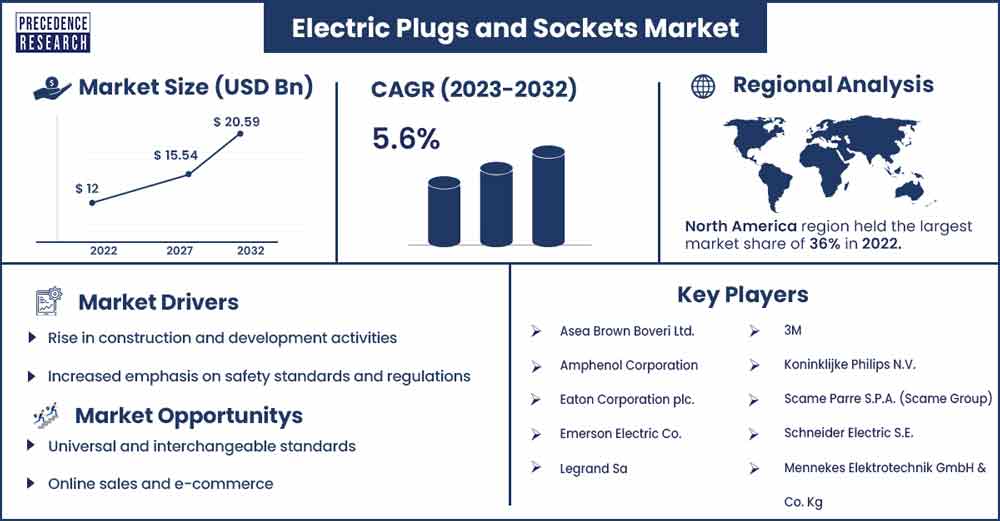 Market Overview
The global electric plugs and sockets market is a thriving sector offering vital electrical connectivity solutions for establishments, enterprises, and industries worldwide. Dfferent kinds of plugs, sockets, and adapters are available on the market and are made to fit the electrical requirements of other areas. The market caters to industrial and commercial sectors, such as manufacturing, construction, infrastructure projects, and residential users.
In response to shifting customer demands and technological developments, the market has seen breakthroughs such as surge protection features, smart plugs with USB ports built-in, and sockets with integrated USB ports. Different plug/socket designs and electrical standards in other locations result in a fragmented market with various plug kinds.
There is a growing need for electrical outlets and sockets due to increased urbanization and new structures and infrastructure construction. The upkeep and replacement of outdated electrical infrastructure may fuel the demand for modern socket and plug solutions. Plugs and sockets with lower energy consumption may be developed due to rising consumer awareness of energy conservation and the need for more energy-efficient products.
In August 2023, the firm Socket revealed that Andreessen Horowitz led its $20 million Series A round of funding. The firm has raised $24.6 million, with the latest funding added to its previous $4.6 million initial investment. The funds will expand Socket's team and enable other programming languages and connectors.
In August 2023, Tesla's recent investment in wireless charging for electric cars was a significant endorsement of this emerging but possibly revolutionary technology. Although Tesla has not disclosed the exact amount it paid for the business, its cash flow statement for the second quarter shows that $76 million was spent on business combinations.
Electric Plugs and Sockets Market Report Scope
| | |
| --- | --- |
| Report Coverage | Details |
| Market Revenue in 2023 | USD 12.61 Billion |
| Projected Forecast Revenue by 2032 | USD 20.59 Billion |
| Growth Rate from 2023 to 2032 | CAGR of 5.6% |
| Largest Market | North America |
| Base Year | 2022 |
| Forecast Period | 2023 to 2032 |
| Regions Covered | North America, Europe, Asia-Pacific, Latin America, and Middle East & Africa |

Regional Snapshots
North America holds the largest share of the electrical plugs and sockets market. North America has a sizable and developed market for electrical plugs and sockets. It includes various items used to attach electrical equipment to power sources. Technological developments, safety regulations, the energy economy, and the general need for electrical products impact this sector. Numerous plugs and sockets tailored to various voltage levels, amperages, and purposes are available on the market. In North America, NEMA 5-15, NEMA 6-20, and NEMA L5-30 are common types. Household appliances are the primary purpose for residential plugs and sockets, whereas heavy gear and equipment in commercial and industrial settings require more robust, larger-capacity connectors.
The National Electrical Manufacturers Association (NEMA) establishes guidelines for electrical plugs and sockets in the US. Manufacturers create items that meet NEMA standards, which guarantee compatibility and safety. Considering the size of the nation's population and the pervasive use of electrical gadgets, the market is significant. Plugs and sockets are in demand across the residential, commercial, and industrial sectors. Many items are available to meet various power needs and applications. This comprises 240-volt outlets for significant appliances, 120-volt outlets for typical domestic use, outlets specifically designed for industrial machines, and several layouts to meet varying power requirements.
Regarding electrical plugs and sockets, Canada adheres to the NEMA (National Electrical Manufacturers Association) standard based on North American standards. NEMA standards guarantee safety and compatibility with a wide range of electrical equipment. Most of the demand for electrical plugs and sockets comes from the residential sector.
The continued demand for new buildings, home renovations, and the integration of smart home technologies has facilitated the market expansion in this industry. Concerns about sustainability and energy efficiency have affected the market. Energy-efficient plugs and sockets are becoming increasingly popular since they can help cut down on energy use and electricity costs.
In May 2023, Heliox, a company that makes EV charging equipment, and Cummins announced that they would work together to offer EV charger sales and services in North America. Cummins and Heliox, a manufacturer of EV chargers, established a partnership to distribute and maintain EV chargers throughout North America.
North America has several key players in the electrical plug and socket market, including Asea Brown Boveri Ltd., Amphenol Corporation, Eaton Corporation plc., Emerson Electric Co., Legrand Sa., Mennekes Elektrotechnik GmbH & Co. Kg., Koninklijke Philips N.V., and Scame Parre S.P.A.
In October 2023, Eaton, a provider of intelligent power management systems, announced an additional $85 million in manufacturing investments to accommodate the increasing demand from utilities for its products, which support vital infrastructure projects related to the electric grid. Eaton intends to expand its production capacity in Queretaro, Mexico, to accommodate the production of protective equipment and line installation necessities for underground power lines and enhance energy resiliency.
In August 2023, Wallingford, Connecticut-Amphenol corporation, a well-known manufacturer of fiber optic and electric connectors with headquarters in Wallingford, agreed to pay $18 million to settle claims that it sold the US military electrical connectors that were not in compliance with the Federal Claims Act.
Market Dynamics
Drivers
Customization and aesthetics
Electric plugs and sockets are integral parts of homes and offices. The ability to customize these components enables users to integrate them seamlessly into the overall design and aesthetics of their living or working spaces. This is particularly important in scenarios where consumers want their electrical outlets to blend with the interior design.
As the electric plug and socket market expands, consumers are becoming more conscious of the design and aesthetics of the products they purchase. Customization allows consumers to choose products that not only meet their functional needs but also align with their personal style and preferences. Thereby, the substantial demand for customization and aesthetics is observed to act as a driver for the market.
Aftermarket services
Manufacturers or retailers may sell plugs and socket replacement parts, such as individual prongs, covers, or connections. This enables consumers to replace worn-out or broken pieces without replacing the entire device. Certain businesses focus exclusively on fixing electrical outlets and plugs. They can identify problems, make repairs, and guarantee that the connectors are secure and adhere to electrical regulations. Plugs and sockets may be customized as part of aftermarket services to satisfy specific requirements. This may entail altering the connector type, adding functions, or changing the appearance to accommodate various uses.
Restraints
Rapid technological changes
Numerous nations have adopted specific plug-and-socket standards to guarantee safety and compatibility. The International Electrotechnical Commission (IEC) has established standards such as IEC 60906-1 and IEC 60884 for plugs and sockets. Electrical outlets now frequently have USB charging ports. Users can set their devices using these outlets without requiring a special adapter. In particular, USB-C has gained popularity due to its quick charging characteristics. Rapid technological changes often create a significant challenge for manufacturers and producers while adapting to changes. Thereby, the factor is observed to create a restraint for the market.
Environmental impact
Metals (such as copper, aluminum, and steel) and polymers must be extracted to produce electrical plugs and sockets. Significant environmental effects from the mining and processing these commodities may include habitat destruction, water pollution, and energy use. The manufacturing process for electric plugs and sockets requires energy, and the environmental impact depends on the source of that energy. If the energy is derived from fossil fuels, it contributes to greenhouse gas emissions and air pollution.
Opportunities
Universal and interchangeable standards
Universal and interchangeable standards are necessary for electrical plugs and sockets to be safe, compatible, and simple to use in electrical systems worldwide. Historically, various nations and areas have created plug-and-socket standards, resulting in incompatibility while utilizing electrical equipment from multiple places or while traveling. The goal of this standard also called the "Type N" standard, is to provide a single, globally applicable standard for electrical plugs and sockets. To accommodate various voltages and geographical areas, the IEC specifies different plug and socket types, each denoted by a letter. Governments and regulatory bodies across the globe are actively focusing on implementing such standards, which is observed to offer multiple opportunities to the market for expansion.
Online sales and e-commerce
E-commerce platforms often host a diverse range of products from various manufacturers and brands. This diversity allows consumers to explore different types, designs, and functionalities of electric plugs and sockets in one place. Manufacturers can leverage this diversity to showcase their products alongside competitors and highlight unique features, helping them stand out in the market. By understanding customer preferences, manufacturers can tailor their marketing efforts to promote specific types of electric plugs and sockets that align with consumer needs and trends.
Recent Developments
In June 2023, Boom Motors, a manufacturer located in Coimbatore, rebranded itself as Bharat New-Energy Company and launched its battery. Etrol 40. The corporation wants to ensure that sustainable energy sources are used to power its cars. Additionally, the business reintroduced the BNC challenger, an electric crossover bike.
In April 2023, for INR 7.98 lakh, MG Motors introduced the MG Comet EV in India. A home charging box will be included with the EV. An outlet with a 16amp capacity can power it. MG India said its plant in Hablol, Gujarat, would produce 3,000 Comet electric vehicles.
Major Key Players
Asea Brown Boveri Ltd.
Amphenol Corporation
Eaton Corporation plc.
Emerson Electric Co.
Legrand Sa
Mennekes Elektrotechnik GmbH & Co. Kg
Koninklijke Philips N.V.
Scame Parre S.P.A. (Scame Group)
Schneider Electric S.E.
3M
Market Segmentation
By Type
Two-pin
Three-pin
Four-pin
Five-pin
By End User
Residential
Commercial
Industrial
Buy this Research Report@ https://www.precedenceresearch.com/checkout/3354
You can place an order or ask any questions, please feel free to contact at sales@precedenceresearch.com | +1 9197 992 333