The global electric vehicle charging station market size surpassed USD 46.54 billion in 2022 and it is projected to attain around USD 417.35 billion by 2030, poised to grow at a CAGR of 31.5% from 2022 to 2030.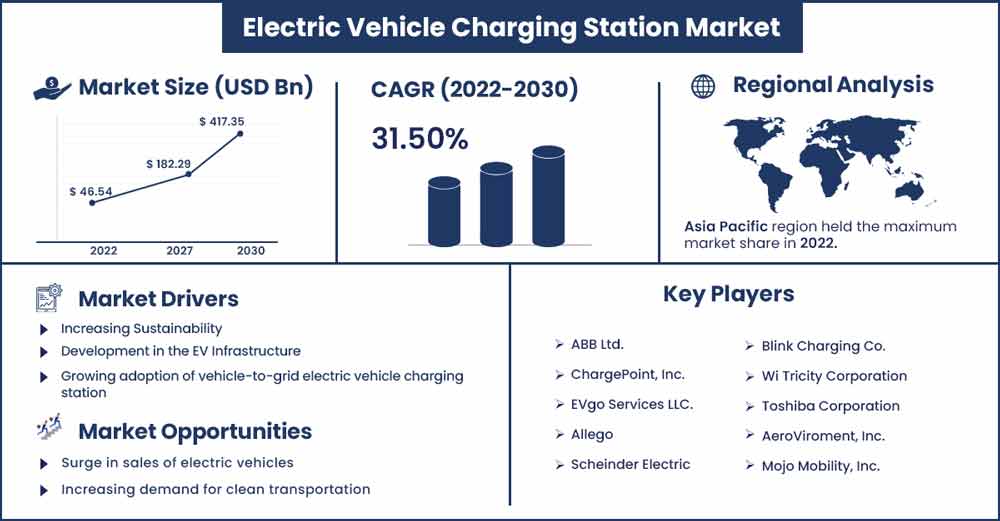 Market Overview:
A charging station for electric vehicles is a piece of technology that may be used to refuel electric cars, plug-in hybrids, and neighborhood electric vehicles. While some charging outlets are simpler to use, more advanced features such as smart metering, cellular capability, and network connectivity are included in others. The requirement for more widely distributed charging stations is driving up the demand for technology that enables faster charging at greater voltages and currents than residential ESVE offers. Around the world, more and more electric vehicle networks provide a network of charging stations that are publicly accessible for recharging EVs. Governments, manufacturers, and charging infrastructure providers have reached agreements to build these networks.
Regional Snapshot:
Asia Pacific holds the largest share of the market, and the region is expected to sustain its dominance throughout the forecast period. After the pandemic, Asia Pacific electric vehicle (EV) market witnessed continuous expansion, with China and India leading the way. The crisis provided all the justifications needed for the EV sector to move to alternative energy vehicles. Due to the industry's strong regional and global participants and the explosive demand from a sizable consumer market, the more complicated charging infrastructure for electric cars also saw a quick expansion. With the help of major manufacturers, including Tesla, BYD, Geely Holding, GM Group, and GAC Group, EV sales in China increased by 87% year over year in 2022 and nearly doubled. According to Counterpoint, the nation anticipates selling almost 8 million EVs in 2023. In 2022, India saw EV sales surpass one million for the first time, with a remarkable 206% year-over-year rise.
Report Highlights:
By charging level type, the level 3 segment will witness a significant increase during the forecast period. The demand for quicker charging, especially for passenger vehicles in urban areas promotes the growth of the segment.
By charging station type, with the biggest revenue share, DC charging stations segment dominated the global market for electric car charging stations. DC chargers are a significant advancement for EVs since they are larger, faster, and more powerful.
By vehicle type, the battery electric vehicles segment is expected to sustain its dominance during the forecast period, the continuous advancements in the battery development techniques promote the segment's growth.
By application, the public-type charging stations segment dominates the market. EVs are increasingly practical owing to the public charging facilities. The daily usable range of all-electric vehicles may be extended, and the quantity of petrol used reduced by using public and workplace charging stations.
By end-user, the commercial EV charging stations segment is expected to grow at a significant rate. The sub-segment, parking spaces, is expected to witness considerable growth owing to the easy accessibility offered by charging stations at parking lots.
Electric Vehicle Charging Station Market Report Scope:
| | |
| --- | --- |
| Report Coverage | Details |
| Market Revenue in 2023 | USD 61.06 Billion |
| Projected Forecast Revenue in 2030 | USD 417.35 Billion |
| Growth Rate from 2022 to 2030 | CAGR of 31.5% |
| Largest Market | Asia Pacific |
| Base Year | 2022 |
| Forecast Period | 2022 To 2030 |
| Regions Covered | North America, Europe, Asia-Pacific, Latin America, and Middle East & Africa |

Market Dynamics:
Driver:
Tax advantages and subsidies
Governments all around the globe offer a variety of tax benefits and subsidies to encourage its development. As per a statement from the Finance Ministry, India would lower the GST rate on electric vehicles from 12% to 5%. The interest spent on loans obtained to buy electric vehicles will now be eligible for an extra income-tax deduction of 1.5 lacks from the government. This translates into a benefit of almost 2.5 lacks for taxpayers who take out loans to buy electric automobiles throughout the loan. The Council also voted to reduce the GST rate from 18% to 5% on EV chargers and charging stations to make the infrastructure for EVs more affordable. Additionally, to promote electric vehicles for public transport, local governments would no longer be required to pay GST when leasing electric buses with a capacity for carrying more than 12. Such subsidies and tax relaxation on electric vehicles for both buyers and manufacturers are expected to fuel the market's growth.
Restraint:
High cost of setting charging infrastructure
Setting up a charging infrastructure for electric vehicles requires a hefty initial investment. The infrastructure of charging electric vehicles needs the installation of chargers, the type of charger installed adds up to the overall cost of the charging infrastructure. As the trend of electric vehicles is emerging, the required component in the infrastructure may be limited availability across the globe also makes it costly to adopt new charging infrastructure. The cost factor limits the adoption of charging infrastructure, especially in underdeveloped or economically weaker areas by acting as a restraint for the market.
Opportunity:
Deployment of charging station at corporate buildings
Employees will greatly benefit from installing EV charging stations in corporate or office buildings since it will promote and ease their use of EVs. Charging their car during all those waiting times in the parking area is a major benefit, especially for workers who may lack a home charger. In areas where EVs satisfy the criteria for carpool lanes, this benefit may help shorten travel times. Adding an EV charger may be a revolutionary negotiation tactic for retaining talented employees. Owners are keenly interested in workplace charging, and many companies already recognize the value of installing charge stations. Additionally, charging stations provide customers with an extra reason to stop by if the business's location offers face-to-face customer service. This is expected to offer significant market expansion opportunities.
Challenge:
Cyber attacks
Electric vehicles usually rely on software, sensors, data, and artificial intelligence to coordinate operating systems, simplify driving, and enhance the experience. The cybersecurity threats that other devices must manage due to connectivity include hacking, data breach, criminal actors, system outages, and hostile attacks. The likelihood of these attacks increases when EVs are plugged in at a public charging station wherein a car is connected to the grid. Hackers can harm human life by disconnecting the brakes, turning off the lights, and taking control of the steering. Personal privacy may also be risky if the ID badge is duplicated and used to hack users' accounts or perform transactions in mobile applications linked to EV.
Recent Developments:
In July 2023, with the opening of its first Charge Zone EV charging station, Marriott Madurai's Courtyard made a big contribution to encouraging environmentally friendly travel and lowering its carbon footprint. By utilizing renewable energy sources like wind and solar energy, Courtyard sets the standard high as one of the forerunners in sustainability compliance across hotels in Madurai. This demonstrates Marriott International's persistent dedication to operating sustainably.
In June 2023, the government is anticipated to release an app that offers a unified picture of EV battery swapping and charging facilities. According to a senior government source, the app would give information such as the location and capacity of these stations. NITI Aayog is leading the creation of the mobile application and its deployment.
In June 2023, one thousand super-fast electric vehicle (EV) charging stations will be installed around the nation by GO EC Autotech Pvt Ltd, a startup located in Kerala. The firm runs over 33 charging stations across India, including 70 in Kerala. To make it simpler for consumers who live in distant areas to embrace electric vehicles, the firm also seeks to meet their demands.
Major Key Players:
ABB Ltd.
ChargePoint, Inc.
EVgo Services LLC.
Allego
Scheinder Electric
Blink Charging Co.
Wi Tricity Corporation
Toshiba Corporation
AeroViroment, Inc.
Mojo Mobility, Inc.
General Electric
Robert Bosch GmbH
Chargemaster plc.
Evatran Group
HellaKGaAHueck& Co.
Siemens AG
Leviton Manufacturing Co., Inc.
Efacec
Alfen N.V.
Denso Corporation
Elix Wireless
Tesla Inc.
ClipperCreek
Engie
Infineon Technologies AG
Qualcomm Technologies, Inc.
Market Segmentation:
By Level of Charging
By Charging Station Type
AC Charging
DC Charging
Wireless Charging
By Power Output
By Supplier Type
OE Charging Station
Private Charging Station
By Vehicle Type
Passenger Cars
Battery Electric Vehicle (BEV)
Plug-in Hybrid Vehicle(PHEV)
Heavy Commercial Vehicles
Light Commercial Vehicles
Two-wheelers & Scooters
By Installation Type
Fixed
Portable
Residential
Commercial
By Connector Type
Normal Charging
Type 2
CCS
CHAdeMO
Tesla SC
GB/T
By Application
By Mounting Type
Wall Mount
Pedestal Mount
Ceiling Mount
By Charging Service
EV Charging Service
Battery Swapping Service
By End User
Commercial EV Charging Stations

Commercial Public EV Charging Stations

On-Road Charging
Parking Spaces
Destination Chargers

Commercial Private EV Charging Stations

Fleet Charging
Captive Charging

Residential EV Charging Stations
Buy this Research Report@ https://www.precedenceresearch.com/checkout/1003
You can place an order or ask any questions, please feel free to contact at sales@precedenceresearch.com | +1 9197 992 333