The global electric vehicle (EV) relay market size was evaluated at USD 4.26 billion in 2022 and is expected to rise to USD 41.8 billion by 2030, growing at a CAGR of 33.05 percent throughout the projection period from 2022 to 2030.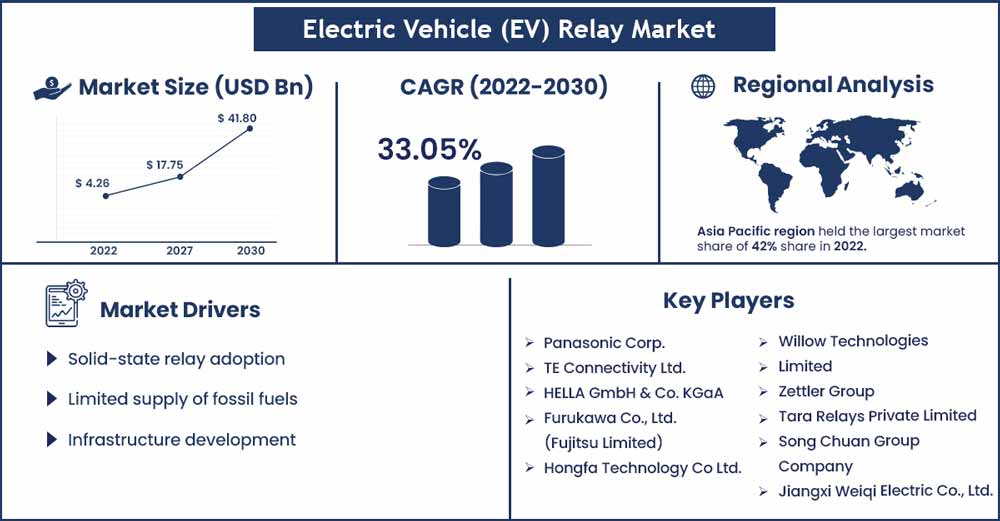 An electric car relay is an electrically operated switch in an electric vehicle that allows you to go from a low amperage circuit to a higher amperage circuit, such as turning on your headlights. Relays in electric vehicles are commonly found in battery lighting, engine, steering, screen wiping, and electric mirror modules. Electric car relays can be either usually open or generally closed, and they can also be used to switch many objects at once utilizing a single output. The majority of electric car relays may also be used in non-electric vehicles.
Because of the shrinking of relays and the development of high contact capacity, the electric vehicle relay market is predicted to rise steadily. The transition from combustion to electric cars is boosting demand for EV Relay components. These factors are contributing to the EV Relay Market's CAGR. The Global EV Relay Industry research provides a comprehensive analysis of the market.
The COVID-19 epidemic has caused a halt in key commercial activity in various nations. The major cause of this slowness is a variety of actions implemented by individual governments to restrict the spread of this infection. As major countries impose precautionary lockdowns, a huge disparity between market supply and demand is established, making it more difficult for producers and distributors to run their individual businesses successfully. This is a major aspect that is expected to affect revenue growth prospects. However, when these restrictions are progressively relaxed and economies recover, this market is projected to revert to pre-COVID levels.
Report Highlights:
Among the other areas, APAC will have the greatest growth rate of 43.9%. As a result, the APAC electric vehicle relays market is likely to provide substantial business possibilities for suppliers over the forecast period.
The PCB segment's share of the electric vehicle relays market will expand significantly throughout the projected period. PCB relays have a small shape and a switching capability of up to 200A for a system voltage range of up to 24V. These reasons will fuel the expansion of the PCB segment.
The heating application category held the biggest market share of more than 29.9% in 2019 and is expected to rise significantly during the forecast period.
The long-term cheap cost of solid-state relays is a crucial element driving the global electric vehicle relays market share rise.
OEMs are customers of electric car relays, which explains why the growth of electric vehicle relays is dependent on the number of electric vehicle manufacturers.
Regional Snapshots:
During the projected period, APAC will provide the most potential for growth in the electric vehicle relays market. According to our analysis, the region will account for 44% of worldwide market growth and will dominate the market through 2030. APAC's important nations for the electric vehicle relays market are China and Japan. This region's market growth will be slower than that of other areas, such as North America and Europe. Users of electric vehicle relays include OEMs. As a result, electric vehicle relays are dependent on the volume of electric car manufacture. During the projected period, this will fuel the growth of the APAC electric vehicle relays market.
Electric Vehicle (EV) Relay Market Report Scope:
| | |
| --- | --- |
| Report Coverage | Details |
| Market Revenue in 2023 | USD 5.66 Billion |
| Projected Forecast Revenue in 2030 | USD 41.8 Billion |
| Growth Rate from 2022 to 2030 | CAGR of 33.05% |
| Largest Market | Asia Pacific |
| Base Year | 2022 |
| Forecast Period | 2022 To 2030 |
| Regions Covered | North America, Europe, Asia-Pacific, Latin America, and Middle East & Africa |

Market Dynamics:
Drivers:
The long-term cheap cost of solid-state relays is a significant element driving the worldwide electric vehicle relays market share rise. In automotive applications, relays are electrically controlled switches that allow tiny current flow circuits to control and run a larger circuit. The solid-state relay generates an optical semiconductor signal from an electrically driven signal. There are no physically moving elements in this sort of relay. In terms of value, solid-state relays that can be employed as replacements for electromechanical relays will drive the industry. Solid-state relays are more durable than electromechanical relays because they have no physically moving components.
The need for the electric vehicle relay market is expanding due to the depletion of fossil fuels and the rising desire for alternative vehicle solutions. Fossil fuels are limited, and there will soon be no more fossil fuel. Based on current consumption rates, an estimated 46.7 years of fuel resources and 49.6 years of natural gas resources remain globally. To extend the life of the natural resource, an alternative to fossil fuel vehicles is required. Market alternatives to fossil fuels include electric vehicles, LPG, CNG, air-powered vehicles, and LNG. However, widespread use of electric vehicles is anticipated to serve as a solution to the limited supply of natural resources.
Restraints:
Lack of charging infrastructure, along with higher EV prices, will stymie the electric vehicle relay market. Because an electric vehicle is powered by a battery, it must be recharged when the battery is significantly depleted. Although electric vehicles are becoming more prevalent in urban and metropolitan regions, the availability of charging stations remains limited.
Opportunities:
Another element boosting the worldwide electric vehicle relays market share rise is the increase in electronics and safety regulations in electric cars. Relays have several applications in electric cars, both generic and particular. During the forecast period, the expanding number of applications in electric cars that require relays will continue to be a prominent driver driving the growth of the worldwide electric vehicle relays market. Consistent rise in the transfer from mechanical parts-based to electronic parts-based automotive components is expected.
In electric automobiles, the usage of electric power steering, heated seats, power seats, ventilated seats, and power folding mirrors increases the number of relays used for such systems. Furthermore, rising emissions, along with incentives and tax breaks, are expected to drive the expansion of the electric car relay industry.
Challenges:
During the projected period, the recall of electric cars due to defective relays and related components would provide a significant obstacle to the worldwide electric vehicle relays market share growth. Electric car adoption is raising rivalry among manufacturers, forcing them to innovate and develop innovative product features to differentiate themselves from competitors.
Rapid advancements in electric car technology have complicated design and production processes, raising manufacturing prices. Manufacturing expenses are offset by lower procurement prices, which are partially passed on to end users. In the case of a recall, component costs are shared among vendors upstream in the value chain. For example, car recall expenses for defective relays are met by the vehicle manufacturer and vendors supporting relay development and assembly.
As a result, electric car recalls caused by faulty relays increase the prices of relay producers and reduce their profit margins. Replacing or fixing faulty relays will reduce the revenue margin of electric car relay producers. Such recalls increase the prices of electric car relay producers and will pose a challenge to the global electric vehicle relays market throughout the projected period.
Recent Developments:
Apple Inc. has teamed with Volkswagen to build an autonomous electric vehicle.
Tesla Inc. began registering for their EVs in India in January 2021, and Tesla is also scheduled to launch Model I in India as an inexpensive variation for this market.
In March 2021, Xiaomi Corporation, a Chinese technology company, announced a US$ 10 billion investment over ten years to create electric vehicles.
Hummer has released the Hummer EV, which has a 1000KM range on a single charge.
TATA Motors has also just developed an EV with a range of more than 800 kilometers on a single charge.
Major Key Players:
Panasonic Corp.
TE Connectivity Ltd.
HELLA GmbH & Co. KGaA
Furukawa Co., Ltd. (Fujitsu Limited)
Hongfa Technology Co Ltd.
Willow Technologies Limited
Zettler Group
Tara Relays Private Limited
Song Chuan Group Company (Song Chuan Usa, Inc.)
Jiangxi Weiqi Electric Co., Ltd.
Other Players
Market Segmentation:
By Application
Heating
Lamps and Filter Capacitors
Solenoids, Motors, and Pumps
Others
By Product
Plug-in Relay
PCB Relay
EV
Hybrid
By Vehicle Type
Passenger Cars
Light Commercial Vehicles
Heavy Commercial Vehicles
By Sales Channel
Buy this Research Report@ https://www.precedenceresearch.com/checkout/2163
You can place an order or ask any questions, please feel free to contact at sales@precedenceresearch.com | +1 9197 992 333