The global emission monitoring systems market size is anticipated to reach around USD 10.68 billion by 2032 up from USD 4.1 billion in 2022 with a CAGR of 10.1% between 2023 and 2032.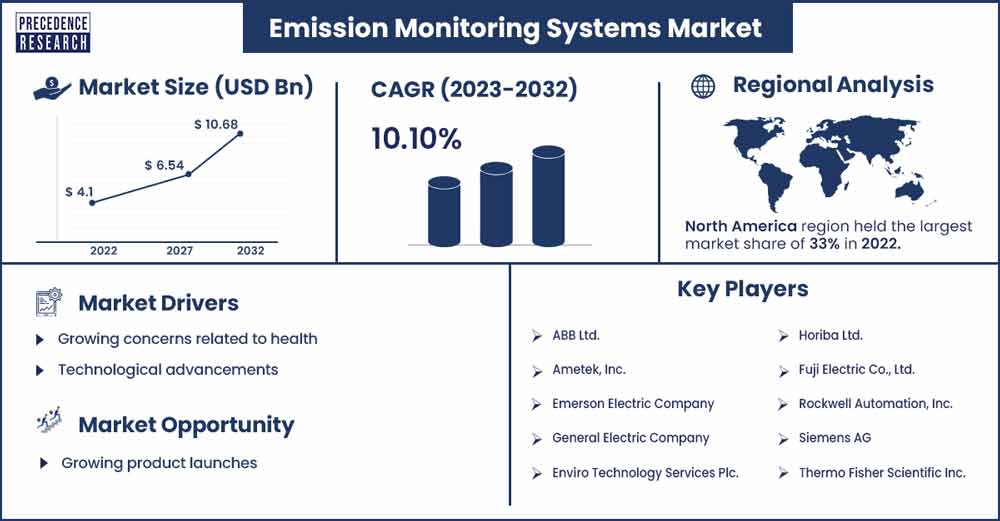 Market Overview
Emission monitoring systems, also known as continuous emission monitoring systems, are sophisticated tools designed to monitor and record the release of particulate matter and greenhouse gases into the atmosphere from industrial processes and facilities. The primary purpose of these systems is to ensure compliance with environmental regulations and to manage and reduce the environmental impact of emissions.
The emission monitoring systems market is driven by various factors including increasing levels of pollution, rising awareness related to the environment, growing investment in R&D, rising technological advancements and many others. In addition, government initiatives across the globe are expected to further stimulate the market over the anticipated timeframe.
The National Clean Air Programme (NCAP) was introduced by the Central Government of India as part of the Central Sector "Control of Pollution" Scheme. It is a long-term, time-bound national-level strategy to address the issue of air pollution nationwide, with goals to achieve a 20% to 30% reduction in PM10 and PM2.5 concentrations by 2024, using 2017 as the base year for concentration comparisons.
According to the International Energy Organization, the amount of carbon dioxide (CO2) released into the atmosphere by industrial operations and the burning of energy increased by 0.9% or 321 Mt in 2022, reaching a new peak of 36.8 Gt. To reach 4.7 Gt in 2022, US emissions increased by 0.8%, or 36 Mt.
Regional Insights
North America is expected to dominate the market over the forecast period. The market growth in the region is attributed to the favorable regulatory environment. By enhancing air quality and lowering air pollution, the US Environmental Protection Agency is dedicated to safeguarding public health. The United States air quality has significantly improved since the Clean Air Act was put into effect and several entrepreneurs have made technical breakthroughs since then.
The primary partners of the EPA in reducing the emissions of over 180 harmful air pollutants are state, municipal, and governments. Moreover, the energy and industrial sectors are the main producers of emissions. As a result. EMS solutions have a large consumer base in these industries.
These systems are utilized in a variety of sectors such as manufacturing, chemical, power and refineries to minimize their environmental effect and assure regulatory compliance. For instance, as per the data from the International Energy System, the U.S. electric power industry emitted 1,539 million metric tons (MMmt) of carbon dioxide (CO2) in 2022, accounting for approximately 31% of the country's overall energy-related CO2 emissions of 4,964 (MMmt). Therefore, the aforementioned stats are expected to propel the market growth in the region.
Emission Monitoring Systems Market Report Scope:
| | |
| --- | --- |
| Report Coverage | Details |
| Market Revenue in 2023 | USD 4.49 Billion |
| Projected Forecast Revenue by 2032 | USD 10.68 Billion |
| Growth Rate from 2023 to 2032 | CAGR of 10.1% |
| Largest Market | North America |
| Base Year | 2022 |
| Forecast Period | 2023 to 2032 |
| Regions Covered | North America, Europe, Asia-Pacific, Latin America, and Middle East & Africa |

Market Dynamics
Drivers
Growing concerns related to health
Rising concerns related to health are expected to propel the growth of the emission monitoring systems market during the forecast period. A closure examination of emissions from industrial sites has resulted from worries about the health impacts of air pollution and low air quality. EMS systems are essential for tracking and regulating emissions that cause air pollution and issues with public health. For instance, according to the Australia Institute of Health and Welfare, 8.6% of the burden of coronary heart disease, 8.3% of strokes, 6.7% of type 2 diabetes and COPD, 5.7% of lower respiratory infections, and 3.4% of lung cancer cases were caused by air pollution.
Technological advancements
The efficiency and affordability of emission monitoring systems have increased due to developments in sensor technology, data analytics, and remote monitoring capabilities. For instance, in July 2023, QLM Technology Ltd. Introduced Quantum Gas Lidar and the QLM Cloud. Thereby, driving the market growth over the forecast period.
Restraint
High cost
A major obstacle to the broad use of emission monitoring systems is the elevated expense of acquiring. It may be costly for businesses, particularly SMEs to purchase modern sensors, software, and others. These companies usually cannot afford to invest in sophisticated emission monitoring systems, which restricts the growth of the industry. Strict environmental restrictions drive the need for these systems, yet these systems may be quite challenging due to their complex arrangements.
Organizations may find it challenging to properly traverse the authority environment due to differences in compliance standards among nations and sectors. EMS implementation is prohibited for certain businesses since compliance with these regulations sometimes necessitates substantial resources and knowledge. Thereby, hampering the market growth.
Concern over data management
The concern over data management in emission monitoring systems is expected to hamper the market growth over the anticipated timeframe. It might be difficult to handle and manage large amounts of emissions data. Ensuring data accuracy, safe storage, and effective analysis are all part of the EMS solutions. Companies can have trouble properly analyzing and applying the data to make choices. Thus, at some point in time, it might be a major hurdle to the market expansion.
Opportunity
Growing product launches
The growing product launches in the industry are expected to offer an enormous potential for market growth. For instance, in July 2023, to control the carbon emissions of its cooperative business partners, Hyundai Motor Company and Kia Corporation unveiled the Supplier CO2 Emission Monitoring System (SCEMS), a blockchain-based artificial intelligence tool. It is anticipated that this technology will also free suppliers from this time-consuming and expensive effort and allow them to accurately monitor their carbon emissions. Through the utilization of high-performance blockchain technology and artificial intelligence (AI), business partners may effectively oversee and manage the gathered data as well as the carbon emission status at each company.
Recent Developments
In February 2023, the planned launches of six more satellites in 2023 have been confirmed by GHGSat, the world leader in high-resolution emissions monitoring from space. Océane (C8), Mey-Lin (C6) and Gaspard (C7) are the first three GHGSat spacecraft, and they will launch into orbit.
In March 2022, a free version of the carbon emissions tracker was made available by Normative, a Swedish start-up funded by Google. It was intended to help small companies have a baseline knowledge of what they emit. By using information like facility size and gas, electricity, and heating costs, Normative's Business Carbon Calculator helps small and medium-sized enterprises track their carbon emissions and identify emission hotspots. Normative offers paid goods as well for larger enterprises.
In April 2023, Telstar and Picarro joined to support the advancement of EtO sterilization facilities that incorporate emissions control technologies. The development of end-to-end complete solutions for industries that use and produce ethylene oxide is solidified by the partnership between Picarro, an emissions management solutions provider that includes cutting-edge EtO Emissions Monitoring Systems, and Telstar, a leading global brand of aseptic process solutions that is highly specialized in the development of industrial-scale ethylene oxide (EtO) sterilization plants. New sterilization plants will benefit from unparalleled safety, efficiency, and compliance with international standards.
Key Market Players
ABB Ltd.
Ametek, Inc.
Emerson Electric Company
General Electric Company
Enviro Technology Services Plc.
Horiba Ltd.
Fuji Electric Co., Ltd.
Rockwell Automation, Inc.
Siemens AG
Thermo Fisher Scientific Inc.
Market Segmentation
By Type
Continuous Emission Monitoring System (CEMS)
Predictive Emission Monitoring System (PEMS)
By Component
Hardware
Software
Services
By End-use
Oil & Gas
Metals & Mining
Power Generation
Chemical & Fertilizer
Pulp & Paper
Pharmaceutical
Others
Buy this Research Report@ https://www.precedenceresearch.com/checkout/3287
You can place an order or ask any questions, please feel free to contact at sales@precedenceresearch.com | +1 9197 992 333