The global emission monitoring systems market size was valued at USD 4.1 billion in 2022 and it is projected to hit around USD 10.68 billion by 2032, registering a CAGR of 10.1% during the forecast period 2023 to 2032.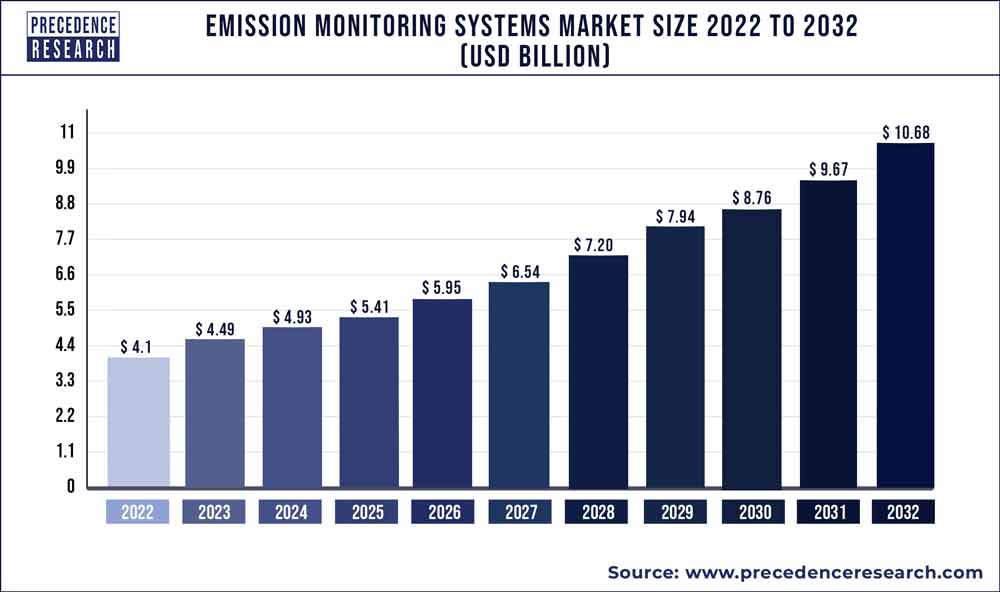 Access our Premium Real Time Data Intelligence Tool, Visit: Precedence Statistics
Key Takeaways:
North America contributed more than 33% of revenue share in 2022.
By Type, the continuous emission monitoring system (CEMS) segment has generated 78.3% revenue share in 2022.
By Type, the predictive emission monitoring systems (PEMS) segment is expected to expand at a fastest CAGR of 9.7% from 2023 to 2032.
By Component, the hardware segment has captured the highest market share of 55.8% in 2022.
By Component, the services management segment is predicted to grow at the fastest CAGR over the projected period.
By End-use, the oil & gas segment accounted for more than 26.4% of revenue share in 2022.
By End-use, the power generation segment is expected to grow at a healthy CAGR of 10.9% between 2023 and 2032.
Market Overview:
The emission monitoring systems sector denotes the realm focused on creating, producing, and implementing technological solutions to oversee and gauge the release of pollutants and greenhouse gases from industrial installations and transportation. These systems hold significant importance in ensuring environmental adherence and sustainability initiatives, aiding corporations and authorities in the monitoring and curbing of detrimental emissions.
The market encompasses a variety of offerings, including gas measurement instruments, data acquisition software, and regulatory compliance advisory services. As environmental consciousness continues to rise and regulations become more stringent, the emission monitoring systems market is poised for sustained expansion, as industries strive to diminish their ecological impact.
Growth Factors:
The emission monitoring systems market is a dynamic sector dedicated to developing and implementing advanced technologies for monitoring and measuring emissions of pollutants and greenhouse gases from various sources, including industrial facilities and transportation. These systems are pivotal in ensuring environmental compliance and sustainability by enabling businesses and governments to track and mitigate harmful emissions effectively.
One prominent trend in the emission monitoring systems market is the increasing emphasis on environmental sustainability. Stringent regulations and a growing awareness of the impact of emissions on climate change are driving industries to adopt these systems proactively. Additionally, the rapid advancement of sensor technology and data analytics has led to more precise and efficient monitoring solutions, further fueling market growth.
Another growth driver is the global shift toward renewable energy sources. As the world seeks cleaner energy alternatives, industries are compelled to reduce emissions, creating a significant demand for monitoring systems. Moreover, the expanding industrial sector in emerging economies presents a robust growth opportunity for emission monitoring systems, as governments implement stricter environmental regulations to tackle pollution and ensure public health.
Despite the bright outlook for the emission monitoring systems market, it contends with various obstacles. A primary impediment is the financial burden linked to the installation and upkeep of these systems, which can deter numerous enterprises, particularly those of smaller and medium size. To surmount this issue, the industry must explore inventive, budget-friendly technologies and seek support from regulatory entities in the form of incentives and assistance.
Interoperability and standardization are also pressing issues. The market comprises various technologies and vendors, which can create compatibility issues and hinder the seamless integration of monitoring systems across industries. Industry stakeholders need to collaborate and establish common standards to address this challenge effectively.
Within these challenges lie significant business opportunities. Companies that can provide affordable, user-friendly, and scalable emission monitoring systems stand to gain a competitive edge. Moreover, offering data-driven insights and analytics services related to emissions can open new revenue streams. Partnerships and collaborations between technology providers and industrial players can help streamline the adoption of monitoring systems, making it easier for businesses to comply with regulations and reduce their environmental footprint.
In conclusion, the emission monitoring systems market is experiencing notable growth driven by environmental concerns, technological advancements, and the global transition to cleaner energy sources. While challenges like cost and interoperability persist, they also offer opportunities for innovation and collaboration. As industries worldwide prioritize emission reduction, this market is poised for sustained expansion and innovation in the years to come.
Report Scope of the Emission Monitoring Systems Market:
| | |
| --- | --- |
| Report Coverage | Details |
| Market Size in 2023 | USD 4.49 Billion |
| Market Size by 2032 | USD 10.68 Billion |
| Growth Rate from 2023 to 2032 | CAGR of 10.1% |
| Largest Market | North America |
| Base Year | 2022 |
| Forecast Period | 2023 to 2032 |
| Segments Covered | By Type, By Component, and By End-use |
| Regions Covered | North America, Europe, Asia-Pacific, Latin America, and Middle East & Africa |

Market Dynamics:
Driver:
Emission monitoring systems
The impetus provided by climate change concerns is a potent force propelling the emission monitoring systems market's expansion. As the world grapples with the mounting specter of climate change, a heightened awareness has underscored the imperative need to curtail greenhouse gas emissions. This growing recognition has exerted mounting pressure on industries and governments to adopt proactive measures for mitigating their ecological impact.
Emission monitoring systems assume a pivotal role in this endeavor by supplying the requisite instruments and data to scrutinize, quantify, and eventually curtail emissions. Enterprises spanning diverse sectors are channeling investments into these systems to assess their carbon footprint, adhere to stringent emissions regulations, and showcase their dedication to sustainability. Moreover, as climate change ascends as a central global preoccupation, consumers are increasingly favoring environmentally conscious goods and services, providing an incentive for companies to incorporate emission monitoring solutions as part of their corporate social responsibility endeavors.
Furthermore, climate change concerns have prompted governments to enact more rigorous emissions standards and extend incentives for emissions reduction initiatives, fostering greater demand for Emission Monitoring Systems. In this milieu, the market is poised for persistent growth as the global community collectively strives to confront the multifaceted challenges posed by climate change.
Restraints:
Regulatory uncertainty and complexity and compatibility
Regulatory uncertainty and the complexity and compatibility challenges associated with emission monitoring systems are significant constraints on the market's growth. The evolving nature of emissions regulations, both at national and international levels, creates uncertainty for businesses investing in monitoring systems. The need to constantly adapt to changing compliance requirements can be costly and disruptive.
Moreover, the wide array of technologies and systems available in the market often lack standardization, leading to compatibility issues. Integrating new emission monitoring systems with existing infrastructure can be intricate and costly, deterring potential adopters. Industries seeking to implement these systems may face difficulties in ensuring seamless data flow and compatibility with various operational processes. These dual challenges, regulatory uncertainty, and compatibility complexity not only hinder the adoption of emission monitoring systems but also increase the risk associated with compliance failures. Overcoming these restraints requires collaborative efforts among industry stakeholders to establish clear and consistent regulatory frameworks and to develop standardized, interoperable monitoring solutions that can simplify the implementation process and reduce the associated costs, ultimately fostering wider market adoption.
Opportunities:
Compliance and reporting solutions
Compliance and reporting solutions are creating substantial opportunities in the emission monitoring systems market. As environmental regulations become increasingly stringent, businesses face mounting pressure to not only monitor emissions but also to ensure accurate and timely reporting to regulatory authorities. This necessitates the development of comprehensive compliance and reporting solutions tailored to specific industry needs. Companies offering such solutions can streamline the often complex and time-consuming process of meeting regulatory requirements. They provide a vital service by automating data collection, validation, and reporting, reducing the risk of non-compliance and associated penalties.
Moreover, these solutions enable organizations to generate insightful reports that facilitate data-driven decision-making for emissions reduction strategies. Opportunities lie in designing user-friendly, customizable, and cost-effective compliance and reporting platforms that cater to diverse industries and regulatory landscapes. This niche within the emission monitoring systems market not only serves the compliance needs of businesses but also helps them demonstrate their commitment to environmental responsibility, enhancing their reputation and competitive advantage in an increasingly sustainability-focused world.
Impact of COVID-19:
The COVID-19 pandemic initially posed challenges for the emission monitoring systems market as disruptions in supply chains and reduced industrial activities hindered system installations. However, the crisis also accelerated awareness of the importance of environmental sustainability. As economies recover, governments and industries are increasingly investing in emission monitoring to comply with stringent regulations and meet sustainability goals. The market is rebounding as businesses prioritize emissions reduction, leading to a long-term growth trajectory, with a heightened emphasis on remote monitoring and digital solutions to adapt to the changing business landscape.
Type Insights:
According to the type, the continuous emission monitoring system (CEMS) sector has held a 78.3% revenue share in 2022.
The continuous emission monitoring system (CEMS) segment commands a significant market share due to its critical role in real-time emissions monitoring and regulatory compliance. CEMS offers continuous data collection and reporting, ensuring immediate detection of emission deviations and timely corrective actions. Stringent environmental regulations worldwide necessitate consistent emissions monitoring, driving demand for CEMS solutions across various industries. Additionally, CEMS aids in optimizing industrial processes, enhancing energy efficiency, and reducing operational costs, making it an indispensable tool for businesses aiming to meet sustainability objectives while ensuring compliance with emission standards.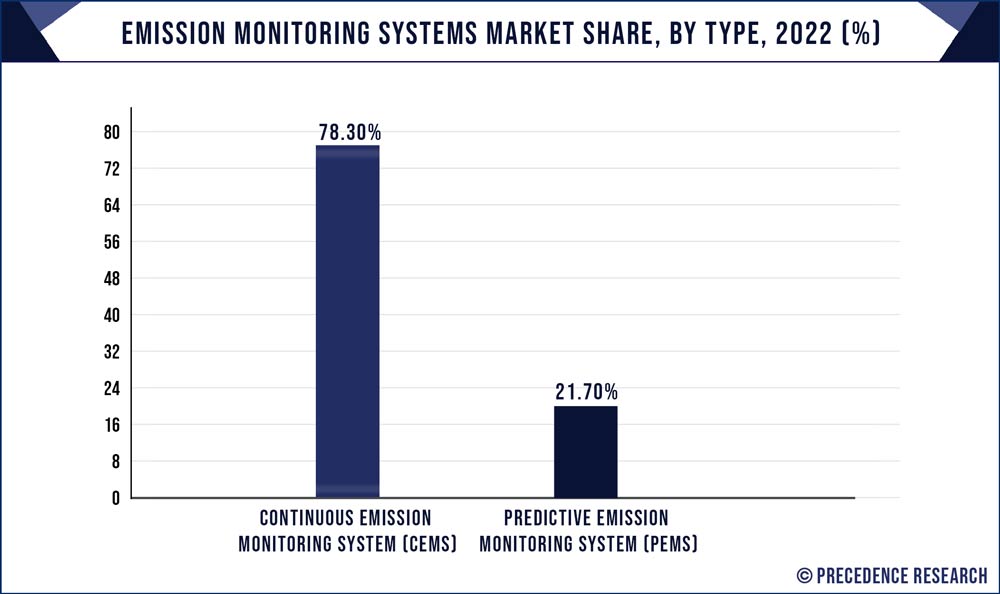 The predictive emission monitoring systems (PEMS) sector is anticipated to expand at a significantly CAGR of 9.7% during the projected period due to its versatility and cost-effectiveness. PEMS utilizes advanced algorithms and real-time data analysis to predict emissions, offering continuous monitoring without the need for extensive hardware installations. This cost-efficient approach appeals to industries seeking comprehensive emission management while minimizing capital expenditures. Additionally, PEMS helps companies proactively address compliance issues and optimize their operations, making it a preferred choice. As environmental regulations become more stringent, the demand for accurate, real-time monitoring solutions like PEMS continues to grow, consolidating its major growth in the market.
Component Insights:
In 2022, the hardware sector had the highest market share of 55.8% based on the Component. The hardware segment holds a significant share in the emission monitoring systems market due to its foundational role in data collection and analysis. Hardware components like gas analyzers, sensors, and sampling systems are essential for accurate real-time emission monitoring. They provide the critical data needed for compliance, reporting, and emissions reduction efforts. Moreover, regulatory requirements often mandate the use of specific hardware components, further driving demand. While software and services are crucial for data interpretation and integration, the hardware segment remains the backbone of the industry, underpinning the reliability and credibility of emission monitoring systems.
The services Management is anticipated to expand at the fastest rate over the projected period. The services segment holds significant growth in the market because it offers essential expertise and support throughout the lifecycle of these systems. Services encompass installation, calibration, maintenance, and data analysis, ensuring the accurate and reliable functioning of monitoring systems. Additionally, regulatory compliance and reporting services help businesses navigate complex emissions standards. As the demand for emissions monitoring grows, the services segment becomes integral in helping organizations effectively implement and manage these systems, making it a substantial contributor to the market's overall revenue.
End-use Insights:
The oil & gas segment held the largest revenue share of 26.4% in 2022. The oil and gas segment holds a significant share in the market due to the sector's large-scale industrial operations and the substantial emissions associated with its activities. Stringent environmental regulations, particularly in regions with prominent oil and gas industries, have compelled companies to invest heavily in emission monitoring to ensure compliance. Additionally, the sector's commitment to sustainability and reducing its carbon footprint drives demand for advanced monitoring systems. As a result, the oil and gas segment remains a major contributor to the market's growth, with a focus on emissions reduction and environmental responsibility.
The power generation is anticipated to grow at a significantly faster rate, registering a CAGR of 10.9% over the predicted period. The power generation segment holds a significant share in the market due to its inherent connection with environmental regulations and emissions reduction goals. Power plants, both fossil fuel and renewable energy facilities, are subject to stringent emissions standards globally. To comply with these regulations and improve sustainability, power generation companies heavily invest in monitoring systems. Additionally, the transition to cleaner energy sources drives demand for emission monitoring in renewable energy installations. This sector's substantial contribution to global emissions and regulatory scrutiny cements its pivotal role in the market, accounting for a major share.
Regional Insights:
The North America emission monitoring systems market size was valued at USD 0.81 billion in 2022 and is projected to surpass around USD 2.13 billion by 2032, expanding at a CAGR of 10.2% between 2023 and 2032.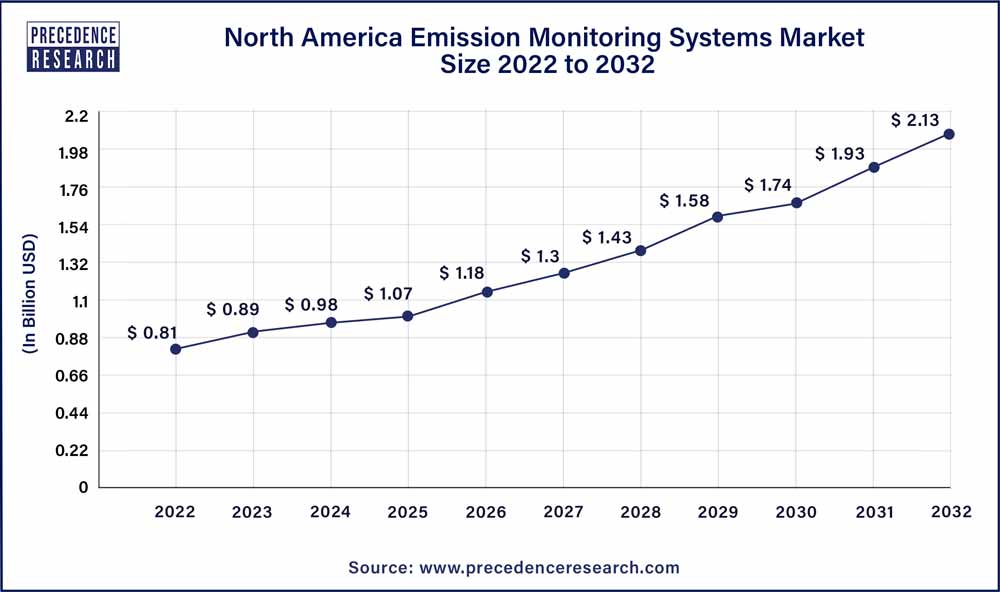 North America has held largest revenue share 33% in 2022.
The region has well-established and stringent environmental regulations, motivating industries to invest in advanced monitoring solutions. Additionally, North America's significant industrial base, including power generation, manufacturing, and oil and gas sectors, necessitates robust emissions monitoring to meet compliance requirements.
Moreover, a growing emphasis on sustainability and corporate social responsibility further drives adoption. The presence of key market players, ongoing technological advancements, and a mature regulatory framework collectively solidify North America's prominent position in the global emission monitoring systems market.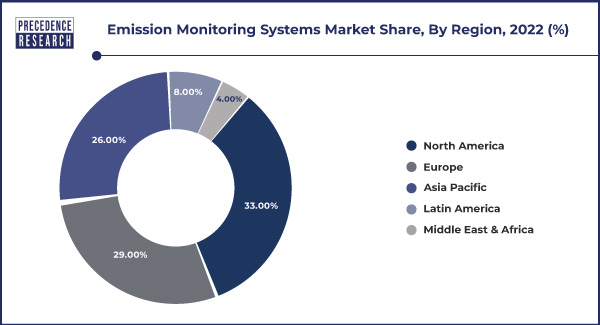 Asia-Pacific is estimated to observe the fastest expansion.
The region is experiencing rapid industrialization and urbanization, leading to increased emissions and environmental concerns. Governments in countries like China and India have implemented stringent emissions regulations, driving demand for monitoring systems.
Additionally, the region's expanding energy sector, including coal-based power generation, necessitates emissions monitoring for compliance and sustainability. As awareness of environmental issues grows and regulations become more stringent, the Asia-Pacific market continues to expand during the projected period.
Recent Developments:
In 2023, the United States' National Aeronautics and Space Administration (NASA) introduced a cutting-edge device known as Tropospheric Emissions: Monitoring of Pollution (TEMPO). This advanced tool is dedicated to the precise monitoring of air pollution across North America, promising unparalleled accuracy in data collection.
In 2022, ClassNK unveiled "ClassNK ZETA (Zero Emission Transition Accelerator)," a novel GHG emissions management tool, enabling users to precisely monitor CO2 emissions and assess CII ratings through confirmation and simulation.
In 2022, Normative, a Swedish start-up supported by Google, introduced a complimentary version of its carbon emissions tracker. This tool targets small businesses, helping them establish a foundational understanding of their emissions. Normative's Business Carbon Calculator empowers small and medium-sized enterprises to track carbon emissions and identify emission hotspots based on criteria like facility size and utility expenses. Additionally, Normative offers paid products tailored for larger enterprises.
In 2021, ENVEA rolled out the Mercury Continuous Emissions Monitoring System SM-5, designed to deliver precise measurements of ultra-low mercury concentrations in flue gas emissions.
In 2021, Emerson launched the innovative Rosemount XE10 Continuous Emissions Monitoring System (CEMS), designed to aid industrial facilities in meeting stringent environmental regulations and evolving sustainability requirements. This system incorporates built-in performance analytics and automated validation features to ensure accurate emissions monitoring and reporting, mitigating the risk of compliance violations and associated penalties.
Key Market Players:
ABB Ltd.
Ametek, Inc.
Emerson Electric Company
General Electric Company
Enviro Technology Services Plc.
Horiba Ltd.
Fuji Electric Co., Ltd.
Rockwell Automation, Inc.
Siemens AG
Thermo Fisher Scientific Inc.
Segments Covered in the Report:
(Note*: We offer reports based on sub-segments as well. Kindly, let us know if you are interested)
By Type
Continuous Emission Monitoring System (CEMS)
Predictive Emission Monitoring System (PEMS)
By Component
Hardware
Software
Services
By End-use
Oil & Gas
Metals & Mining
Power Generation
Chemical & Fertilizer
Pulp & Paper
Pharmaceutical
Others
By Geography
North America
Europe
Asia-Pacific
Latin America
Middle East and Africa