The global end-of-line packaging market size accounted for USD 5.93 billion in 2022 and it is projected to attain around USD 8.1 billion by 2030, expanding at a CAGR of 3.98% between 2022 and 2030.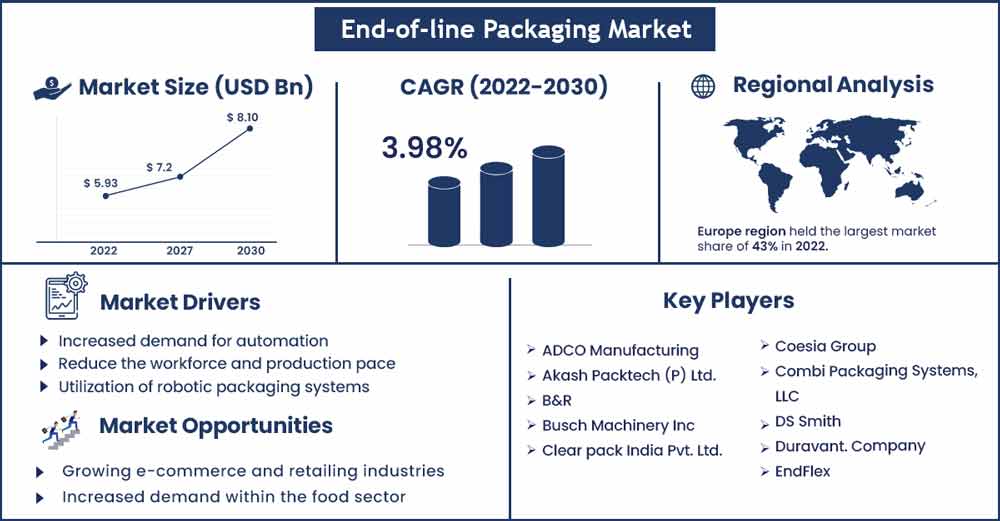 End-of-line packing refers to the group of tools and machines used to complete the shipping container before deliveries or the last-mile delivery of the goods. This kind of system assists in satisfying the evolving needs of end users while guaranteeing the efficient execution of all associated activities. This equipment includes stretch wrappers, carton erectors, palletizers, packers, and sealant, as well as any other auxiliary tools needed to finish packaging for transport.
The entire packing and production process can be automated with the help of an end-of-line packing solution for a production plant. The digitization of machine operations helps to increase demand by supporting higher production volumes for all manufacturing. A vast range of production industries, such as cosmetics, nonwovens, pharma & biotech, food and beverage, and even chemical, are being served by the advancement of automated solutions.
The industry for end-of-line packing is still primarily driven by the increased potential of a user's increasing range and expense. The term "end-of-line packing" describes a collection of instruments and apparatuses used to finish the shipping container before shipping or another type of delivery of the products. This type of technology makes sure that the processes involved go off without a hitch and also aids in meeting the end-users' rising expectations. This equipment includes carton erectors, stretch wrappers, packers, sealers, productivity, and any other ancillary facilities needed to complete shipping packaging. Process automation also helps businesses make better use of the staff they presently have by increasing production efficiency to quantity.
Report Highlights:
The market expansion of end-of-line solutions is anticipated to be fuelled by the increased usage of technology in the packaging sector. Due to the growing demand for improved efficiency and operation, packaging is crucial across many industrial sectors.
Automation increases productiveness while decreasing the amount of physical labour. Therefore, increasing end-of-line robotics use is anticipated to fuel market expansion. The market expansion of the final solutions is anticipated to be aided by the growing demand to cut labour costs and production costs.
Final packaging solutions eliminate the need to continually train new staff and allow workers to focus more on jobs that provide value, which lowers the risk associated with human error and improves the entire process of production. End-of-line solutions industry growth is anticipated to be fuelled by this.
End-of-line Packaging Market Report Scope:
| | |
| --- | --- |
| Report Coverage | Details |
| Market Revenue in 2023 | USD 6.16 Billion |
| Projected Forecast Revenue in 2030 | USD 8.1 Billion |
| Growth Rate from 2022 to 2030 | CAGR of 3.98% |
| Largest Market | Europe |
| Base Year | 2022 |
| Forecast Period | 2022 To 2030 |
| Regions Covered | North America, Europe, Asia-Pacific, Latin America, and Middle East & Africa |

Regional Snapshots:
When it comes to both sales and market share, Europe will continue to rule the end-of-line package business. This is because end-of-line wrapping is becoming more and more in demand in this area. Due to the country's growing need for products with higher levels of productivity, functionality, and safe practices, Europe currently dominates the end-of-line packaging industry. Due to its rapid urbanization and industrialization Asia Pacific is predicted to experience the quickest rate of growth during the forecast timeline.
The European region currently has a stranglehold on the global market for the end-of-line package due to the rising need for diverse packaging criteria for a variety of products. The end-of-line packaging industry in this nation will also be significantly impacted by the growth of the dairy, pharmaceutical, and packing equipment industries. Productivity, efficiency, and handling safety must all be improved. There is substantial demand. Equipment at the end of the line that is automated can help satisfy these rising demands.
Market Dynamics:
Drivers:
Due to the extensive use of online shopping and the internet, which has transformed the world into a global marketplace, there is a considerable demand for items from all over the world. There must be commodities since both basic needs and luxuries must be met. For instance, the population of the world will multiply many times throughout the course of the projection period. The demand for food will rise as a result, improving food security. To successfully distribute the product and manage all standard requirements, end-of-line automation is required, ensuring that there is never a scarcity of food or any other important product for the entire population. With the growing demand for lower production and labor costs, the end-of-line packing market is expected to rise.
The entire manufacturing process has been improved, and the chance of human error has decreased, thanks to end-of-line wrapping. The growth of the end-of-line package industry will likely be aided by this. Robotic hands are quickly added to the packing process to boost productivity. Robotic tools minimize the manual labor required for packing. Production rates can be raised with a robotic arm, which decreases operational costs and boosts return on investment. To lower the risk of breakage, use mobile robots for light packaging in end-of-line packing.
Restraints:
It's anticipated that ensuring automated performance complies with customer demand would provide substantial challenges and limit industry growth. The last several years have seen a major shift in consumer preferences toward more inexpensive, high-quality goods. Therefore, it may be difficult for the end-of-line packaging business to ensure that production efficiency and automated effectiveness coincide during the forecast period.
Opportunities:
The rapid growth of e-commerce and retail has increased customer demand for goods in attractive packaging. End-of-line packing hence increases package efficacy, a key factor in the creation of lucrative market expansion possibilities. The end-of-line packaging market is anticipated to profit from rising demand in the manufacturing of food and drinks throughout the period of projection. Since foods and other beverage products need to be properly packaged for retail trade displays, covered, labeled, and cartooned, it is frequently used in the food industry to make those products. It also improves the safety of the items during storage and transportation. Estimates indicate that in the upcoming years, this will hasten the expansion of end-of-line packing.
Challenges:
Making sure automated performance satisfies consumer demand is anticipated to present substantial challenges and impede the market growth. Over the past few years, consumers' choices for more economical, high-quality products have shifted substantially. Therefore, it may be difficult for the end-of-line packaging business to ensure that automated effectiveness matches production over the forecast period.
Recent Developments:
In July 2022, Schneider Packaged, a supplier of end-of-line packaged food industrial automation, will choose Michael Odom as its next CEO. The business operations and strategies of the organization will be under Michael Odom's direction.
ProMach acquired Serpa Packing in 2021, a leading provider of cartooning and end-of-line systems. Serpa completes ProMach's selection of automation cartooning equipment and significantly improves ProMach's line connectivity and unique solution for corrugated boxes used by rapidly growing pharma companies.
The Duravant Company buys Cloud Packing Systems in 2020. The synergy between Mespack, a Duravant investment group, and Cloud's market sectors led to Mespack-Cloud, a Duravant Company, replacing Cloud Products and Solutions as the original company, according to Duravant.
Major Key Players:
ADCO Manufacturing
Akash Packtech (P) Ltd.
B&R
Busch Machinery Inc
Clear pack India Pvt. Ltd.
Coesia Group
Combi Packaging Systems, LLC
DS Smith
Duravant. Company
EndFlex
Endoline Machinery Ltd
Festo Inc
FlexLink
Fromm Group
Gebo Cermex
Hualian Machinery Group Co., Ltd
Ima S.p.A
INFINITY AUTOMATED SOLUTIONS PVT. LTD
J+P Maschinenbau GmbH
Krones AG
Lantech
Massman Automation Designs'
LLC
Venia LLC
OPTIMA packaging group GmbH
ProMach
Quin Systems Ltd
RADPAK
Robert Bosch GmbH
Rovema GmbH
Schneider Packaging Equipment Company, Inc
Shemesh Automation LTD
Stevanato Group
Synerlink ( A Barry-Wehmiller Company)
Syntegon (Bosch Packaging Technology)
Tekpak Automation
Uhlmann Pac-System
WestRock Company
Market Segmentation:
By Technology
By Order Type
By Function
Stand Alone
Integrated
Labelling
Palletizing
Stretch wrapping
Carton Erecting Sealing
Packing
Others
By End User
Food and Beverages
Pharmaceutical
Electronics and Semiconductor
Automotive
Chemical Products
Consumer Products
Others
Buy this Research Report@ https://www.precedenceresearch.com/checkout/2171
You can place an order or ask any questions, please feel free to contact at sales@precedenceresearch.com | +1 9197 992 333